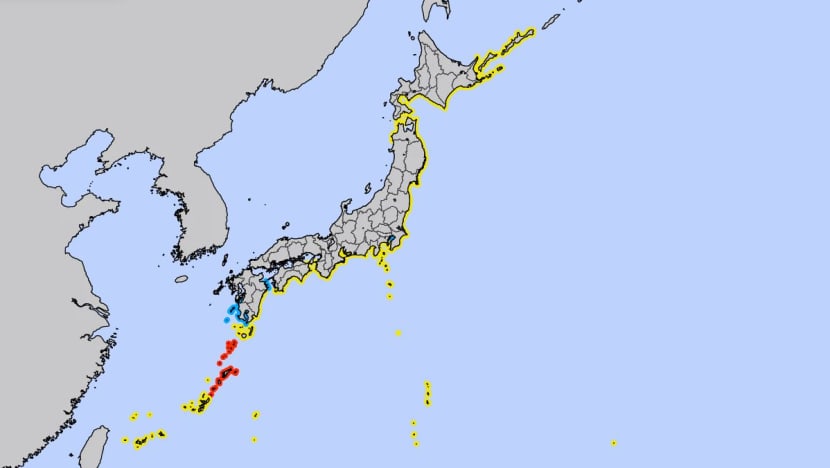 A tsunami caused by a massive underwater volcanic eruption off Tonga has reached Japan's shores, according to the Japan Meteorological Agency.
A 1.2m-high wave was registered at 11.55pm local time on Saturday (Jan 15) at the southern Amami and Tokara islands, where tsunami warnings were issued for waves potentially reaching 3m.
Waves of 1m and below were reported in several areas along the coast, from Hokkaido to Okinawa.
Tsunami advisories were issued for other coastal regions. People in those areas should stay away from beaches and the mouths of rivers, NHK reported.
Japanese broadcaster TBS News said no damage has been reported by the Tokyo Metropolitan Police Department.
The Japan Meteorological Agency had said earlier on Saturday that there was a chance of minor sea-level change but ruled out a damaging tsunami and did not initially issue a warning or advisory, according to The Japan Times.
The US Geological Survey recorded Saturday's eruption as equivalent to a 5.8 magnitude earthquake at zero depth.
FELT AROUND THE WORLD
The massive underwater volcanic eruption was so powerful it was recorded around the world, scientists said on Sunday.
In New Zealand, more than 2,300km from Tonga, 120 people were evacuated from northern coastal areas and several boats destroyed when a huge wave crashed into a marina.
Australia's popular Bondi Beach in Sydney was briefly evacuated as a precaution while in California, coastal streets in Santa Cruz were awash and closed to traffic.
The National Weather Service Alaska reported the Alaska Volcano Observatory had recorded the eruption in Anchorage and Fairbanks "6,000 miles from the volcano."
The Fife weather station in Scotland tweeted it was "just incredible to think of the power that can send a shockwave around the world" after the eruptions produced a jump in its air pressure graph.
Fiji issued a tsunami warning, urging residents to avoid the shorelines "due to strong currents and dangerous waves".
The Hunga Tonga-Hunga Ha'apai volcano sits on an uninhabited island about 65km north of the Tongan capital Nuku'alofa.
Its latest eruption was so intense it was heard as "loud thunder sounds" in Fiji more than 800km away, according to officials in Suva City - where images shared on social media showed large waves hitting the coast.
Jese Tuisinu, a television reporter at Fiji One, posted a video on Twitter showing large waves washing ashore, with people trying to flee from the oncoming waves in their cars.
"It is literally dark in parts of Tonga and people are rushing to safety following the eruption," he said.
Source: CNA/AFP/nh(gs)/dv