2 dead, 26 missing as Typhoon Molave slams into Vietnam
Typhoon Molave roared closer to Vietnam with destructive force Wednesday (Oct 28), leaving one villager dead and causing two boats with 12 fishermen to sink as the country braced for the most powerful storm in 20 years, state media said.
HANOI: Two people were reported killed and 26 others missing as Typhoon Molave hit central Vietnam on Wednesday (Oct 28), knocking down trees and tearing roofs off homes in some of the worst destruction seen in years.

Authorities relocated around 375,000 people to safety, cancelled hundreds of flights and closed schools and beaches ahead of the typhoon, which made landfall south of Danang packing winds of up to 145 kmh.
State media said at least two people were killed in Quang Ngai province while trying to protect their homes from the storm.
A man died after winds of up to 150 kmh knocked him off his roof while trying to reinforce it, the official Vietnam News Agency reported.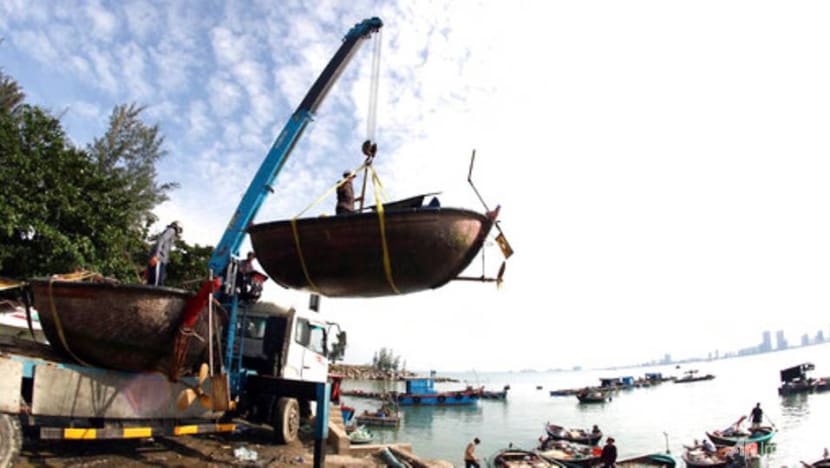 "The people of Vietnam are tough, yet this is among the worst destruction ever seen in many areas," said Vietnam Red Cross Society president Nguyen Thi Xuan Thu.
"The relentless storms and flooding are taking a devastating human toll, further destroying livelihoods and isolating millions of people."
Officials were also searching for 26 missing fishermen, with the storm – Vietnam's fourth this month – bringing waves up to 6m high as power was cut off across the region.
Navy and surveillance vessels were deployed to look for the crew members after their two boats disappeared after they attempted to dock, Deputy Prime Minister Trinh Dinh Dung said.

VTV showed displaced villagers huddled in classrooms that were converted into an evacuation center, where they spent the night.
Provincial authorities shut down offices, factories and schools and asked people to remain indoors to prevent casualties. 
Vietnam is still recovering from severe flooding and landslides that killed 136 people and left dozens missing in three provinces.
At least five airports were closed as the typhoon approached, with more than 200 flights cancelled. Train services were also suspended on Wednesday and will resume when the weather improves, the VTV network reported.
Close to 1.2 million people were in "severe danger" and in need of relief, the International Federation of Red Cross and Red Crescent Societies warned.
"These relentless storms are yet another example of the devastating impact of climate change," Red Cross spokesman Christopher Rassi said.

The typhoon left at least nine people dead and displaced 120,000 in the Philippines before blowing toward Vietnam. Most of those who took shelter in evacuation camps have returned home as the weather cleared, leaving behind villagers whose houses were destroyed.