Xi Jinping declared China president for a historic third term
Xi Jinping also received unanimous votes for a third term as chairman of the country's Central Military Commission.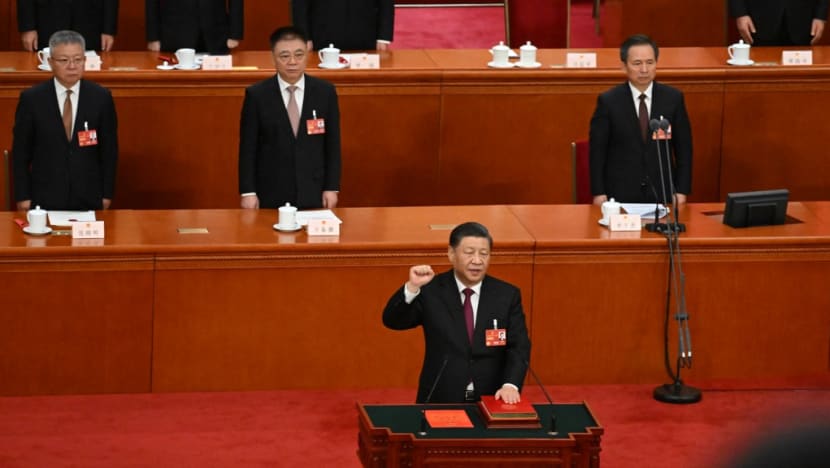 BEIJING: Xi Jinping was handed an unprecedented third five-year term as Chinese president on Friday (Mar 10), capping a rise that has seen him become the country's most powerful leader in generations.
Nearly 3,000 members of China's parliament, the National People's Congress (NPC), voted unanimously in the Great Hall of the People for Xi to be president in an election where there was no other candidate.
Xi, 69, also received unanimous votes for a third term as chairman of the country's Central Military Commission.
After his re-election, Xi held up his right fist and placed his left hand on a red leather copy of China's constitution.
"I swear to be loyal to the constitution of the People's Republic of China, to uphold the authority of the constitution, to perform my statutory obligations, to be loyal to the motherland, to be loyal to the people," he said, promising to fulfil his duties with honesty and hard work.
In the oath - beamed live on state television across the nation - he vowed to "build a prosperous, strong, democratic, civilized, harmonious and great modern socialist country".
The stage had been set for Xi's new five-year run after a change to the constitution in 2018 that scrapped term limits.
The vote on Friday was largely ceremonial as Xi had already locked in a historic third term as head of the Chinese Communist Party at a major party congress last October, sealing his place as China's most powerful ruler since Mao Zedong.
Changes to the country's leadership take place every five years and usually closely mirror the reshuffle announced at the party congress.
Zhao Leji, 66, was elected as the new parliament chair and Han Zheng, 68, as the new vice president. Both men were from Xi's previous team of party leaders at the Politburo Standing Committee.
NEW LEADERSHIP SLATE
During Friday's voting, Xi chatted casually with premier-in-waiting Li Qiang, who was seated to his left and is poised to be confirmed on Saturday to China's No 2 position - a role that puts the former Shanghai party chief and close Xi ally in charge of managing the economy.
Other Xi-approved officials will also be elected or appointed to key government posts during the upcoming weekend, including vice premiers, a central bank governor and numerous other ministers and department heads.
The annual parliamentary session, the first since China dropped three years of COVID-19 restrictions, will end on Monday, when Xi will give a speech that will be followed by a media question-and-answer session by Li.
During Friday's session, Xi and dozens of other top leaders on-stage did not wear masks but all others in the vast auditorium did.
China abruptly ended zero-COVID in December after highly unusual nationwide protests against the policy. A subsequent wave infected most of China's 1.4 billion people, but China has not released a full tally of related deaths.
Xi, who has taken China in a more authoritarian direction since assuming control a decade ago, extends his tenure amid increasingly adversarial relations with Washington and the West over Taiwan, Beijing's backing of Russia, trade and human rights.
Domestically, the world's second-largest economy faces a challenging recovery from three years of Xi's zero-COVID policy, fragile confidence among consumers and businesses and weak global demand for Chinese exports.
China's economy grew just 3 per cent last year, among its worst performances in decades, and during parliament, Beijing set a modest growth target for this year of just around 5 per cent.