Image Analyst and Cargo officer Muhammad Shahril found a second career and new purpose with the ICA. Using advanced cargo screening technology and his intuition, he pulls the handbrake on smuggling attempts from entering Singapore's shores.
Singapore has an international reputation for being safe and insulated from harm – a country where prohibited items rarely make their way in. Our strict laws are a deterrent for any illicit smuggling, and it is officers like Mr Muhammad Shahril who work behind the scenes, enforcing these laws that make this safe city a reality.
As an Image Analyst and Cargo officer at Tuas Checkpoint, Mr Shahril deters smuggling attempts on Singapore's frontline. His team and himself are trained to detect anomalies in radiographic images, conduct in-depth interviews with truck drivers and perform targeted secondary checks on cargoes, if required.
The journey of goods that stream into Singapore may seem like a seamless one – especially if you are on the last stop of the process chain – but it is the sharp eyes and efficiency of Mr Shahril and his team that make it so. In analysing the radiographic images of hundreds, if not thousands, of cargo trucks that stream into Singapore daily, he makes sure that only the lawful can enter.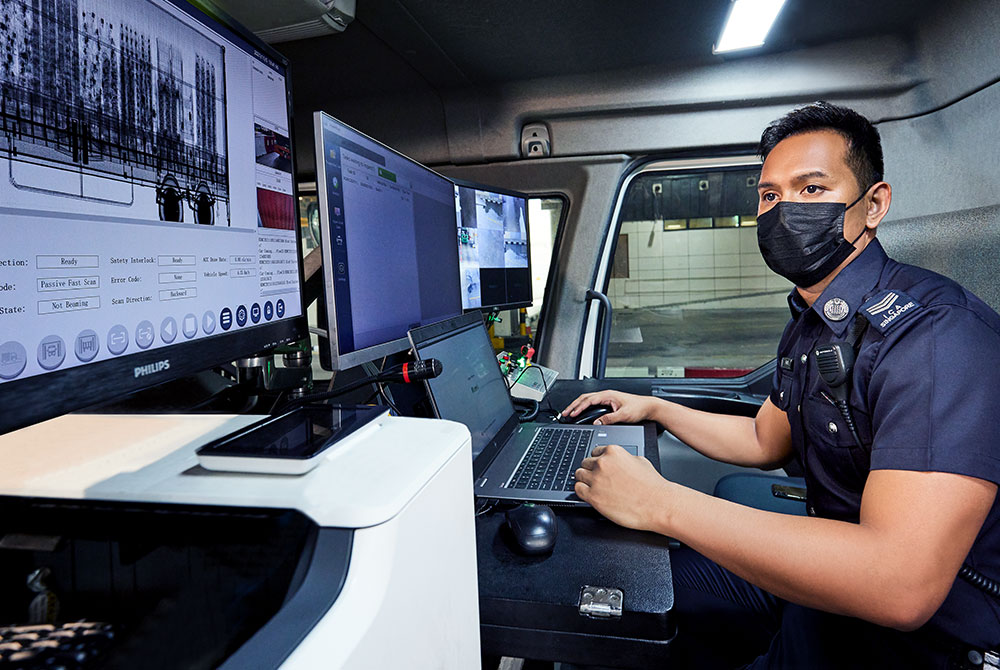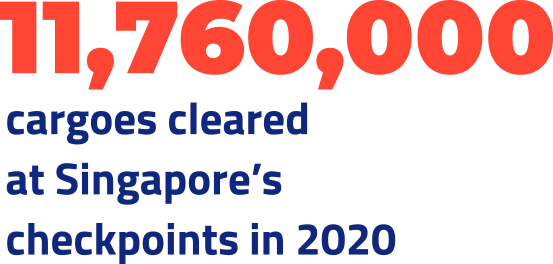 AN EYE FOR THE ODD
In 2020, a total of 4.4 million consignments and 1.1 million containers were cleared at Singapore's checkpoints, an average of over 12,000 items and 3,000 containers a day.
These items run the gamut of goods from livestock to electronic devices – easily verified in-person and with the luxury of time, but that would mean traffic jams for days. Maximising efficiency and efficacy, the checkpoints rely on a special team of image analysts and cargo officers who form the invisible line that keeps smugglers at bay.
On the surface, Mr Shahril's job does not appear complicated. He is responsible for analysing scanned images of all containers and cargo to ensure no dangerous goods enter Singapore. He is also in charge of tallying scanned images against permit information for cargo clearance and flagging any oddities or suspicious findings for further security checks.
However, on a radiographic image, scanned vehicles and their cargo are displayed as two-dimensional obfuscated shapes. To the untrained eye, picking out anomalies is far harder than any spot-the-difference game. Testament to his training and experience, Mr Shahril can analyse each scanned image in just 10 seconds.
DO YOU HAVE AN EYE FOR DETAIL?
Image Analyst and Cargo officers are constantly on the lookout for anomalies in cargo. Watch for any irregular shapes that should not be present.


"Every day, we scan hundreds of trucks carrying goods. From experience, I'm now familiar with different types of vehicles and models, so it's much easier to spot things that don't look right and require closer inspection," he shared.
Thanks to the work of Mr Shahril and other ICA officers, 41,000 contraband cases were detected in 2020. A large bulk of these cases were exotic animal trafficking and the smuggling of illegal cigarettes and e-cigarettes, which are outlawed in Singapore.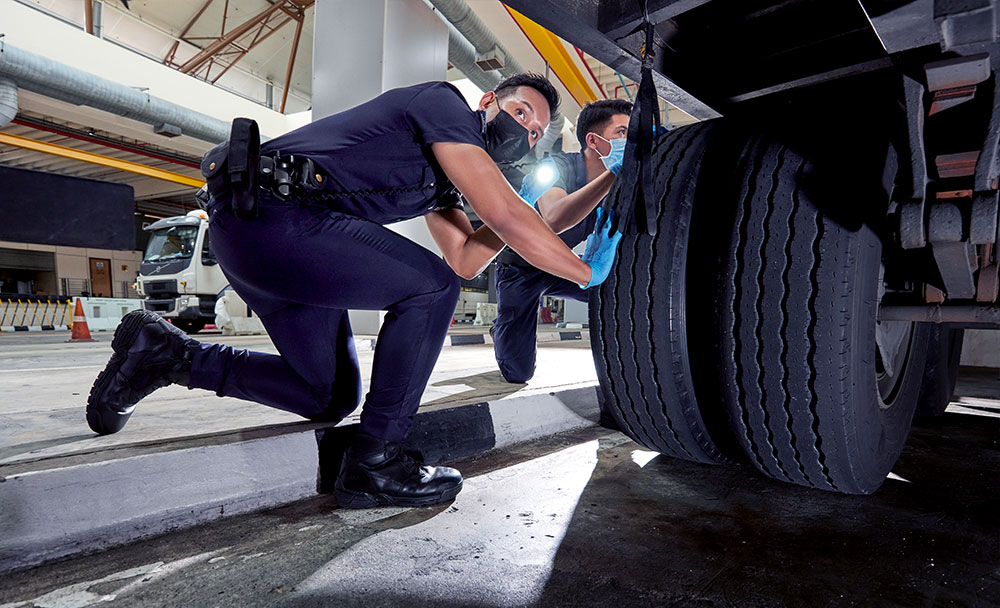 THE X-RAY SYSTEM
The technology that enables the scanning of thousands of trucks every day is the Mobile Cargo Inspection System. Fast and powerful, it can scan 100 standard 20m-long cargo container trucks per hour, store the scanned images in real-time, and send them to the control room, where Mr Shahril is stationed, for analysis.
Cargo volume is predicted to increase in the future with the rise of e-commerce, and ICA is exploring new ways to improve the efficiency of cargo scanning. It is already looking to incorporate artificial intelligence into image analysis technology to aid in the detection of anomalies, which will help image analysts like Mr Shahril be more effective at their jobs.
Mobile Cargo
Inspection System
NEVER A DULL DAY
When asked if he gets tired of looking at images day in and out, Mr Shahril quickly clarified the misconception about his work. "My job allows me to rotate between job roles. It's all about teamwork and sharing the load. So for one hour, I could be analysing images, the next, I could be helping my colleagues with vehicle checks or immigration clearance," he shared.
Reflecting on his five years at the ICA, Mr Shahril finds fulfilment in being part of a close-knit team and supporting his teammates. ICA has also provided him with opportunities to develop his leadership skills for future advancement.
"I like to lead by example and show that any problem can be solved when there is teamwork and good leadership. I truly believe that working in ICA has made me a better person."
He shared, "Every one of us on the team is important to delivering our best. Sometimes we need to push each other, but we have each other's backs. I like to lead by example and show that any problem can be solved when there is teamwork and good leadership. I truly believe that working in ICA has made me a better person."
Mr Shahril also shared that one of his biggest lessons over the past five years is to not take Singapore's seemingly safe environment for granted. "Before I joined, I always thought of Singapore as a safe space but now, I've seen what it takes to make that happen and keep it that way. And I'm happy to be a part of that enforcement," he shared.