While lifelong learning has gained prominence in recent years amid an ever-changing economy, Singapore has promoted continuing education for adults long before independence. Since the formation of the Adult Education Board back in 1960, the government has launched a host of initiatives to promote lifelong learning among adults.
For instance, the Training Initiative for Mature Employees (TIME) was rolled out in 1991 to encourage workers aged 40 and above to regularly upgrade their skills. To encourage participation, TIME courses were offered in the four official languages — English, Mandarin, Malay or Tamil — and came with no formal entry requirements.
Today, with technology disrupting a wide range of industries, making certain skills irrelevant, reskilling and upskilling has become the norm for working adults. To keep up with these demands, many organisations, including institutes of higher learning, are developing innovative programmes so they can meet the continuing education needs of the workforce.
A LEADER IN CONTINUING EDUCATION
One such institute is Nanyang Technological University (NTU), which is driving the continuing education and training movement through its Centre for Professional and Continuing Education, or PaCE@NTU in short.
PaCE@NTU leverages the university's world-renowned faculty and strong industrial network to offer a wide range of high-quality programmes and courses for working professionals. These are curated from various disciplines and conducted through different learning platforms.
Through these learning initiatives, the centre aims to equip professionals, managers, executives and technicians (PMETs) with the knowledge and skills they require to stay relevant and employable in an ever-changing economy. PaCE@NTU also plays an important role in coordinating between SkillsFuture Singapore (SSG), the Ministry of Education and various NTU entities in promoting continuing education and training and lifelong learning.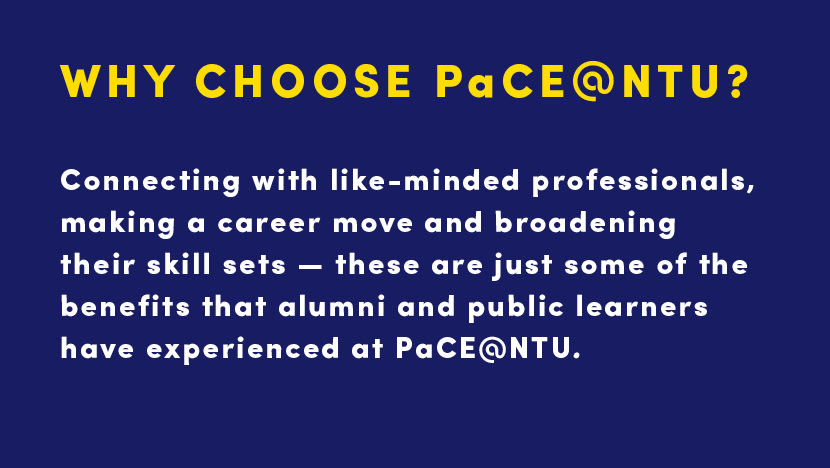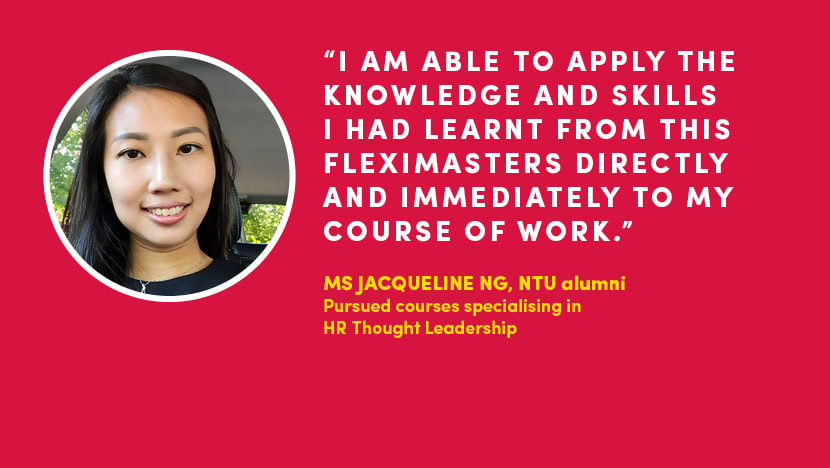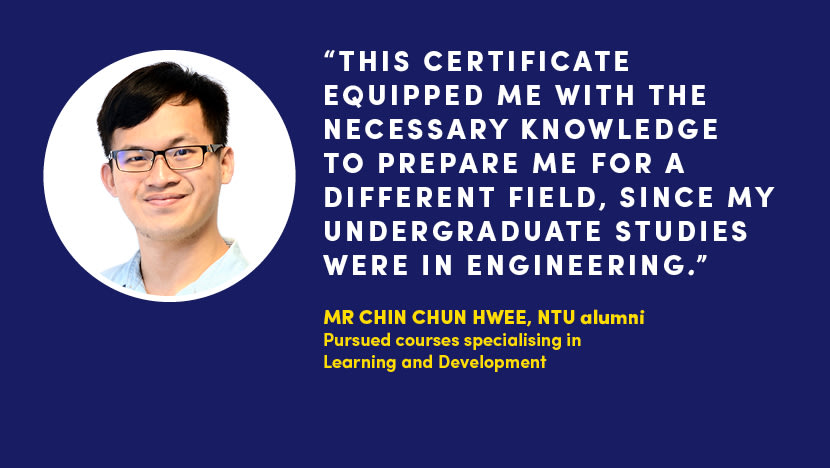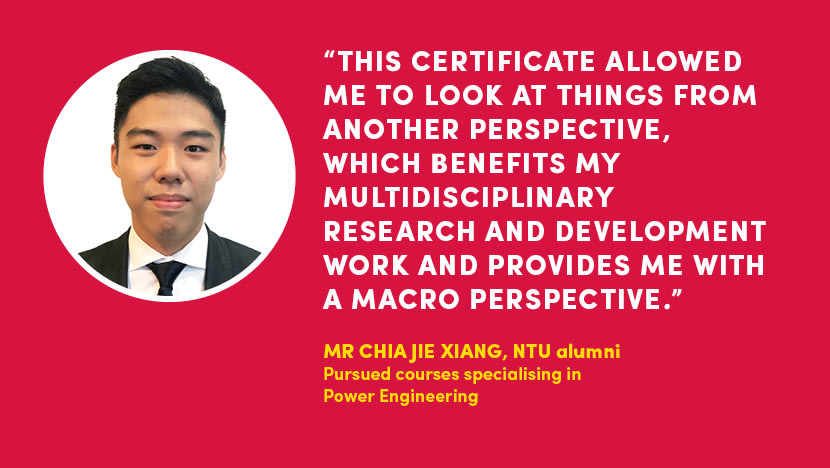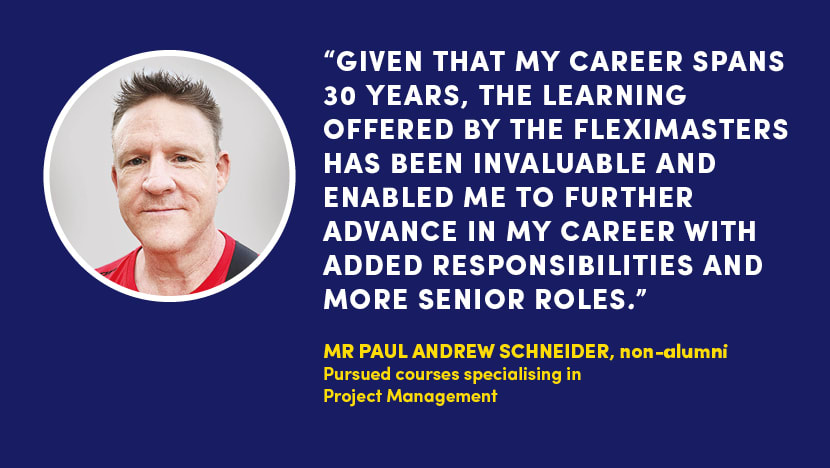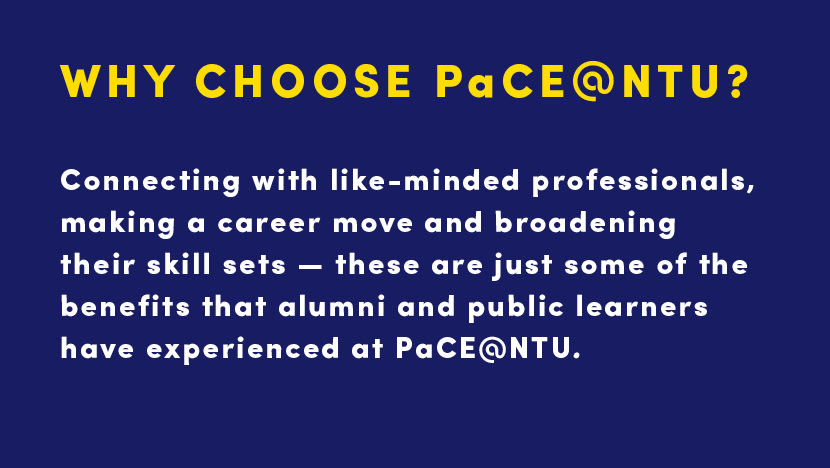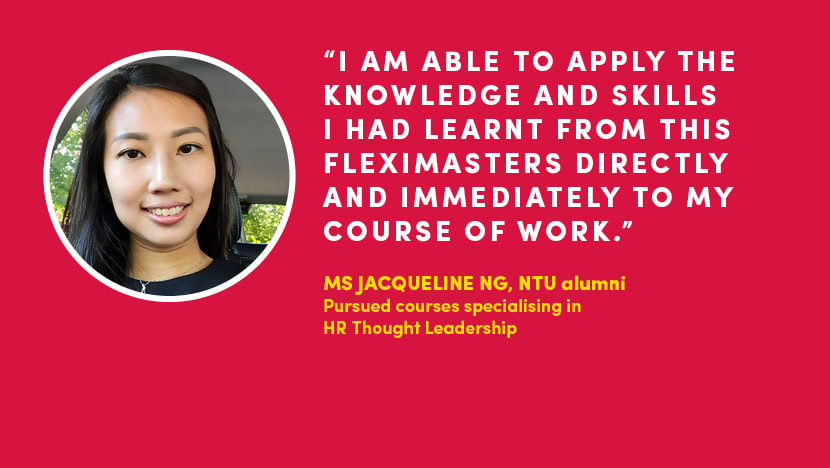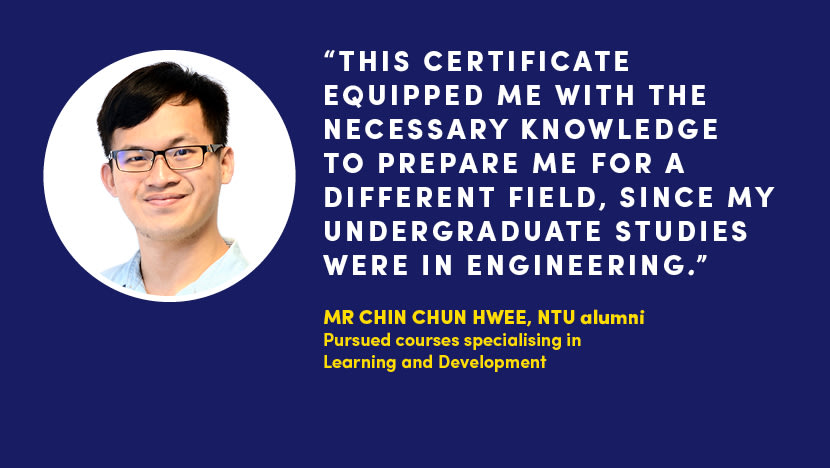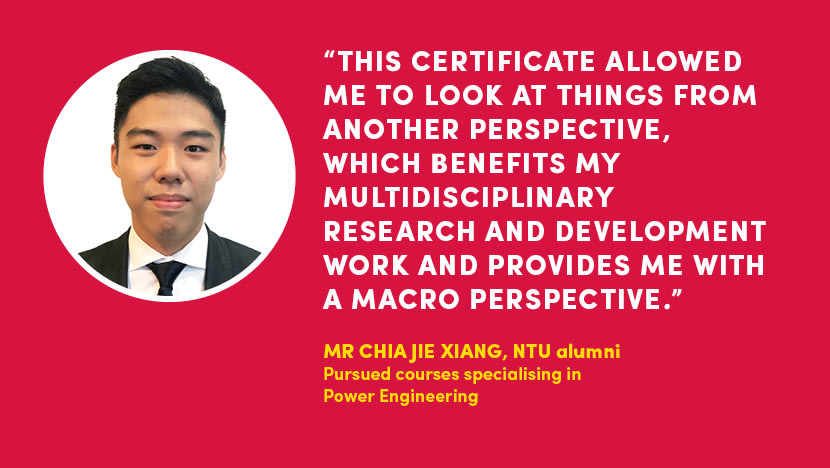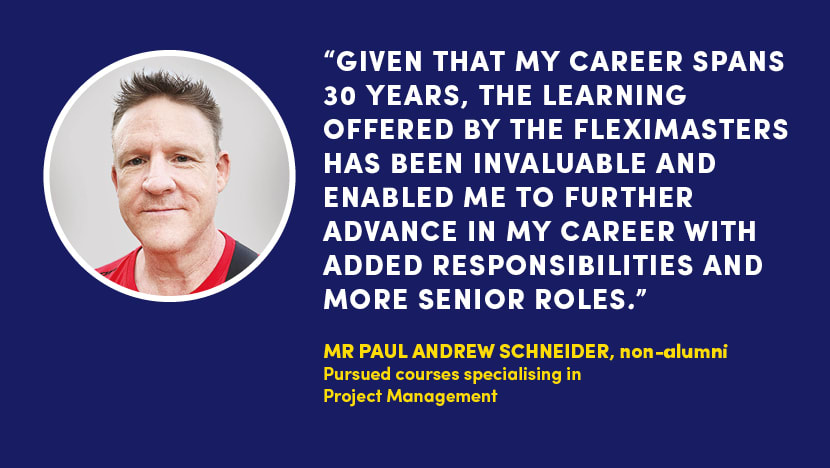 INNOVATION IN LEARNING
One innovative offering that sets PaCE@NTU apart is its unique and flexible Microcredentials credit-bearing courses that can be stacked towards relevant certificates, including FlexiMasters, Graduate Certificates and Specialist Certificates. Furthermore, learners can also transfer credits earned from these courses to the relevant master's or bachelor's programme.
In general, Microcredentials courses are tailored to provide working professionals with in-demand knowledge and skills in a particular subject or area of specialisation, helping them with career advancement as they progress on their lifelong learning journey.
Take NTU alumna Ms Matilda Huang, for instance, who overcame her initial apprehension to complete a FlexiMasters in Early Childhood Education. She is now pursuing a Master of Education (Early Childhood) from the National Institute of Education (NIE) at NTU.
"The FlexiMasters is very beneficial for me because it gives me the flexibility to work around my family's schedule while pursuing my further studies," she says.
"BY TAKING ON ONE COURSE AT A TIME, I AM BETTER ABLE TO COPE WITH THE REQUIREMENTS OF THE CERTIFICATE AND THE CHANGING DEMANDS OF MY YOUNG FAMILY. I FIND MYSELF ABLE TO FULLY ENJOY THE LEARNING PROCESS RATHER THAN BEING RUSHED TO COMPLETE THE CERTIFICATE WITHIN A STIPULATED TIME."


TAILORED FOR WORKING PROFESSIONALS
As its name suggests, FlexiMasters offers a flexible learning pathway for working adults. The certificate allows learners to upskill themselves with academic accredited continuing education and training courses at the postgraduate degree level and has no formal entry requirement.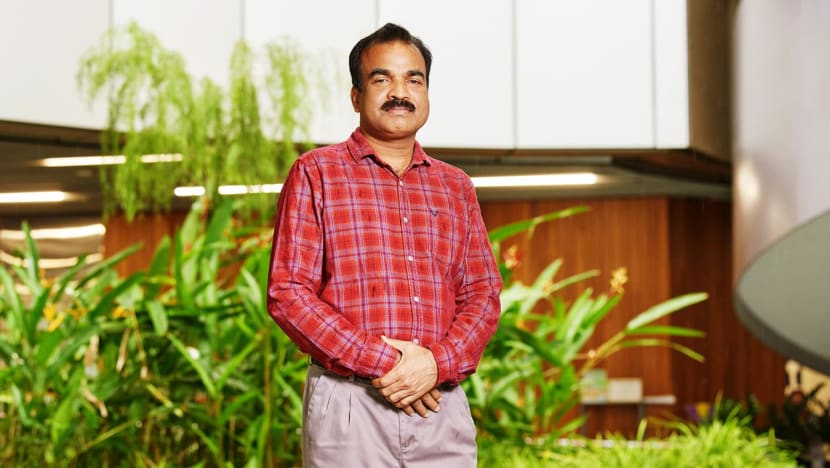 Mr Somarajan Sunil Kumar, an engineer at Halliburton, found his learning experience at PaCE@NTU to be extremely relevant to his current role. He pursued courses offered by the centre that were stackable to a FlexiMasters in Supply Chain Engineering.
"FlexiMasters is the best option for supply chain professionals who are looking to upskill for many reasons. It is designed flexibly to allow learners to pursue at their own time and pace. Hence, it provides everyone an equal learning opportunity and, most importantly, the course credits earned are stackable to its relevant NTU master's programme," he says.
"SINCE SINGAPORE IS THE REGIONAL LOGISTICS HUB, WHERE THE LOGISTICS AND SUPPLY CHAIN INDUSTRIES ARE KEY PILLARS OF THE SINGAPORE ECONOMY, I BELIEVE THIS CERTIFICATE EQUIPS LEARNERS WITH THE SKILLS AND COMPETENCIES NECESSARY TO GRAB THE EXCITING OPPORTUNITIES AHEAD."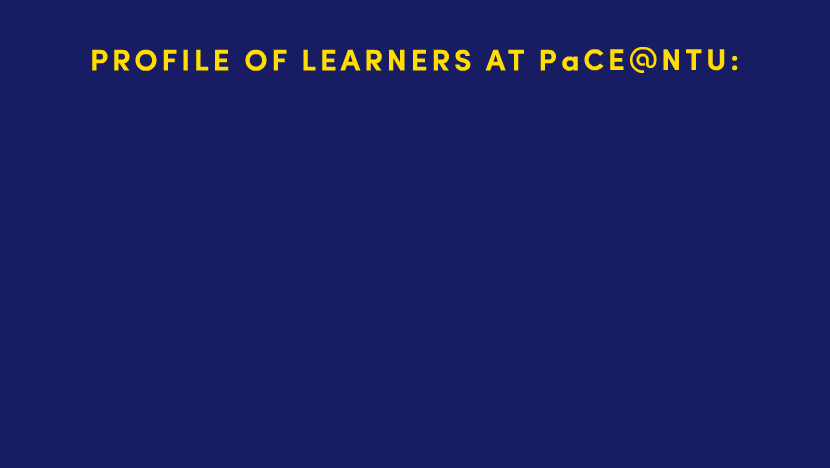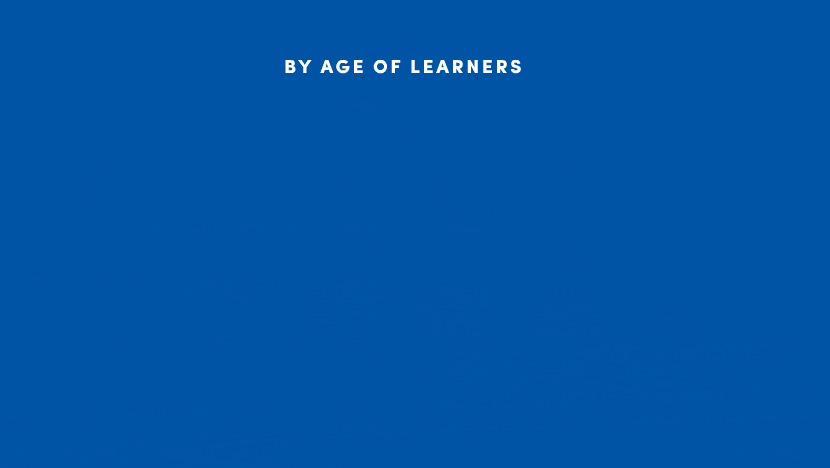 Another NTU alumnus, Mr Khor Kai Xiang, believes that having pursued courses stackable to a FlexiMasters in Instructional Design (E-Learning) has helped him to add greater value in his role as a Management Associate at NEC Asia Pacific.
"FlexiMasters benefitted me by allowing me to identify performance gaps among my colleagues and customers and prepare an instructional outline that proposes solutions to resolve their issues or any disputes they have," he explains.
FlexiMasters helps working professionals to not only boost their employability and improve their career prospects, but also allows them to pursue intellectual enrichment through a selected range of courses — many of them funded by SSG.
"FROM THE CUSTOMERS' PERSPECTIVES, I BELIEVE I CAN ALSO VALUE-ADD BY PROVIDING THEM WITH ENGAGING AND INSTRUCTIONAL RESOURCES, SO THEY UNDERSTAND ANY TECHNICAL JARGON AND USE OUR PRODUCTS AND SOLUTIONS EFFECTIVELY."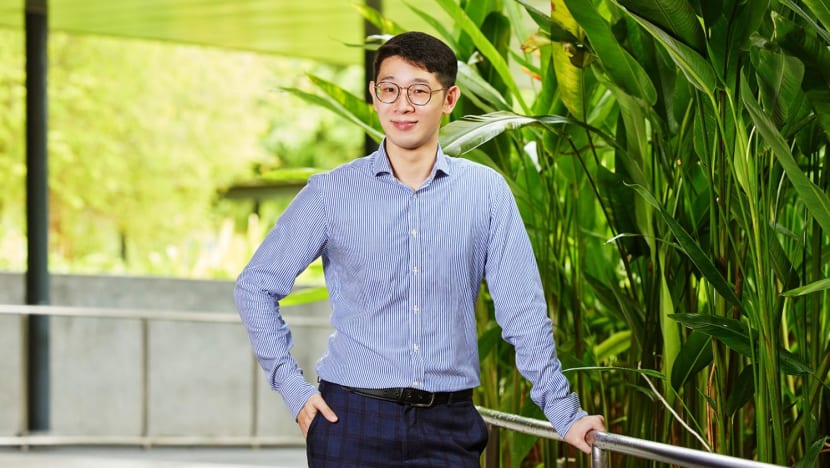 Learners can choose from a wide spectrum of multidisciplinary areas offered by NTU's colleges and schools, institutes, and centres to expand their knowledge and skills at their own time and pace. They can also use FlexiMasters to evaluate whether they can manage their studies before committing to a full-time master's degree.
With its breadth of offerings and flexible design, PaCE@NTU's courses are an ideal starting point for working adults keen to resume their learning journey — whether for career advancement or purely for the sake of gaining more knowledge.
SETTING THE PACE
How continuing education and training have evolved at NTU.
JULY 1991
OPENING DOORS: LAUNCH OF THE CENTRE FOR CONTINUING EDUCATION (CCE)
The CCE was set up to act as a link between the university and the community — by providing continuing education for alumni and others keen on advancing their knowledge and learning practical skills. As a leading professional development training provider in Singapore and the region, it trained tens of thousands of leaders and professionals.
2016
A NEW SCOPE: PaCE COLLEGE IS FORMED
Taking over from the Office of Professional Education and Centre for Continuing Education, the College of Professional and Continuing Education (PaCE College) offered working adults credit-bearing, as well as executive, personal development and enrichment non-credit courses. In May that year, Prime Minister Lee Hsien Loong announced that the National Trades Union Congress would partner NTU in supporting working adults to upgrade their skills.
2019
THE JOURNEY CONTINUES: PaCE@NTU
Now known as the Centre for Professional and Continuing Education, PaCE@NTU continues to lead a role in the community, coordinating between SkillsFuture Singapore, the Ministry of Education and various NTU entities in promoting continuing education and training and lifelong learning. The centre draws on the university's world-renowned faculty and strong industrial connections to develop quality programmes and courses for working professionals.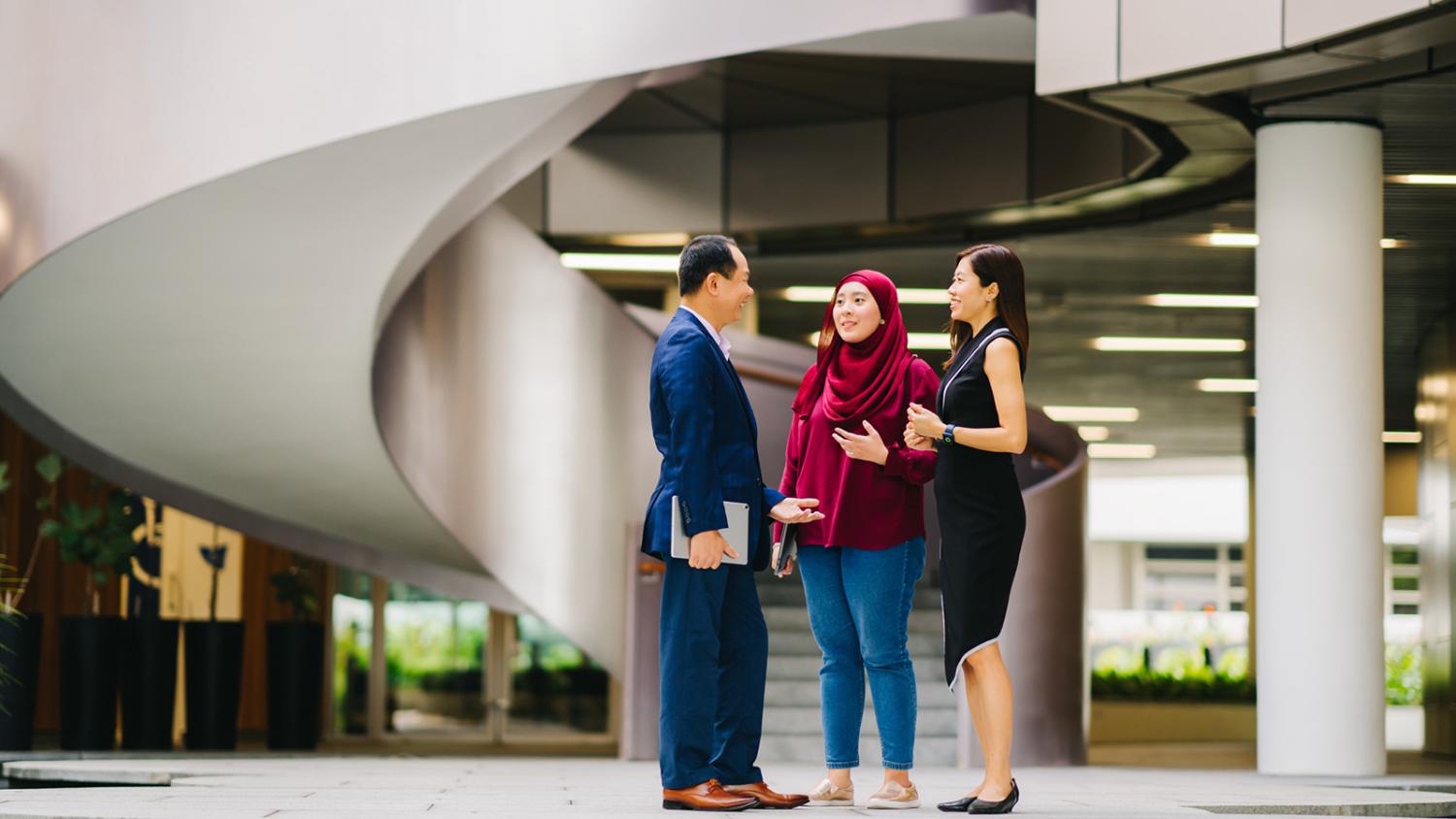 START YOUR JOURNEY OF LIFELONG LEARNING
Learn more about how to upskill and reskill yourself with PaCE@NTU.
FIND OUT MORE