Rapid technological progress is altering the nature of work across almost every industry. To stay employable amid this change, more working adults are adopting a lifelong approach to learning.
As demand for upskilling and reskilling grows, institutes of higher learning, such as Nanyang Technological University (NTU), are rolling out innovative programmes that meet the continuing education needs of the local workforce.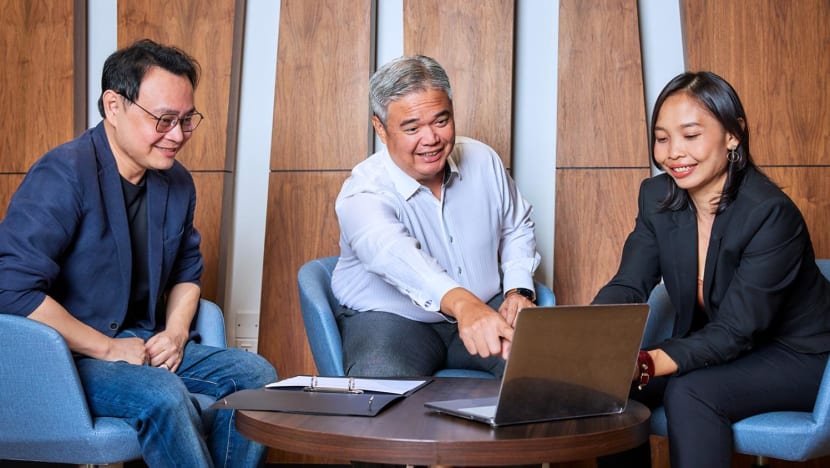 AHEAD OF THE PACK
NTU is committed to providing continuing education and training through its Centre for Professional and Continuing Education, also known as PaCE@NTU. The centre leverages the expertise of NTU's world-renowned faculty and industrial network, resulting in top-notch learning initiatives.
These programmes provide professionals, managers, executives and technicians with the knowledge and skills needed to stay relevant and employable in an evolving world. Crucially, PaCE@NTU also coordinates between SkillsFuture Singapore, the Ministry of Education, various NTU organisations and industry partners to promote continuing education and lifelong learning.
Supporting Singaporeans to equip themselves with tech-related skills has become a priority, as roles related to digital technologies continue to witness robust demand in Singapore, according to a survey of employers conducted by the Ministry of Manpower between November 2021 and January 2022.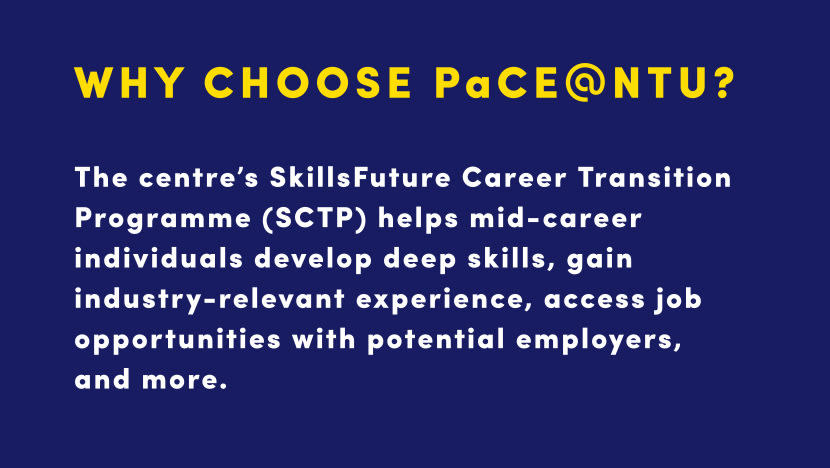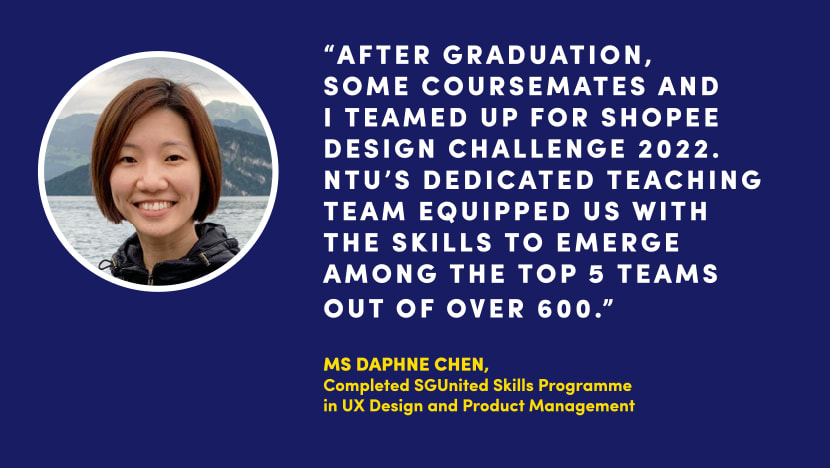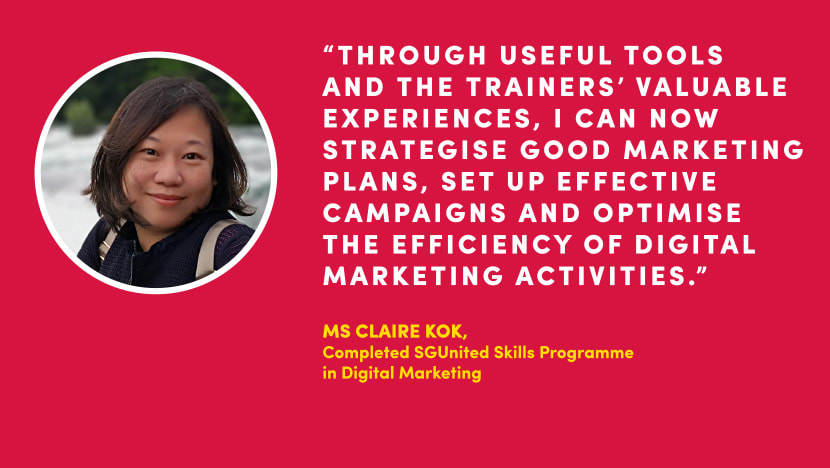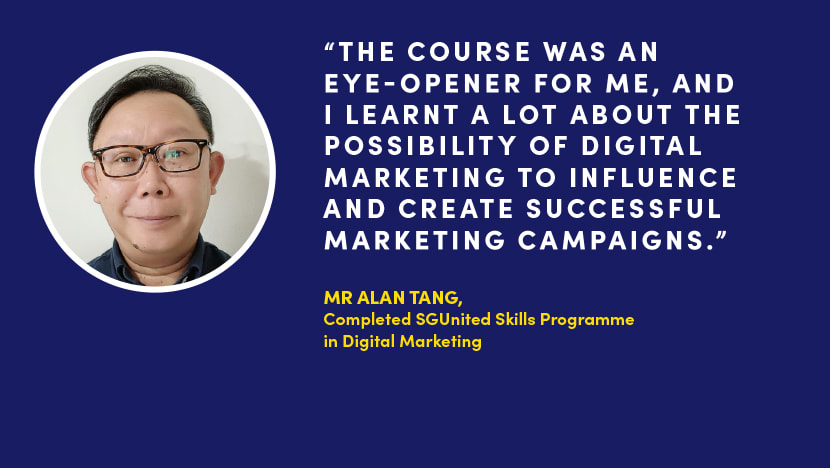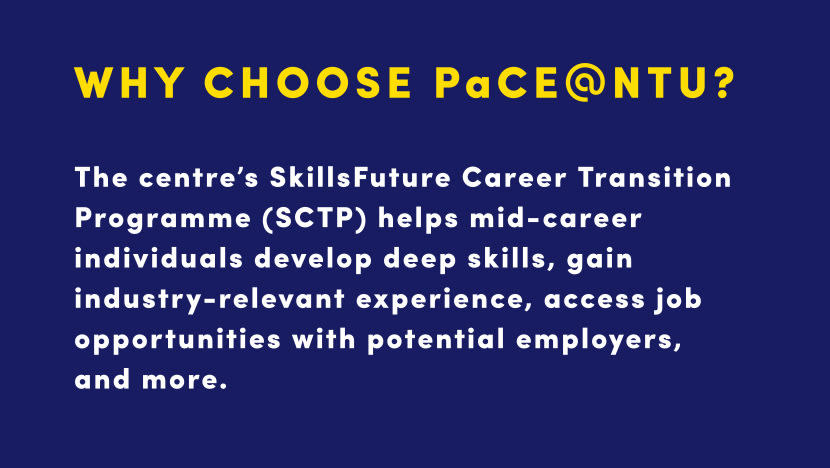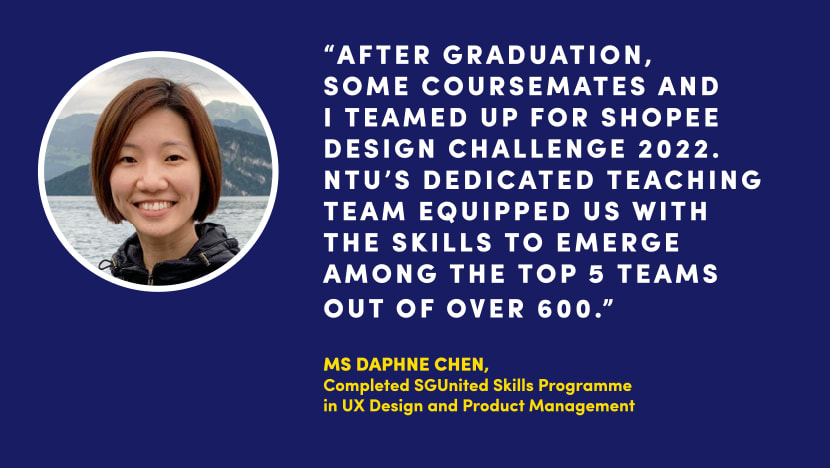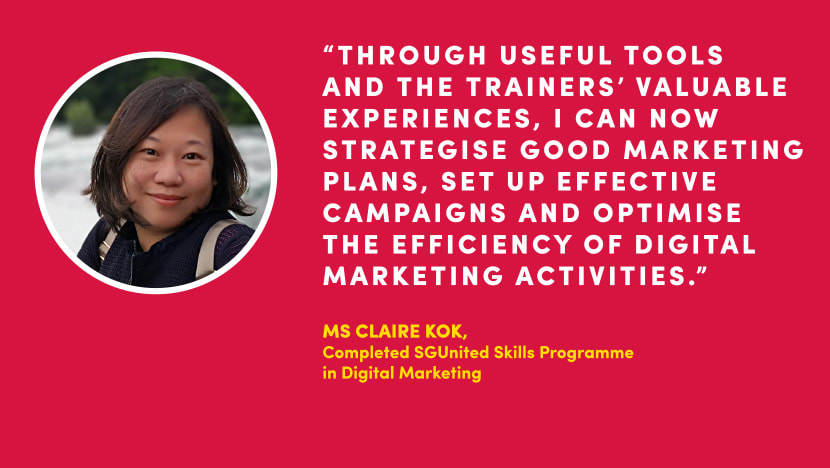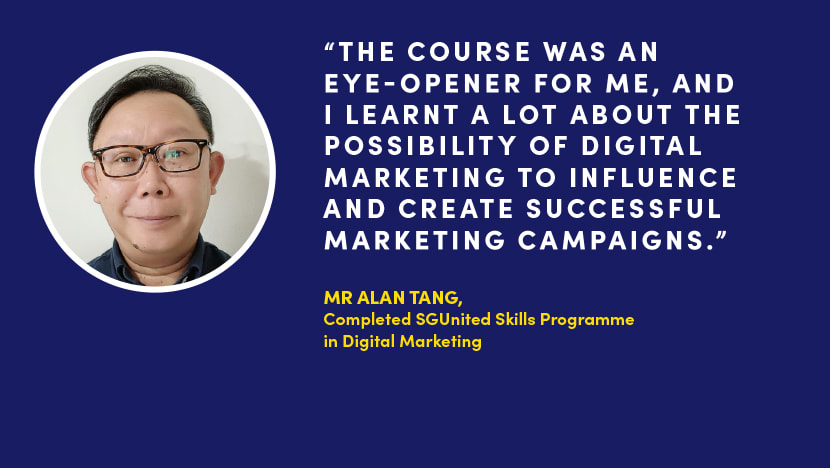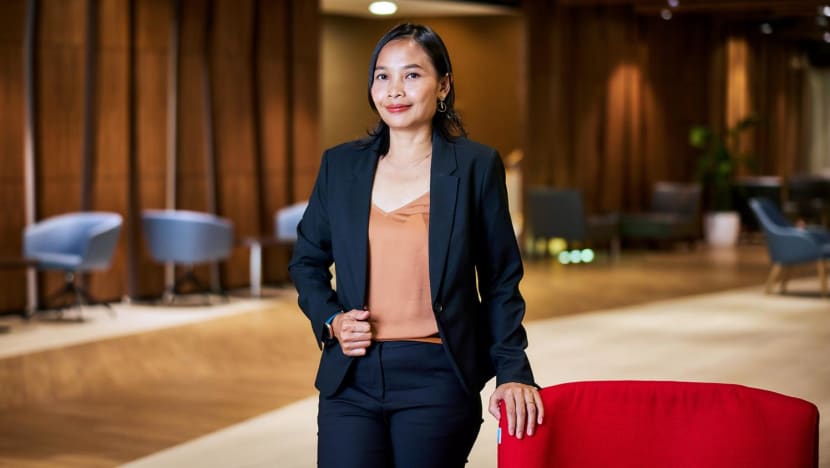 TURNING MID-CAREER PROFESSIONALS INTO TECH TALENT
One key initiative at PaCE@NTU is the SkillsFuture Career Transition Programme (SCTP), which aims to support the career transition needs of Singaporeans and provide learners with the opportunity to upskill and access fresh or enhanced job opportunities with potential employers. The programme's three- to six-month part-time courses are designed to help trainees develop industry-relevant skills now in demand in the workforce. The SCTP takes over from the SGUnited Skills (SGUS) Programme, which was intended for mid-career jobseekers impacted by the economic consequences of COVID-19 (see box below).
The SCTP at PaCE@NTU covers five tech-related areas: Cloud Infrastructure Engineering, Data and Information Analysis Literacy Upgrading Programme (Dial-Up), Digital Marketing, Software Engineering, and UX Design and Digital Product Management.
One learner, Mrs Kartini, sought to acquire new skills in technology after 10 years in the hospitality sector, including a role as a polytechnic lecturer in her home country of Indonesia. "Transitioning to digital is a good choice as we live in an era of high technology. As I enjoy art, I decided to explore my career as a UX (user experience) designer and signed up for NTU's SGUS Programme in UX Design and Product Management," she says.
With two daughters aged four and seven, the flexible mode of learning was a big draw, as it allowed her to take care of her family while studying. "The best part was having mentors from the industry who were fully supportive and very engaging — they made my learning journey very smooth," says Mrs Kartini, who hopes to find a role in product management or UX, ideally in education.
"AS I COME FROM A DIFFERENT FIELD, I AM THANKFUL TO HAVE COMPLETED THIS PROGRAMME EVEN THOUGH I MAY HAVE TO START FROM SCRATCH AT A JUNIOR LEVEL. IT'S A GOOD, VALUABLE OPPORTUNITY TO BE ABLE TO UPSKILL INTO THE TECHNOLOGY SECTOR."
SGUS AND SCTP: WHAT'S THE DIFFERENCE?
Designed as COVID-19 support to help workers amid challenging job-related conditions, PaCE@NTU's full-time SGUnited Skills (SGUS) Programme took place from 2020 to March 2022. It targeted unemployed trainees, who received a monthly training allowance if eligible.
The SCTP was launched in April 2022 and replaces the SGUS Programme. Targeting mid-career individuals, unemployed jobseekers and those looking for a career switch, it offers industry-oriented full-time and part-time courses to all Singaporeans and Singapore Permanent Residents (PRs), whether employed or not.
Singaporeans and PRs can receive additional course fee support of up to 95 per cent subsidies on SCTP programmes. Singaporeans can also use their SkillsFuture credits to offset the fees after funding.
PaCE@NTU'S SGUNITED SKILLS PROGRAMME SINCE 2020: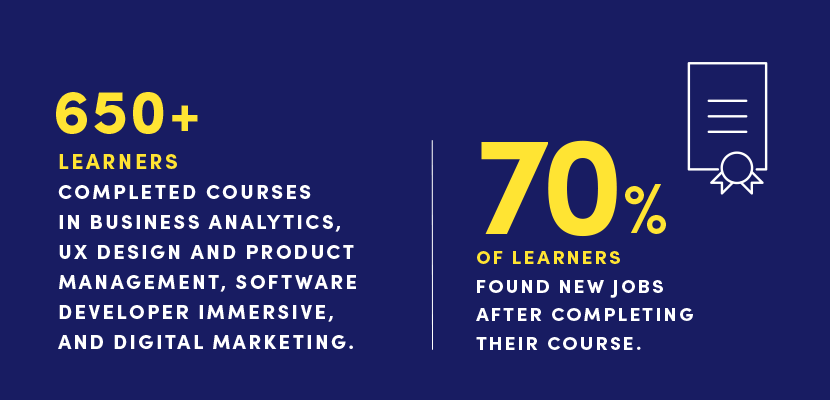 A COMMITTED CAREER SERVICES TEAM
Perhaps the biggest strength of enrolling in the SCTP at PaCE@NTU is leveraging its team of career consultants, who provide learners with ongoing support and guidance. As learners transition into their new careers, they can tap on various career services and activities, such as career coaching, insight sessions from industry practitioners, employability workshops on the latest job-search know-how, and personal guidance from the dedicated consultants.
The career advisory team is also on hand to facilitate the placement of learners into new or growth roles during their learning journey and even after they have graduated.
For Mr Gary Yeo, a systematic quant trader and a self-professed lifelong learner who completed the SGUS Programme in Business Analytics and Automation Tools, keeping abreast of the latest developments in technology was a key benefit of the programme. He also appreciated how the career services team was available to guide learners in making a career switch.
"As a self-employed person, lifelong learning allows me to learn from my peers and the subject matter experts. This also helps me to stay connected and up to date with current developments. In addition, the programme offered not only career guidance and consultation to learners who wanted these services, but also continuous support for six months after the programme ended," he says.
"I BELIEVE PaCE@NTU IS WELL-POSITIONED TO FACILITATE AND SUPPORT LIFELONG LEARNING FOR WORKING PROFESSIONALS. THEIR SUPPORT FOR LEARNERS, SUCH AS CAREER CONSULTATION, ADDS VALUE TO OUR UPSKILLING JOURNEY."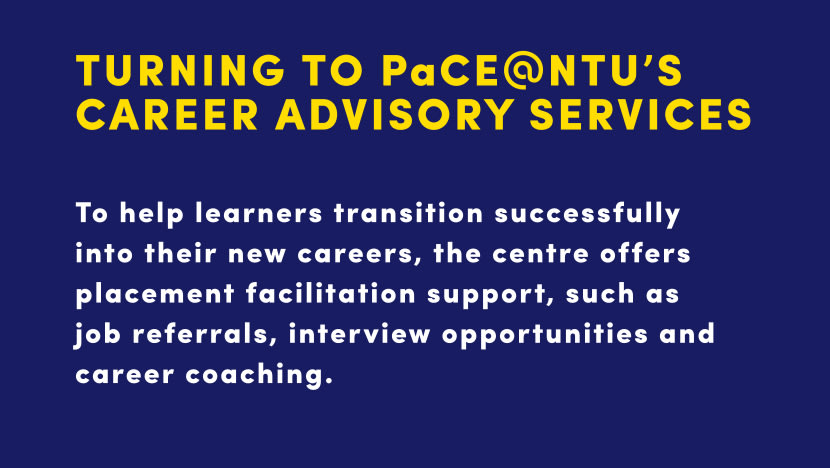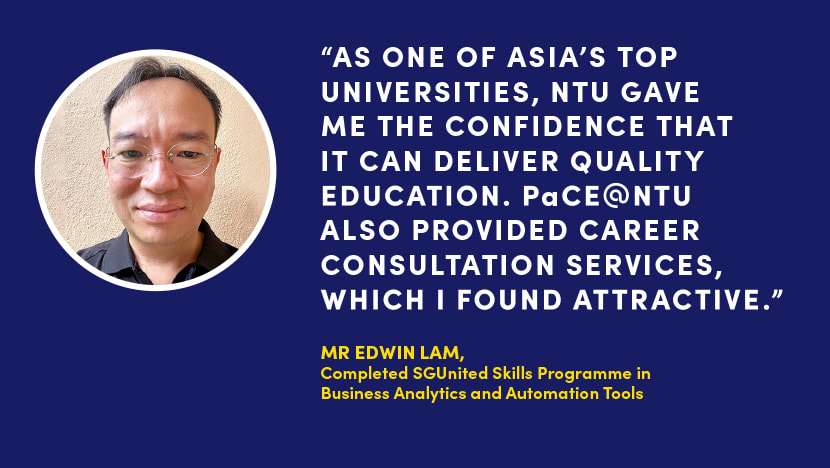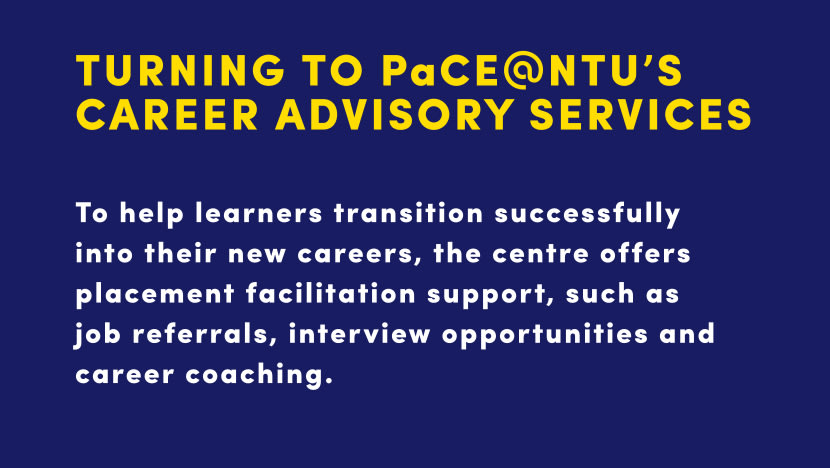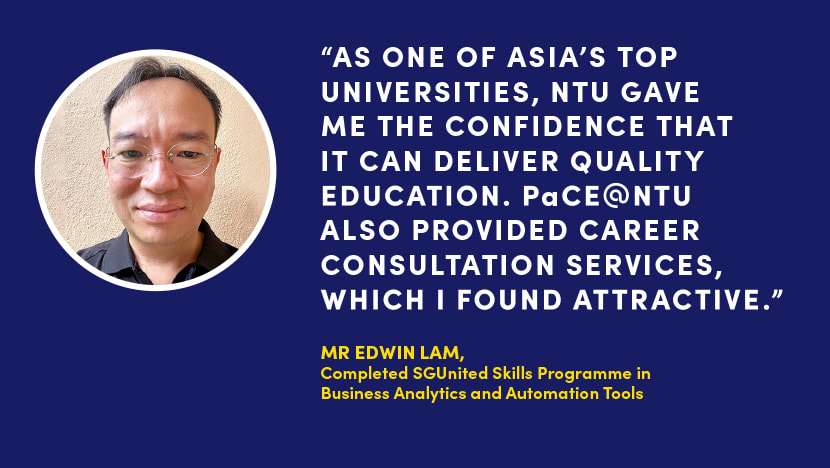 THE NTU DIFFERENCE
Why should working professionals choose the SCTP through PaCE@NTU? The high-quality programmes are designed by industry experts to help learners upskill and excel in highly sought-after fields. Conducted virtually and in the classroom at NTU's one-north campus, they feature a hands-on, industry-focused curriculum with real-world applications.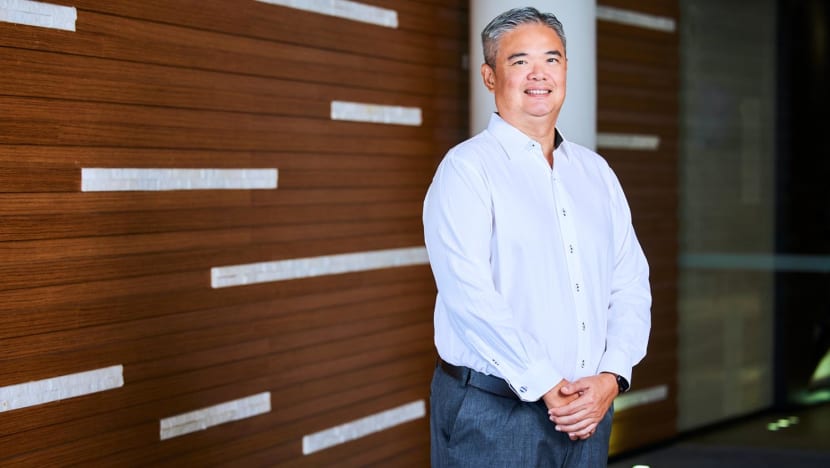 "The programme is proving to be beneficial to my career development," says Mr Teo Wee Kiang, an insurance broker and a former credit analyst who completed the SGUS Programme in Digital Marketing and is exploring a career switch. "It has improved my understanding of social media marketing, equipping me with the skills in modern marketing tools."
Although Mr Teo faced a few challenges, such as meeting regular assignment deadlines, he said the lecturers were very supportive in helping mid-career learners like him in his learning journey.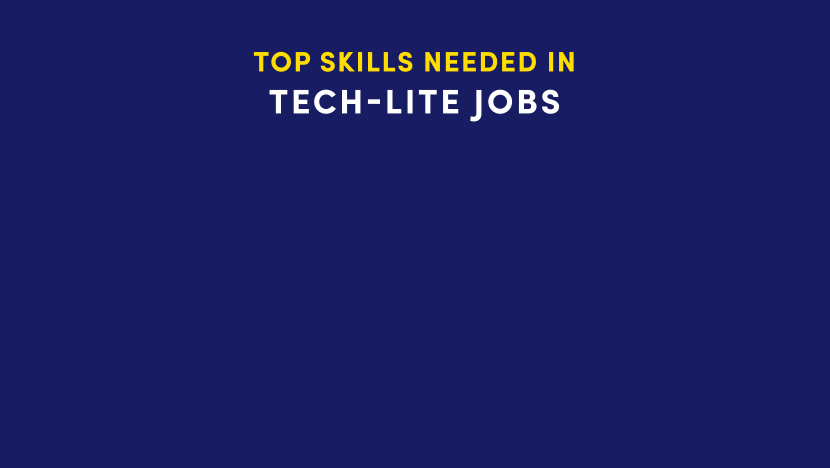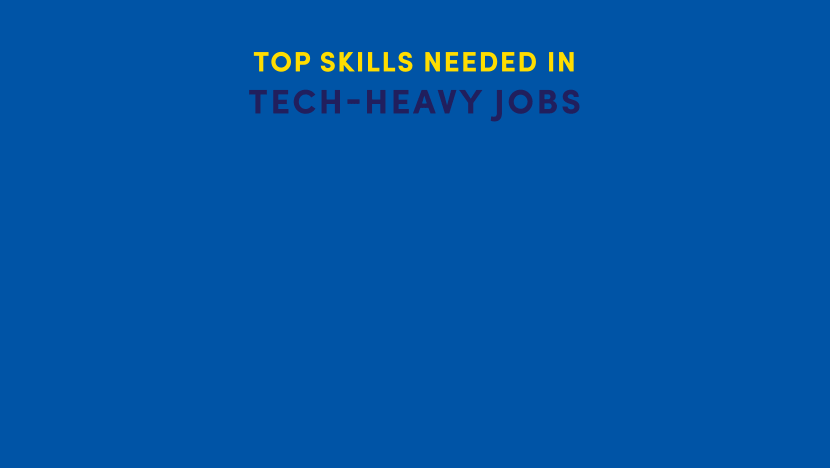 "LEARNING FROM THE PRACTITIONERS WAS INVALUABLE. TO PROSPECTIVE LEARNERS, GO IN WITH AN OPEN MIND. THE TRAINERS ARE FRIENDLIER THAN YOU MIGHT THINK, THE LEARNING IS MORE OF A TWO-WAY INTERACTION, AND YOU GET A REAL SENSE OF ACHIEVEMENT WHEN YOU COMPLETE THE COURSE."
Through PaCE@NTU, the SCTP and the SGUS Programmes are proving to be an effective and flexible pathway for working adults seeking to stay employable and tech-savvy over the long term. With this initiative, learners can choose from a wide range of programmes offered by NTU in the fast-growing technology sector to boost their career prospects.
SETTING THE PACE
How continuing education and training have evolved at NTU.
JULY 1991
OPENING DOORS: LAUNCH OF THE CENTRE FOR CONTINUING EDUCATION (CCE)
The CCE was set up to act as a link between the university and the community — by providing continuing education for alumni and others keen on advancing their knowledge and learning practical skills. As a leading professional development training provider in Singapore and the region, it trained tens of thousands of leaders and professionals.
2016
A NEW SCOPE: PaCE COLLEGE IS FORMED
Taking over from the Office of Professional Education and Centre for Continuing Education, the College of Professional and Continuing Education (PaCE College) offered working adults credit-bearing, as well as executive, personal development and enrichment non-credit courses. In May that year, Prime Minister Lee Hsien Loong announced that the National Trades Union Congress would partner NTU in supporting working adults to upgrade their skills.
2019
THE JOURNEY CONTINUES: PaCE@NTU
Now known as the Centre for Professional and Continuing Education, PaCE@NTU continues to lead a role in the community, coordinating between SkillsFuture Singapore, the Ministry of Education and various NTU entities in promoting continuing education and training and lifelong learning. The centre draws on the university's world-renowned faculty and strong industrial connections to develop quality programmes and courses for working professionals.
LAUNCH YOUR NEW CAREER IN TECH
Discover how to upgrade your skills and access the latest job opportunities with PaCE@NTU.
FIND OUT MORE