"Pulling out all the stops". "Fiscal firepower".
These phrases were used by reporters around the world to describe Singapore's economic response to COVID-19. From wage support for those in affected industries to targeted grants to help businesses emerge stronger, there was something for everyone. We are, after all, going through the crisis of a generation.
But such money cannot be assumed as a given. It comes from a steadfast commitment to budget discipline and fiscal prudence—traits championed by Singapore's first Finance Minister, Dr Goh Keng Swee, right from the early days of independence. As the time for Budget 2022 nears, we examine how this sound policy has helped Singaporeans to cope with the COVID-19 situation and emerge stronger.
STYLED AND READY FOR TOMORROW
Stepping into Stylemart, you are immediately transported into a world of colourful lehengas (ankle-length skirts), elegant evening gowns and breathtaking bridalwear. The fashion boutique on Selegie Road has been a household name for nearly three decades, thanks to the cutting-edge designs of owner Ms Kavita Thulasidas, 47. Before the pandemic, customers got up and close to these designs at an annual fashion show. "Fashion is such a visual experience and I wanted to give my customers that—a closer look at every texture, fabric and colour," she explains.
Unfortunately, like so many things, these shows had to stop because of COVID-19. Undeterred, Ms Thulasidas adopted the same steely resolve and determination that helped her steer Stylemart through the 1997 Asian Financial Crisis. "I have become used to saying, 'Okay, this is just a phase' and getting on with business," she reflects, adding that Stylemart quickly pivoted to online channels to connect with customers.
But given the steep economic crisis brought on by COVID-19, a pivot alone would not have been enough. Like so many businesses, Stylemart received a lifeline in the form of the Jobs Support Scheme, which partially covered the wages of her 12 employees in Singapore. In all, the scheme provided more than $28 billion to over 170,000 employers across the country since 2020. "It was a lifeboat," she says candidly. "Sales were affected in the early days, but by around Deepavali in 2020, things had picked up considerably." Thankfully, she did not have to let go of her staff at the height of the pandemic and was able to fulfil those orders when the economic rebound began.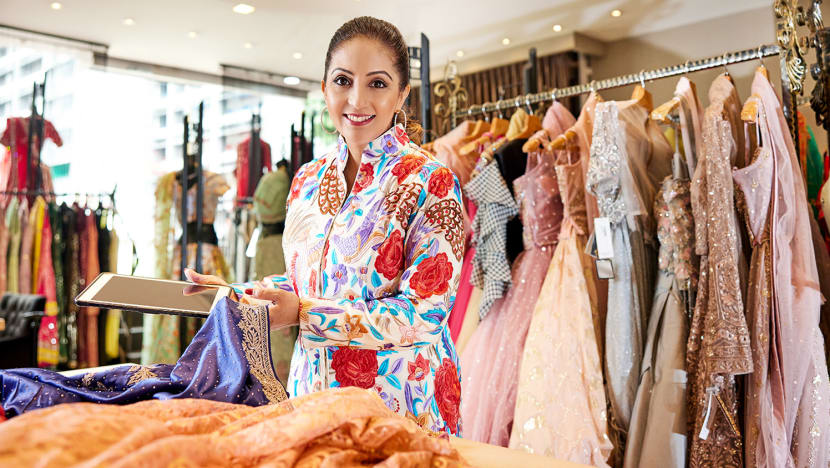 Stylemart was also in a strong position thanks to Ms Thulasidas's foresight: well before the pandemic hit, she tapped on the Government's Enterprise Development Grant to fund 80 per cent of a product management software that tracked a product's journey through her options. Being a bespoke designer, most of her pieces are made-to-order and go through several stages of alterations, fittings and finishes before the customer gets it. "This can take anywhere from seven days to three months," explains Ms Thulasidas. Before the software, this tracking was done manually in a book. "It was very stressful as information was not readily accessible. But tapping on the software means that I can focus on growing the business and brand, instead of being tied down by operations and logistics. And for a designer, that's a welcome relief."
DID YOU KNOW?
Several government schemes were enhanced during COVID-19, including the above-mentioned
Enterprise Development Grant
. The
Jobs Support Scheme
was also extended by up to six months in hard-hit sectors such as aviation and tourism to offer greater support to businesses.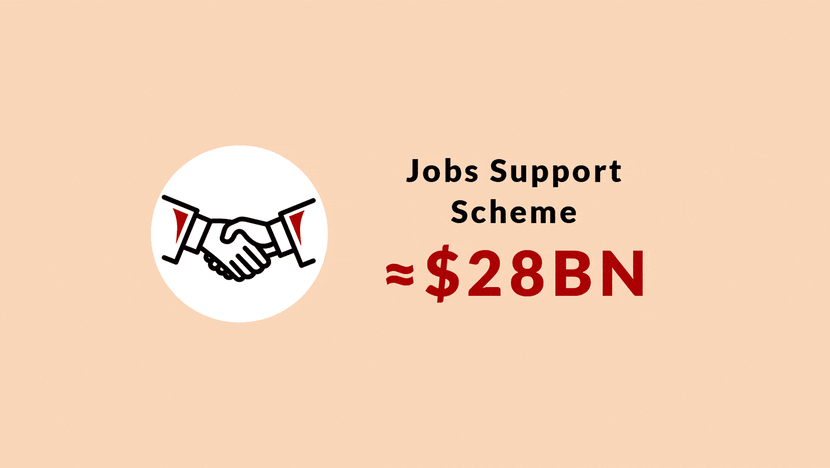 FORGING HER OWN PATH
Stability or the opportunity of a lifetime? Those were the crossroads Ms Wardah Aziz found herself at last year. The technical producer was working at a major broadcaster through the pandemic but in early 2021, got wind of an opportunity she could not pass up. "It was to help with the live broadcast of the 2020 Tokyo Olympic Games," she recalls. Committing to that stint would have required two months off from her fulltime job. "I thought long and hard about it and eventually decided to take the plunge and work freelance instead."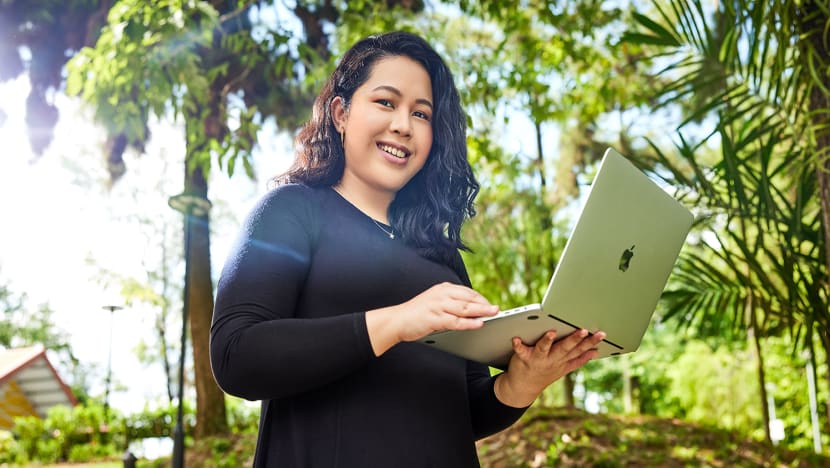 That decision was made easier by the savings she had amassed over the years. Her savings were further cushioned by the Government's Care and Support – Cash and Solidarity Payment, which added some $900 to her bank account. Disbursed in the early days of the pandemic, these helped over 2.8 million Singaporeans in April and June 2020.
After an unforgettable month in Tokyo, Ms Aziz returned to Singapore last August, refreshed and ready for a new challenge. She decided to shore up her skillset so that she could better support her clients. "So I used my SkillsFuture to embark on a month-long User Interface/User Experience (UI/UX) bootcamp," she says. Thanks to the one-off SkillsFuture Credit Top-up of $500 in 2020, she did not have to fork out any cash for the programme. With this knowledge, Ms Aziz now possesses technical expertise in one of the most in-demand skills of the digital economy.
Looking back, it's hard for her to believe how different her life is after just a year. "I control my time, work and wellbeing," she says. "And to think I almost gave it up."
LEVEL UP
For thousands of Singaporeans, sports coaches are a vital lifeline to destress and unwind. And those who opt for tennis training might know Mr Gideon Chia, who has made a name for himself in the local coaching scene. Unfortunately, the sporting industry was one of the earliest to be battered by COVID-19. As Mr Chia, 26, recounts: "I had to cancel all my classes for two months, which was really tough because the money I earned from teaching tennis was used to fund my degree. I also had plans to get married in 2023, so cashflow was very important to me."
Fortunately, Mr Chia could tap on the Self-Employed Persons Income Relief Scheme, which provided a payout of some $9,000 to Mr Chia around the time of 2020's Circuit-Breaker. Together with the Care and Support – Cash and Solidarity Payment, this kept him afloat till tennis courts opened again in the middle of 2020.
"I HAD TO CANCEL ALL MY CLASSES FOR TWO MONTHS, WHICH WAS REALLY TOUGH BECAUSE THE MONEY I EARNED FROM TEACHING TENNIS WAS USED TO FUND MY DEGREE. I ALSO HAD PLANS TO GET MARRIED IN 2023, SO CASHFLOW WAS VERY IMPORTANT TO ME."
But Mr Chia didn't just wait in anticipation for courts to reopen. Instead, he used the time and money to strengthen his skills: He successfully completed the Sport Singapore's Coach Theory Programme during the Circuit Breaker. The certification allowed him to grow his client base further and Mr Chia now coaches several school teams as well. He also has plans to strengthen his career by pursuing a postgraduate degree in sports and exercise science in Germany in the coming years.
Despite the pandemic's many uncertainties, it's heartening to know that one thing remains certain: Mr Chia and his fiancée will take their marriage vows come 2023. "The next and possibly happiest milestone," he says. We couldn't agree more.