Among those following recent developments at the 26th United Nations (UN) Climate Change Conference of the Parties in Glasgow — or COP26 — young people were listening more intently than others. On November 5, while huge crowds of young protestors took to the streets of Glasgow to demand more climate action, a smaller group in Singapore released a statement titled "An Urgent Call from Singaporean Youths on the Environmental Crisis". In it was a list of 18 recommendations for the Government to "boldly accelerate climate action" and "bring everyday Singaporeans, especially the younger generations, into the conversation".
It is not surprising that youth are at the forefront of this movement, for they have the most at stake. They are the ones who will live to see the long-term impacts of unmitigated climate change, such as extreme weather and food insecurity. On the one hand, gripped by doomsday fears and an overriding sense of helplessness, 'eco-anxiety' is rising in the young. Yet despite this (or maybe because of it), their passion for the cause has led to new forms of climate activism, from spotting corporate 'greenwashing' to highlighting the 'intersectionality' of environmental and social justice.
What exactly does being green mean to today's youth? What does sustainable development look like to them? If given the opportunity, what would they do differently to make it happen? To give young Singaporeans a say on these matters and empower them to take action, the National Youth Council (NYC) recently wrapped up a series of virtual conversations with 266 youth participants on the Singapore Green Plan 2030.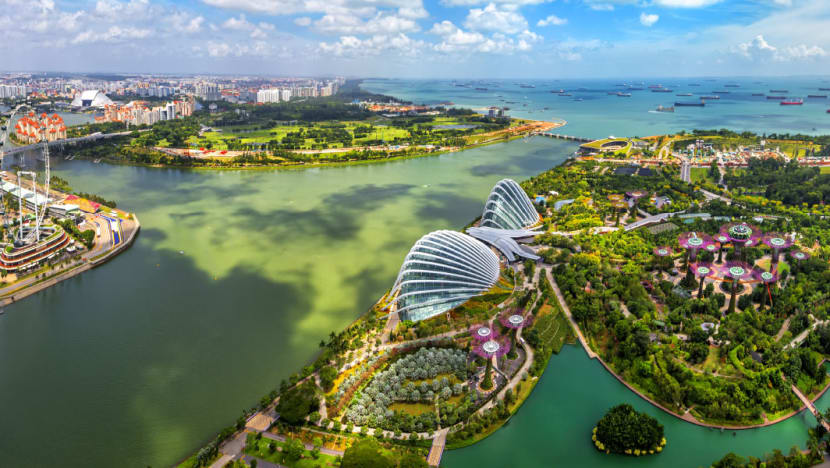 A NEW GREEN ERA
Unveiled in February 2021, the Singapore Green Plan 2030 (SGP2030) is a national roadmap towards sustainable development and net-zero emissions. It contains ambitious and concrete targets over the next decade in five key pillars: City in Nature, Sustainable Living, Energy Reset, Green Economy and Resilient Future. It aligns Singapore's commitment to the UN's 2030 Agenda for Sustainable Development and the Paris Agreement. The latter treaty, adopted at the COP21 summit in 2015, saw countries agreeing to work together to limit global warming to well below 2 degrees Celsius, compared to pre-industrial levels.
Central to the success of SGP2030 is getting all Singaporeans — including youth — on board to contribute to a more sustainable and liveable home. Which was why, from July to November 2021, NYC engaged a total of 266 students from institutes of higher learning as well as young working adults in a series of four Zoom conversations to better understand their sentiments on the Green Plan. Beyond that, the series enabled participants to connect with like-minded youth, and gain access to resources and programmes, to embark on their own green projects.
For Ms Melissa Low, the NYC Council Member in charge of the initiative, it was a good opportunity "to encourage more dialogue between youth and the Government" and co-create solutions to improve upon the Green Plan. The 34-year-old added, "We also shared various resources at each session, such as NYC's Young ChangeMakers grant and the SG Eco Fund, so hopefully they will go on to form their own networks and get their projects off the ground."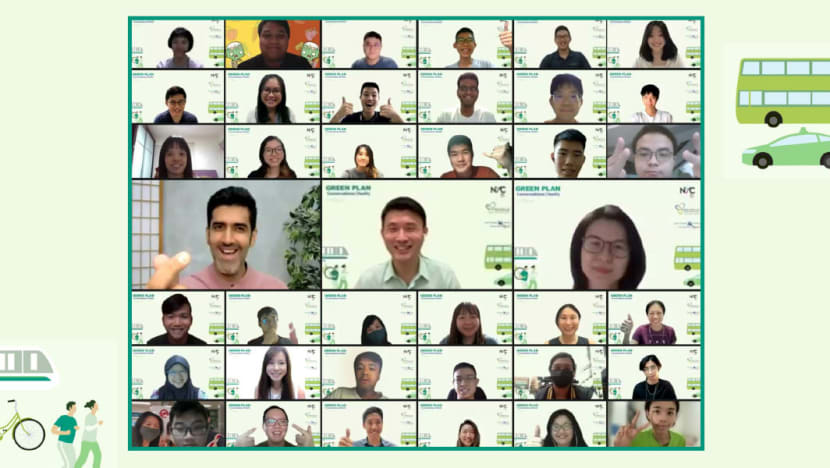 WHAT YOUTH WANT
The inaugural session, co-organised by NYC and the National University of Singapore (NUS), was held on July 16 as part of the Climate Action Week 2021 activities. Ms Low, a Research Fellow working on climate change research at NUS' Energy Studies Institute, joined others such as group members of NUS Students Against Violation of the Earth (SAVE) in sitting on the organising committee for that event. She also served as a panellist at the next two sessions — on August 24 in partnership with Institute of Technical Education (ITE) College Central, and an inter-varsity conversation involving seven universities on October 26.
During these sessions, participants gave their feedback on SGP2030 and debated whether more can be done in each of the Green Plan pillars. The insights they provided were both candid and diverse, from getting the military involved in biodiversity conservation to increasing awareness of green jobs via the school curriculum. Innovative strategies for living a more sustainable lifestyle were also proposed, such as through gamification and offering incentives to motivate people to buy local produce.
Minister of State for Culture, Community and Youth & Trade and Industry Alvin Tan was involved in the NUS and inter-varsity conversations. Sharing that "our youths are keen to act and we are prepared to back them", he called for youths to bring forward their sustainability projects.
"SINGAPORE IS A SMALL COUNTRY AND CONTRIBUTES ONLY 0.1 PER CENT OF GLOBAL GREENHOUSE GAS EMISSIONS. STILL, WE MUST PLAY OUR PART TO SHIFT MINDSETS AND BEHAVIOURS. TOGETHER WE CAN LOOK AT SOLUTIONS THAT WE CAN OWN AND IMPLEMENT AS A NATION TO BUILD A MORE SUSTAINABLE SINGAPORE."
The final conversation, co-organised by NYC, the Ministry of Transport and the Land Transport Authority, took place on November 3 and focused on the topic of greener commuting. Participants responded positively to the Government's plans to expand "Walk, Cycle, Ride" networks island-wide and brainstormed ways to get people to switch to public transport or active mobility. Other issues discussed included how to make Singapore's public transport system more inclusive for those who require assistance, such as wheelchair users, and creating the necessary infrastructure to ramp up electric vehicle adoption.
Mr Chris Selvakumar, 28, attended the November 3 session and welcomed the news of more cycling lanes and wider footpaths. "I've started walking and cycling around the town where I live instead of taking public transport. Besides having zero carbon footprint, it promotes a healthy lifestyle and I can enjoy the greenery and parks along my journey," he said. "I now suggest it to family and friends whenever we go somewhere nearby or within the city centre."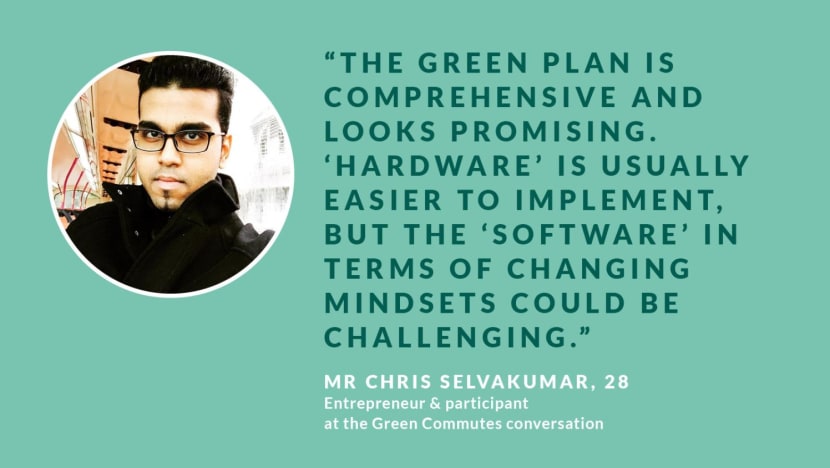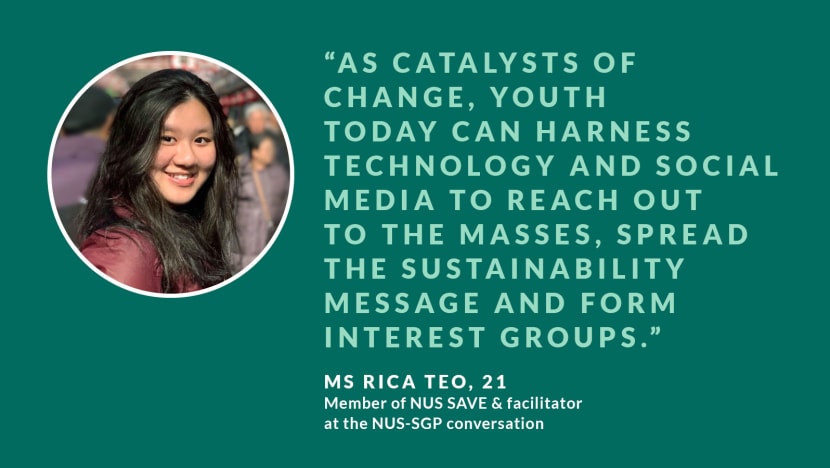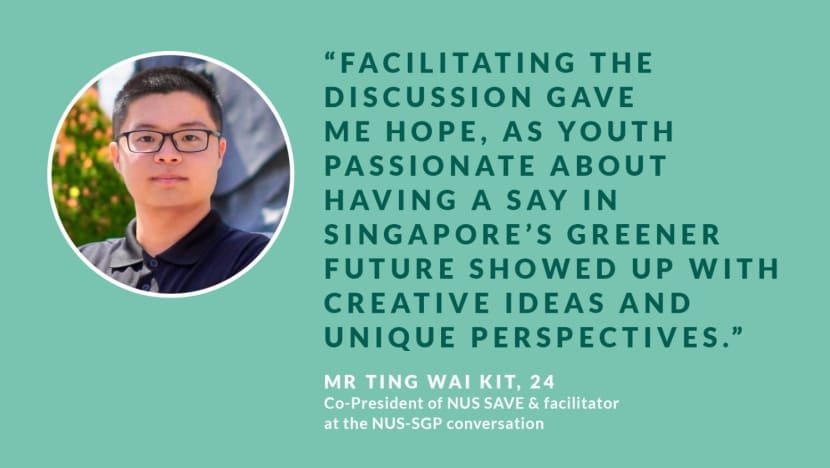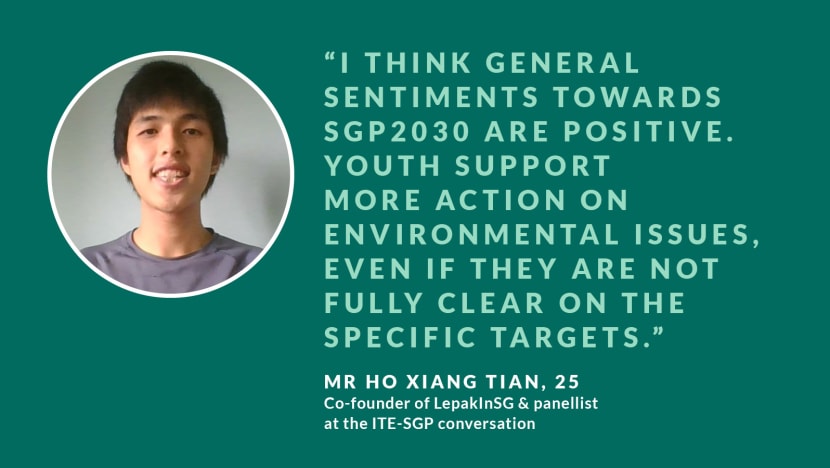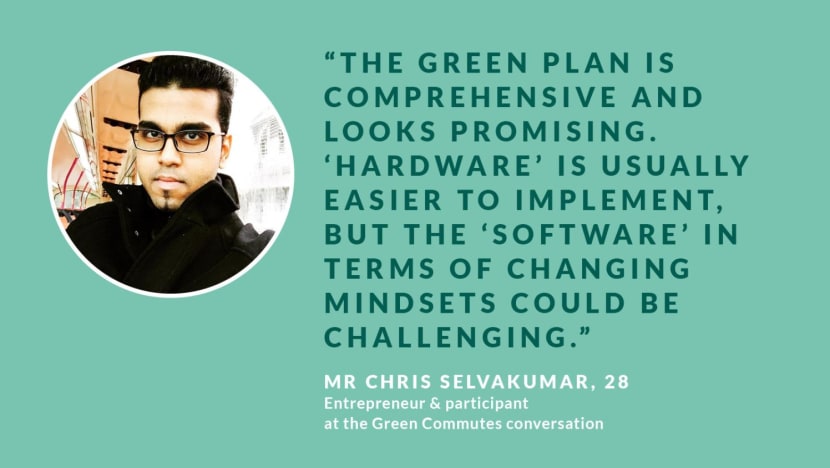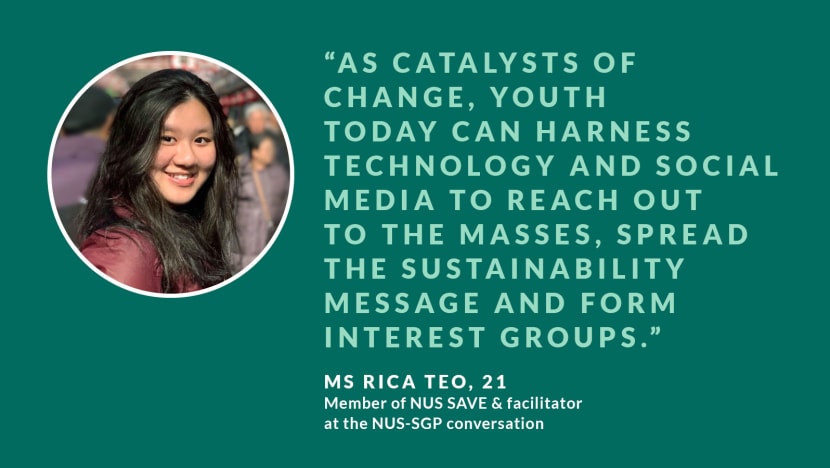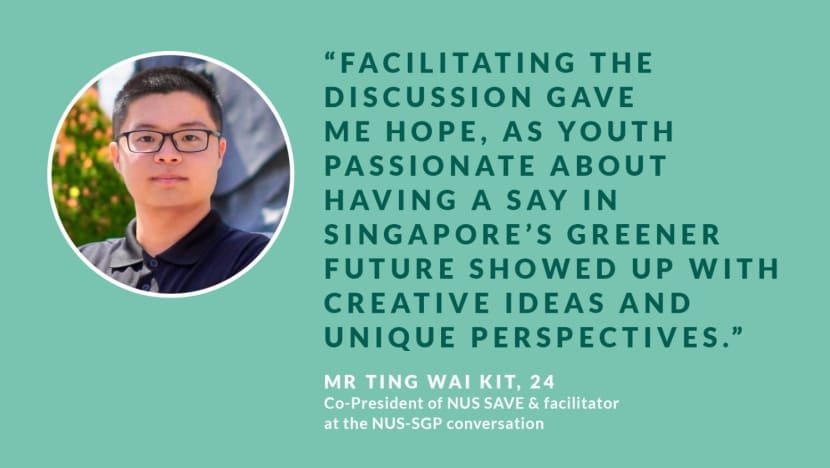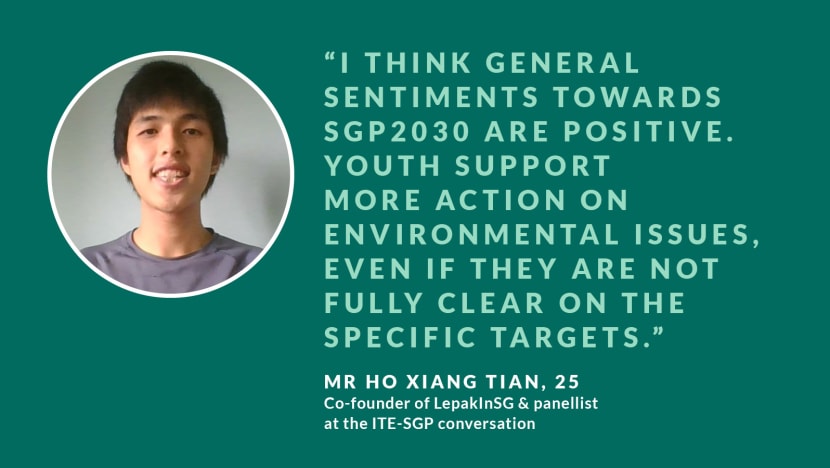 SUSTAINABILITY STARTS NOW
Some might doubt that one person's decision to walk rather than hail a bus, or to stop using single-use plastics, achieves anything substantial in the grand scheme of things. After all, our carbon footprint as individuals pales in comparison to that of large companies and countries, many of whom have yet to meaningfully cut greenhouse gas emissions. But if taken collectively, these simple actions can go a long way. "Every little bit helps" is a cliché, but it's true.
Nor should we underestimate the power of youth to push for change. "One complaint that arose among youth after SGP2030 was revealed was that they had not been consulted about it beforehand, during the formulation of targets," said Ms Low. Their desire for more ambitious green targets rang clearly in the November 5 statement, which noted that Singapore's actions, albeit heading in the right direction, are "not yet where they need to be".
QUICK TAKE WITH: MELISSA LOW
My passion for sustainability was ignited ... after I attended the COP15 summit in Copenhagen in 2009, as part of a youth delegation led by ECO Singapore (a local NGO). The experience helped me understand what goes on at climate negotiations and how youth can play an important role in the process.
Some green initiatives that I am involved in are ... Books & Beer, a travelling book swap which I co-founded in 2011. As a judge for NYC's Youth Action Challenge, I've helped to assess the projects, and I'm glad that some project teams have turned their ideas into viable businesses, be it promoting fashion swaps or creating a B2B asset-sharing platform. I'm currently working with the Ministry of Education to develop a learning package on the Paris Agreement for secondary school students, which will be available online.
A major challenge in transitioning to a low-carbon future is ... ensuring it is fair and equitable for all, including workers entrenched in carbon-intensive sectors (e.g. transport). For example, Singapore's carbon pricing scheme gives businesses flexibility to adjust to the carbon tax, but it has been criticised by youth as not being aggressive enough.
Youth engagement must capture ... different groups across the activism spectrum. At the SGP2030 youth conversations, we had a mix of very vocal participants and others who were just curious to know what the Green Plan was about. Not everyone will convert to veganism; some prefer a 'lighter touch', such as practising recycling at home. We need to engage all of them, hear their views and encourage them to act.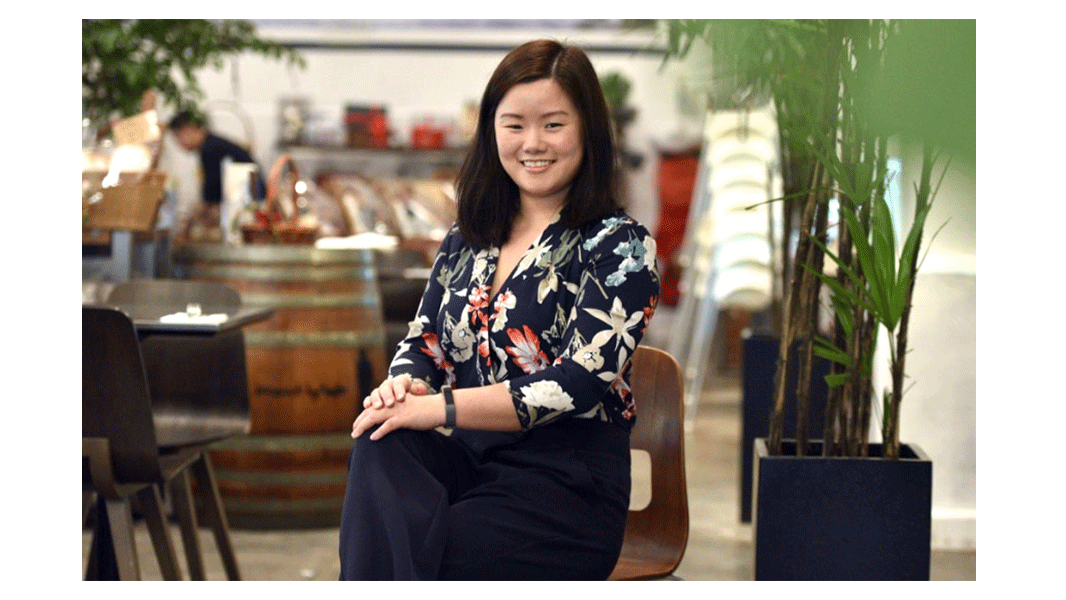 Melissa Low is an NYC Council Member and Research Fellow at the Energy Studies Institute.
This statement, coupled with the inputs shared at the NYC-led conversations, points the way forward. "I don't see the series as an end, but as a means to an end — to get the conversation going. Targets need to be updated along the way, and youth need to be consulted about them," said Ms Low. Minister for Sustainability and the Environment Ms Grace Fu likewise referred to SGP2030 as a "long-term and living plan" that will evolve as Singapore progresses.
Ms Low went on, "Youth do not appreciate being characterised as 'leaders of the future'; they want to be involved in shaping policies today. It's not just about urging youth to make an impact further down the line; we have to be interested in what they are saying and doing now."
CREATE YOUR OWN GREEN PLAN
Read what other youths have said and get support to champion an environmental cause to make a difference.
FIND OUT MORE