Travellers may have more flight options as AirAsia looks to close aircraft deal with Airbus
The budget airline is looking at fleet expansion across both short- and long-haul flights, as well as more flight routes.
SINGAPORE: Travellers may have more flight options in time to come, with Malaysian low-cost carrier AirAsia close to inking a deal with Airbus for wide-body aircraft.
The budget airline is looking at fleet expansion across both short- and long-haul flights, as well as more flight routes as it seeks to expand its capacity amid ambitions for a regional multi-hub strategy.
The deal will primarily be with Airbus, although Boeing has also made offers, said Mr Tony Fernandes, chief executive officer of Capital A, the parent company of the budget carrier.
"Right now, we're looking at more capacity. I can announce for the first time on CNA that we're looking at an aircraft order," he told the national broadcaster on Thursday (Sep 14), during an interview with presenter Roland Lim on the sidelines of the annual Milken Institute Asia Summit in Singapore.
"I never believed that we would be looking at a new aircraft order, so it is an exciting moment that we're in discussion with manufacturers for a wide body order."
He added that the size of the new order is still subject to board approval, and will be announced in due course.
ASEAN MULTI-HUB STRATEGY
With the fleet expansion, AirAsia wants to make regional bloc the Association of Southeast Asian Nations (ASEAN) its multi-hub network strategy.
"We see a huge potential in making ASEAN a multi-hub strategy. (It could be) as big as Dubai for Emirates and Doha for Qatar, in terms of a hub into Africa, Europe, and even North America," said Mr Fernandes.
This comes as he sees a probable trend of Chinese tourists preferring to travel closer to home compared to further destinations.
Since China reopened for visitors in March, AirAsia has seen a huge demand from Chinese travellers, and has ferried about 3.5 million passengers, he noted.
"We are seeing tremendous growth; we're not seeing any slowdown in Chinese growth. We're almost back to pre-COVID-19 levels. I suspect Chinese tourists are also rather flying closer by than going trans-continental. We take a lot of people to China as well," he said. 
He added the airline has resumed flights to all its destinations in China, and is looking at further expansion to more cities next year.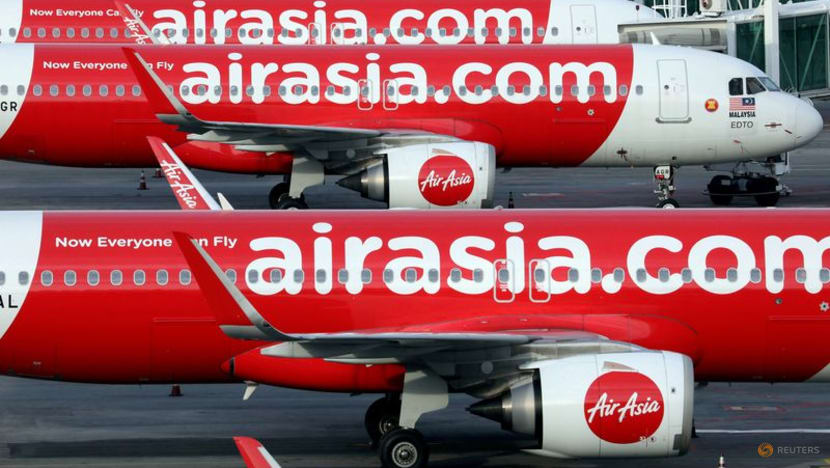 ALMOST BACK TO FULL OPERATIONS
Mr Fernandes said that while the low-cost carrier has not yet fully recovered to pre-pandemic levels, the airline has "broken the back of it" and expects to reactivate most of its fleet – about 180 aircraft – by the end of this month.
AirAsia aims to reinstate its full fleet of over 200 aircraft by the end of this year.
Air ticket prices are not expected to rise any further, he said, adding that he instead foresees a slight decline as most full-service airlines, along with major regional low-cost carriers such as Lion Air and Cebu Pacific, restore their capacities.
During the wide-ranging interview, the CEO said AirAsia's yields have improved with the opening of more regional routes, particularly to India and China, as well as with more ancillary income such as sales of duty-free insurance and investments in data and artificial intelligence. 
AirAsia has also expanded its freighter fleet since the pandemic after identifying opportunities in the logistics and cargo business.
SUPPLY CHAIN AND RISKS
Mr Fernandes said that while the budget carrier is "ahead of the curve" when it comes to staffing and recruitment for services, the supply of new aircraft and engines is slow amid supply chain issues.
Among the limitations is a manpower crunch leading to longer manufacturing time at General Electric's GE Aerospace which supplies aircraft engines, he said.
"Airbus has many supply constraints, so getting new aircraft is a problem – a global problem," he said, adding that this, however, keeps capacity at reasonable levels and avoids massive price-cutting for air tickets.
Some other risk factors that could lead to increased cost are soaring crude prices which climbed to the highest this year on Thursday, and weaker Asian currencies against the US dollar. Mr Fernandes said that while there could be short-term peaks in jet fuel prices, both concerns are likely to taper off within the next two years.
CLASSIFICATION AND RESTRUCTURING
Capital A has been pivoting towards e-commerce and digital businesses, and wants non-airline operations to account for about 50 per cent of total revenues by 2026.
Mr Fernandes said its aircraft services business is doing well while its digital ventures are "far better than expected", despite being branded a Practice Note 17 (PN17) firm. 
Malaysia's stock exchange Bursa Malaysia in October 2021 placed the AirAsia Group on the PN17 list – a classification for companies in financial distress – over pandemic-led losses.
The firm said it has undertaken a broad range of measures to improve its financial position, including debt restructuring, share consolidation, and a revision of its business plan.
Mr Fernandes said the company's financial audit has been clean, and hopes to exit the list soon so that it can restructure and resume its plans for New York listings.
AirAsia X, the firm's medium- and long-haul arm, submitted an application to lift the status in July, while Capital A has put in its paper for consultation, with a full application expected imminently, he noted.
"We're audited clean. We're about to hopefully exit PN17 status, and that will enable us to start restructuring Capital A and listing various units in Capital A," he said.