'A big shock': Retail investors in Singapore caught out by Hyflux woes
Mom-and-pop investors have been caught off guard by the troubles swirling at Hyflux and could face some pain amid the uncertainty, analysts say.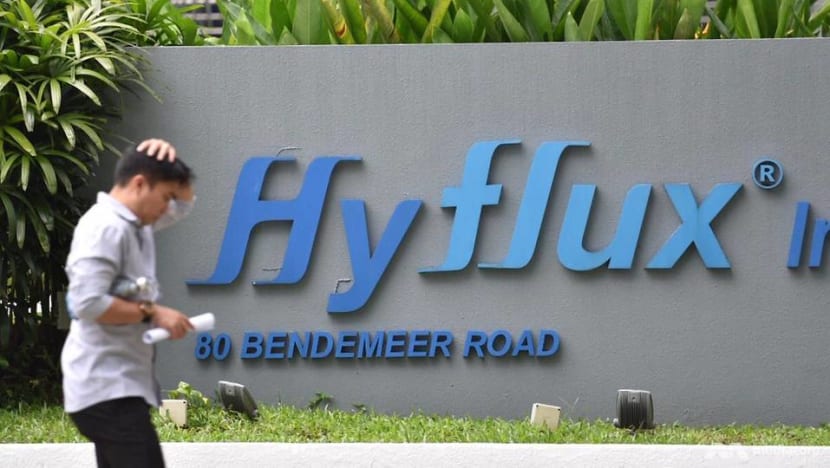 SINGAPORE: Seen as one of Singapore's most successful business stories, water treatment specialist Hyflux's recent woes had come as a shock for many and for Mrs Goh, it was something that she had not seen coming. 
Lured by an attractive 6 per cent coupon, she had put in S$10,000 into the company's preference shares issued in 2011 at S$100 apiece.
While there was news about Hyflux's weakened financial position over the years, semi-annual distribution payments have remained prompt, said the retail investor in her 60s who preferred not to reveal her full name.
"I didn't expect it to be that bad and they would need to do debt restructuring," she told Channel NewsAsia. "The announcement was a big shock." 
Citing "short-term liquidity constraints" after being hit hard by "prolonged weakness" in the local power market, mainboard-listed Hyflux on May 22 applied to the High Court to begin a reorganisation of its debt and businesses. 
Its shares and related securities have been halted from trading since May 21 and this has caught many mom-and-pop investors, like Mrs Goh, off guard, said market analysts. 
"There was an element of surprise because even at the results briefing in February, the company still gave an impression that they can pull through this," said KGI Securities analyst Joel Ng. 
Then, CEO and chairman Olivia Lum had stressed that Hyflux would not be cornered into a "fire sale" for its loss-making assets, even as the company announced its first annual loss since listing in 2001 and that it would be deferring the redemption of its S$400 million tranche of preference shares. 
Separate discussions with "several potential investors" to inject additional funds for the group's growth activities were also underway, the firm added in the earnings announcement.
"They seemed confident so I think that's what caught most investors off guard," said Mr Ng.
LEFT HANGING
Experts have said that the court protection against creditors' claims would buy Hyflux much-needed time to sort out its financial woes.
One of which would be to dispose of its underperforming assets, such as the Tuaspring project which has been an impediment to earnings since the power plant operations began in March 2016. 
Describing the integrated water desalination and power plant as "the elephant in the room", OCBC's credit analyst Ezien Hoo foresees a "good chance" for Tuaspring to be sold as "the water portion of the plant is highly strategic". 
But uncertainties over timing and pricing remain due to a challenging market landscape, she added. 
Still, a huge asset sale would definitely "loosen the noose around Hyflux's neck" and in turn, retail investors who have been left reeling amid the uncertainty, said investment specialist S. Nallakaruppan. 
These include ordinary shareholders, who are at the bottom of the priority list in a liquidation scenario, as well as holders of Hyflux's preference shares and perpetual securities. 
In particular, the latter make up a "significant and vulnerable" lot, said Mr Nallakaruppan, who sits on the executive committee of The Society of Remisiers (Singapore) as its honorary treasurer.
This is because such bond-like instruments have no maturity date and while sold with a call date, a non-call or non-payment of distribution do not constitute defaults. 
Apart from the S$400 million worth of 6 per cent preference shares that Hyflux has said it would not be redeeming, causing a step-up in the coupon to 8 per cent, the firm has another tranche of 6 per cent perpetual securities worth S$500 million. This was issued in 2016 and in its announcement last month, Hyflux had said that it would not be making the coupon payment due at the end of May.  
Both tranches saw strong demand when they were issued, attracting yield-hunting retail investors who subscribed through ATMs. Mr Nallakaruppan said he knew of investors who had put in S$200,000 or more, with retirees among them. 
"Interests rates at the banks were just far too low and because of that, a lot of the investors were hunting for yields," he said. "They also see Hyflux as a growth company dealing with an important resource." 
But now, they "can only hope for the best", added Mr Nallakaruppan. 
"There's no covenant for these investors to bring an action against the company unfortunately." 
Amid the uncertainty, analysts said it may be too early to speculate over potential restructuring terms but retail investors may have to brace for some losses. 
Citing how both perpetuals were trading at a discount before the suspension, Mr Ng from KGI Securities said: "Markets were already pricing in that they have to take a haircut." 
WAIT IT OUT?
Mr Nandakumar Renganathan, a partner to RHTLaw Taylor Wessing's litigation and dispute resolution practice, suggested retail investors to first "wait out" the 30-day moratorium – which kicked in automatically from the date of Hyflux's application to court. 
The court hearing scheduled for Jun 19 will likely provide more clarity on the company's plans, he added. By then, individual investors can also band together as a group and be pro-active in engaging Hyflux. 
"From how I look at it, the best way for investors to move forward is to first wait out the moratorium period," said Mr Renganathan. "Then, it will be good for them to engage those undertaking the restructuring process as a group to get more information and see how they can have their rights protected as part of that reorganisation. That may give them better results." 
"From the retail investor perspective, if the restructuring can be done in a way that allows the company to raise more capital and continue to develop and grow, that would be the best result because that would mean that the company would still be able to honour its commitments," he added. 
The Securities Investors Association (Singapore) (SIAS) said in a media statement last month that Hyflux is "agreeable" to meetings with its shareholders, noteholders, perpetual securities holders and preference shareholders. These will be organised "in due course". 
Noting that retail investors are not on the same footing as institutional investors, SIAS President David Gerald said the advocacy group "reiterated its call to accord equal treatment to the perpetual and preferential securities investors" and "would like to see every effort made to find ways of preserving the value" of these investments. 
But he also called on retail investors to extend Hyflux time for its reorganisation. 
"(The) company is doing its best, given the circumstances, to maintain value (for their retail investors) but they do need time to achieve this outcome," the statement said. 
For now, Mrs Goh can't help but worry that she may not be able to get her money back. "Hyflux has the moral right to make sure that all retail investors are protected," she said. 
Having also invested in beleaguered commodities trade Noble Group and suffered a steep loss, recent troubles at Hyflux have further dampened her risk appetite and confidence in the local market.  
"I'll just wait and see. What else can I do?"