Protests against China's strict zero-COVID policy up pressure on slowing economy: Analysts
China's stringent COVID-19 curbs have been crucial at controlling the coronavirus spread, but the restrictions have weighed heavily on its economy, said observers.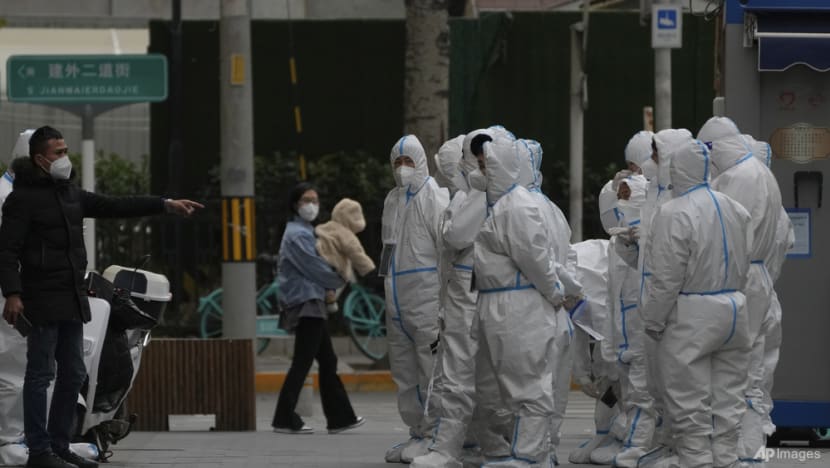 SINGAPORE: The widespread protests against China's strict zero-COVID policy may put the already slowing Chinese economy under even greater pressure. 
China's stringent COVID-19 curbs have been crucial in controlling the coronavirus spread, but the restrictions have weighed heavily on its economy, analysts told CNA on Tuesday (Nov 29). 
Mr Shehzad Qazi, managing director of research firm China Beige Book, said: "So these protests are only going to add on to pressures, especially for markets which are trying their best to rally on hopes of zero-COVID ending, but are being met repeatedly with a much tougher reality of neither zero-COVID going away, nor there being any sign of the Chinese economy rebounding anytime soon."
Over the weekend, a wave of street protests erupted in cities across China in rare displays of defiance against China's zero-COVID policy and curbs on freedoms. Some cities abroad, including London and Paris, have since staged vigils and demonstrations in a show of support. 
A deadly fire last week in Urumqi, in the northwest Xinjiang region, sparked off the public outrage, with many blaming the restrictions for hampering rescue efforts.
But if the protests persist, it could "cloud the economic outlook", Mr Shehzad told CNA's World Tonight. "2022 has been pretty weak, I think 2023 will start off on a much weaker note at that point."
SLOW, CAUTIOUS APPROACH TO REOPENING
While China is looking to reopen, it is adopting a slow and cautious approach, said observers.
The country has to find a balance between growing its economy and keeping the number of cases down, said Mr Einar Tangen, senior fellow at think tank Taihe Institute. 
"But this idea that somehow China wants to sabotage its own economy, I think is erroneous," he told CNA's Asia First. 
"Obviously, they put GDP (gross domestic product) and growth at a very high premium. Not above human lives, but they certainly are paying a tremendous amount of attention to this." 
On Monday, Chinese security forces filled the streets of major cities such as Beijing and Shanghai following online calls for another night of protests to demand an end to lockdowns.
China will be trying to stop any such demonstration before it starts, said Mr Tangen, adding that protesters will find other means, including on the Internet, to voice their concerns. 
China's early success in dealing with the coronavirus has become a trap now, with residents wondering why the country is not opening up when others have done so. 
"But the fact is that long COVID does exist. There are 300 subvariants out there and some of them are able to get around even vaccines," said Mr Tangen. 
Beijing has been stressing the need to bring in more foreign investments and rebuild its small- and medium-size enterprises, which account for about 80 per cent of jobs. 
"This is where their real concerns are, the issue is how to get them there and have a safe opening in terms of COVID," said Mr Tangen. 
POSSIBLE OPTIONS GOING FORWARD
China could introduce a COVID-19 vaccine mandate, but that is "very tricky, politically", suggested observers. 
An earlier move to roll out the country's first ever vaccine mandate was withdrawn less than two days after the announcement on July 6, in a rare concession to criticism from residents.
"They don't want to be seen as overbearing," said Mr Tangen. "They have not done this vaccine mandate. But that might change."
Another option would be to set realistic targets for its COVID-19 vaccination or booster rates before China reopens, said observers.
"I think they really need to get the people on their side and that means giving them solid metrics," said Mr Tangen. 
"The real question right now is how soon can China introduce mRNA vaccines and how soon can they inoculate enough of the population, especially in urban centres, that allows them to back off this rather draconian lockdown policy that is really quite frankly, the only alternative," said Mr Shehzad. 
"If you don't have vaccines in place, if you don't have inoculation and booster campaigns, opening up is going to lead to widespread disaster. I think that will create far more chaos than what you're seeing at the moment."