commentary Business
Commentary: The hard truths behind building a business in Singapore
While it is heartening to see more government support for small- and medium-sized enterprises, Yoga Movement co-founder, owner and director Alicia Pan says building a business remains no easy task.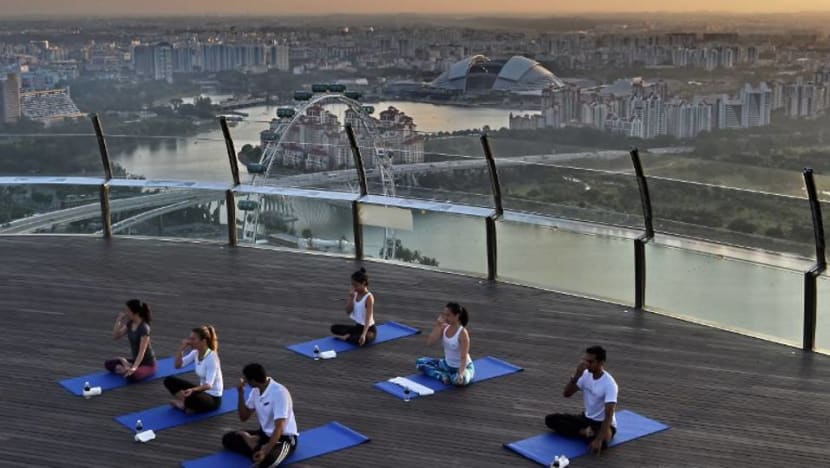 SINGAPORE: It is often said that all that glitters is not gold – what one ends up owning, ends up owning them. As a small business owner, that saying rings true.
They say personal freedom to dictate how you spend your days is priceless, because you are not tied to a desk or fixed to a schedule. But the harsh truth is that there is never really a rest day for the business owner who remains the final decision maker on all aspects of the business, and in many ways, the relentless servant who has to be there to mop up when things get messy. That includes in my case, fixing up a door or installing lights at one of our first studios.
In Singapore where the economic space is competitive, the entry barriers are low and new businesses spring up each day, my experience with building up Yoga Movement has taught me the importance of being clear-eyed about the value proposition of our business. In the fitness sector especially, carbon copies often turn up and many are located within two doors of each other.
Stemming from a mindset that "what already is working is sure to work again", this common strategy of emulating prevailing business concepts in the market without focusing on creating value to people can do a lot more damage to the sector than good. At best, it is a strategy that floods the market with low quality goods.
At its worst, when poorly thought out businesses in the fitness sector open and close in quick succession because they cannot sustain enough traction, the sector as a whole is tainted and the distrust the consumers they leave behind experience may spread to the rest of us. Why would consumers want to take up another gym or yoga membership if they think these studios will close in time?
Against this backdrop, it takes a lot of hustle to build a small business. People who want to try out yoga also tell me, it is an intimidating task because of what they think it is about and how it is being portrayed – a practice for people who are already very fit, that is heavily technical with impossible poses. There is a general sense of a lack of genuineness in what's being offered and this seems to turn a lot of people off.
When everyone seems to be selling the same product, and prevailing trends entrench negative perceptions, how does one buck the trend and stand out? Indeed, creating an authentic brand that stands for something takes a large amount of consideration and planning.
Building a business is not solely about passion, because if it were, all businesses would shut down in six months once the flames of passion have been extinguished when challenges and setbacks begin to pile up. It takes a strong understanding of current market trends, demographics and numbers – a hard-nosed understanding of the business viability.
Timing plays a significant role because a business needs to fill a market gap to grow. But one needs an aversion to risk and authority to jump into this dog-eat-dog world – because you need to take the lead and not wait for someone else to give you direction.
Costs are foremost on the minds of business owners like myself so government grants that get us going at the start are appreciated. Yet the administrative burden of having to file progress reports long after the grant stops coming in is significant for small businesses.
We started off as a partnership – under my husband's and my name. In the midst of applying for the grant and preparing our proposals, we were told that partnerships did not qualify and had to liquidate and re-register as a private limited company to be able to qualify. Registering for a private limited company then cost us a lot of money, in good proportion of the grant.
When I think of costs, what also comes to my mind is rent and the extraordinary power property land lords wield over struggling businesses. We forget that the story of Singapore's rapid development is also a story of the property boom. Many commercial spaces in this city are inherited family wealth brought forward from when buildings could be acquired for a five-digit figure. Property companies offer tough terms in their agreement that work only in favour of the landlords. If you cannot comply, they can simply move on to the next person who has cash. In fact, perhaps new business owners might find assistance offering legal advice more useful than financial assistance.
Amidst all these, the human aspect of running a business can be the most challenging. At my yoga studios, I have instructors and staff who are passionate and dedicated to creating a positive experience but they are a rarity. In a time where Generation Y dominates the job market, it is tough to find people who exercise initiative, prioritise the business' needs and adapt as the business grows. As a small business owner with a heavy customer facing front, it can sometimes be challenging to have people who are in that constant pursuit of work-life balance and personal interests that come at the expense of the team's interests.
In a place known to be an orderly city-state among the most developed countries in the world, the pressures of working in competitive Singapore where costs are rising can also have a negative impact on people's general outlook and disposition. Patrons can be no different – they may not extend patience, courtesy or in some instances, kindness to those in the service line. Our business is exposed to these same risks.
The advent of social media and proliferation of mobile devices has accentuated the impact of any felt graft. While any serious mistakes must be dealt with swiftly, it doesn't work the other way round. There is little or no backlash or accountability for those who malign businesses anonymously or make false accusations. Even when we want to carry out service recovery, many do not provide context or justification behind their criticisms. On the flip side, if a business exceeds expectations, people do not voice this openly because it is "expected".
If there is one thing I take away from these trials and tribulations, it is that stamina is key to keep moving, if you have the right motivation and a firm understanding of where the business should be heading. Without these, it can be easy to make mistakes and wrong business. Such wrong decisions then start a downward spiral.
Back to the saying that what one ends up owning ends up owning you, starting a serious business and getting it on track is not a fun, passionate pursuit of a pastime. It can be if one was gifted with a strong personal financial safety net. This may be the case for the more fortunate business owners but for the rest of us, there certainly is a lot of dirt and grind beneath the shiny surface of building a business that magazine covers don't tell you.
Alicia Pan is co-founder, owner and director of Yoga Movement.