Credit Suisse CEO emphasises strong regulations in wake of stock slump, says bank is working to 'remediate weaknesses'
Ulrich Koerner said that "globally and systemically important banks like us" cannot be compared to the failed Silicon Valley Bank, adding that SVB's fallout will not affect Credit Suisse.
SINGAPORE: Amid recent unease surrounding Credit Suisse, its chief executive officer Ulrich Koerner said on Wednesday (Mar 15) that the lender is a "globally and systemically important bank" and is working to "remediate the weaknesses" found in its latest annual report.
"We operate under the highest possible standards when it comes to capital, to funding, to liquidity, to our results," Mr Koerner said, as Switzerland's second-biggest bank rushes to calm investor jitters following a spate of scandals.
"Our capital, our liquidity basis is very, very strong," he said on CNA's Asia Tonight. "We fulfill and overshoot basically all regulatory requirements."
Credit Suisse's shares on Wednesday hit a fresh record low for a second consecutive day after losing almost a quarter of its value, triggering several trading halts along the way.
This comes after its biggest shareholder, Saudi National Bank, said it could not provide the Swiss lender with more financial assistance, citing regulatory restrictions.
"MATERIAL WEAKNESSES"
Confidence in the bank was already dented after it announced on Tuesday that it had identified "material weaknesses" in its financial reporting and control procedures for the past two years, in an annual report delayed by a late call with the US Securities and Exchange Commission over revisions made to cash-flow statements for 2019 and 2020.
While Mr Koerner acknowledged the weaknesses, he emphasised they did not affect Credit Suisse's financial results.
"The 'material weaknesses' refer to the financial reporting controls, which is – if you want to – likened to a testing and monitoring environment, which is obviously highly important, it's no question," he said.
"And we are doing everything as you would expect us to do to remediate the weaknesses."
"The financial results are not affected in any way by this. The financial results are unchanged for 2022 and the previous years. So what we put out on February 9 are the right and accurate numbers," he added, referring to the bank's 2022 results, which showed a full-year net loss of 7.3 billion Swiss francs (US$8 billion).
In response to PricewaterhouseCoopers' (PwC) "adverse opinion" on the effectiveness of the bank's internal controls over its reporting, Mr Koerner said the auditor had given an "unqualified opinion".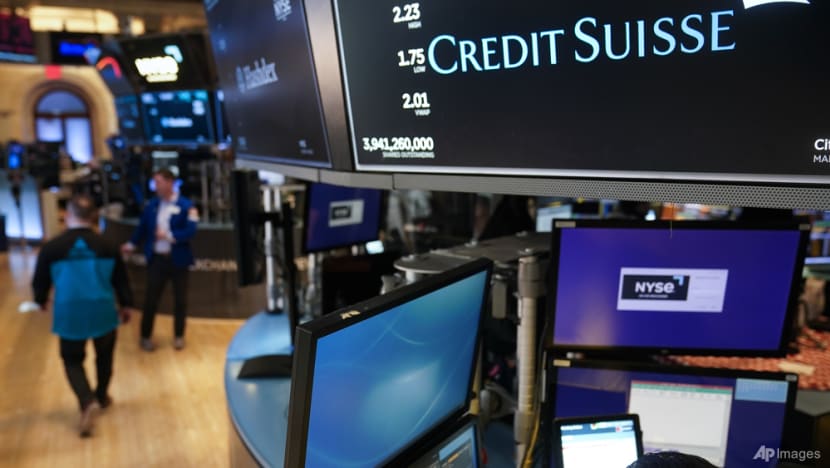 When asked how the bank is managing customer outflows – which rose to more than 110 billion Swiss francs (US$120 billion) in the fourth quarter in 2022 – the CEO said the bank had started "an unprecedented client outreach programme" on October 27 last year as part of a "new strategy".
"We reached out to more than 10,000 wealth management clients globally in one-on-one individual discussions. That has created very good momentum … we do everything possible to keep up that momentum during the course of the whole year. And I think that is what we are doing to regain as many of these assets as quickly as possible."
RESTRUCTURING STRATEGY
There has been a number of high profile personnel exits across Asia and Europe, with all but one of the bank's executive board members replaced over the past two years.
Mr Koerner said that the bank has seen "somewhat heightened attrition, which in a moment of change, is not so surprising". He was referring to the bank's restructuring, which would involve axing 9,000 jobs.
However, he told CNA that the lender "has no issues whatsoever" with hiring more staff, which is part of its restructuring plan.
"The strategy is the right one, a hundred per cent, and confirmed by all stakeholder groups. We are executing as we speak, at pace," Mr Koerner said, adding that the strategy is "necessary".
"This is a three-year transformation … to a new Credit Suisse, (a) simpler, more stable bank with high profitability levels. From where we are today, it takes some time. It's worthwhile to do it … to execute this transformation successfully."
The CEO, who will be in Hong Kong next week for the bank's Asian Investment Conference, said Asia Pacific remains one of the bank's "most important regions".
Mr Koerner said he was "particularly grateful" for the new licences the bank obtained from China last week that will allow it to launch its wealth management business there.
"Looking ahead as part of our transformation strategy, we want to make Asia Pacific and the region even stronger."
NOT AFFECTED BY SVB
Mr Koerner said Credit Suisse's situation is "not comparable at all" to the recent banking turmoil in the United States.  
The collapse of Silicon Valley Bank (SVB) and Signature Bank has shaken the market and prompted concerns over spiralling interest rates, regulation in the financial industry and the potential spillover effect.
The CEO said the failed US banks cannot be compared to "globally and systemically important banks like us", emphasising its strong regulatory regime.
He also said the fallout will not affect the Swiss lender, and sees limited impact to the financial system.
"This is a very different situation," he said. "Our credit exposure to SVB … is absolutely not material. So it has nothing to do with Credit Suisse."
"The reactions taken in the US are, I think, very forceful and very successful so far. I would not expect that this would create a huge spillover in the financial system."