From food court to IPO: Koufu fires up appetite for expansion
Hungry for growth, the Singapore-listed F&B firm has plans for overseas expansion and a new integrated facility on its plate.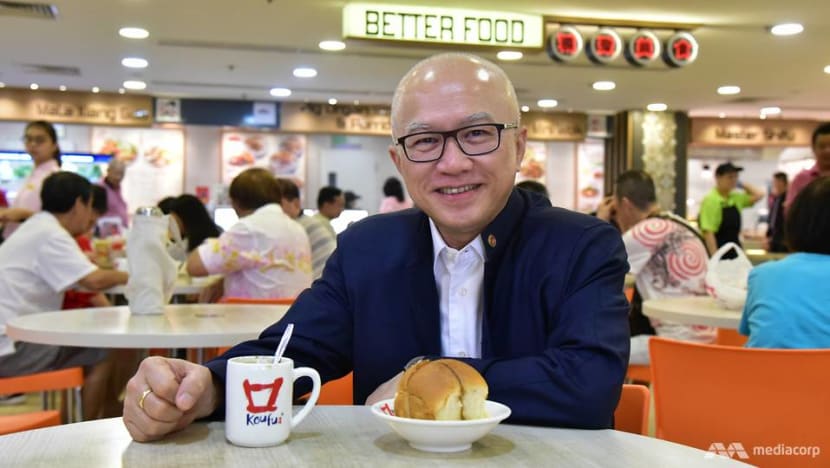 SINGAPORE: It was part of a target set for Koufu's 20th anniversary in 2022 but as founder-CEO Pang Lim began ticking items off his checklist, having the company listed on a stock exchange no longer seemed like a distant dream. 
Last month, the homegrown firm – best known for its food court business – made its debut on the mainboard of the Singapore Exchange. 
Speaking to Channel NewsAsia at the first Koufu food court started in 2002, Mr Pang described the move to go public as a "turning point" for him and the company. 
"This is very meaningful for me," the 63-year-old said in Mandarin. "I see it as a sum-up of my three decades in the food and beverage industry and an affirmation of everything we did so far.
"I had plans to take the company to the next phase during the 20th anniversary. Before that, I laid out some targets and luckily enough, we achieved them last year."
This includes meeting a profit target set for the firm's 20th year and exceeding it by more than 20 per cent, according to Mr Pang.
Koufu also renewed the lease for its premium food court brand at Marina Bay Sands, and secured approval to rent an industrial property in Woodlands. The latter will be home to a 20,000-sq-m integrated facility that Koufu is betting on to fire up growth.
The success of Kimly – the first publicly listed traditional coffee shop operator in Singapore – also had some effect, Mr Pang replied candidly when asked.
A favourite among market analysts, Kimly shares have risen more than 30 per cent above its initial public offering (IPO) price since debuting on the Catalist board last March.
"I don't deny that I was somewhat influenced by them," the entrepreneur said. "A favourable performance for F&B businesses in the stock market did set me thinking." 
MORE THAN JUST A FOOD COURT CHAIN
Koufu, a name that has since become synonymous with food courts, started 16 years ago after Mr Pang sold his coffee shop chain Aik Hua and decided to cash in on the growing demand for air-conditioned food courts in the heartlands.
From the first location in Toa Payoh Central, it has since expanded to 47 food courts in Singapore catering to different market segments, such as the premium Rasapura Masters and halal-focused Fork & Spoon. Koufu also runs a food court in Macau.
Its outlet and mall management business also includes a chain of 14 coffee shops, Jurong West Hawker Centre and Punggol Plaza.
Under its F&B retail business, which contributes slightly more than half to overall group revenue, Koufu owns 81 F&B stalls, five F&B kiosks like bubble tea brand R&B Tea, as well as 14 restaurants.
Altogether, Koufu whipped up a net profit of S$26.8 million and revenue of S$216.7 million last year.
Its shares have thus far moved up from its IPO price of S$0.63 – a performance that Mr Pang said has put him more at ease.
He admitted that he felt "disappointed" when the stock finished flat on its debut.
"I even asked why it turned out this way but they told me not to worry or be bothered by this. The company is fundamentally sound and all I have to do is to focus on what I need to do."
Describing the listing as a "brand new start", Mr Pang said the company will look to deepen its corporate management and is hungry for more growth.
It has been actively filling up new senior management roles, with one already being tasked to oversee the building of the integrated facility due to be completed in 2020.
This seven-storey building, which is allocated about S$30 million of IPO proceeds, will house a central kitchen and dishwashing facility, as well as a research and development centre among other things.
Mr Pang highlighted this as the project that he is most looking forward to.
For one, a bigger central kitchen will help to boost productivity and operational efficiency. Koufu is also eyeing potential collaboration with other food manufacturers to produce semi-finished or finished food products for third-party businesses.
"It will be a modernised central kitchen with new technology systems, as well as one that fosters cooperation," explained Mr Pang.
"For example, we can bring in other companies to make products that can be sold to other businesses, apart from being supplied to our own food courts and coffee shops. We've been a business-to-consumer (B2C) company but we can start having a business-to-business (B2B) model too."
The new facility is also set to give Koufu another modern update to its operations, following the roll-out of smart tray return robots and mobile ordering apps at its F&B locations.
Even as it remains in a traditional industry, Mr Pang stressed that the business has to move with the times. He declined, however, to reveal the amount spent on technology-driven initiatives thus far.
"You may not be able to reap the benefits now but that doesn't mean that it is something we can ignore."
Meanwhile, overseas expansion is also on Koufu's plate. Mr Pang said talks are underway to launch brands, such as R&B Tea and Elemen, in markets including China, Malaysia and Australia.
It remains more cautious, however, when it comes to exporting its food courts overseas. This boils down to the huge costs involved and the fact that food courts are still a foreign concept beyond Singapore.
When Koufu first set up shop in Macau's Sands Cotai Central in 2012, it battled with a host of challenges from finding suitable vendors to having a menu that would appeal to the local taste buds.
"We went in with the Singapore model but did not know how to make adjustments," said Mr Pang. "We had to endure a few challenging years before turning around the situation in what was a money-losing business.
"We will not rule out food courts (in our overseas plans) but we will be very careful because of the huge investment needed."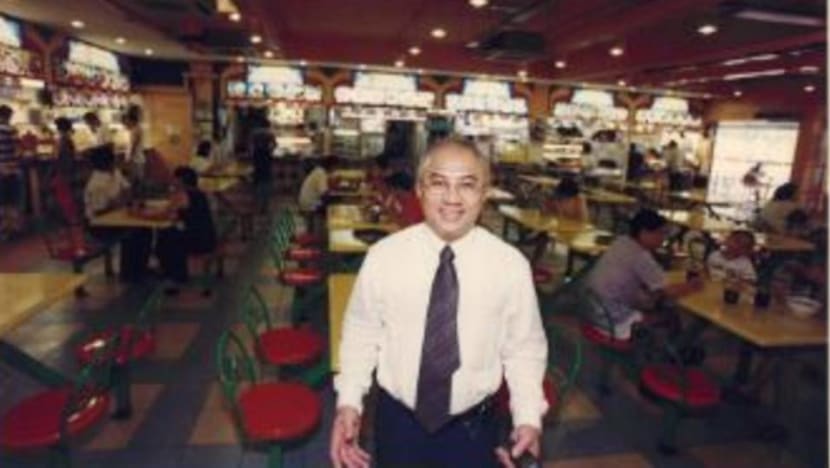 "I'M NOT DONE GROWING KOUFU YET" 
When asked how he would build up investor confidence and assuage some concerns from analysts about the company wading into unfamiliar territory with capital-intensive projects, Mr Pang stressed that these plans are key in ensuring Koufu grows sustainably.
"Being in a traditional industry, it hasn't been an easy journey for us to develop to where we are," he said. "With our new business plans underway, we will continue to evolve. Though I can't predict the scale, I believe we will become a sustainable enterprise."
The chief executive also revealed that he had turned down a buyer keen on acquiring Koufu last year.
"If we have a plan for the company that can bring about sustainable growth, why should I sell it?" he said, though he declined to reveal details about the buyer and the offer. "I'm not done growing Koufu yet."
This emphasis on growth and adapting to changes has been a constant theme in Mr Pang's life.
Before becoming a hawker and starting Aik Hua, he spent more than 10 years as a vendor at the now-defunct Sungei Road flea market.
"I started when I was 13. Sungei Road was where I grew up … Over the years, I've sold everything from watches, toys, fruits to chicken rice."
While the memories as a street vendor – even if it involved being on constant lookout for the police as he did not have a licence for a couple of years - never fail to bring a smile to Mr Pang's face, they were borne out of unhappy circumstances.
Mr Pang's father died when he was 13. His mother's pay as a labourer at a wood manufacturing factory was never enough for the family of eight.
"We were poor and no work means no food on the table," he recounted. "I was the second child but the eldest son. After a few months at secondary school, I told my mother I wanted to start working."
He found work as the assistant of a street hawker at Sungei Road.
"I was running around making deliveries every day so I knew everyone. Maybe I was young so all of them treated me well.
"During my breaks, I'll pop by the stalls to chat with different people or just observe how people bargained or made a deal. I learnt a lot."
The hustle and bustle of a thriving, maze-like flea market could have been intimidating for others his age but not for Mr Pang.
"I wouldn't think of it as tough … In fact, without the experiences there, I wouldn't be who I am today."
When asked about his recipe for success, the entrepreneur said his only guiding principle is to never stop learning.
For what he lacked in paper qualifications, he made up for it through his voracious appetite for reading.
The Fifth Discipline published in 1990 by management guru Peter Sanges is one of Mr Pang's favourite books.
"It changed the perception of learning by talking about how people needed to be proactive and learn continuously so as to achieve results. He also mentioned how there's a need to change your mental models and reflect on the presumptions that influence your actions.
"And that's what I think is important: Whatever you do, be brave to make changes and never give up on learning something new."