'Why don't you help me manage': How a research analyst started his own fund
The job of a professional fund manager is to grow customers' wealth. But it's not just about dollars and cents - as Money Mind finds out from a lifelong investor who took the leap to set up his own investment fund.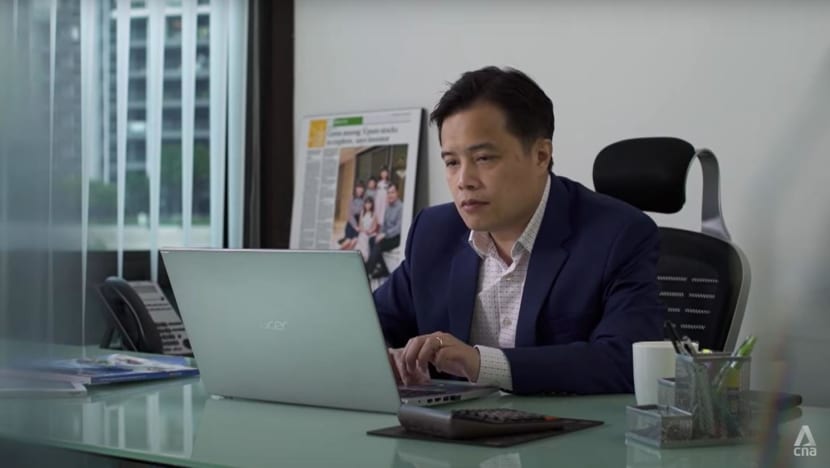 SINGAPORE: Making decent money for his clients, and not sacrificing family time. These are two measures Terence Wong would count as successes when he looks back at his life in 10 years' time.
Mr Wong, founder and CEO of Azure Capital, has been in the investment field for more than two decades, starting out as an award-winning research analyst.
During the early days of his career, he said, he was "very busybody, a kaypoh".
"Before I retired as a head of research as an analyst, I had already known 400-plus listed companies. The founders are very close (to me). They are not my golfing buddies, but my kopi buddies.
"I had the management of listed companies and CEOs coming to me and saying: 'You have some very interesting investment ideas. I have some money, why don't you help me manage'."
In 2015, he started his own fund management business. It was a steep learning curve.
"Even though i knew how to pick good stocks, I didn't exactly know how to start a company. So I had to just learn everything. There was a lot of humility involved."
Putting together a team took him several months. It was more than a year before the fund went live.
By then, market sentiment had shifted and Mr Wong had to convince investors that they should remain on board.
"The markets were rocky and people were averse to investing," said Mr Wong, adding that about 60 to 70 per cent of his initial investors were contacts from his previous job.
Seven years on, that focus on building and maintaining relationships remains.
Most of the investments Mr Wong makes are in companies he is familiar with, so site visits are a key part of his day-to-day routine. This helps him to understand businesses and their management.
"It's important to really go down to the factories to kick the tyres and to understand more about the prospects.
"You can look at how the machines are running and how happy the people are and this gives me the vibes. It is qualitative. Quantitatively it's all on paper and everything is reported. I know the past numbers, and in order to make an accurate forecast I have to understand what they are about to do and their plans for the future."
The fund focuses on Southeast Asia, with Singapore stocks taking up more than 50 per cent. This in itself poses an interesting challenge to investment professionals.
"In Singapore, the investors are generally well-educated ... When you want to engage these high-net-worth individuals or networks, you've got to come up with a unique plan or unique product that they cannot do on their own. That's where I come in."
But while money matters might be the name of the game, the winning formula lies closer to home.
"Many of the clients are my close friends. They understand that I want to be home by 6pm every day.
"I like to have that kind of work-life balance with my kids and I want to spend time with my family. So between 6pm and 10pm, I'll spend time with them. By 11pm or midnight, when everybody goes to sleep, I'm available to speak again."
As for how he defines success?
"Ten years from now, I would like to tell you that I've made very decent money for my clients, that I've educated them so they understand about the investment environment significantly more than in the past. At the same time, I've not sacrificed any family time during that period of time."