Powered by the sun: Should you invest in solar power?
Solar energy currently provides less than 1 per cent of Singapore's energy needs, but it's set to play a key role amid the transition to a more sustainable energy landscape. Money Mind looks at how homeowners and businesses are already a part of this pivot.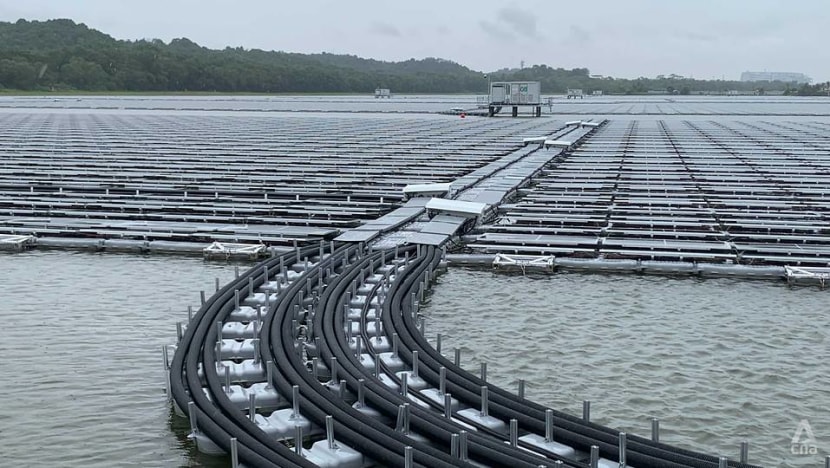 SINGAPORE: Home owner Deena Bajrai has not paid an electricity bill in four years.
In 2018, Deena installed 66 solar panels on her rooftop. Since then, she has not had to pay an electricity bill.
The installation of the panels cost about S$40,000 and they will last about 25 years.
With her last bill in June 2018 coming in at about S$260, it will take Deena about 12 years to recoup the initial investment. That means she will not have to pay an electricity bill for another 13 years or so.
And not only does she not have monthly electricity bills to pay, she actually has a surplus.
Since her solar panels generate more electricity than she uses, Deena has accumulated S$3,000 in credit with her electricity company. This will help offset any increase in consumption and price in future.
The cost savings, however, were but one consideration in her decision to switch to renewable energy, said Deena.
"The other incentive was the fact that you can't put a cost to the environment. How can you put dollars and cents to fossil fuels when it takes years for oil to be produced in the ground," she said.
"Knowing that there are those intangible values that you are able to contribute to ... that was one other reason why I decided on solar panels."
Across Singapore, there were 4,750 solar photovoltaic (PV) installations as of the end of the second quarter 2021. Grid-connected installed solar PV capacity in Singapore was at 527 MWp at the end of the second quarter last year.
The aim is to rapidly scale up by 2030 – with plans to produce enough to power 350,000 households a year. That is about 4 per cent of Singapore's electricity demand.
Around the world, installed solar power capacity has increased 17-fold, and its price has plummeted by more than 80 per cent in a 10-year period.
This is partly due to more production being carried out in China, which has brought the price of manufacturing down.
Currently, there are two ways you can opt to use solar energy in Singapore.
Residential consumers, mainly landed property owners, can install and own the solar panels on their property. This involves an upfront cost of between S$10,000 and S$50,000 dollars, depending on the size of the installation.
Another is called the solar leasing model.
Here, the property owner need not pay the installation costs of the solar panels but instead pays a monthly fixed rate for the electricity generated from solar panels that can be on-site or off-site.
According to the Energy Market Authority, just over half of Singapore's solar energy capacity was accounted for by the non-residential private sector.
One such business is Schneider Electric, which installed solar panels on its roof and parking lots.
However, this was only enough to supply 5 per cent to 6 per cent of the whole building's electricity usage.
Schneider tops this up with energy purchased from an offsite solar farm.
Despite the high initial investment of about S$3 million, Schneider Electric said it was able to recoup its costs in about three years.
Aside from cost recovery, owning solar panels can also help consumers and businesses shield themselves from fluctuations in energy prices.
"Singapore has an open electricity market, which means that it is very susceptible to market forces," said Mr Matthew Yeo, Energy Transition Lead, Southeast Asia, Accenture.
"The danger of that is that electricity prices can fluctuate ... So if you have solar panels on your roof, then you kind of protect yourself in that way," he added.
Solar power is an intermittent source of energy. This means it is not continuously available due to external factors that cannot be controlled, like the weather.
Mr Yeo said that at lower levels, the power grid can withstand intermittency.
"But if you start to go to 40 per cent, 50 per cent, when half of Singapore is powered by solar energy, then if suddenly you have a thunderstorm, your electricity production is cut in half, and then that becomes an issue because you don't have enough spare capacity to ramp up power generation. And then you could have blackouts or brownouts."
He said additional costs would need to be incurred in upgrading the power grid to withstand these conditions.
But some of these challenges have also become opportunities, as Singapore takes action on its sustainability commitments.
One such solution is the floating solar farm at Tengeh Reservoir. The size of about 45 football fields, it is one of the largest in the world.
Also in the pipeline is a project to supply electricity from Australia's Northern Territory via submarine cable.
It is one of the world's most ambitious solar energy projects, and could provide up to 15 per cent of Singapore's energy needs.
According to Stephen Tay, adjunct lecturer at the Solar Energy Research Institute of Singapore, this is an example of Singapore developing innovative solutions because of geographical limitations. Dr Tay said such solutions could help boost the global adoption of solar electricity.