Singapore companies eye opportunities in the US
Despite the COVID-19 pandemic, more than 100 Singapore companies ventured for the first time onto US shores last year. Money Mind looks at what it takes for businesses from the little red dot to make a star-spangled impact.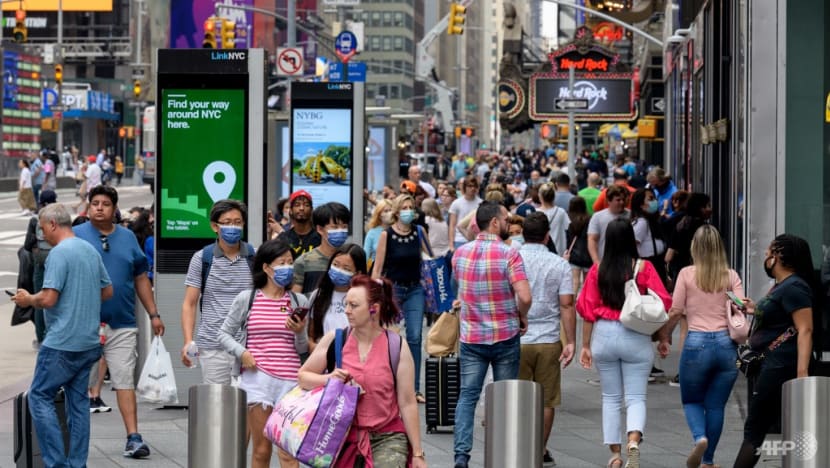 SINGAPORE: Growth in the US economy returned to pre-pandemic levels in the second quarter of this year – rising 6.6 per cent on an annualised basis.
While COVID-19 remains a threat, consumer spending and the reopening of businesses have sparked some optimism.
"The US economy is now larger than it was before the pandemic," said Mr Clarence Hoe, global markets director for Americas and Western Europe at Enterprise Singapore.
"The huge diverse consumer market with shift towards health, wellness, and sustainability presents new opportunities for our Singapore companies to pivot into," he said.
Last year, nearly 120 Singapore companies ventured for the first time onto US shores, with offerings in the food, furniture, fashion accessories and consumer electronics segments.
CATERING TO A NICHE MARKET
Irvins, which is well known for its salted egg snacks, launched in the US in February 2020.
The brand, which is owned by Cocoba, traces its roots back to 2008 as a seafood restaurant in River Valley.
In 2014, Irvins started to sell salted egg snacks through pop-ups around Singapore. It is now present in 12 markets, most of them in the Asia-Pacific.
Salted egg products have a long history in the company's home market, but cannot be said to be a part of the mainstream American diet.
So Irvin's salted egg fish skin snacks started off as a niche product in the US market.
The company said most of its distribution is through Asian grocery stores. The majority of its customers are also Asian-Americans.
There was another challenge as well, that resulted in the company tweaking its recipe.
"The original fish skin was not allowed to be imported to USA," said Mr Irvin Gunawan, founder and CEO of Cocoba.
"We actually had to create a new product, which is the salmon skin, which is then allowed in the country," he said.
Cocoba's distributors are mainly in Los Angeles, New York and some parts of Texas.
The firm currently relies on social media to build brand awareness and it has managed to turn an early challenge, into a bestseller.
"People love the spicy snacks, we call it the hot boom series, and it's actually very popular in the US. The bestsellers are our salmon skin followed by potato chips," said Mr Gunawan.
EARLY STARTER
Singapore's Mapletree Investments is reaping the rewards of betting big on the US logistics space, well before the COVID-19 pandemic.
It has about 350 warehouses across 26 states, and its investments are worth more than US$7.5 billion.
These are now in high demand due to the pandemic-led e-commerce boom and the urgency to secure supply chains.  
Mapletree already had a strong presence in Asia and the United Kingdom when it entered the US market via the student housing segment around five years ago.
Its US portfolio now accounts for about a third of the firm's overseas exposure, with S$20 billion invested in offices, data centres and warehouses.
"It's the biggest real estate market in the world," said Mr Michael Smith, regional CEO, Europe and USA, Mapletree Investments.
"It's very easy to do business. The foreign ownership restrictions are relatively straightforward. It's freehold land and the fundamentals of the economy are very good," he added.
Mapletree's strategy is to acquire properties and then create funds that other investors can buy into.
It now has five offices across the country and employs up to 170 Americans.
And despite worldwide border closures during the pandemic, the company still managed to make acquisitions over the past 18 months, with more than US$5 billion invested in US real estate.
All this was done without anyone from the Singapore headquarters flying in.
KEY OPPORTUNITY SECTORS
Singapore is the third-largest Asian investor in the US, with more than US$65.2 billion in investments across various states.
Some of the key sectors are energy and resource, consumer, technology and manufacturing, infrastructure and logistics, and professional services.
New York and California have traditionally been popular investment destinations, but there is also now increasing interest in other states, such as Florida and Texas.
However, Mr Gordon Perchthold, associate professor of strategic management at the Lee Kong Chian School of Business, Singapore Management University, cautions:
"Singaporean firms going into the Midwest or the South may not have as much success as going into the Northeast of the US. The Northeast is driven by the financial services industry and is much more international-oriented. So that aligns more with the environment that Singaporeans are used to."
For Mapletree Investments, its confidence in the US real estate is for the long haul, and it is making sustainability a focal point.
"We think tenants are going to be increasingly up the ESG (environmental, social, governance) lens," said Mr Smith.
"We own a lot of warehouses now in the US ... Can we put solar panels on the roofs? So there's all these types of features that we are incorporating in our design for new buildings and our management and improvement of our existing properties."
The Biden administration's US$1 trillion infrastructure Bill could pave the way for other Singapore firms with expertise in renewable energy and green building solutions.
This know-how comes from Singapore's history of having to operate in a resource-scarce environment.
"The US impression of Singapore, first, is clean. Singapore is also known for reliability. And hence, the ability for us to connect with partners, to at least open doors and have the first conversation has been easy. Because they do see that Singapore companies are trustworthy. They also do see us as being innovative," said Mr Hoe.
Singapore companies looking to enter the US need to ensure their value proposition is differentiated enough though, he added.
"And therefore, they will not be dismissed as another 'me too' product. In addition to being a good product, US consumers also place great emphasis on the brand story. So companies must devote resources to brand storytelling and ensure they convey that consistently through their packaging design and customer experience."