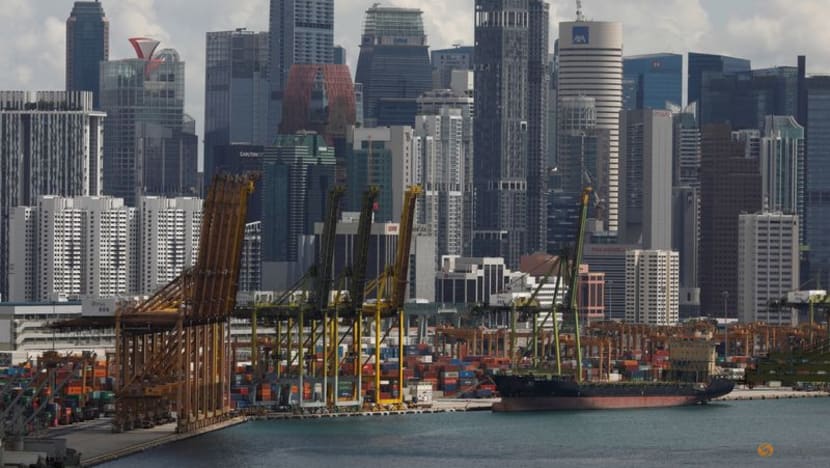 SINGAPORE: Singapore's total merchandise trade - driven by both oil trade and non-oil trade - grew 17.7 per cent in 2022, shrinking from the 19.7 per cent rise the previous year.
Total merchandise trade reached S$1.4 trillion in 2022, compared with S$1.2 trillion in 2021 and S$969 billion in 2020, Enterprise Singapore said in a news release on Monday (Feb 13).
Enterprise Singapore attributed the increase in total merchandise trade to both oil and non-oil trade, with oil trade rising 47.5 per cent in 2022 amid higher oil prices a year ago, following a 43.6 per cent growth in the previous year.
Non-oil trade also grew by 11.9 per cent following a 15.9 per cent increase in 2021.
Total trade merchandise decreased by 1 per cent in the fourth quarter of 2022, after seven quarters of expansion and following a 25.7 per cent in the previous quarter. During this period, oil trade grew by 14.1 per cent while non-oil trade decreased by 4.2 per cent.
Exports and imports both increased in 2022, by 15.6 per cent and 20.1 per cent respectively.
Non-oil exports (NOX), which include both non-oil domestic exports (NODX) and non-oil re-exports (NORX), rose 9.6 per cent year-on-year in 2022, following the previous year's growth of 16.5 per cent.
NODX rose in 2022, mainly due to non-electronic exports.
Overall, NODX expanded 3 per cent in 2022, following a 12.1 per cent growth in 2021, due to higher shipments of both non-electronic and electronic products.
Demand for electronic products eased in 2022, growing 0.5 per cent as compared to 16.3 per cent in 2021. Integrated circuits (ICs), parts of ICs and disk drives contributed the most to this growth.
Demand for non-electronic products grew 3.8 per cent in 2022, following a 10.9 per cent rise in 2021. The largest contributors to the increase in exports were structures of ships and boats, measuring instruments and specialised machinery.
In the fourth quarter of 2022, NODX declined by 14.6 per cent, after a 0.3 per cent increase in the preceding quarter, due to the decrease in both electronic and non-electronic NODX.
Top NODX to Singapore's top markets grew in 2022, except for China, Hong Kong and Thailand. The biggest contributors to the NODX increase were the US, European Union countries and Malaysia.
Oil domestic exports expanded by 52.4 per cent in 2022, extending the 38 per cent growth in 2021, said Enterprise Singapore.
This is due to higher shipments of oil to Malaysia, Indonesia and Australia, it added.
In volume terms, oil domestic exports grew by 1.7 per cent in 2022, after a 10.1 per cent decline in the previous year.
OUTLOOK FOR 2023
In its outlook for the coming year, Enterprise Singapore said it expects trade performance to moderate from the high base in 2022, in line with the global economic and trade outlook.
Lower expected oil prices in 2023 could weigh on oil trade in nominal terms, and in turn total trade, it said, adding that moderating global demand for semiconductors could also weight on electronics trade and exports performance in 2023.
It maintained 2023 growth projections at -2 per cent to 0 per cent for both total merchandise trade and NODX.