SMEs to get more help in digital adoption with enhanced 99%SME website
This includes a revamped e-marketplace on the 99%SME portal and a separate platform developed by DBS to help match SMEs with the large corporates.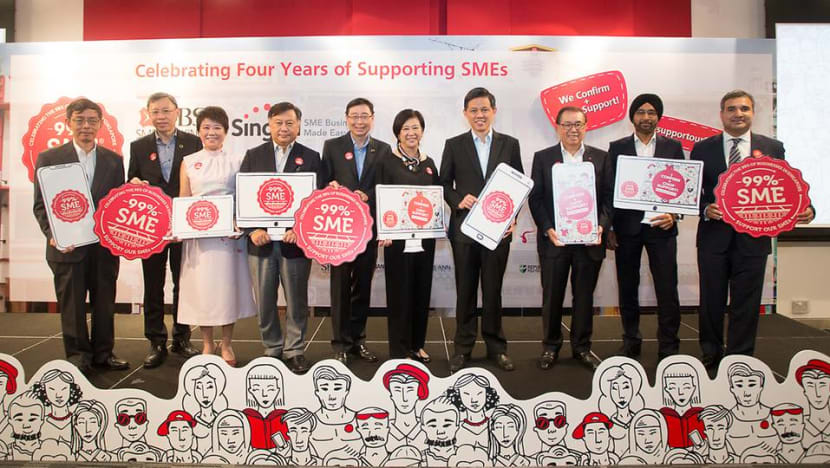 SINGAPORE: Small- and medium-sized enterprises (SMEs) that are still grappling with the adoption of digital technologies can look forward to additional help with the return of the annual 99%SME campaign on Tuesday (Aug 21). 
Started by DBS and Singtel in 2015, the campaign – named 99%SME as SMEs make up 99 per cent of businesses in Singapore – aims to help local SMEs to go digital. 
This year, both home-grown firms will partner the Infocomm Media Development Authority (IMDA) to make enhancements to the e-marketplace on the 99%SME portal. 
With about 700 SMEs listed, the e-marketplace is currently powered by online retailer Lazada – a tie-up that was announced last year to help SMEs venture into e-commerce. 
With the enhancement, SMEs, especially those that do not know how to set up an online presence, will get instant connection to an e-commerce platform hosted by 99%SME, said DBS' SME banking head Joyce Tee. 
More details about the revamp will be announced over the coming months. 
There will also be a new business-to-business (B2B) marketplace for SMEs to sell their goods and services to large corporate and multinational companies (MNCs), said the companies' joint statement. 
Set to be rolled out by end-2018, the B2B platform will be developed by DBS with support from its 99%SME partners, including Mediacorp and Mastercard. 
Describing it as an "industry-first", Ms Tee said the new platform will also give SMEs access to supply chain connections, financing and payment solutions that are usually only open to large corporates or MNCs. 
"We noticed that SMEs do not know where to find relevant clients, how to bid for contracts and if they get (the bid), they worry about financing," she told Channel NewsAsia, while adding that the new initiative will help level the playing field for smaller firms. 
A recent poll by DBS among its 220 SME customers showed seven in 10 SMEs agreed that having e-commerce channels and solutions will help to drive business growth. 
Among those that disagreed, three in five respondents said they do not have sufficient knowledge about digital sales channels and the resources to invest in digitalising their business. 
With more that needs to be done, Singtel's CEO of group enterprise Bill Chang said this year's campaign aims to boost the number of SME sign-ups to 10,000, up from the current figure of more than 7,000.
"With digital disruptions becoming pervasive, there's an urgent need for SMEs to transform their business to thrive in this new economy," he said.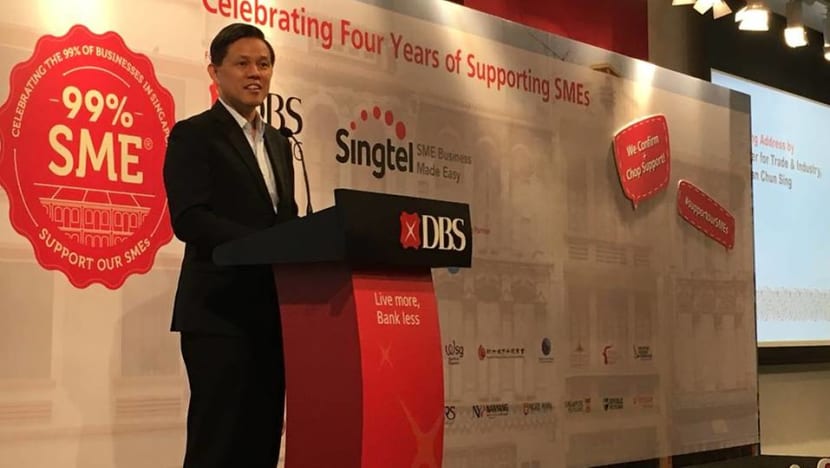 EMBRACING THE DIGITAL ECONOMY
Minister for Trade and Industry Chan Chun Sing, who was the guest of honour at Tuesday's event, reiterated the importance for local SMEs to embrace digital technologies.
In his speech, he drew parallels between the obstacles that SMEs have and the challenges that Singapore faces in a global business environment. 
"In the larger scheme of things, Singapore is like an SME in the global business environment," he said. "Firstly, we do not necessarily have scale. Secondly, we need to transcend our size and geography to reach out to markets and resources that are often beyond our borders." 
But the new digital economy allows SMEs and small countries, like Singapore, to transcend geographical size and resource limitations as connectivity is what matters on a digital platform, said Mr Chan. 
"Just as Singapore is able to connect to many markets, using digital platforms allow our SMEs to transcend geography," he explained, while citing examples of how some local SMEs have made use of digital platforms to participate in China's Singles' Day online sales bonanza. 
However, he stressed that SMEs should go beyond digitalising current work procedures. 
Instead, they should make use of digital platforms to transform the way they do market analysis, product design and even restructure production processes. 
"These are the things that allow our SMEs to achieve the quantum leap in terms of their capabilities and capacity," he said. 
Mr Chan also urged MNCs to work alongside local SMEs in going global and innovating work processes, as well as for SMEs to spread the word on embracing the digital economy. 
"Let us all embrace the digital economy together. We all can not only individually benefit as an SME or an individual company, but more importantly together in Singapore, to have that network effect and that synergy," he said. 
"With that, we can compete on the basis of an entire team Singapore."