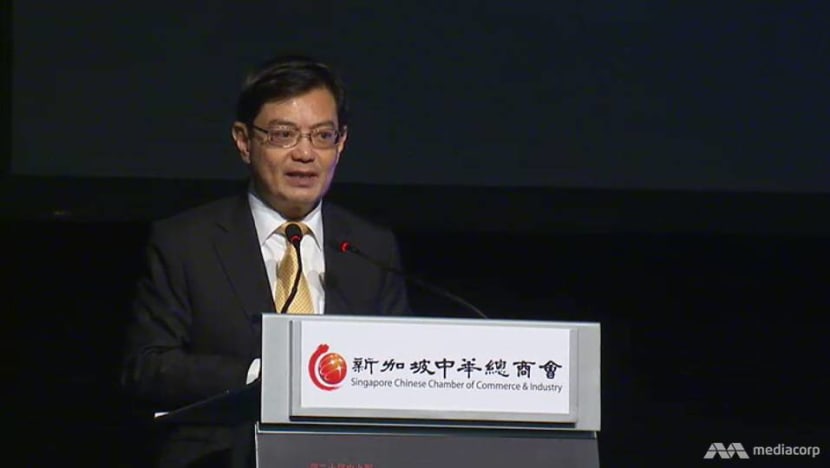 SINGAPORE: Finance minister Heng Swee Keat has called on small- and medium-sized enterprises (SMEs) to step up collaboration in the face of digital disruption and in their efforts to expand globally.
He made those remarks during his keynote speech at an event organised by the Singapore Chinese Chamber of Commerce & Industry (SCCCI) for SMEs on Wednesday (Aug 15).
"By working together, it doesn't mean we don't compete. There are many areas that we have common problems, and for common problems, we should come together for a common solution," said Mr Heng. 
"In that regard, the Government is very happy to work together with you to solve these common problems."
Mr Heng said that Singapore businesses need to foster a spirit of collaboration among three key groups, namely the universities, industry and the Government, to form a "Triangle of Innovation".
On that basis, he added: "Technology we have must be used by our companies."
An example of a government effort is the Group-Based Upgrading (GBU) initiative by Enterprise Singapore which was launched last year. 
The initiative encourages SMEs to adopt group-based solutions when tackling common business challenges.
According to SCCCI's 2018 business survey, 67 per cent of SMEs have benefited from government assistance schemes.
When asked by Channel NewsAsia how the SCCCI will play a role in getting companies to collaborate, SCCCI president Roland Ng cited the organisation's digitalisation plan which aims to help companies "share information on the common problems" in bringing their businesses digital.
In the same survey, SMEs said key challenges faced by them were rising business costs, manpower shortage and stiff competition in the local market.

"In this (business) climate I think the chambers has to help do a lot of things, we have to help gather a lot of SMEs and help them digitise their companies in their different phases," said Mr Ng.
"At the same time, we also want to help them find new markets, especially in Southeast Asia."