ST Engineering announces consortium to use unmanned aircraft for shore-to-ship parcel delivery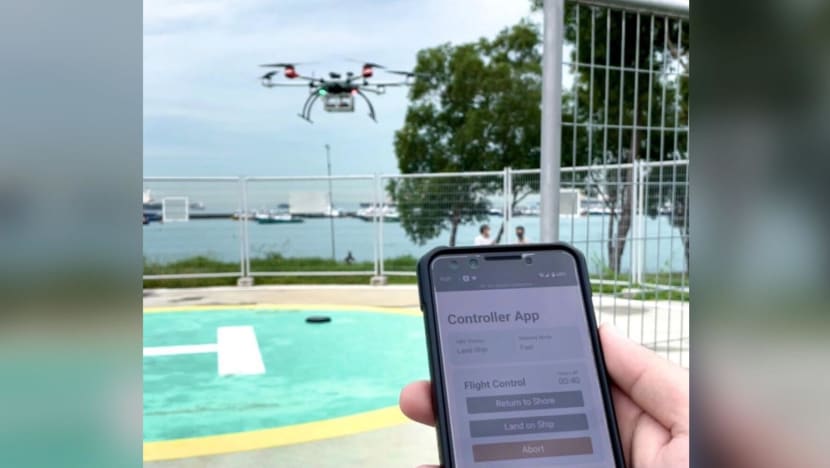 SINGAPORE: ST Engineering said on Sunday (Feb 13) it has formed a consortium with Sumitomo Corporation and Skyports to provide unmanned aircraft (UA) for shore-to-ship parcel delivery in Singapore.
During the nine-month pilot programme, the consortium will engage key customers for maritime unmanned aircraft deliveries, with the goal of establishing a delivery network capable of carrying parcel payloads up to 7kg, said ST Engineering in a news release.
These parcels are typically those that require urgent delivery, including documents that involve transferring money to a ship's crew. ST Engineering estimates that these parcels make up about 10 to 20 per cent of current shore-to-ship logistics.
"Compared to the traditional form of delivery by boats, UA operations can significantly slash response time and speed up turnaround for shore-to-ship delivery, in addition to reducing logistics costs," said ST Engineering.
"Replacing launch boat delivery with UA also helps to reduce carbon emissions and contribute to the maritime industry's overall efforts to operate sustainably," it added.
The cost of this delivery service is "being worked out", said ST Engineering's head of strategy and defence systems Percival Goh at a press conference on Sunday.
The plans come as UA Systems have evolved rapidly in recent years to emerge as safe and robust alternatives to traditionally labour- and time-intensive missions, said Mr Teong Soo Soon, VP & head of UA Systems at ST Engineering.
"We look forward to being a strong enabler for customers which wish to leverage unmanned technology to inject higher efficiency and sustainability into their operations," he added.
Customers will mainly be ship owners or overseas shipping companies, ST Engineering said, adding that it is already working with Norwegian maritime group Wilhelmsen.
The trial will test the "end-to-end" nature of the service, including autonomous landing of UAs on ships, customer acceptance and coordination with crew on shore.
"This time round, we wish to establish the type of packages, pricing and frequency of the demand required at least in Singapore, before we look at globalising this solution," Mr Teong said at the press conference.
According to Mr Teong, there are similar programmes ongoing in major ports, although he pointed out that many of them are at the trial stage.
"As far as we know, this is the first commercialisable trial we are doing that we are actually collecting fees from customers," he added.
ST Engineering said each consortium member will use its respective operational and technological capabilities to expand the use of autonomous UA to deliver maritime essentials to vessels at anchorage.
ST Engineering will provide the unmanned aircraft technology using its end-to-end solution – DroNet, while Skyports will jointly conduct the Beyond Visual Line of Sight (BVLOS) flight operations with ST Engineering and Sumitomo Corporation will provide go-to-market support, including their own fleet of vessels.
ST Engineering is showcasing its unmanned aircraft systems and other aerospace capabilities from Feb 15 to 18 at the Singapore Airshow 2022.