SINGAPORE: Sales of new private homes and resale properties in Singapore rose last year despite prices hitting new records, data from the Urban Redevelopment Authority showed on Friday (Jan 28).
For the whole of 2021, developers sold 13,027 private residential units, compared with the 9,982 units in the previous year.
In the secondary market, 19,962 resale homes were sold, compared with the 10,729 such transactions in 2020.
Ms Christine Sun, senior vice president of research and analytics at OrangeTee & Tie noted that 2021's resale transactions were the highest since the 20,980 units sold in 2007.
"The fast-growing prices did not hamper demand, and sales were brisk across many project launches and resale developments last year," she added. 
Mr Mohan Sandrasegeran, research and content analyst at Ohmyhome, said that a combination of factors contributed to a well-performing market for the new private home sales segment.
"Pent-up demand, a recovering economy, a low interest rate environment and vaccine optimism ... propelled demand and prices in 2021," he said.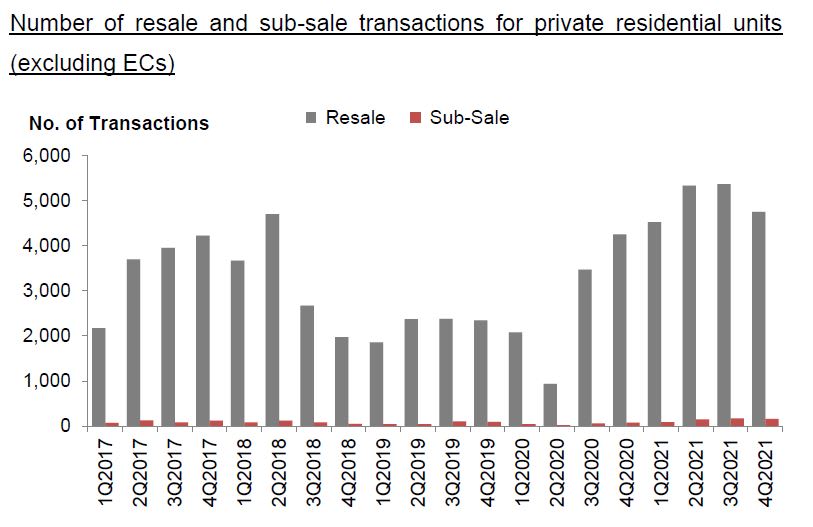 RECORD PROPERTY PRICES
For the whole of 2021, overall prices of private homes increased by 10.6 per cent, quickening from a 2.2 per cent increase the year before.
This was the highest annual growth since 2010, when private home prices rose 17.6 per cent, said Ms Sun.
During the year, prices of landed properties rose 13.3 per cent, which according to Ms Sun is the highest price hike since 2010, while prices of non-landed homes rose by 9.8 per cent.
Prices of non-landed homes rose across all three market segments last year, climbing the most in the city fringe, or Rest of Central Region (RCR) by 16.3 per cent. This was followed by the suburbs, or Outside of Central Region (OCR) by 8.8 per cent and the prime districts, or Core Central Region (CCR) by 3.8 per cent.
In the fourth quarter alone, prices of private residential properties rose by 5 per cent, compared with the 1.1 per cent increase in the previous quarter. This was also the highest quarterly increase since the second quarter of 2010, said Ms Sun.
"Pandemic-fuelled demand coupled with a depleting housing supply drove property prices in Singapore to new records last year," she said.
Landed home prices rose by 3.9 per cent in the fourth quarter, while non-landed homes increased by 5.3 per cent.

RENTALS
Rents for private homes also strengthened last year, increasing by 9.9 per cent in 2021. This compares with the 0.6 per cent decrease in 2020.
In the fourth quarter, rents rose 2.6 per cent, accelerating from the 1.8 per cent increase in the previous quarter.
"Rental demand is likely to pick up further this year. In light of the new cooling measures, HDB flat owners who do not wish to pay the ABSD (Additional Buyer's Stamp Duty) may opt to sell their flats first before buying a new home and renting a unit in the interim. 
"Moreover, employment in industries decimated by the pandemic may start picking up this year as there is more economic certainty," said Ms Sun. 
Singapore introduced a package of measures on Dec 16 last year, aimed at cooling the property market. They include higher ABSD rates and a tighter Total Debt Servicing Ratio (TDSR).