From 996 to 'bai lan': Why China's young workers are choosing to 'rot' than work hard
Is the 'bai lan' phenomenon a threat to China's future, or a sign to examine the country's work culture and growth model? The programme Insight finds out.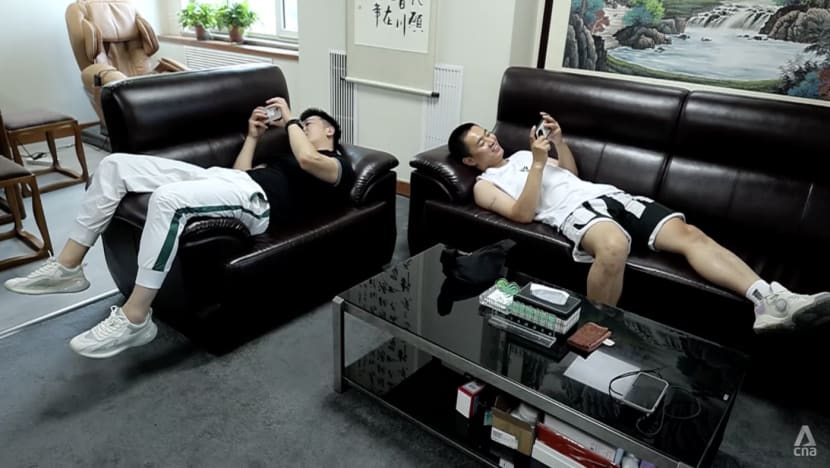 BEIJING: Li Xiaolin leads a "tedious" life. He goes to work at his uncle's vehicle inspection factory at 9am, six days a week. After completing his tasks — checking for mechanical faults like worn tyres or fuel leaks — he's headed home by 5pm to eat and sleep. 
If his boss tells him to do something, he might say: "Can I do it tomorrow?" "Can you ask someone else to do it?" "Can I not do it?"
And if all else fails, "I'll just do it, (but) I won't do it well".
Li is 25, and the antithesis of Chinese youths who are slogging away for the notoriously tough gaokao (college entrance) examinations or in punishing "996" jobs, where they work from 9am to 9pm, six days a week.
He embodies a new attitude of his generation: Bai lan or "let it rot". The term has its origins in basketball, where teams would voluntarily retreat in the face of a losing battle. 
To the Chinese youth, said battle looks like this: 10.8 million graduates are entering China's workforce this year but the youth unemployment rate is at a record high of nearly 20 per cent. The country's economic growth has moderated since 2010 and was recently dragged down by its COVID-19 lockdowns.
Income inequality in China is also among the highest in the world. 
This disillusionment among the young has worried president Xi Jinping, who has his eyes set on a national rejuvenation. At the 100th anniversary of the Communist Youth League of China in May, he called on them to offer their energy and creativity to the rejuvenation cause and not be intimidated by difficulties. 
WHY THEY GIVE UP
Social immobility is behind the bai lan phenomenon, said Alfred Wu, an associate professor at the Lee Kuan Yew School of Public Policy. 
He attributes it to the "burden of the three mountains" — education, healthcare and housing. 
Property inflation has pushed home prices so high that "(workers') salary will not enable them to afford an apartment", Wu told the current affairs programme Insight.
China's ageing population also means healthcare costs are set to go up. "Many people are worried about whether they can get enough support when they are older … So they need to have a lot of money for the future," said Wu. 
For those who have children, private tuition has almost become a necessity in order to stand out in an over-competitive job market. Fees can be as exorbitant as S$200 an hour, or up to S$1,000 for a star tutor, said Wu. 
"It's unbelievable for people who are not earning a decent salary," he said. "So many of them struggle to have children, but the pressure on them is huge… to have more babies."
As it stands, there are also too many graduates in China and not enough jobs to match. Their skills may also be insufficient for the fast-changing market. 
"They are university graduates… people who have a PhD… but when they enter the job market, they need to pick up very humble jobs," said Wu. People are competing for a slice of the pie that is "way too small", he added.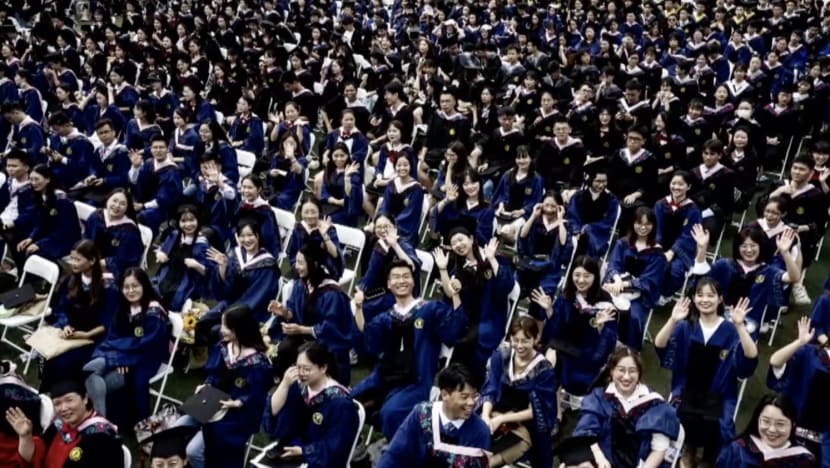 All this leads to "very, very high" anxiety levels among young folk. Feeling like "they cannot change their life", said Wu, they've resorted to a passive lifestyle. 
Indeed, for Wang Yandong, 25, "perseverance did not help (people like him) reach their dreams".
He studied mechatronics in university, but did not do well enough and could only find work "at the bottom of the chain". He worked at an electronics factory and was bored dealing with machines.
Even after switching to a job in healthcare management and moving to Beijing, his goals remain "unfulfilled".
"With my pay, I can't afford to buy property and settle in Beijing. It is unattainable," he said.
"So that's why we give up. The current life we have isn't bad, so it doesn't matter."
Now, he avoids working overtime and gets off work at five sharp. 
I don't think of work when I get off. I think about what I eat and drink and do what I like — playing basketball."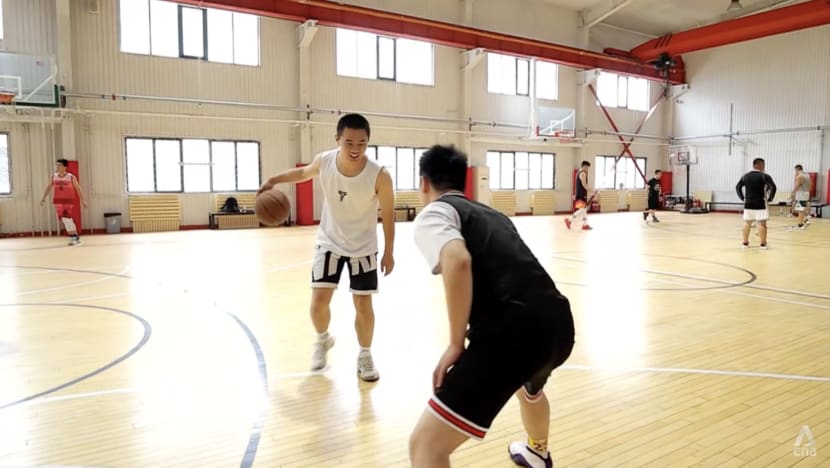 RACE TO THE BOTTOM?
The problem of social immobility has been brewing since the early 2000s, said Wu. Before bai lan trended this year, the issue came to the fore last year with "tang ping", or to lie flat, which started from a social media post that called on youths to "reject the crushing pace of life, relentless competition and the empty promise of consumerism". 
"The idea of tang ping is actually very universal," said Professor Ho Lok Sang of the Pan Sutong Shanghai-Hong Kong Economic Policy Research Institute at Hong Kong's Lingnan University. 
A lot of young people are tired of the kind of games that society apparently is asking them to engage in, and they're not too interested in this kind of competition."
There are parallel trends in other countries, where some groups of people have engaged in "quiet quitting" and "slow living", where they generally do not go above and beyond at work.
While some experts see these trends as drawing healthy boundaries, Wu said bai lan has a more worrying dimension. It is "a race-to-the-bottom culture", he said.
Not everyone holds the same view, however. For freelance tutor Guan Aizi, 29, those who subscribe to bai lan "haven't been dragging the country back because we're not aimless or a burden to our parents, families and society". 
Guan chooses to teach no more than two classes per day and spends the rest of her time on her newfound hobby, skateboarding. 
Just a year ago, her life consisted of 15-hour work days. 
"When I graduated, I felt invincible, full of energy and abilities. As long as I work hard, anything would be possible because I'm young. There'll be opportunities and time," said Guan. 
She realised, however, that the "rewards were disproportionate to (her) efforts".
"I felt really tired every day. I felt my body couldn't cope… I felt anxious," she said.  
"No matter how hard you try, how hard you work, maybe you're just not as good as others. Maybe your end point doesn't even compare to other people's starting point." 
So she chose what's "really good" for her: A bai lan lifestyle.
Since Insight's episode on China's slacker youth aired last month, it has amassed nearly a million views on YouTube, with commenters expressing overwhelming support for the movement. 
One viewer, Peter Warner, said: "As a Gen X who spent the first 25 years of my working life working myself to exhaustion day in day out, I encourage younger generations not to make the same mistake."
Another viewer, kvnrthr, said: "I came into this video wondering about this horrible, catastrophic 'let it rot' phenomenon, but they actually seem pretty reasonable. They're not mooching off their parents or the government, they do their job and nothing more, then enjoy their life in their spare time. How is this weird? It's the 996 advocates who seem downright baffling to me."
YouTube user asdkotable spoke about striking a balance: "I applaud these young people in deciding to opt out of a system that doesn't care for them. On the other hand, I really hope that they have enough to get by and some money left over in case of emergencies, because living on the edge like that is really hard."
WATCH: China's Slacker Youths: Why They Went From 'Lying Flat' To 'Let It Rot' (45:41)
'JUST MAKE YOURSELF BETTER'
Experts differ on how worried the Chinese government should be about bai lan. 
"If bai lan continues, you will have a lot of turbulence in China," said Wu. 
Without hope for the future and feeling like "they don't really belong in society", bai lan adopters might "try to damage the current system", he said. "They could actually become very much a rebellion force in China in the future."
Sociology professor Tong Yu-ying of the Chinese University of Hong Kong believes that China's economic development will not be wrecked by this "small group". 
"Why some people 'bai lan' is because of the fierce competition in the labour market and in education," said Tong. 
That means there is still a large group of people who are extremely hardworking."
Ho feels bai lan is an "expression of desperation" and said policymakers can hear youths out and help them move ahead.
He noted Chinese leaders have been looking more at the quality of economic growth.
"The 996 phenomenon was an excess that arose because of the intense competition and also the focus on profit, right?" said Ho. "China's leaders want to hold back, focus less on profit and more on people's well-being."
To this end, there have been a slew of measures and crackdowns. 
Big tech companies were instructed to give more back to society in the form of charity. Private online education was banned in a move seen as levelling the education playing field.
To cool the red-hot property sector, the government raised interest rates and curbed speculation and borrowing by property developers. 
Even the 996 overtime practice was ruled illegal by the country's Supreme People's Court in August 2021.
China is now "getting to that stage in which people's lives can improve with… less focus on getting rich", said Ho. 
China now needs to instil hope and guide its young people on self-improvement, he said.
"Just make yourself better," said Ho. "Then you find meaning in life."
For now, Li, Wang and Guan are content to get by.
"To persist is by nature tedious and boring," said vehicle inspector Li. "I want to do something that makes me feel more comfortable."  
"It's not exactly selfish but you can say it's a bit self-centered. I don't want to take responsibility, that's all."
Watch this episode of Insight here.