Hope or hype? The road map for driverless vehicles in South Korea and Singapore
Are you game to try autonomous vehicles? In parts of South Korea, they already carry passengers on fixed routes, for instance. In Singapore, trials are ongoing, with experts hopeful certain services will become a reality within two years.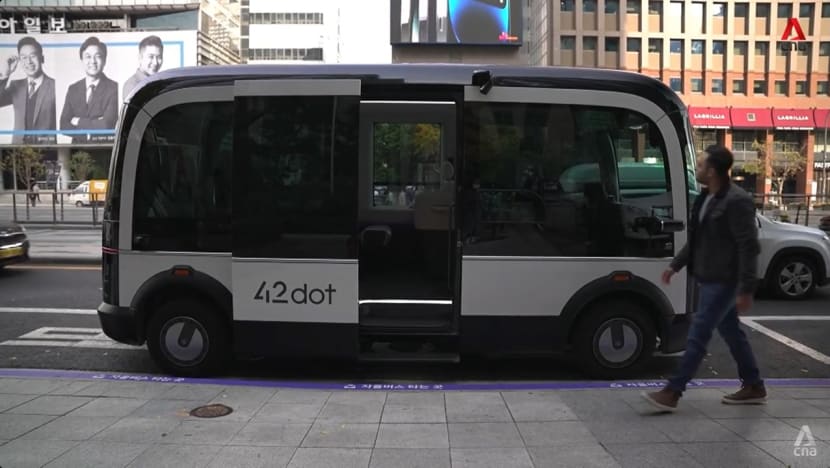 SEOUL and SINGAPORE: The year Singapore opened its driverless vehicle test centre, in 2017, the Government unveiled plans to pilot self-driving bus and shuttle services in 2022 in Punggol, Tengah and the Jurong Innovation District.
But those plans have not yet become a reality.
For years, technology companies and car manufacturers had also promised that it would be only a matter of time, and as early as 2020, before self-driving cars are on the road in the millions.
"There was a bit of false expectations there," said Niels de Boer, senior programme director of the Centre of Excellence for Testing and Research of Autonomous Vehicles — NTU (Cetran). "There were a lot of companies making claims … and people in the industry know that they were exaggerating.
"If you look at even traditional safety features in a car, it takes a very long time — more than five years in general — to develop a single safety feature … so why do you think an autonomous vehicle can be done in less time than a single feature?"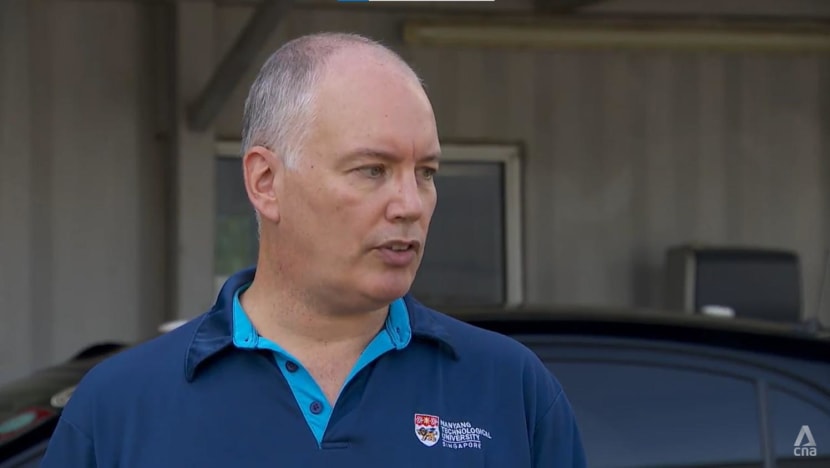 Despite the false dawn in Singapore too, the Republic dethroned the Netherlands from the top spot in advisory firm KPMG's 2020 Autonomous Vehicles Readiness Index, which assesses which countries are best prepared to adopt autonomous vehicles.
The only other nation from East or Southeast Asia ranked in the top 10 was South Korea, which improved by six spots to reach seventh.
South Korea first opened its autonomous vehicle test centre in 2017 too but has since deployed autonomous taxi and bus services already. The programme Talking Point checks them out in a two-part special and explores what the near future might hold for Singapore.
THE 'RIGHT' ISLAND FOR TESTING
Popular tourist destination Jeju Island, known for its nature sites and abundant seafood, boasts the longest distance covered by a paid autonomous driving service in South Korea: 38 kilometres, back and forth between Jeju Airport and the Jungmun Tourist Complex.
RideFlux, a developer of autonomous driving technology, offers two shuttle services and two ride-hailing services in total in Jeju.
But these vehicles are not fully driverless, as autonomous vehicles on South Korea's public roads require a safety operator to not only answer passengers' queries, but also take over the wheel where necessary.
RideFlux chose Jeju as its headquarters because the weather is "apt for testing", according to executive vice president Jeong Hawook.
"It's one of the locations in the country that experiences the most rain and snow," he said, adding that RideFlux has collected 8,000 hours of "diverse data" on Jeju's city roads, mountain roads and coastal roads.
WATCH: Trying this autonomous airport taxi on Jeju Island, South Korea (7:56)
He also believes that Jeju has the right infrastructure to support high-tech transport.
The Jeju Traffic Police operates a 24-hour Co-operative Intelligent Transport System (C-ITS), with around 15 officers remotely monitoring 300 km of roads on South Korea's largest island through road cameras.
With a budget of 25 billion won (S$26 million), the system is connected to vehicles with an accompanying C-ITS device on board. Besides RideFlux's six autonomous vehicles, about 3,000 vehicles including rental cars have the device.
This allows the central system to communicate with these vehicles and the surrounding infrastructure. For example, equipped vehicles can be warned of an accident ahead, roadworks or a sudden fallen tree.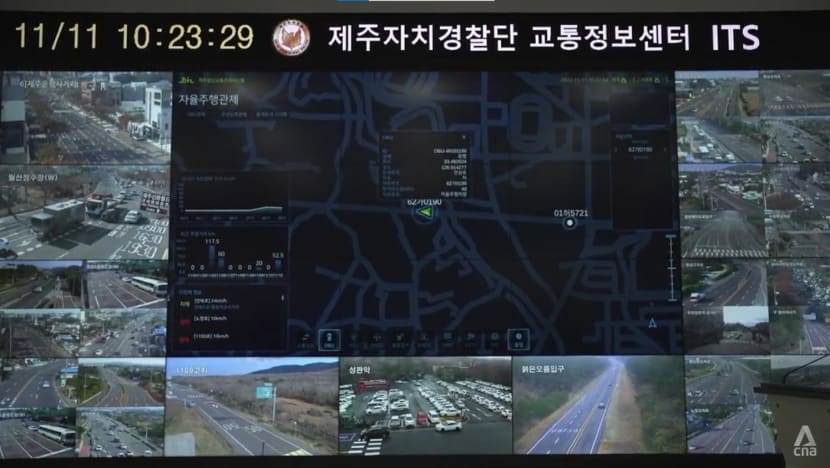 "As Jeju is a tourist city, there are a lot of rental car users," said officer Hyun Si-wook at Jeju Municipal Police Bureau's traffic information centre. "There are a lot of cases where less skilled drivers drive them, leading to higher accident rates."
A feasibility study in 2021 showed, however, that rental cars with C-ITS devices "had significantly lower accident rates than those without", he cited.
In my opinion, in future, combining C-ITS and autonomous vehicle technology would allow for safe transportation, regardless of driving skills."
The network also operates traffic lights, which can turn green on cue to let an ambulance through, for instance.
C-ITS is not deployed in all 14 autonomous vehicle pilot districts in South Korea, but the Ministry of Land, Infrastructure and Transport aims to install it "on every road in the country by 2030", said director Park Jin-ho from the Advanced Motor Vehicles Division.
The government wants to improve road safety — as it has been found that more than 90 per cent of car accidents are due to human error — and to provide mobility for the elderly who do not drive and people with disabilities, he added.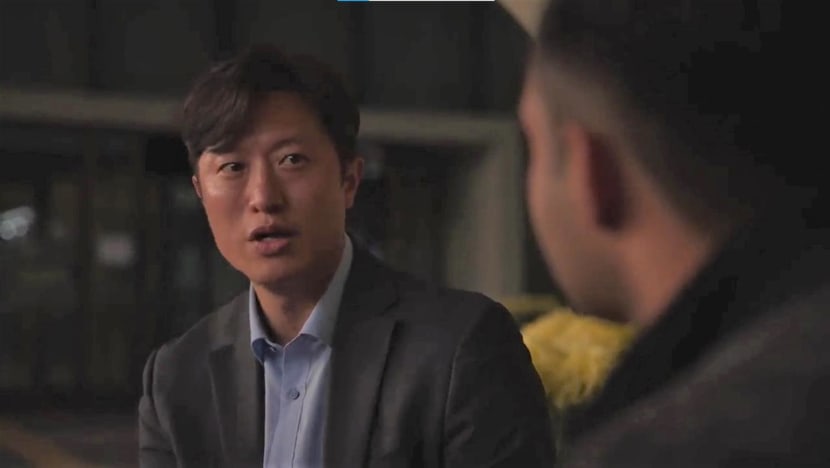 SERVICING SEOUL
There are more than 30 start-ups working to build the country's autonomous vehicle landscape.
One of them, 42dot, which has been acquired by Hyundai and Kia, runs an autonomous taxi service in Sangam-dong, Seoul's first test zone for autonomous driving.
And Sangam-dong resident Kim Woo-seok believes autonomous taxis might solve the taxi shortage in Seoul, where some 10,000 drivers left the industry during the pandemic owing to lower earnings.
"After a night out, it's so hard to find a cab to head back," he said. "(The waiting time is) not even 10, 20 minutes but 30, 40 minutes. Often, I can't even find any."
When he took his first autonomous taxi ride, he felt more assured than he had imagined.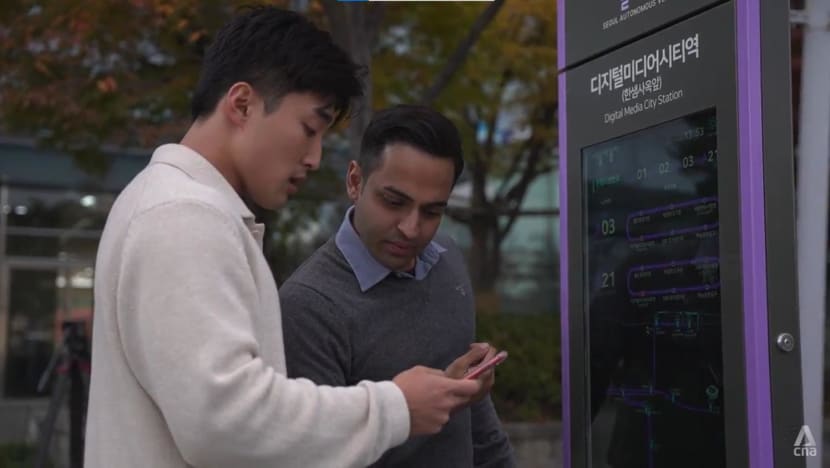 There was also a safety operator, Park Ji-young, who said: "(The car) is almost all self-driving. I take the wheel in (school) zones and when passengers are getting on or off."
It will take more time, however, before autonomous taxi services become common. Kim Mingyu, 42dot's business development head, said it is "difficult" to predict when autonomous vehicles can be truly driverless as that requires "a lot of technological developments".
His company has completed 1,800 rides in the Sangnam-dong area over nine months, which is equivalent to about six rides a day.
Besides taxis, 42dot also wants to commercialise autonomous buses. It is now piloting two self-driving minibuses in Seoul's city centre.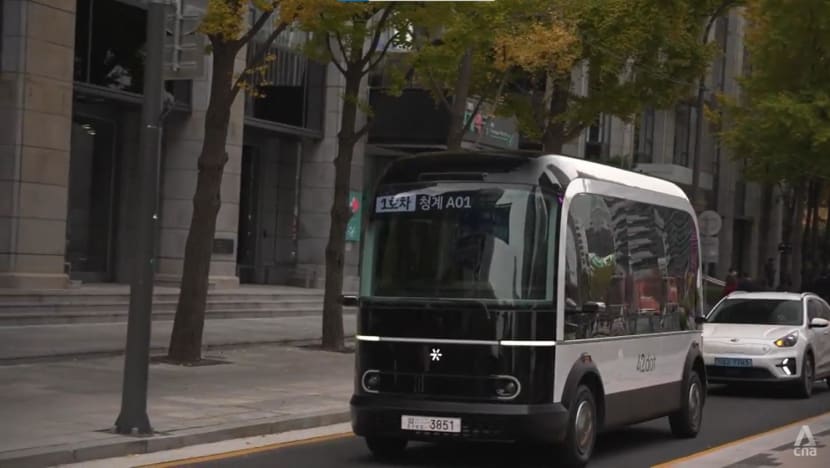 "A bus is (more) difficult to deploy on public roads," Jeong Seong-gyun, 42dot's head of autonomous engineering, said. "It's larger than a taxi and slower than common vehicles."
The company's minibus has 11 cameras and six radar sensors, which create a 360-degree view of its environment along a fixed route to detect objects such as other vehicles, traffic lights, lamp posts and pedestrians and determine how close by they are.
The data is fed into an artificial intelligence software, which calculates what the vehicle must do to avoid collisions. The safety operator also checks the on-board monitor to see if seat belts have been fastened, for instance, before the vehicle moves off.
Jeong believes autonomous vehicles can indeed improve road safety.
"(They) can be predictable, and passengers can experience the same quality of ride all the time," he said. "When we collect more data on public roads, the system becomes safer and smarter."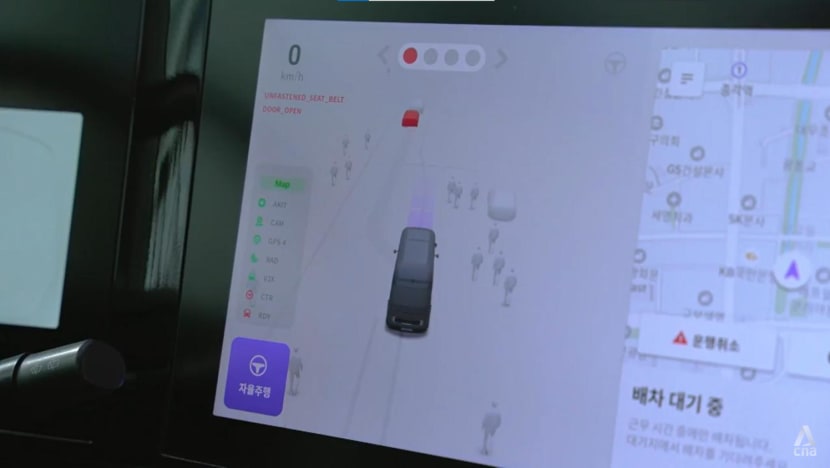 THE DRIVERLESS 'CITY'
At least 250 autonomous vehicles have received permits to be tested on South Korea's public roads, according to Autonomous a2z managing director Yu Minsang.
Before those trials, the place where companies like his test their vehicles is K-City. The South Korean government spent 12.5 billion won to set up the 320,000-square-metre facility in Hwaseong city, about an hour's drive from Seoul.
It is a duplicate town with roads, highways, tunnels and tollgates, for the purpose of autonomous vehicle testing using 5G technology.
That is because autonomous vehicles require a continuous stream of data to detect surrounding objects, plan routes and navigate to avoid collisions — and 5G can be up to 100 times faster than 4G.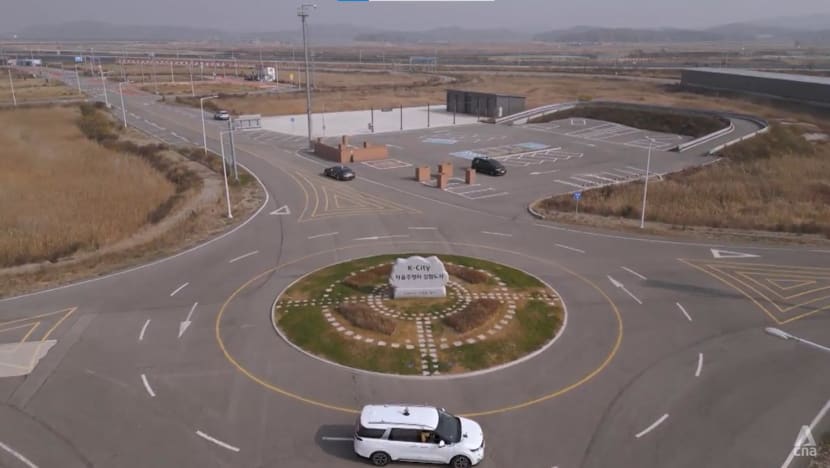 "Real roads are a little bit dangerous," Yu said. "K-City is very similar to real roads, so testing here is very important."
His "Level 4" driverless vehicle, which requires preloaded data about its surroundings, can go at more than 60 km/h in K-City.
Level 0 refers to fully manual cars, while Level 5 means fully autonomous. And in South Korea, Level 4 cars can operate on specially designated roads, while Level 5 means the autonomous vehicle can operate on every road.
But there are no Level 4 cars sold on the market, much less a Level 5 one.
"A lot of researchers say that Level 5 will be realised (only after) 2075, so it's a very long time from here," Yu said. "Level 4 is the real step … to commercialisation in the near future."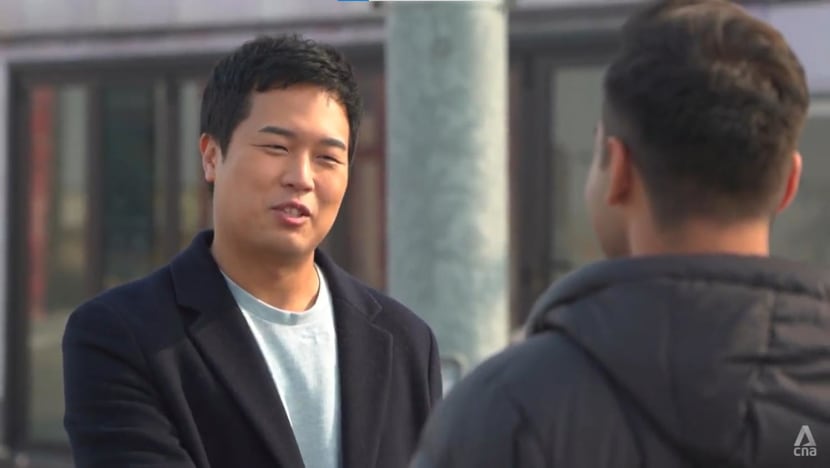 The first car produced by Autonomous a2z cost 500 million won, while subsequent productions of the same car model range between 300 million to 400 million won. An autonomous bus would cost around 300 million won.
"We're aiming for the commercialisation of Level 4 buses by 2025 and mass production by 2027," Yu said.
SINGAPORE'S THREE 'MILESTONES'
Over in Singapore, which tested its first autonomous vehicle in one-north in 2015, there are ambitious plans too.
Trials involving robo-taxis, autonomous shuttle services, robotic food and grocery deliveries and driverless road sweepers have taken place in the past few years. But challenges abound.
Replying to a parliamentary question in July, Transport Minister S Iswaran said: "Globally, autonomous vehicle companies are still conducting early trials and developing the technology for the diverse range of environments in different cities, including Singapore.
"The technology isn't ready for large-scale, city-wide deployment."
WATCH: The first episode — When will driverless cars hit our roads? (23:18)
To certify the roadworthiness of autonomous vehicles here, Cetran conducts "milestone" tests set by the Land Transport Authority (LTA). There are three levels:
Milestone 1 allows for a trial on public roads within one-north or other selected areas with a safety operator on board. More than 40 vehicles have been approved for this test.
Milestone 2 ups the ante by allowing the trial on public roads in residential areas, with a safety operator remaining on board. One vehicle has been cleared for this.
Milestone 3 is the end goal in the testing regime: Autonomous vehicles on public roads with or without a safety operator. "We have (the test) ready, but … we haven't got an application for one yet," said de Boer.
"Singapore is a place where legislation is very strict; Europe is the same. The United States is slightly different. … It's much more random, and (in) many cases, it's self-certification — as long as the developer declares, 'I'm safe', you can do your testing. That'll never fly in Singapore."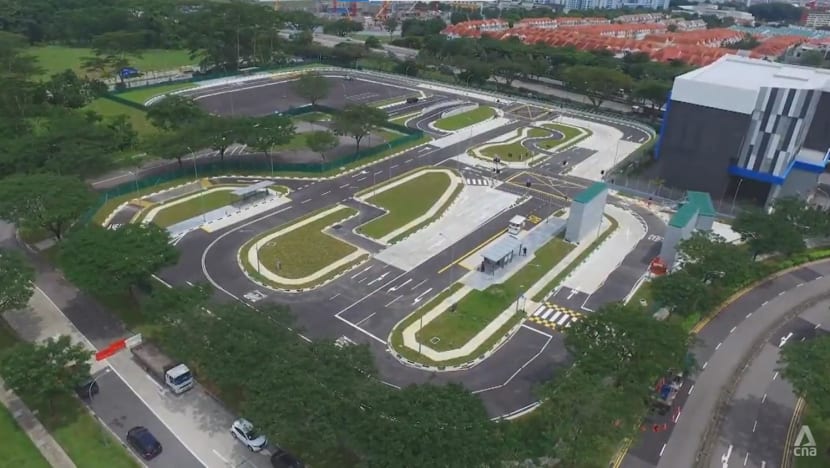 The trials so far include autonomous shuttle services in Sentosa and the National University of Singapore (NUS) in 2019 and two paid services in Science Park 2 and Jurong Island in 2021.
Of particular interest to NUS adjunct associate professor Terence Goh are "people mover" autonomous buses, since about 70 per cent of the population "are on mass transportation", and high Certificate of Entitlement prices discourage private car ownership.
He believes autonomous buses will not only address the shortage of bus drivers, but also allow existing drivers to upskill by learning how to operate the buses remotely.
These buses could be used for "first-mile and last-mile" connections, for example to the MRT station. "Then (the bus) will follow a fixed route from the MRT station … even to specified bus stops in the housing estate," he cited.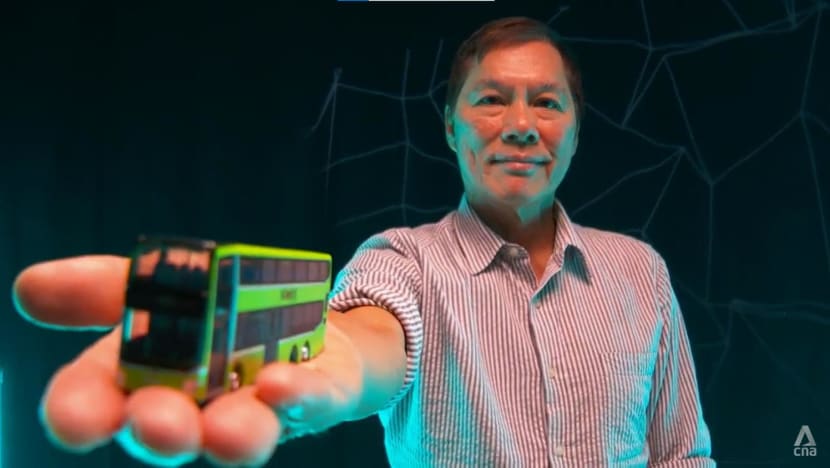 Besides housing estates, tertiary education campuses would be ideal for autonomous shuttle services. Autonomous vehicle start-up MooVita started a shuttle service in Ngee Ann Polytechnic just on Jan 5.
And Goh reckoned that fixed-route buses with safety operators will be ready in two years' time, while completely driverless buses might start operating within five years.
He even envisages autonomous vehicles being used for travel between Singapore and Malaysia in future.
COMING SOON
Autonomous vehicles that do not carry passengers will hit the roads earlier. The National Environment Agency had two road sweeper prototypes developed and on trial in 2021.
One of the prototypes is the brainchild of Wang Danwei, who heads the division of control and instrumentation at Nanyang Technological University (NTU).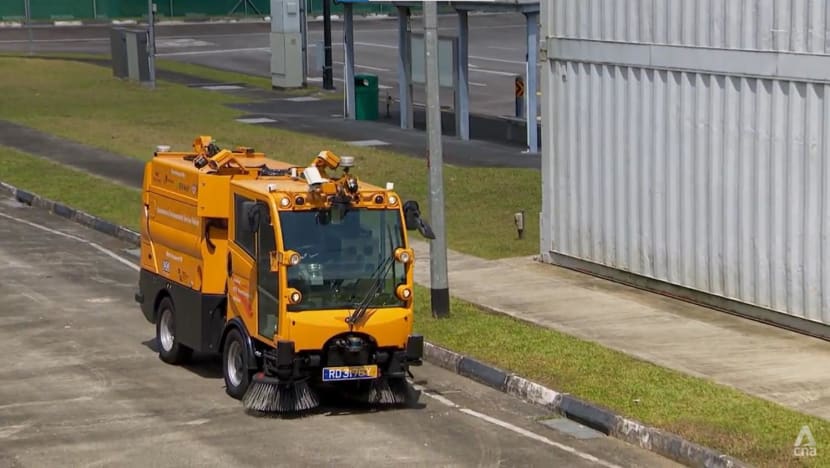 His road sweeper, which uses artificial intelligence to gauge how dirty the road is and to differentiate between different types of debris, is now ready for deployment, said the professor, who is looking for partners to bring it to market.
"Young people have better jobs. It's not their first choice to come into environmental services," he said. "The second thing is: This machine can work during the night and off-peak hours."
After working on this project for three years, he believes the vehicle can run by itself "95 per cent of the time". But it still requires a person to take care of fallen tree branches and traffic issues, for instance.
Having a safety operator on board is a manpower "bottleneck". His team, however, have come up with a new technology called "tele-operation", whereby drivers can operate a fleet of the vehicles from a remote site.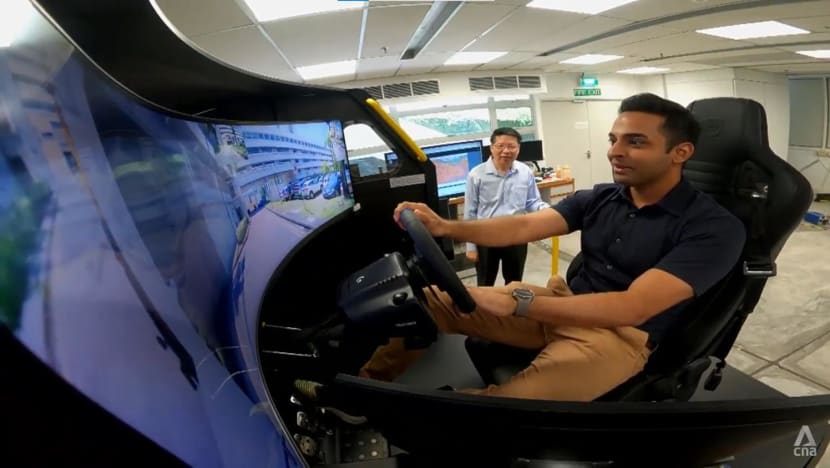 While Wang believes low-speed, passenger-free autonomous vehicles like road sweepers are likely to go on the roads earlier, robotics specialist Marcelo Ang from NUS' department of mechanical engineering is optimistic about the near future of autonomous vehicles that ferry passengers.
Ang believes it is possible to run a Level 4 vehicle on a fixed route with a safety operator monitoring remotely by the end of next year.
That is also the LTA's current time frame for the pilot deployment of autonomous buses and shuttles in Punggol, Tengah and the Jurong Innovation District: Within "the early 2020s".
"There are a lot of autonomous vehicle start-ups in Singapore working with institutes of higher learning and research organisations. I think we can do it," Ang declared.
WATCH: The second episode — Driverless cars: Hope or hype? (22:43)
His interest in the success of autonomous vehicles is not merely academic.
"I'm getting old. One day I won't be able to drive, and if I'm not able to drive, I don't want to call my kids (and ask), 'Can you (take) me to my friends?'" he said.
"I want to have freedom. Mobility equals freedom."
Watch Part 1 and Part 2 of this Talking Point special. The programme airs on Channel 5 every Thursday at 9.30pm.