What does it take to clean the world's largest dome? Men suspended by ropes
Singapore's National Stadium has hosted many events, from football matches to concerts. How many times, though, has its iconic dome been cleaned since it was built? CNA Insider gets access to what is a massive undertaking.
SINGAPORE: When 50,000 people filled the National Stadium this month to watch Liverpool play Crystal Palace, all eyes would have been focused on the teams and the action on the pitch.
But if, perchance, some of them had gazed upwards, they would have seen the stadium's iconic domed roof — maybe they had seen it before, except there was something different.
For the first time since the stadium was completed in 2014, the interior structure of its roof had been cleaned. It took nearly a year.
There was corrosion on the surfaces of the beams, or trusses, supporting the roof, although this had been confined to "a few minor areas", said rope access specialist Sean Forsyth.
But it is a good thing this is dealt with now, with some spots "starting to look quite bad", he added.
"Rust is steel cancer. If you catch it early, you can fix it relatively painlessly and simply. But if you let it spread, then it becomes harder to treat."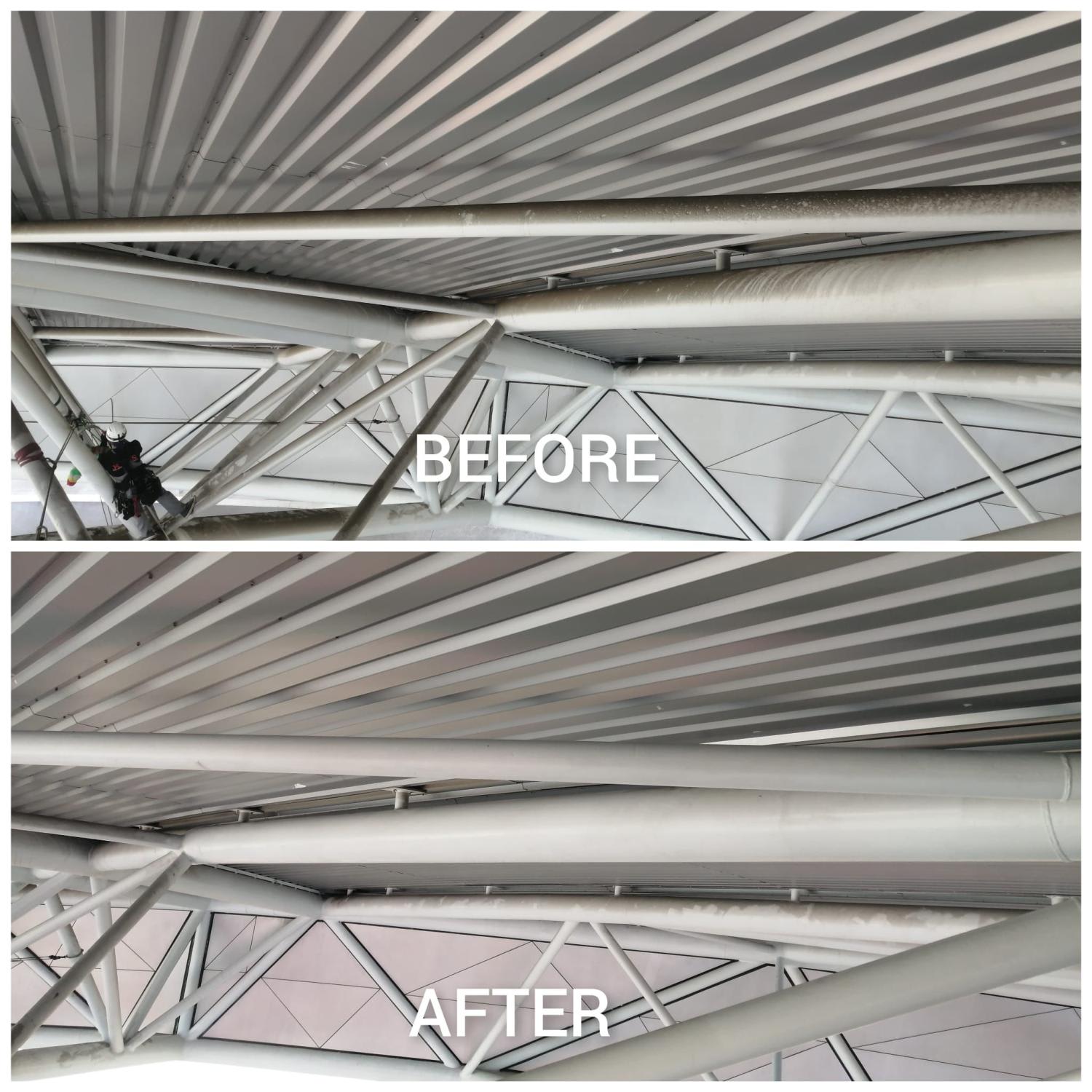 The 35-year-old South African is the senior manager of the team preventing any "cancer" from spreading in the roof structure. And to do that, they must scale the 82.5-metre-high National Stadium, working at height while supported only by ropes.
They bring along cleaning equipment that can be used in any house, such as feather dusters and mops. But it is much more than a cleaning job, Forsyth told CNA Insider.
"You need to know what the load limits are, … what sort of angles of deviation are allowed on the ropes and what are not. You need to know all the best practices and the safest ways to execute things," he said.
"My number one challenge is making sure that (my team) can all go home safe at the end of every day."
And because it is the National Stadium, there are other challenges too.
WATCH: What it takes to clean the Singapore National Stadium — world's largest free-spanning dome (7:20)
INSIDE AND OUTSIDE
Singapore's National Stadium is the world's biggest free-spanning dome — no interior pillars are used to support the structure, which is 310 metres in diameter. It is so huge that the Sydney Opera House can fit comfortably inside.
"It's a very unique challenge to try to clean (the dome), both inside and outside," said Forsyth. "There's a lot of it to clean."
Some parts of the internal trusses — a series of arch-shaped steel beams — were also hard to reach. And to clean these for the first time, his team from facilities management company C&W Services Singapore needed 10 months of planning.
This included determining the budget and taking time to "get everybody (at the Sports Hub) on the same page" before the cleaning started last July.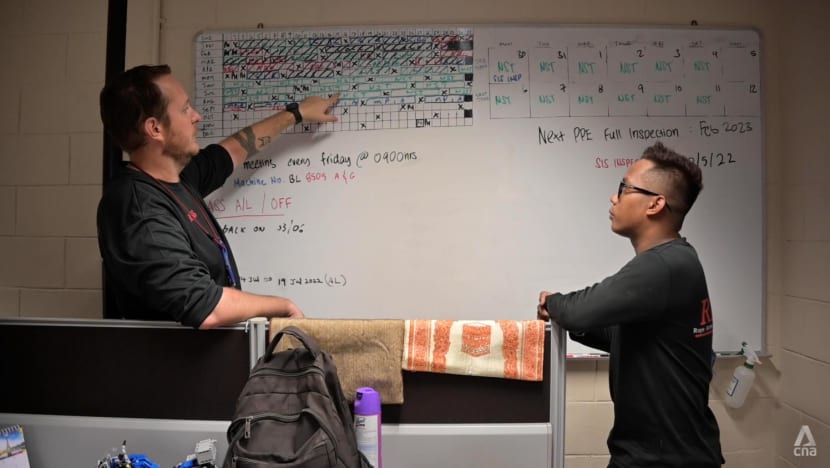 To reach the beams, the rope access specialised services team went up on the catwalks, from where they could start to rig up their ropes to the beams.
They had to identify which anchor points for their ropes were safe and appropriate, and how to position and balance themselves while working.
That was the tricky part. The cleaning itself did not require any special technique and was done "the same way you'll clean your floor at home", said Forsyth. "Just put your back into it and scrub."
The rope access technicians found a "thick layer of loose dust", which blew away into the wind as they dusted. "We don't need to worry about it dropping down into the stands," observed Forsyth.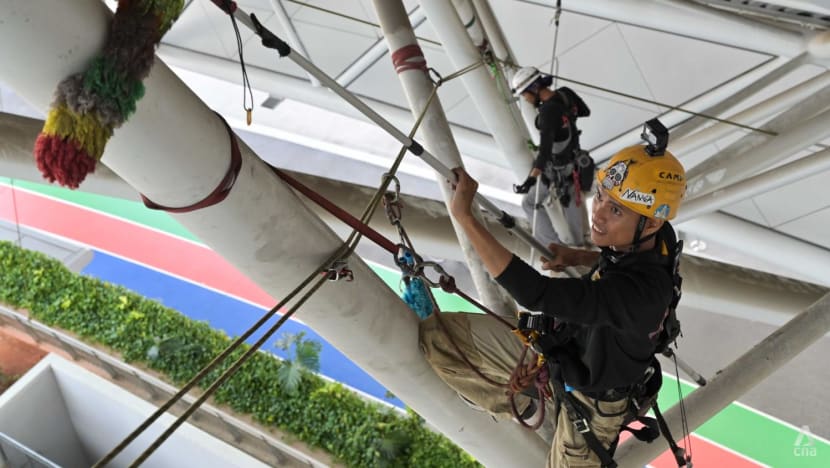 The beams were then wiped clean with the help of soapy water. For the rust spots that were found — "the size of a 10- or 20-cent coin" — they were sanded, a chemical preparation was applied and they were repainted.
"Steel beams like these would typically, without any maintenance, have a lifespan of up to 50 years, and then they start getting bad. Fortunately, the stadium is well below that, so the trusses are still in good condition," he noted.
But we don't want this place to stand only for 50 years; we want it to stand for a couple of hundred years."
There is also "no severe deterioration" in the stadium's curved exterior. In fact, the external roof is rinsed and scrubbed annually in what is a massive undertaking each time.
Normally, Forsyth's team takes a week or two to clean the exterior of a building. But for the stadium's dome structure, with its surface area of more than 70,000 square metres — roughly the size of 10 football pitches — it takes three to three and a half months, he said.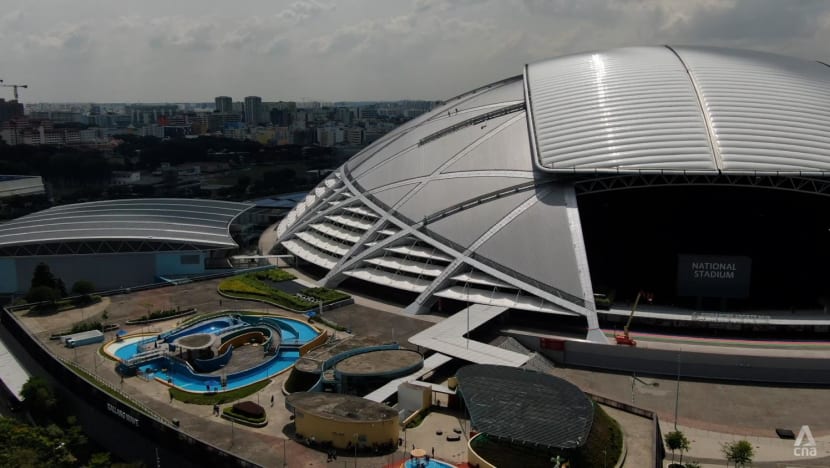 That's not all. They do facade cleaning for the entire Sports Hub, including venues such as the Kallang Wave Mall, the OCBC Aquatic Centre and the Singapore Indoor Stadium, to name a few.
It is a cycle that lasts nine months or more, with this year's external cleaning of the National Stadium's dome starting in May as the interior cleaning was coming to an end.
"So we have a tight window in which we have to complete the work, and limited manpower," said Forsyth. "We need to make sure that we deploy all of our resources as efficiently as possible."
At any given time, seven to 12 rope access technicians are deployed to clean the National Stadium, and this included cleaning the interior in the past year.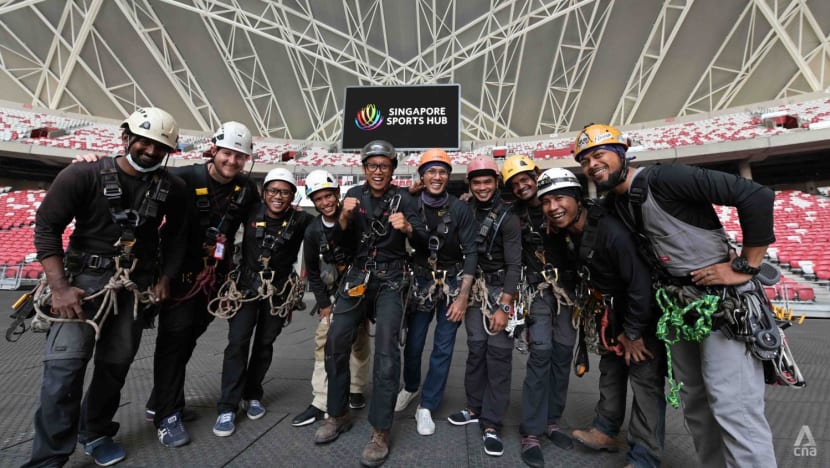 "If we don't clean the external roof, in the short term it doesn't have a huge impact," added Forsyth.
"But in the long term, it'd mean the roof would deteriorate … more quickly. It could develop things like leaks or corrosion or any kind of wear and tear that would affect the functioning of the roof."
What they do not have to clean, however, are the retractable roof panels each the size of a football pitch.
"The (movable) roof is made of a material that doesn't accumulate dirt very easily … Think of it almost as a self-cleaning structure," cited Forsyth. "When it rains, the rain washes the dirt away."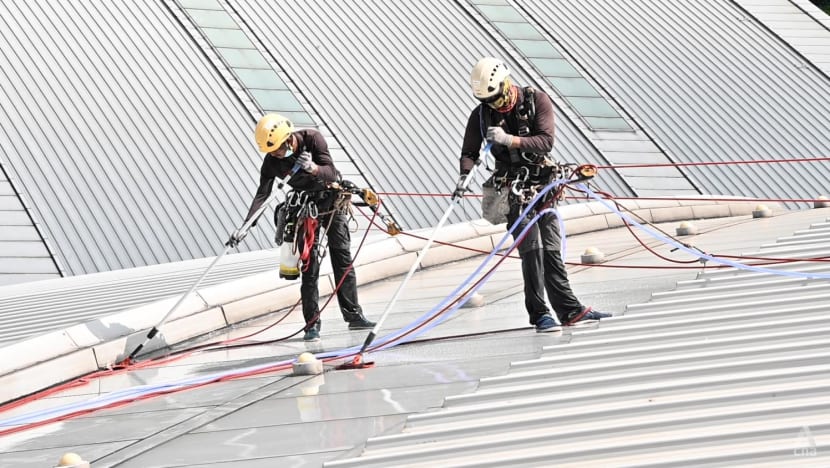 Since 2020, another cutting-edge technology has given the rope access specialists a helping hand.
That year, drones were deployed to take 792 photographs of the stadium exterior. These pictures were stitched together into a digital model of the dome, then an artificial intelligence system analysed the images to identify surface defects, rank them by severity and propose solutions.
Defect number 158, for example, is "some dirt" on a panel that requires attention, pointed out Forsyth. Many of the defects are superficial and similar: Dirt pools and water stains.
He lauded the new technology for being "far cheaper, … safer (and) a lot more detailed". "The way this was traditionally done with all buildings was to have somebody inspect the building with a set of binoculars," he said.
"If anything stood out that needed attention, then they'd have to send somebody there in a gondola or a building maintenance unit or (using) rope access … to get a better understanding of (the defects)."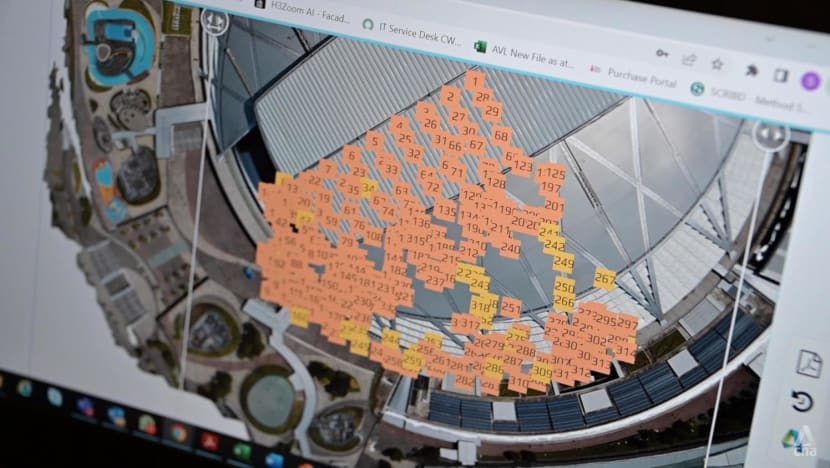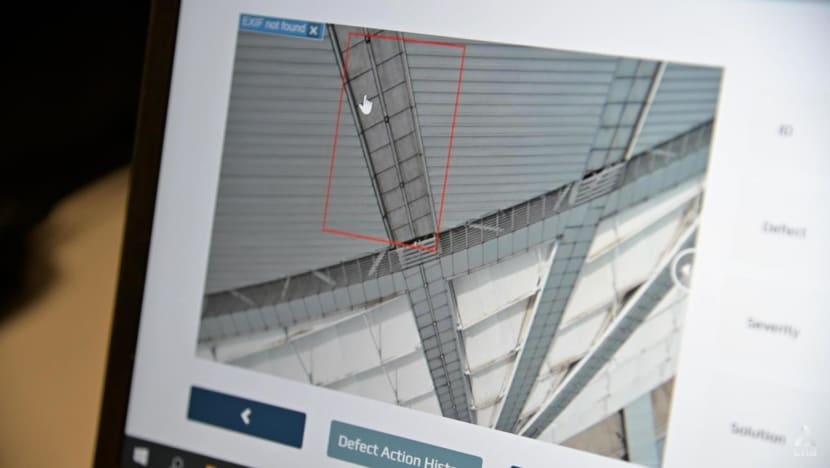 HIGH-RISK, BUT 'NOT ACTUALLY DANGEROUS'
What has hardly changed, meanwhile, are the rope access techniques and principles that protect this group of industrial climbers. One of the fundamentals of the job, for example, is to have backups "for everything".
"We use two anchor points (and) two carabiners at those anchor points … We use two ropes. We have two points of attachment to the ropes (on the harness)," cited Forsyth.
If any one point fails, the other point will catch you."
It is also essential that they work in teams, like in twos or threes, "so that there are multiple eyes on a single job". Importantly, this also means they will check each other's body equipment for added safety.
"It's rare that equipment fails if it's properly maintained and inspected," said Forsyth. "Normally, (incidents happen) when people make a mistake."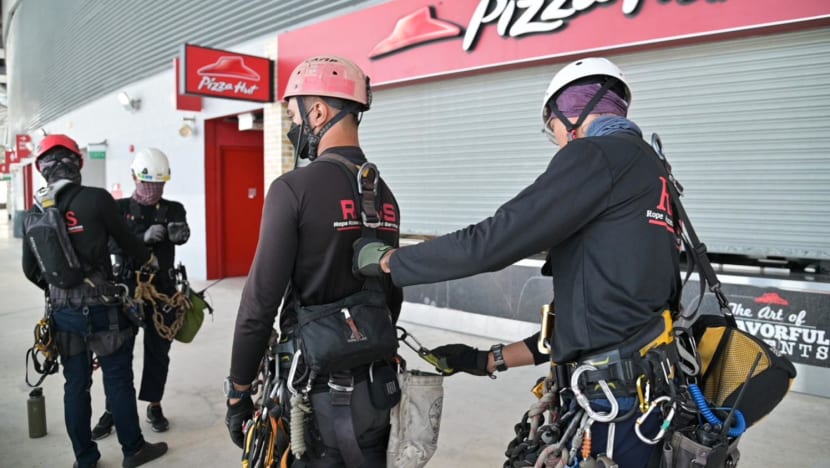 His team practises rescue drills regularly, although in his eight years in the industry, he has never had to do a real-life rope access rescue. It affirms his belief that his line of work "isn't actually dangerous".
"Dangerous is something that's very likely to get you hurt," he said. "Rope access is a high-risk environment, but it's a very controlled environment. We take lots of precautions to make sure that the work's done safely."
The most common mistake that does happen is dropping something. But he added: "Fortunately, we attach everything to ourselves so that if we do accidentally drop something, it doesn't fall all the way to the ground."
Also, hoses have burst and water pumps have failed — about 200 metres of hose and three pumps are needed — when the specialists are cleaning the stadium exterior. The work then stops for the issue to be rectified.
For rope access technician Abdul Aleem Kamarudin, who has been in the industry since May last year, there is another issue to overcome: His fear of heights.
"As time goes by, you'll try to overcome that fear," said the 32-year-old. "I just focus on the job … and (that fear) is just blocked for a while."
It is a "learning process" he enjoys, however, and he is not alone in having taken up the job despite being afraid of heights.
His 26-year-old colleague, Mohamad Syahiran Mohamad Jalil, a rope access technician of four years, said: "The fear will still be etched in your mind. But you have to do it — you already signed up for the job.
"You can't be like, 'I want to go back. I can't do this.'"
Forsyth, who is one of their supervisors, cited another challenging aspect of the job: It is physically demanding, which to him is the hardest part in general.
For example, being suspended in the harness for long hours "is essentially a core workout" because it means engaging the lower back and abdominal muscles to "stay stable".
"My harness is probably about seven or eight kilogrammes. After about an hour, I start to feel uncomfortable … But there are other guys who are fitter than I am who can go longer," he said with a laugh.
"If you really start to feel a strain in your back or wherever in your body, then there's no pressure to … be macho and work through the pain. If there's a problem, you come off the ropes. You rest."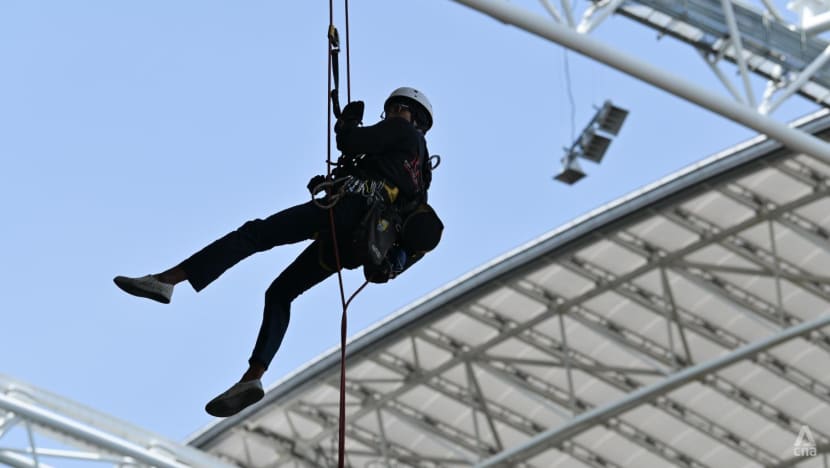 Then there is the weather, rather unpredictable at times, and the equatorial heat, cited his fellow supervisor, assistant manager Faiz Hisham, 30.
Strong winds can be an issue on the domed roof of the National Stadium, where it is already tricky dealing with the changing angle of the slope.
"It takes a lot of positioning … to keep (one's) balance while manoeuvring down the round facade," said Faiz.
It is a job that requires "a lot of technique, time and preparation", and is not just a cleaner's job, he added.
"I heard someone say that to their son or child, saying that you have to study hard or else you'll end up like these cleaners. But … not everybody understands (our job scope)."
It is a job that has taught Forsyth the value of hard work, perseverance and other life lessons.
"I've definitely grown a greater appreciation for the invisible jobs that people do to keep things functioning in society," he said, citing janitorial services and road and rail maintenance, for example.
Working on the roof of the National Stadium brings its own delights too. "What I enjoy most is … the views, especially after a long, tiring climb (to) the peak," Faiz said.
"We can see the CBD (central business district) and all around, from Kallang to Geylang … Not everyone gets the chance to go to the peak of the Sports Hub."