More than cold war brewing between India and China?
Amid border tensions with China that ignited in 2020, India's alliance with US, Japan and Australia could provide deterrence and peace. But it should grow its economy and improve links with its neighbours, experts tell the programme When Titans Clash.
DELHI: Vikas, a shop owner in Delhi, likes doing business with China because the Chinese are cost-effective, offer product variety and get their goods to buyers quickly.
"For example, if you want 10,000 pieces of one item, you can get (them) in, I'd say, 10 days," said Vikas, who sells incense, ornaments and other decorative ware.
Language is becoming less of a barrier because "they're starting to speak good English", he added. "Nature-wise, they're good people."
Businesses such as Vikas' helped trade between the two countries hit a high of US$125 billion (S$171.5 billion) last year. But his goodwill towards China may not currently be shared at the highest levels of government.
India-China relations have been fraught with tension since mid-2020, when their troops clashed in Galwan Valley in Ladakh. Both claimed incursions by the other side, in disputed border territory.
At least 20 Indian soldiers were killed in June 2020, while China reportedly lost four soldiers. The fatalities were the first at the 3,440km border, called the Line of Actual Control, in 45 years.
Since then, both countries have reportedly amassed close to 60,000 troops each at the border.
In March, Chinese Foreign Minister Wang Yi made a surprise trip to Delhi seeking normal ties. According to Indian media, his trip was also to gauge whether India would attend the BRICS summit China will be hosting this month.
Wang said: "The two sides should... put the differences over the boundary issue in an appropriate position in bilateral relations and adhere to the correct development direction of bilateral relations."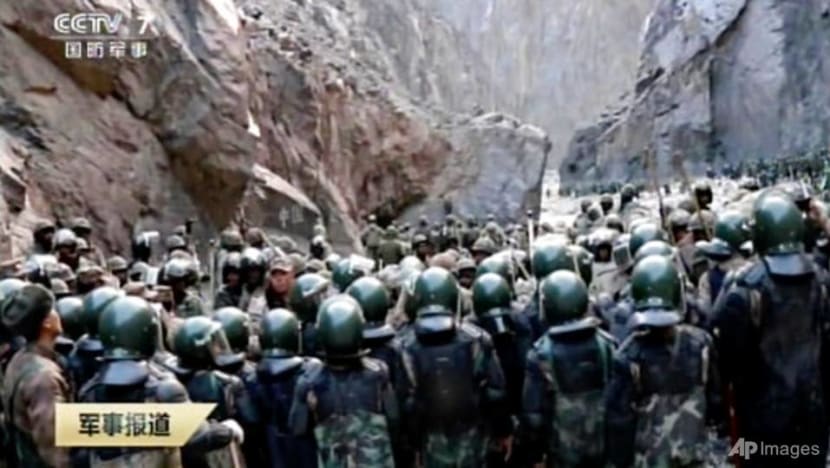 But Indian Foreign Minister Subrahmanyam Jaishankar said ties could not be normal with the build-up of troops at the border. "The frictions and tensions that arise from China's deployments since April 2020 cannot be reconciled with a normal relationship between two neighbours," he said.
This tension is not, however, simply between two Asian giants laying claim to each other's territory. The programme When Titans Clash explores the wider geopolitical dynamics at play, such as the rivalry between the United States and China.
"There's a cold war that's created between India and China. India is now a part of the Western alliance, and we're seeing that India is the principal bulwark against China," said Rohan Gunaratna, the director general of the Institute of National Security Studies in Sri Lanka.
The world is "being split", with India working with the US, Europe, Japan, South Korea, Australia and New Zealand, he said as he cited Russia, China, Iran and Pakistan on the other side.
For example, India is part of the Quad, or Quadrilateral Security Dialogue, which also comprises the US, Japan and Australia. The countries co-operate in maritime and other fields to realise what they call a "free and open Indo-Pacific".
"Certainly, the US strategy is to counter Chinese power and Chinese influence, and India is at the forefront of it," added Gunaratna, who is also a professor of security studies at Singapore's S Rajaratnam School of International Studies.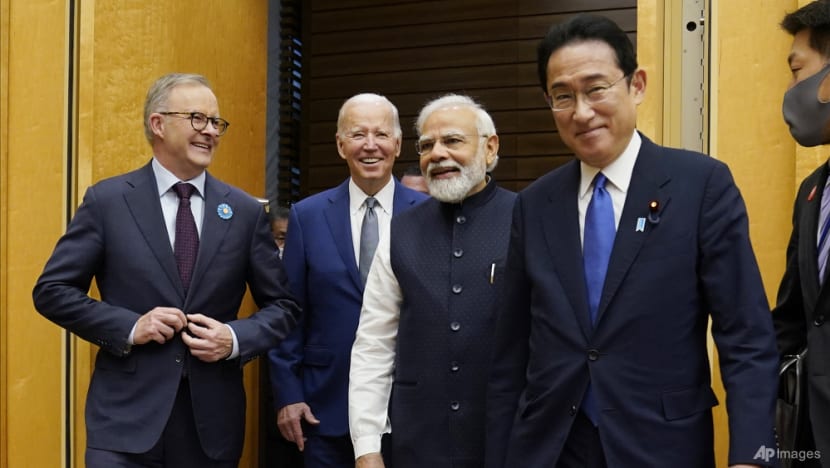 INDIA'S UNEASE WITH BELT AND ROAD
India is also uneasy with China's Belt and Road Initiative, which was announced in 2013. The massive infrastructure project involving over 100 countries has meant major construction taking place in India's neighbours, such as Pakistan, Sri Lanka, Bangladesh and the Maldives.
An important project in the China-Pakistan Economic Corridor, for instance, is to transform the Gwadar port, establish a special economic zone in the area and build logistics channels northwards to the Chinese city of Kashgar in Xinjiang.
The infrastructure development began even earlier, with the Chinese helping to build the Karakoram Highway from 1959. Majid Hussain, the caretaker of a Chinese cemetery in Gilgit, Pakistan, said around 110 Chinese were killed making the highway up until 1968.
"They made an excellent road network for us. What used to take 24 hours now takes 18 to 20 hours in travel time. This is why we're very thankful to China," he said.
There are also plans to develop the economic corridor by laying fibre-optic cables, rail links and oil and gas pipelines.
But from India's perspective, the road runs through disputed territory, said Indian Member of Parliament Shashi Tharoor, the former chairperson of the Parliamentary Standing Committee on External Affairs.
"Where the Chinese have built a road is right through … Jammu and Kashmir, which India considers to be its own territory," he said.
"China took the stand that each country is claiming (the territory) and therefore it's a dispute. You don't normally, as a foreign country, interfere in a dispute by building a road through territory you yourself admit is disputed."
When it comes to Sri Lanka, there is the popular "debt trap" narrative about Hambantota port being handed over to China because Sri Lanka was unable to pay off the loan obtained to construct the port.
But analysts who have looked into the issue found it to be more complex and nuanced, ultimately stemming from borrowing decisions made by the Sri Lankan government.
"Sri Lanka's debt repayment problems had very little to do with Chinese loans," wrote Dushni Weerakoon of the Institute of Policy Studies of Sri Lanka and Monash University economics professor Sisira Jayasuriya back in 2019.
Before China Merchants Port Holdings took over Hambantota port, it was running Colombo International Container Terminals. And as a general manager at the terminal, Tissa Wickramasinghe was thankful for the Chinese company's experience and investment.
Its modern equipment enabled productivity levels to be "on par and above the international standards", said Wickramasinghe, who is currently chief operating officer of Hambantota International Port Group.
A Chinese company will also build Colombo Port City, which will host an international financial centre, residential areas and a marina. The investor, China Harbour Engineering Company, has been given 43 per cent of the newly reclaimed land on a 99-year lease.
But the project has been criticised by opposition politicians, civil society groups and labour unions over China's involvement and questions of Sri Lanka's sovereignty over it.
Sri Lanka is now in the midst of an economic meltdown and unable to pay for imports of fuel, medicine and foods. There have been protests nearly daily for weeks. And it is unclear how the expensive Colombo Port City project will proceed.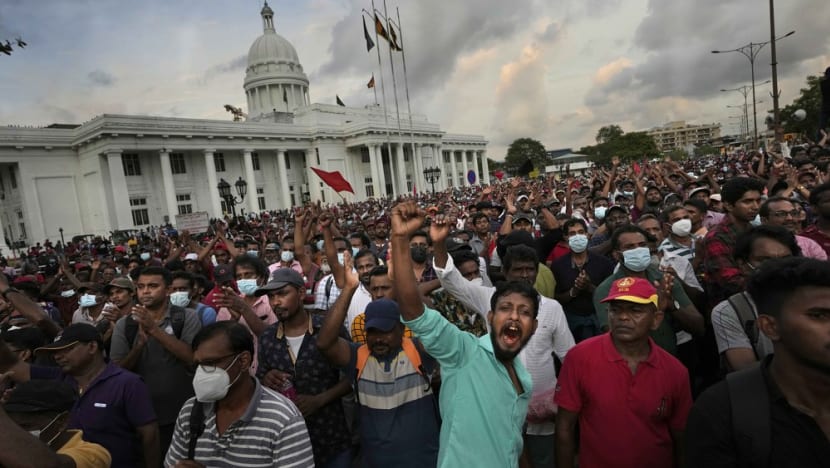 While China may be Sri Lanka's biggest investor, Gunaratna said Sri Lankan leaders "understand that we must maintain neutrality" and have moved the pendulum towards India and the West.
Among experts, there is a debate on whether China's investments in South Asia aim to create a network of naval bases encircling India.
"We've seen very significant Chinese investments in Nepal, in Bangladesh, in Sri Lanka, in the Maldives and in Pakistan," noted Gunaratna. "Naturally, India feels threatened."
To Tharoor, "even if (China is) trying to do it, which is debatable, I'd say that India has a fairly robust neck, and that it's not so easily strangled".
Nonetheless, India should "take seriously the attempts by China to constrain us through a significant presence around us", he said.
WATCH: Could China and India go to war? (46:53)
INDIA'S 'MISTAKE', AND OPPORTUNITY
Overall, China has been "very careful about not getting involved in military activities", noted former Singapore diplomat Kishore Mahbubani, who spearheads the National University of Singapore's Asian Peace Programme.
"We want to keep it that way. Because China's clearly becoming a much stronger military power, which is a natural development."
In a similar vein, India has been a "champion" of non-alliance, said Victor Gao, chairman of the China Energy Security Institute and vice-president of the Beijing-based Centre for China and Globalisation.
Hence the US is wrong if it thinks it can "hook India" into the "Asia-Pacific version of NATO (North Atlantic Treaty Organisation)" against China, he argued. "Independence of decision-making runs deep in the Indian gene and in the Indian blood."
India is the only Quad member that has not condemned Russia for its invasion of Ukraine.
"India is very eagerly importing crude oil from Russia at a huge discount, and I hope India will continue to do that," Gao said. "For what? For the benefit of the Indian people."
Tharoor, however, called the Quad an "excellent instrument to constrain China from getting far too big for its boots".
"In some ways, this kind of mutual deterrence — these attempts to constrain each other — might actually give us a peaceful atmosphere that'll enable other things to develop," he said.
Where India should take the plunge, in Mahbubani's view, is by opening up to globalisation.
India has not joined the Belt and Road Initiative, which he said was the country's sovereign right to decide and which Gao deemed "unfortunate" for the lack of "greater connectivity" with its neighbours, including the Indian Ocean island nations.
But the "strategic mistake", believes Mahbubani, was to not join the Regional Comprehensive Economic Partnership (RCEP).
This is a free trade agreement among the 10 members of the Association of Southeast Asian Nations and Australia, China, Japan, New Zealand and South Korea. It entered into force this year.
And it is the best way for India to integrate with East Asia, which will be the world's most prosperous economic region in the coming decades, argued Mahbubani. "It's in India's long-term strategic interest to join the RCEP."
He said Indian policymakers "haven't understood why China's become so powerful as an economy", some five times larger than India's today.
"China plunged into the ocean of globalisation. China struggled to swim. China drank water. But then China became a stronger swimmer," he said, paraphrasing what Chinese President Xi Jinping said in Davos at the World Economic Forum in 2017.
Mahbubani believes the Indian economy can become "as large as the Chinese economy, if not bigger". "But India's got to plunge into the ocean of globalisation," he said. "And then India will emerge as a stronger swimmer."
Watch this episode of When Titans Clash here.