7 things to know about using disposable plastic containers, for piping hot food or otherwise
Plastic containers may bear the same label but be made differently, so what makes a safe container? CNA Insider finds out the answers to seven questions on the plastics that hold your food and beverages.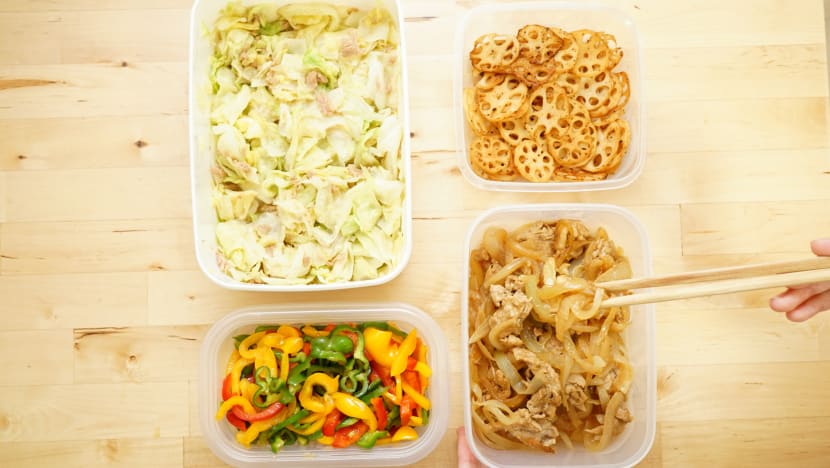 SINGAPORE: Takeaways have been a lifeline for hawkers and other food and beverage businesses amid the COVID-19 pandemic, especially when dining out was banned.
The "dabao" (takeaway) culture was alive and well in Singapore, however, even before the pandemic.
And much as the authorities and zero-waste advocates have called on consumers to bring their own reusable containers when visiting their favourite food stalls, most people find it more convenient to use the single-use containers provided by the businesses.
But what exactly are these containers made of, are they suited for all kinds of food and is it safe to reuse them? CNA Insider's Talking Point web original series seeks answers from pharmacologist and toxicologist Henry Leung.
1. WHAT'S IN MY CONTAINER?
Disposable food containers are generally made of plastic resins mixed with some additives, said Leung. Additives are chemical substances that could improve the performance of the plastic by, for example, making it more flexible, or improve its physical appearance.
"Some of these additives are added if the disposable box is designed to hold high-temperature food," added the senior lecturer and senior specialist at Nanyang Polytechnic's School of Applied Science.
As for the container's main ingredient, the resin identification code at the bottom of some containers — in the middle of the recycling logo — lets you know what type of plastic it is. Here is what the numbers mean:
Code 1: Polyethylene terephthalate (PET)

Code 2: High-density polyethylene (HDPE)

Code 3: Polyvinyl chloride (PVC)

Code 4: Low-density polyethylene (LDPE)

Code 5: Polypropylene (PP)

Code 6: Polystyrene (PS)

Code 7: Polycarbonate (PC) and other plastics
2. WHICH TYPE OF PLASTIC IS THE SAFEST?
It depends on what the container is being used for, such as hot food or food to be microwaved. Consumers should choose the correct plastic for their intended use, and this applies to reusable containers too, advised Leung.
"If your container is (going to be) consistently heated, you might want to look at a heat-resistant, reusable plastic container," he said. Polypropylene (Code 5), for example, is the most suitable for microwaving because of its resistance to heat.
There are also containers designed to be put in the fridge and freezer, such as high-density polyethylene (Code 2).
"(In contrast), some … disposable plastic containers, (if) put in the freezer, will very likely crack because they're not designed to work at extreme temperatures," Leung added.
3. IS IT SAFE TO USE DISPOSABLE CONTAINERS FOR PIPING HOT SOUP?
If hot soup is poured into a container that is not made for such high temperatures, the plastic will deform immediately, said Leung.
Containers that are safe for the microwave would feature the label but may also include instructions to remove the cover first.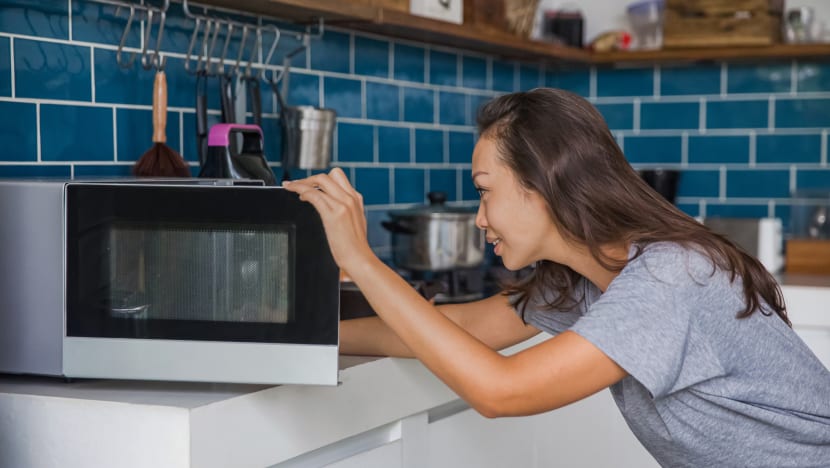 4. CAN I REUSE DISPOSABLE CONTAINERS?
They are recommended for one-time use. "They are safe for their immediate intended purpose but not beyond what they are designed for," the Singapore Food Agency (SFA) states on its website.
If you must reuse disposable plastics, then a "like-for-like" approach is important, said Leung. This means refilling a container of bottled water with water instead of, say, coffee.
He also reminds his friends and colleagues to look out for telltale signs that they should stop using a container.
Discolouration in a particular area could mean it was overheated. After repeated use, the takeaway container's texture could change and become harder or softer. "These are signs that it has gone beyond the limits of the plastic formulations," said Leung.
"If you ignore all these signs and continue using the plastic container, you'd be taking the risk of accumulating more of these chemicals than you're exposed to normally."
While it is important to be environmentally friendly, there is "no point" in using disposable containers inappropriately, he added.
Instead of risking chemicals from these containers leaching into one's food or beverage, consider reusable containers with at least the plastic identification code and a food safety label.
5. WHAT IF A REUSABLE AND A DISPOSABLE CONTAINER ARE BOTH POLYPROPYLENE?
Although the labels indicate the same code, the plastic formulations could be very different, said Leung, as reusable containers are designed to "resist certain physical cleaning".
"The manufacturer could have added some acid resistance, some oil resistance as well," he noted. "For the disposable (container), the manufacturer … might not add in too many of these additional functions".
6. WHAT ARE THE REGULATIONS ON FOOD CONTAINERS?
All food-contact items, including water bottles and food containers, that are imported, sold or used in Singapore must comply with the Sale of Food Act.
For instance, food containers "capable of imparting lead, antimony, arsenic, cadmium or any other toxic substance to any food stored, prepared or cooked in it" are not allowed.
The SFA does not grant pre-market approval for food containers.
WATCH: Is it safe to microwave food in plastic? Know what's in your disposable plastic containers (5:15)
"It is also the responsibility of the food manufacturer and trader to ensure that the food-contact articles used for storing or for commercial packing of their food do not migrate any harmful substances into the food," the agency stated online.
7. SHOUD I BE WORRIED ABOUT INGESTING MICROPLASTICS WHEN DRINKING BOTTLED WATER?
The dose and level of exposure are important, said Leung.
When scientists conduct toxicological studies, they generally test at an "extreme level" to see the worst that could happen, he noted.
"From a usual day-to-day exposure (to the) extreme level, we often have (a difference of) about 100 to … a million times the concentration."
The accumulation of some compounds — for example, at "very extreme" experimental-level doses of the trace metals that may be found in plastics — could lead to major toxicities and affect the central nervous system, he added.
For more from CNA Insider's Talking Point web original series, read 5 things to know about what's in your toothpaste for your teeth's sake (and your children's) and what you should know about acai, the on-trend fruity treat.