Still a pup but taking her human to places — as the first guide dog fully trained in Singapore
Once Eve dons her guide dog harness, she transforms from playful pup to trusted aide to her visually impaired handler. CNA Insider gets an inside look at what her training entailed from day one.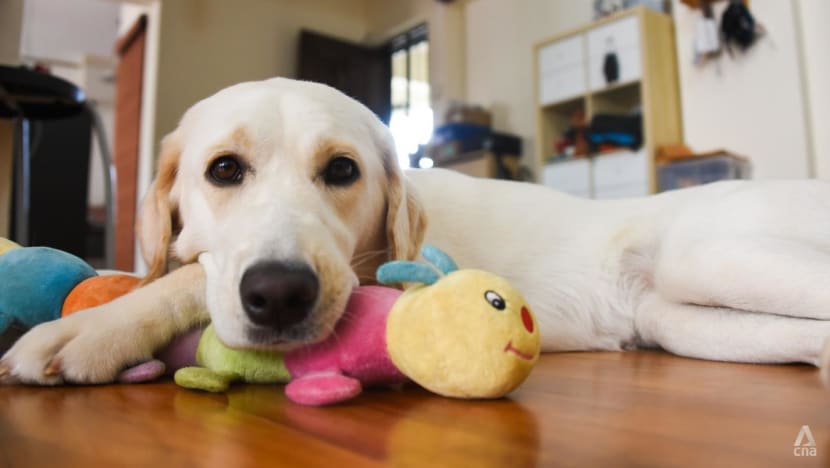 SINGAPORE: She must learn to turn left or right at the command, avoid obstacles in her path and even pee when instructed, before qualifying for the work she was born to do: Lead the blind.
But perhaps the biggest challenge for Eve, the little Labrador-golden retriever mix, is to ignore the common mynah.
"Birds are a huge distraction to Eve — especially bold, cheeky birds like mynahs that come up to her," said Christina Teng, Eve's instructor from social service agency Guide Dogs Singapore (GDS). And especially as Eve was bred in Japan, where the environment was quieter.
Eve is part of GDS' new plan for improving access to guide dogs for the visually impaired in Singapore. In a first, she was brought here before her formal guide dog training and certification. She was one and a half years old.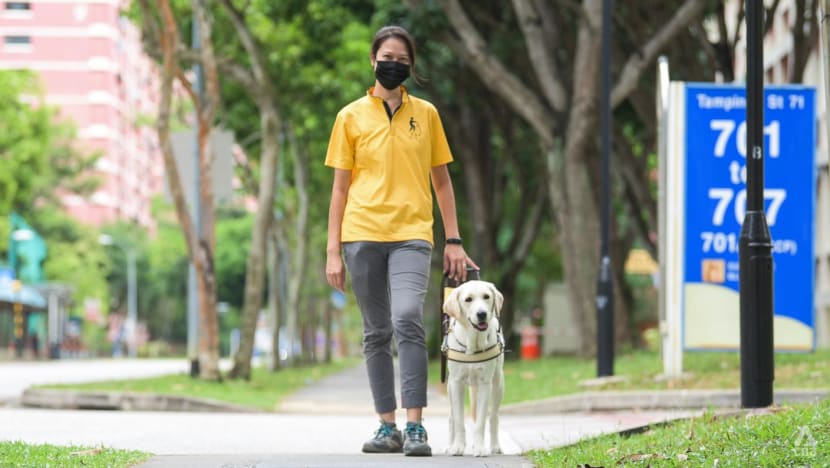 The dogs before Eve were trained beforehand at international guide dog schools — in Australia and Japan — whereas she was to be trained locally to get her used to the environmental distractions here, like mynahs and the hustle and bustle of public housing estates.
With a shorter acclimatisation period, matching a dog to a visually impaired client and training the pair together will be easier, Teng said.
This means that by the time a dog is assigned to a handler, it would be comfortable enough to focus on getting used to the person and how to meet his or her needs.
GDS has paired 10 clients with guide dogs since 2006, with a "steadily increasing" number of potential clients on its waiting list.
Having a localised training programme could now shorten the waiting time for a dog from a minimum of two years to a minimum of six months, said Teng, 42, Singapore's only guide dog trainer.
"When the dogs are trained overseas, the priority is for the organisation's own clients. That means our selection of dogs has narrowed," she added.
As CNA Insider found out while following Eve's training since her arrival last year, it takes months of daily work — and public acceptance — to train a dog to become a trusted aide.
HOW A GUIDE DOG WORKS
Whether assisted by a cane or a guide dog, the visually impaired usually navigate with a mental map to guide them.
There is a song that encapsulates how they get around. In the American drama series, This Is Us, a blind toddler sings his way to the park: "Twelve steps to the sidewalk, and then we make a turn to the left … Stop at the curb, hop that dog turd … And listen for the cars."
With the cane, Teng said, its users must feel for any obstacles in their path, or touch a familiar landmark, like a traffic light post, to know where they are heading.
The guide dog, on the other hand — as a second pair of eyes — can see the post and, when given the command, take its handler there while avoiding obstacles along the way.
"Dogs can see and know where they're heading and make the decision to move you (along) the most efficient path," Teng said. "In a sense, they have to be problem-solvers and navigate for the handlers."
But to do that, Eve had to first learn to concentrate, which seemed like a tall order when CNA Insider first met the puppy. Like most pups at her age, she was curious, energetic and, sometimes, insatiable.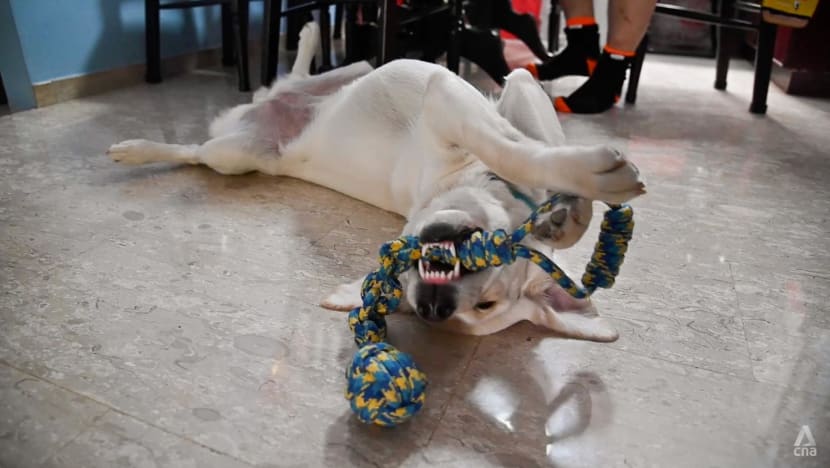 When this writer saw her at Teng's home, she ran amok with her favourite caterpillar plush toy, offering it to anyone who might be willing to play a game of tug. It would not be the last time she was excited to welcome visitors.
What helps her to understand when it is time to work is her guide dog harness, Teng said. Eve had to learn that going out in uniform means business, and like flipping a switch, she is expected to focus.
That is why members of the public should not approach a guide dog in harness, Teng stressed.
If Teng were to interact with the person who approached, the dog might think it can be distracted or look to the person for more attention, which affects the signal that the harness should be for the dog.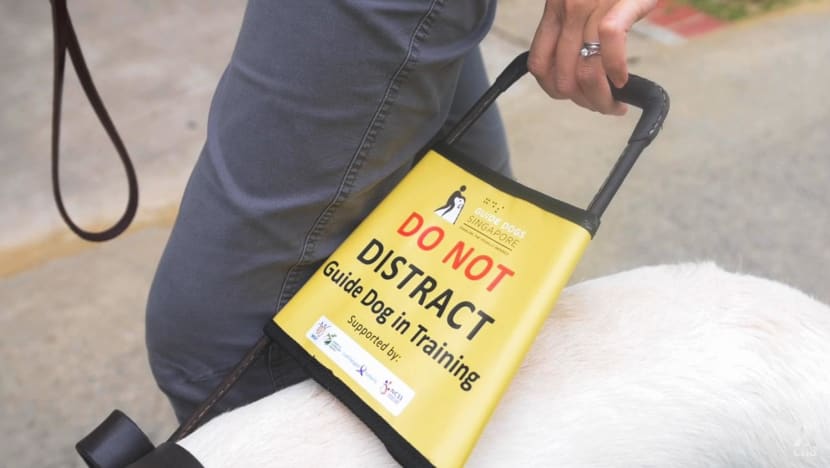 A distracted guide dog is "very dangerous", not because the dog might bite or bark, but because it is a hazard to the handler, said Teng. "It may not notice the obstacle … ahead, and the handler could either fall or knock into something."
To remain focused at work, Eve also had to learn to pee at a fixed schedule and to go when asked, usually before setting off on a route.
When leading her handler from point to point, she must not divert from her path, unlike regular pet dogs that like to wander off for a sniff or find a spot to pee.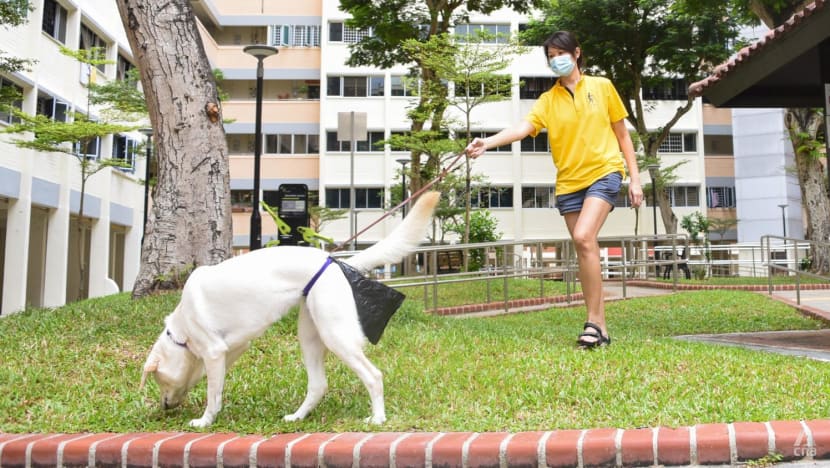 PICKING UP HARD SKILLS
Once Eve learnt how to manage distractions, she surprised Teng with how clever she was at picking up the hard skills to be a guide dog.
One of the fundamental things she must do is walk continuously in a straight line. When an obstacle is in her way, she should avoid it and return to her original, straight path afterwards.
And it turned out that she was good at solving this problem early in her training, said Teng. For example, when all sides of her path were blocked, she instinctively did a U-turn and tried looking for another way through.
"When she's concentrating on what she's doing, she can do a pretty good job," said Teng, who never held back her compliments when Eve did well, so that the pup knew it.
Pats on the head, ear rubs and a resounding "good girl!" are the positive reinforcements Teng uses in training. Food is not used, she said, because it presents a distraction, especially when the dogs are expected to guide their handlers in shopping centres, where food is abundant.
As Eve got better at following instructions, like taking her lefts and rights and stopping at kerbs, she levelled up to "complex" training environments — busy housing estates, bus interchanges, shopping centres and the city centre — where there are more people and sounds.
She also learnt to find and familiarise herself with escalators, lifts and doors to help her handler navigate indoor spaces.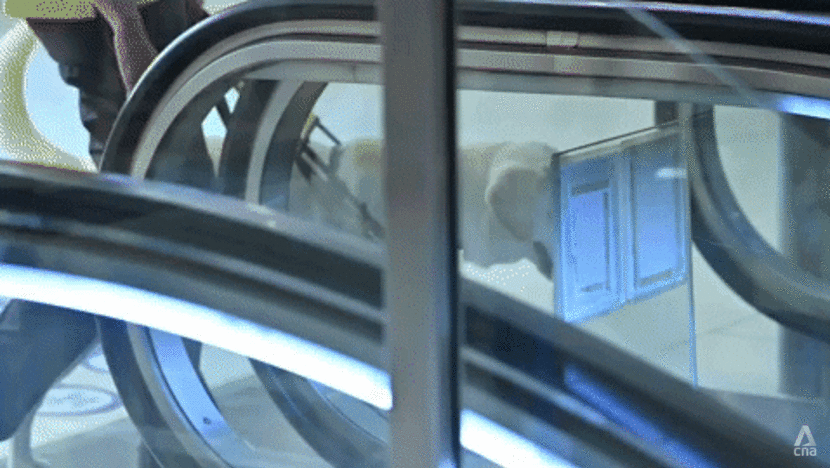 "Guide dogs in training (must) be reinforced with all these skills on a daily basis, especially in the early part of training, so that it becomes like a natural reaction," said Teng.
At the eighth, 12th and 16th week of training, Eve was put to the test and had to lead a blindfolded Teng. It was to evaluate how ready the dog would be to work with a visually impaired handler.
She did not escape the exam stress. At eight weeks, it was clear to Teng that while Eve had adequate knowledge of what to do, she lacked confidence and was bothered by passers-by.
She slowed her pace when unsure, which made it difficult to follow her lead, Teng said. But it was nothing an extra week's practice could not fix.
It took around four months of work before Eve could officially graduate to being a fully certified guide dog.
NOT YOUR REGULAR PET DOG
With the rigorous training regime, it is "quite tough" when the team faces "pushback" in public spaces, said Teng.
Awareness of guide dogs is better compared to a decade ago, she added, but she is still questioned from time to time by security or members of the public when she enters indoor spaces.
This is despite legislation permitting guide dogs in food establishments and on public transport.
When CNA Insider sought permission to film Teng and Eve in some establishments such as shopping centres, concerns were raised about whether the dog would bark at people or get fur stuck in the escalators.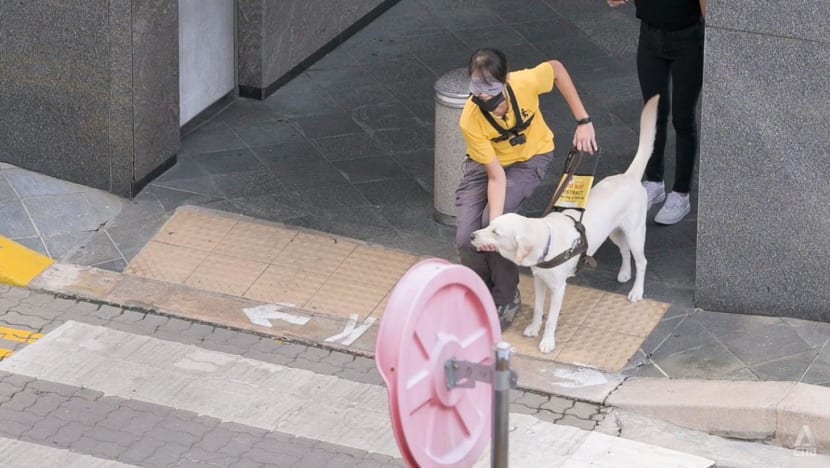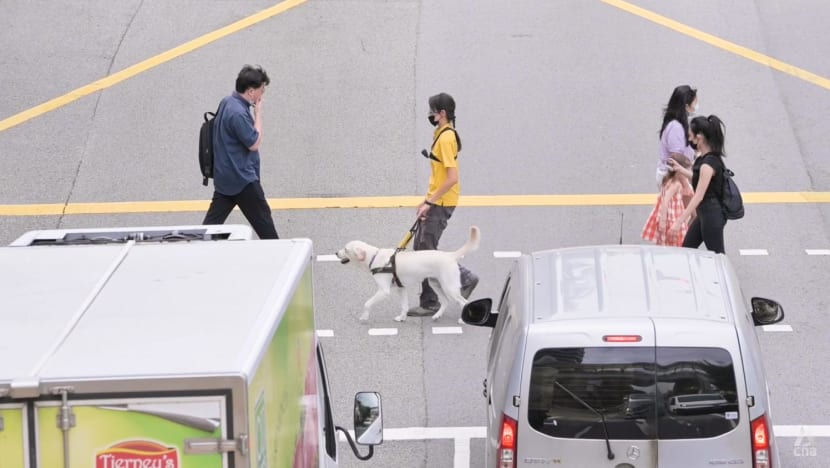 This stems from the public often conflating a pet and a working dog, said Teng. "There's a whole lot of background work that's done prior to even putting guide dogs in training in a public access area," she pointed out.
For a start, guide dog puppies are bred from a line of dogs of a calm temperament, with a "lack of anxiety (at) environmental stimulus", or "sound shyness". This means they are not reactive to loud sounds like thunder or the vacuum cleaner.
They are typically Labradors or golden retrievers. The puppies are fostered so that they can grow up to be used to a home environment and receive basic obedience training from the families.
Once they are of age for guide dog school — usually 12 to 15 months — the puppies are assessed on their temperament and reaction to stimulus.
The selection process is strict: Among a litter of pups bred as working dogs, about 40 per cent eventually make it to the end of training, said Teng.
Those that do not pass will be trained as other types of assistance or therapy dogs or, in the last resort, put up for adoption as pets.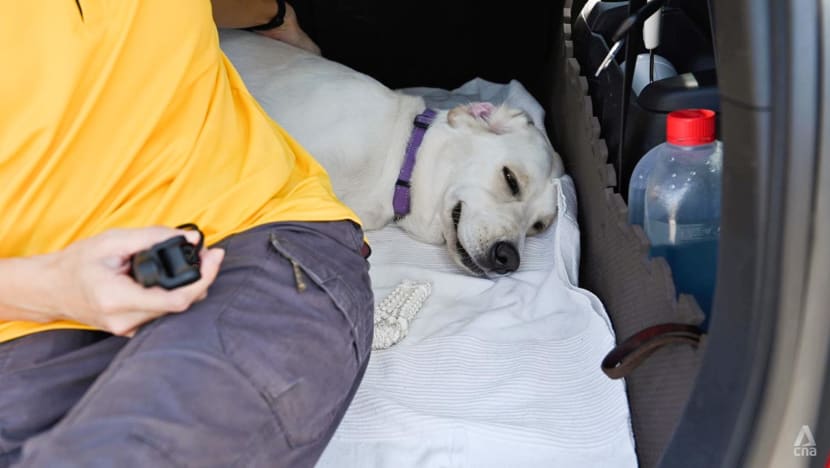 So Teng gets a little "agitated" whenever she is told "dogs aren't allowed". But her team tries to use these instances to "bridge the gap".
For example, if any of their clients have been denied entry to certain places or are seeking permission to enter places like supermarkets, the community partnerships team would write to these establishments to offer more information.
Teng hopes that with more public awareness and acceptance, GDS can also gain access to spaces for training.
"There are instances where we're told, "Oh, if it's in training, you can't do it — we only accept a fully trained guide dog,'" she said. "The disconnect is that you can't have a fully trained guide dog if it's not been trained in the first place.
You can't expect guide dogs to train in isolation, in an artificial environment, and then suddenly put them in the real world. They're not going to function."
Ultimately, the training is for the clients' safety, she noted.
There is even a module that involves driving a car towards the dog and handler, and the dog is expected to "intelligently disobey" the handler's command to move forward. This is to prepare for a situation where the handler is unable to listen for traffic clearly.
WATCH: Goldador puppy learning to be a guide dog (19:38)
A SENSE OF FREEDOM
When someone is interested to have a guide dog, Teng will assess the person's suitability based on his or her eyesight, lifestyle, living environment and work environment.
"I need to know whether they're independent enough to manage themselves, then I can see if they're ready to manage a dog in their life," she said.
A localised training programme makes a big difference to how well Teng gets to know the dog's personality, abilities and quirks and thus how well she can find a match on GDS' waiting list.
For Eve, her match would be a fast walker and a firm hand to manage her mischievous side. That person is Thomas Chan.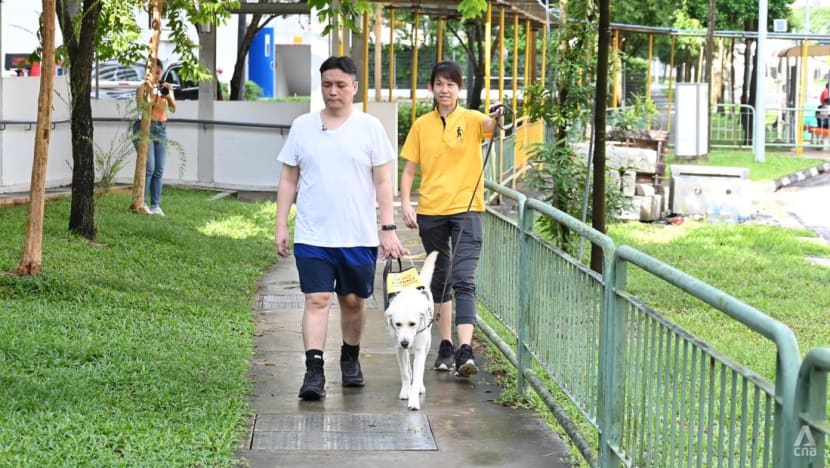 After 20 years of using a white cane and two years on GDS' waiting list, he relishes the freedom he has experienced with Eve since they were paired in June.
"If I walk to the place that I'm familiar with, I don't have to think so much. (I can give her) some of the tasks," said the 43-year-old, who has had glaucoma since he was a teenager.
Somewhere that used to take about 20 minutes to reach takes 10 minutes or less for him and Eve now. "I don't have to find the pillars (and) count the pillars, or I don't have to listen to as many things with her around," he said.
The pair trained for three weeks to get to this stage of teamwork. Chan had to learn to trust Eve's instinct instead of his own; she had to learn his regular routes and be weaned off her trainer.
"The first week, I lost my way … downstairs too many times," said Chan. Eve also refused to do her business for one too many days, as she had trouble getting used to her new home environment.
While the training could be stressful and tiring initially, as Chan had to learn things like how to position his body relative to Eve, and they had to match each other's pace, the pair soon developed a bond. They even go for morning jogs these days.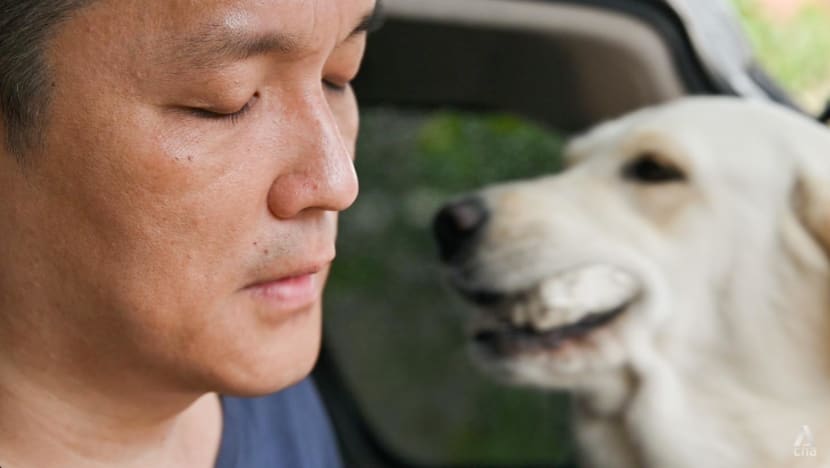 "It's like a marriage," Teng said. "You start with a match, but there'll be habits you may have to work out between the two of you … things you need to take note of, changes that need to be made. But as you persistently work on it, you'll see that relationship grow."
Eve, now two and a half years old, can take Chan from his four-room flat in Ang Mo Kio to the train station and then to Sembawang MRT station, their pick-up point to go to his workplace.
They have run into a kink once in a while, like being unable to find the fare gantries in the train station or the escalators to the platform, and Chan would reach out to members of the public for help.
When their final training session rolled around, Eve was signed over to him officially. He picked up one of her front paws and waved goodbye to Teng. One word described how he felt about starting this journey with his new pal: "Finally!"
You may also be interested in: