'She got an abortion, broke up with me': The human suffering behind China's property crisis
Millions of Chinese are in limbo as cash-strapped developers halt construction. Some of them may have already been touched by tragedy. The programme Insight uncovers their stories.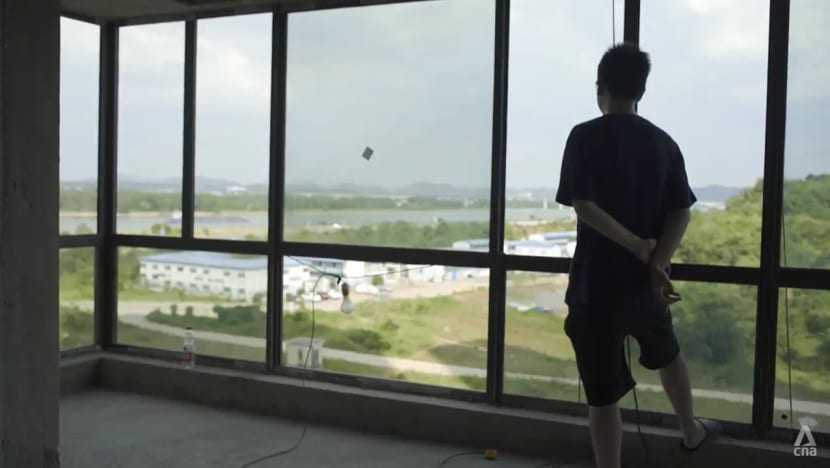 HUNAN, China: He was supposed to be married by now and getting ready to be a father next year.
Li (not his real name) had already bought an apartment to settle down, he had a girlfriend who was pregnant, and they were planning their wedding.
But the 34-year-old now has no wife, no child and no home, only a mortgage that will follow him for the next 20 years.
All because construction on his housing development, in China's central province of Hunan, has been halted. That was enough for the girl's parents to talk her out of marrying him.
"They said an unfinished apartment isn't a home, so she got an abortion and broke up with me," recounted Li, a gig worker.
"The abortion took away all my faith. My whole world collapsed … I was in extreme despair, but there was nothing I could do."
Yet, he understood their actions.
"Any Chinese man can tell you: If you don't have your own property, it'd be nearly impossible to find a wife — unless your ancestors lend you their powers from above," he told the programme Insight.
"(If you're) a common man like me … you must, at the very least, have an apartment. Otherwise, no one will be willing to marry you. Even if someone's willing, do you dare to marry her? Won't you feel it's not fair to her?
Li's uncompleted apartment tells many stories. It tells of the emotional weight the Chinese attach to the physical home. To them, it is not only a roof over one's head but is part and parcel of what makes a family.
It tells of the so-called mother-in-law economy, in a country where there are 35 million more men than women. Given the competition for brides, many prospective in-laws will not let their daughters marry a man without a home.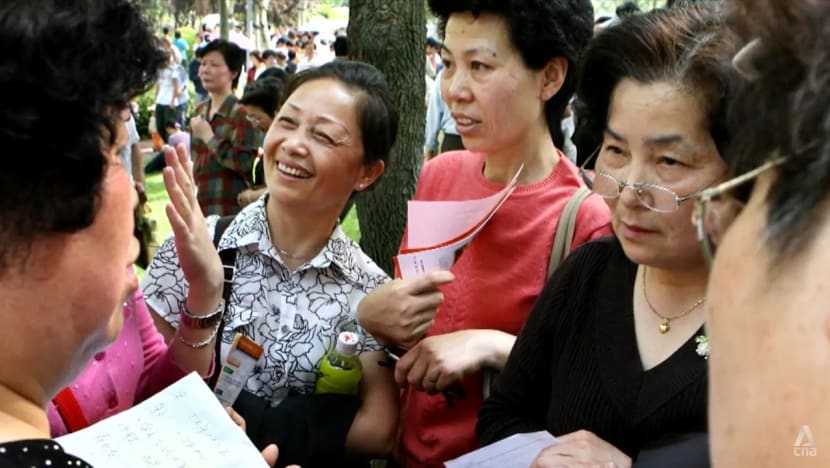 And it tells of the human stories behind the fall of China's housing market, which has been making headline news of late. Millions of Chinese are in limbo as cash-strapped developers halt construction.
For Chinese millennials, who grew up with more than 30 years of uninterrupted economic growth, the current uncertainty is shaping up to be the first crisis on their hands.
Thousands of home buyers have threatened to boycott mortgage payments. Some of them, such as Li, may have already suffered personal tragedy. Even the rest of the world may pay a price.
'THEY WERE FOOLING US'
Li's unfinished apartment block stands in Xiangtan, one of China's fourth-tier cities.
He had worked for years in Shanghai but grew tired of the competitive environment of a first-tier city. This was why he wanted to settle in a place with a slower pace of life and cheaper homes.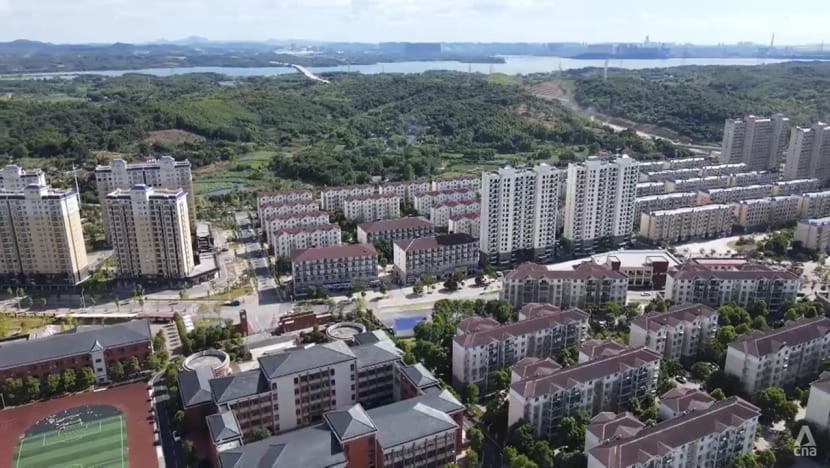 His down payment was about 200,000 yuan (S$40,000), and he borrowed 500,000 yuan from the bank. "My monthly repayment isn't a lot — about 3,000 yuan — because the apartment isn't very big," he said.
The repayment accounts for nearly 35 per cent of his income.
But for another home buyer, Tian (not his real name), his family's monthly mortgage payment of 2,800 yuan is 70 per cent of their income. He also borrowed from his parents and some friends and got a bank loan of 400,000 yuan.
He and his wife decided to buy their apartment in 2018, when she got pregnant. And it should have been "done and delivered" in August 2020, said Tian, who has a three-year-old boy in tow now.
But it is the same housing project where Li wanted to start his family.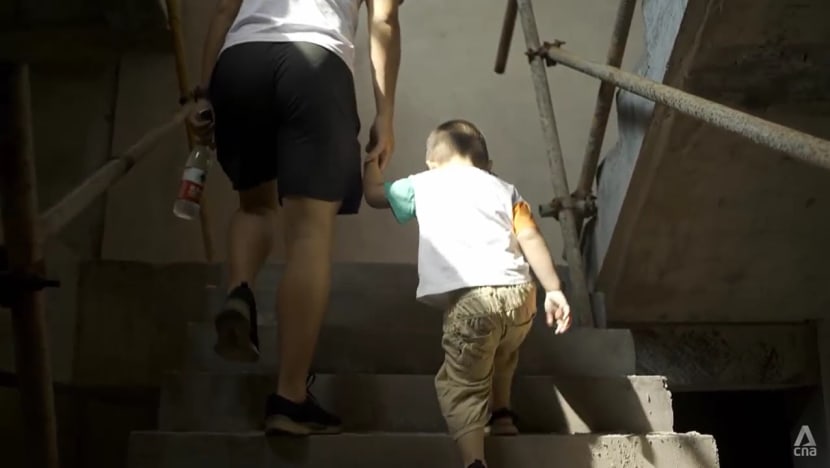 To compound matters, Tian lost his job in a chemical factory because of the pandemic. He has been unemployed for over half a year, so a manageable financial burden has become "quite heavy" with his wife as the sole breadwinner.
"Not much left after repaying the mortgage," he said.
To put pressure on the developer and the local government, he and several of his fellow home buyers moved into their unfinished apartment blocks.
But it means making do with apartments without electricity and running water, and using a toilet almost as far as half a kilometre away.
To gain sympathy and generate buzz, they have spent evenings swapping stories and creating short videos to post on Douyin, the Chinese version of TikTok.
As a last resort, Tian sent a letter to his bank in July, threatening to stop payments if construction did not resume by September. Other home owners did the same.
"We've talked to the government as well as the developer. Neither could give a clear response," he said. "They were just buying time and fooling us."
Backed into a corner, home buyers in more than 340 projects in about 120 Chinese cities now have declared a mortgage boycott, according to the GitHub open-source website titled "WeNeedHome".
The authorities have previously moved to restrict such posts on Chinese social media. Some home buyers took to the streets, but these protests were also quashed, with officials citing COVID-19 concerns.
WATCH: China millennials' mortgage boycott: Why the property crisis should worry you (7:46)
Fearing retaliation, most of the home buyers Insight spoke to requested that their names be withheld. Their growing sentiment, however, is that of despair.
"I have no clue when my home will be completed," said Tian. "I see no light at the end of the tunnel."
SPECULATORS AND THE STORY OF YANJIAO
China's property market has been put in jeopardy as a result of speculative buying. And the mother-in-law economy has played a part in it.
"People were buying apartments for their sons (aged) 18 or 19 … because the son had to have an apartment if he was going to get married," cited Peking University professor of finance Michael Pettis.
"That looks like preparing for the future. But from a market point of view, that's speculative buying: I'm buying not because I need it, but because I think the price will go up."
Chinese parents were not the only speculators, however. Just ask Tu Qiang, a real estate agent in Yanjiao, a town in Hebei province.
Because of the town's proximity to Beijing, it became a popular choice for workers who wanted to buy a home but could not afford prices in the capital.
In 2015 and 2016, "the best time for Yanjiao's housing market", prices climbed "continuously", said Tu.
For example, a new home would (sell) for 10,000 yuan per square metre today. But tomorrow, it'd be 12,000 yuan. The increase was insane."
With his "insider knowledge", and because sales agents like himself "had very low base pay", he wanted to jump on the property bandwagon.
"Even if you sold more than 10 homes, you earned only tens of thousands (on commission). It was very little for the amount of work required," he said.
"At the same time, I felt the market was about to boom … so I borrowed some money from my friends and invested in my first property."
The market kept rising and he knew little about other industries, so he kept investing in real estate. "I was in my early 20s, and I already owned two to three properties, a car and lots of cash," he recalled.
"I felt very good about myself, but I wasn't satisfied. I went a bit crazy and bought a few more properties at the peak of the market."
Between 2015 and 2017, home prices in Yanjiao nearly tripled. Alarmed, the local government implemented property curbs, for example allowing only people with hukou (local household registration) to buy. This ruled out workers in Beijing who would have otherwise commuted.
Within a month, prices "dropped by two-thirds, more or less", said Tu.
Adding to the pain, Beijing sealed its borders after COVID-19 struck, making it impossible for workers to commute from neighbouring provinces, so even Yanjiao's rental market evaporated.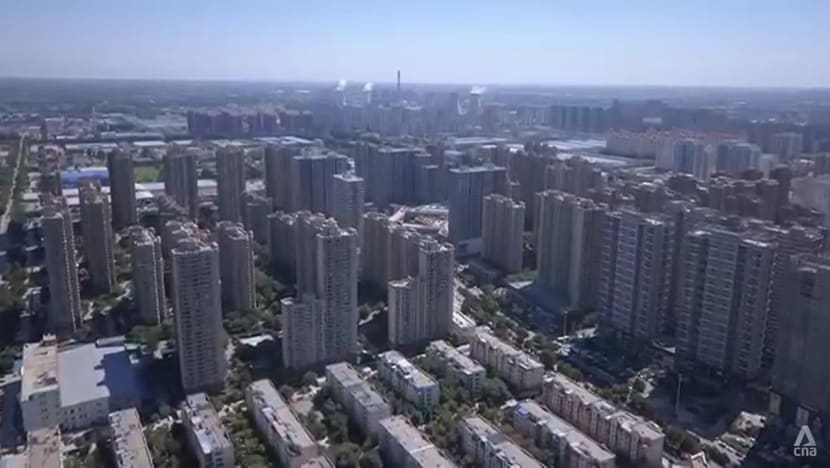 Tu was in a hole and "terrified". "There was a time when I had no money to buy food and had to sleep in a park," he recounted.
"I had no idea what to do. I was so young, and … I felt the whole world crashing down. Every day when I opened my eyes, I was seized by worries over my debts."
NOT TOO BIG TO FAIL
The massive fall in Yanjiao's home prices is rather unique, to be sure, but China's central government has also set out to curb housing speculation and clamp down on rapidly rising property prices since 2020.
And property speculators are not the only ones to blame. The pre-sale system introduced in the 1990s, which allowed homes to be sold before they were built, turned Chinese developers into behemoths and, eventually, reckless players.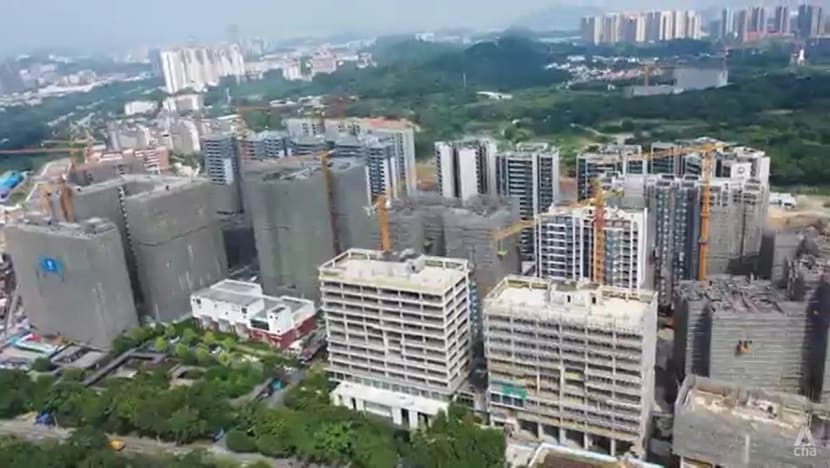 While pre-sales happen in other places like the United Kingdom, buyers in China needed to make their mortgage repayments before the delivery of the apartment instead of starting payments only upon completion or key collection.
This would usually happen a year to a year and a half in advance, which is why Li, Tian and all the protesting home buyers are already bearing a financial strain.
These payments should have been set aside for the building project. But that did not always happen. Developers like Evergrande — China's second-largest property developer by sales in 2020 — used its capital to invest in future expansion.
At its peak, Evergrande had over 1,300 projects across China, with homes owned by 12 million families, plus the country's largest land bank at more than 300 square kilometres.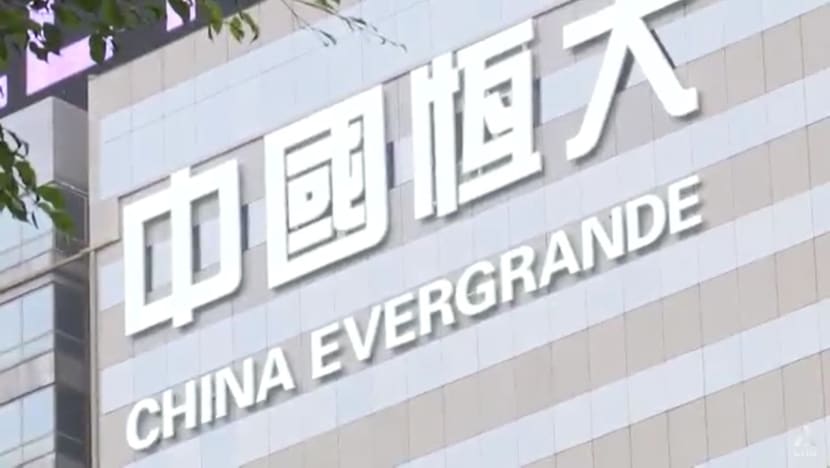 But it was so indebted that when the authorities prohibited over-leveraged developers from borrowing more, it defaulted on its debts last year — debts worth US$300 billion (S$430 billion), or 2 per cent of China's gross domestic product.
Many of its projects became rotten-tail buildings, a name for unfinished housing projects.
Qiang (not his real name) never saw it coming. Evergrande's massive scale was what gave him confidence to buy one of its apartments in Zhengzhou, the capital of Henan province, without even visiting the project site.
"I just thought it was such a big name. I was naive to think that it must be a strong company," he said. Even when he first heard that Evergrande had run into trouble, he "wasn't very worried".
"I was thinking, it was a huge matter that involved not only us but thousands of families. Evergrande owned so many projects across the nation."
As it turned out, the company founded in 1996 by tycoon Xu Jiayin was not too big to fail.
And Qiang, whose monthly mortgage payment is about 8,300 yuan, must contend with the reality that his apartment, which was due by July 31, "can't be delivered because it's still not completed".
"The pandemic has … (had) a huge impact on my job," he added. "So it's been very difficult for me these two years."
'IT'S NOT JUST CHINA'S PROBLEM'
Evergrande was only the first to fall. According to rating agency S&P, around 40 per cent of mainland property developers are now in financial distress.
The agency estimates that about two million unfinished homes pre-sold by developers have been halted. There is also a risk that 2.4 million homes pre-sold in 2020 and last year may not be completed on schedule, estimates Bank of America.
WATCH: The great fall of China's housing market — who will pay the price? (46:56)
The impact has spread beyond home buyers, however, to other industries.
For example, in Guangdong province's Foshan, the city recognised as China's centre for the production of ceramic tiles — a popular flooring material used by developers — its ceramics industry was operating at half capacity in the first half of this year.
"Owing to the pandemic … and the real estate slump, we've been making no profit," said one ceramics vendor. "We used to (make) 100,000 yuan in a day, but we now (make) less than 10,000 yuan … Can't even make the rent."
A decades-long boom has made real estate "the single most important sector" in China's economy, noted Pettis. It has been estimated that construction and its related industries, from tile makers to furniture makers, account for 29 per cent of GDP.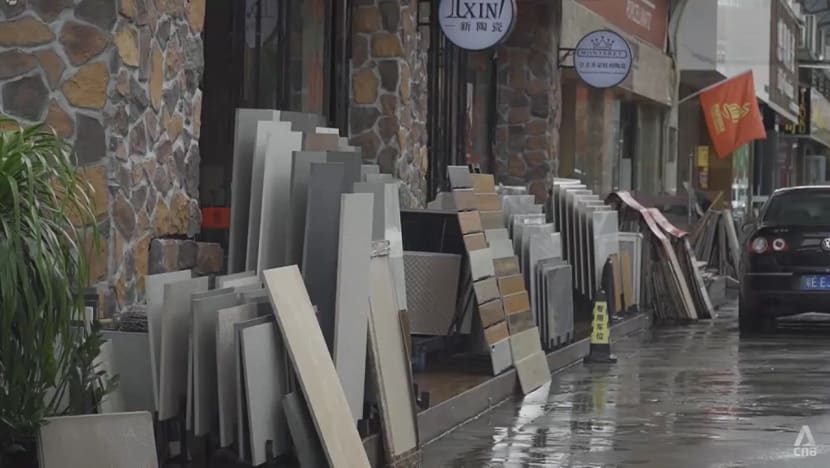 "It's really, really likely that we're going to see a rise in insolvencies," predicted Pettis.
Home prices are already falling in the world's second-largest economy. S&P is forecasting a 6 to 7 per cent drop this year.
That means the Chinese middle-class who own one or more homes will be feeling less rich and more reluctant to buy cars, handbags and watches or travel abroad, passing up opportunities such as this weekend's Formula 1 race in Singapore.
"If the Chinese economy were to stall as a result of this property and debt crisis, it's not just China's problem," noted Donald Low, the director of The Hong Kong University of Science and Technology's Institute for Emerging Market Studies.
"It's in everybody's interest that China makes this successful transition."
Since the mortgage boycott first emerged at the end of June, China has cut mortgage rates and pledged to support project completion. But banks have shown reluctance to throw good money after bad.
In a policy document issued in July, Beijing said local governments will be primarily responsible for tackling rotten-tail homes. But some analysts have questioned whether local governments have enough resources.
A state bailout fund will help, but there is still no clarity about who is going to write the cheques.
Li is not waiting with bated breath to see what will happen. He is trying to move on and recently found a small shop to start a service linking cleaners to customers. It also doubles as his home.
The rent is 1,500 yuan, and customers are demanding, never shy to request a discount.
Money is still tight, and he does what he can. "The air conditioner uses a lot of electricity, so I avoid switching it on at night," he cited.
His romantic dream of home ownership feels further out of reach. "I've lost hope," he said. "I can never earn enough money to buy another apartment."
Watch this episode of Insight here. The programme airs on Thursdays at 9pm.
You may also wish to read: