'The largest, most impactful war the world's ever seen': Can the US, China avoid Taiwan face-off?
War will be the last resort, but more of China's elites and strategists now feel that Taiwan is 'within reach', an analyst says. Can both sides reopen lines of communication, the programme Insight asks.
TAIPEI: He enjoys engaging in mock combat using replica guns. Through survival games, Jimmy (not his real name) learnt more about weapons, he said, than during his four-month mandatory training in the Taiwanese military.
"The replica guns are very realistic. Handling them is like handling real guns. During military service, there are fewer weapons and fewer opportunities to handle them," said the 22-year-old, who spoke on condition of anonymity.
Jimmy certainly does not consider himself a "strawberry soldier", someone more used to comfort than toughing it out. He believes Taiwan should increase the duration of military service.
But among his friends, he is more the exception than the norm. Most of them are unwilling to do military service and "find ways to avoid it", said Jimmy.
He has also seen people feigning asthma attacks during physical check-ups.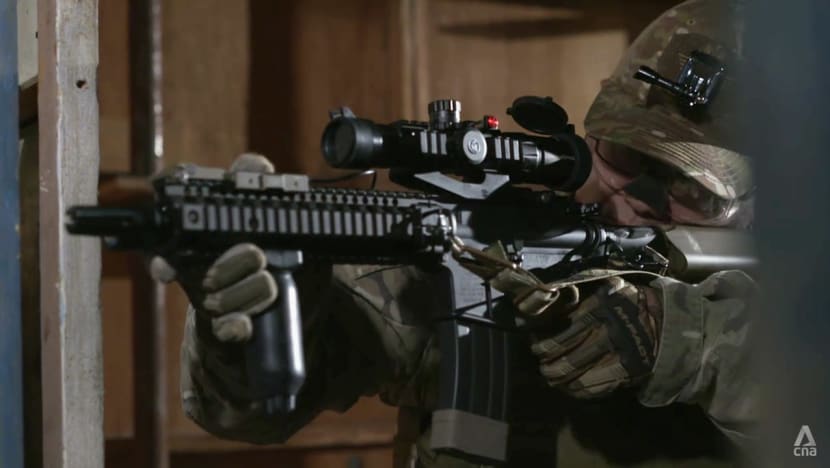 "If war breaks out, it's our duty to serve in the military," he said. "If there's a war, we'd have to rely on ourselves. The chances of the United States coming to our help are extremely low."
Combat readiness is one aspect of Taiwan that has come into question following what its defence minister, Chiu Kuo-cheng, described in October as the worst military tensions with China in over 40 years.
That month, China sent almost 150 military jets into Taiwan's air defence identification zone over four consecutive days — said to be a record number.
The air defence zone covers the Taiwan Strait and part of the Chinese mainland that Taiwan monitors for threats. Experts told the programme Insight the incursions were meant to intimidate Taiwan.
"It was alarming in terms of the numbers of aircraft," said Bonnie Glaser, the director of the Asia programme at think-tank German Marshall Fund of the United States.
"As one People's Liberation Army (PLA) officer told me, (Chinese President) Xi Jinping has called on the Chinese military to train realistically, to be prepared for war if it happens tomorrow. And so that's what they're doing. They're training around Taiwan in far more realistic ways than ever before."
Asia-Pacific security expert Oriana Skylar Mastro said it was a "sign of aggression" — a message from the Chinese government that it could hurt Taiwan with its bombers and fighters.
"It also signals China's intention to rely more and more on military means to achieve their own goal of national unification," said Mastro, a centre fellow at Stanford University's Freeman Spogli Institute for International Studies in the US.
Experts who spoke to Insight did not rule out war.
THE DRAGON AND THE MOUSE
The tensions between China and Taiwan are ratcheting up amid increasing superpower rivalry between China and the US, Taiwan's most important ally. At a virtual summit with US President Joseph Biden last month, President Xi warned of the dangers of "playing with fire" when it comes to Taiwan.
The Biden administration approved a US$750 million (S$1.02 billion) arms sale to Taiwan earlier, and although the latter is trying to increase its defence spending, experts say it is no match for China.
Arms sales to Taiwan are "extraordinarily modest" compared to what the PLA is doing, noted Elbridge Colby, former US deputy assistant secretary of defence.
"It's almost laughable. China is this enormous dragon, and Taiwan is maybe a mouse. So maybe the mouse is sharpening its nails a little bit, but that's nothing compared to what this enormous dragon is capable of doing."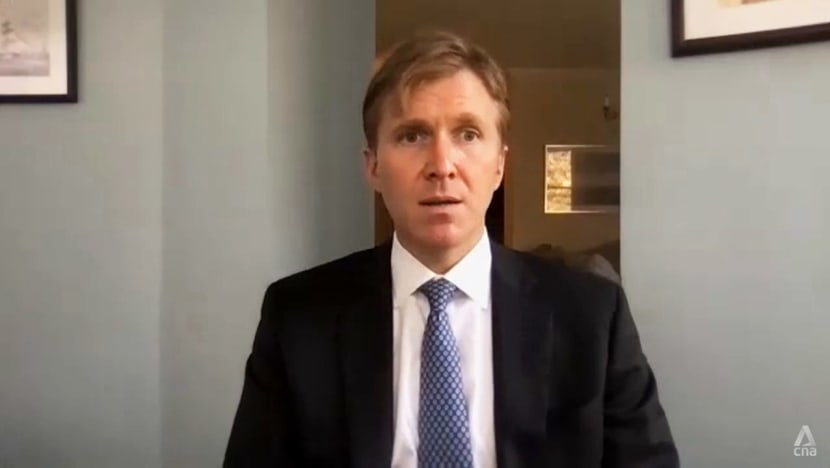 Beijing's latest defence spending is about RMB1.35 trillion (S$290 billion), a 6.8 per cent increase from the previous year. Its technological sophistication is also growing.
For instance, Pentagon officials were caught off-guard by China's hypersonic glider test flight in July, when a missile was reportedly fired mid-flight over the South China Sea at more than five times the speed of sound.
The cross-straits disparity is quite apparent to Admiral (Retired) Lee Hsi-ming.
"If we insist on the large, shiny weapon systems, we'd never (have) enough conventional equipment. We'd fail," said the former Republic of China (ROC) Armed Forces chief of general staff. ROC is Taiwan's official name.
"We can't just use the traditional way to defend ourselves. We must think in other ways, improve innovation and … improve asymmetrical warfare."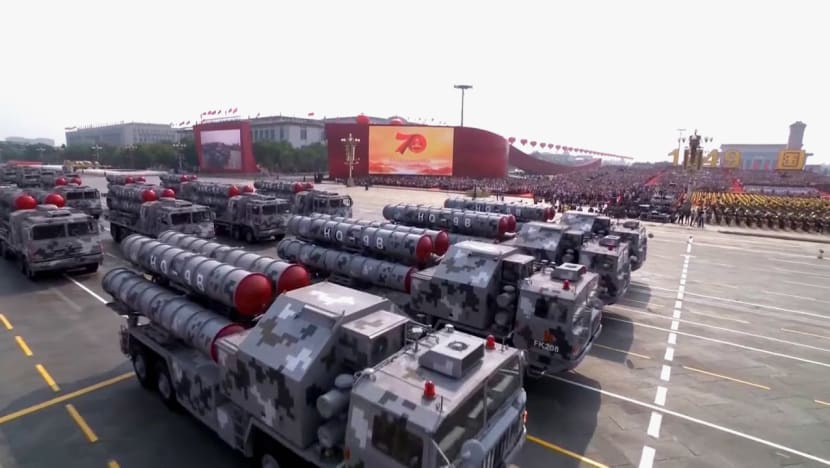 Disinformation, for example, is a modern-day weapon, as Puma Shen, chairman of civil society organisation Doublethink Lab, knows well.
According to Doublethink's research, Taiwan faces a lot of disinformation from China aimed at discrediting the Taiwanese government and creating distrust in society, he said.
He cited a flood of COVID-19-related Facebook posts in May that falsely claimed many people were dying and the Taiwanese government was not controlling case numbers.
Disinformation campaigns are crucial for initiating a military war against Taiwan, said Shen, who is also an assistant professor at National Taipei University. They serve to affect Taiwanese people and secure an earlier surrender, he said.
"Fighting disinformation is just like playing basketball or any other sport: You need to stay one step ahead of your opponents.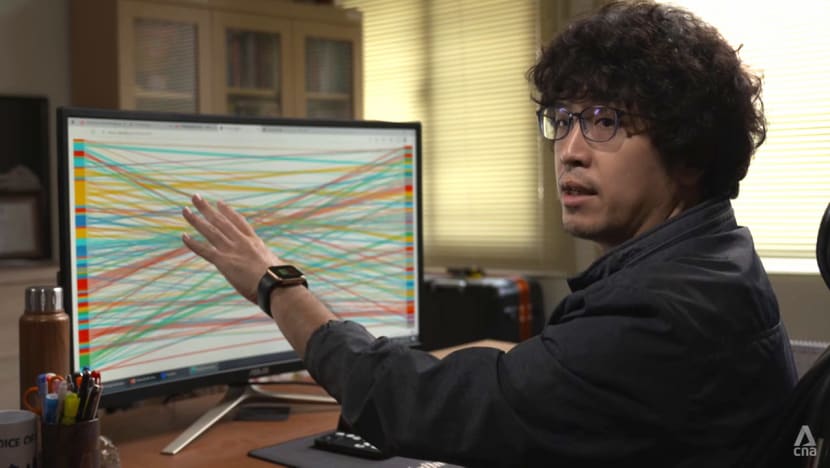 WHY A COSTLY WAR MAY BE 'ACCEPTABLE'
When it comes to the possibility of war, there is a disconnect between what Taiwan's younger generation and some military veterans perceive.
Taiwanese below the age of 40 do not think war will happen, said Charity Huang, secretary-general of the Taiwan Association of Disaster Prevention Industry, which conducts classes on survival skills, among other things.
"When it comes to war, I think there's a lack of awareness and precaution," added secretariat member Cherry Yang. This is despite the fact that air-raid drills are part of life in Taiwan, where there are 117,000 air-raid shelters.
This generational sentiment contrasts with that of the top US military officer in the Asia-Pacific who recently retired. Philip Davidson warned in March that China could invade Taiwan in the coming years.
"I worry that they (China) are accelerating their ambitions to supplant the US and our leadership role in the rules-based international order … by 2050," the admiral said at a US Senate armed services committee hearing.
"Taiwan is clearly one of their ambitions before that. And I think the threat is manifest during this decade; in fact, in the next six years."
His successor, Admiral John Aquilino, thinks "this problem is much closer" than that.
What is plain to see is the rapid expansion of the Chinese military under President Xi.
"China has the power to take over Taiwan, if necessary. However, the use of force is the last resort because using force carries a lot of cost," said Jia Qingguo, a professor and former dean of Peking University's School of International Studies.
"There's the direct cost of military confrontation. Second, a lot of people are going to die in Taiwan and … on the mainland — the soldiers and the civilians. Also, China has to face the problem of how to deal with a destroyed Taiwan."
Yet, more of China's elites and strategists now feel that Taiwan is "within reach", said Mastro.
"While of course there are voices of caution to say that this might be costly in the long term, I think for a lot of individuals within that system, that cost is acceptable, given that the huge benefit would be bringing to an end a now over 70-year-long civil war."
WOULD THE U.S. COME TO TAIWAN'S DEFENCE?
There is that question, however, of whether the US would defend Taiwan.
For decades, America's policy of strategic ambiguity has kept the peace and enabled US presidents to have flexibility in a crisis, said Glaser. "It also is useful because it doesn't give Taiwan a blank cheque," she added.
But twice in recent months, President Biden made comments that seemed to contradict the policy. Although the White House clarified that there was no change in policy, Jia said these "so-called slips of the tongue" are perceived by the Chinese as "probably deliberate".
"This would increase the tension in the Taiwan Strait rather than alleviate it," he said.
A recent security pact between Australia, the United Kingdom and the US (Aukus), which will deliver to Australia its first nuclear-powered submarines, has also angered China. Beijing has called it irresponsible and a breach of nuclear non-proliferation rules.
Glaser said Aukus is ultimately a plan that will "enable Australia to operate close to China, potentially even in the Taiwan Strait".
"That may be 20 years or more in the future. But it signals today that Australia is worried about Chinese use of force against Taiwan and that it doesn't want to see that happen," she said.
Aukus could, however, increase the chances of provocation.
"China, of course, isn't afraid of this, but China has to defend its rights," said Henry Wang Huiyao, the founder and president of the Centre for China and Globalisation, a Beijing-based non-governmental think-tank.
"We really don't want to see this kind of (return to Cold War tactics). Then that could lead to confrontations."
WATCH: 4 signs war over Taiwan could be coming — and reasons why not (6.44)
While the US is legally required under the 1979 Taiwan Relations Act to provide the island with arms for its defence, there is "no treaty obligation" on the superpower to come to Taiwan's defence should it, ultimately, be attacked.
This was highlighted by Drew Thompson, a visiting senior research fellow at Singapore's Lee Kuan Yew School of Public Policy. "The president would have to make the decision about when the US would actually intervene to defend Taiwan," he noted.
Either way, the impact of that decision would be huge.
"If the US doesn't come to Taiwan's defence, then the credibility of US alliance commitments, particularly in Asia but also in Europe … would come into question," Thompson said. "US credibility would be greatly diminished in the eyes of all of its partners."
If a crisis escalates to war, then it would be "the largest, most impactful war that the world's ever seen", said Mastro.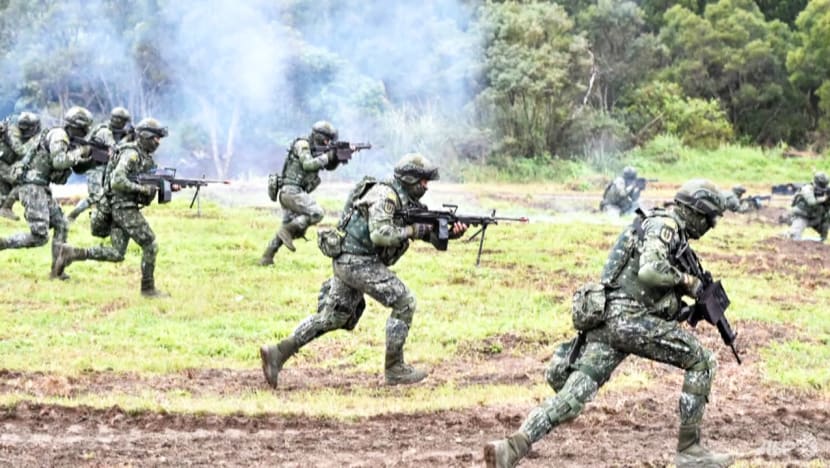 MANAGING THE EBB AND FLOW OF RELATIONS
What, then, can dial down the tensions? According to experts, both China and Taiwan, along with the US, can play a role.
The ebb and flow of cross-strait relations has gone on since the Chinese Civil War ended in 1949 with the communists taking over mainland China and the nationalists retreating to Taiwan.
But not long after Taiwan's 2016 presidential election won by the Democratic Progressive Party's Tsai Ing-wen — who was re-elected last year — China cut off official communications with Taiwan.
She takes a hard line against Beijing. And her party rejects the 1992 consensus, which refers to the result of a semi-official meeting between China and Taiwan, which was then ruled by the Kuomintang.
Both sides acknowledged a "one China" principle. But what that meant was never clearly defined.
Given that Taiwan now has "no political preference" for unification, Thompson's view is that President Xi's current objective is "focused on preventing Taiwan from declaring independence, rather than forcing unification in the near term".
In this vein, Jia hopes that the US will restrain Taiwan's independence activists and activities.
And if the US maintains its commitment to both Taiwan and American allies in the region, the prospect of war would be "diminished", added Thompson.
Glaser called on China to be more "creative" and more "flexible" to find some common ground, "instead of sticking stubbornly to a proposal of 'one country, two systems', which was never acceptable to the people of Taiwan".
Even so, she thinks it is "in Taiwan's interest to have China retain some sliver of hope that peaceful unification is possible — because if all of that hope evaporates, then the risk of China using force would grow".
WATCH: The full episode — US-China: Could there be war over Taiwan? (45:16)
Both sides should reopen the channels of communication, suggested Alexander Chieh-cheng Huang, a professor of strategic studies and war gaming at Tamkang University in Taiwan.
"To prevent war, we need to talk to our potential attacker. We need to have a dialogue with Beijing. As long as we can maintain the communication lines, we have another layer of protection."
Watch this episode of Insight here. The programme airs on Thursdays at 9pm.