Lessons in business wisdom - from the cobbler of Waterloo Street
"In Singapore, we lose a cobbler forever every time one passes away," says Mr Lee Tai Chin, who reinvented himself at age 60 to take up the shoe-mending trade – which he's made a success.
SINGAPORE: When the downturn hit in 2002 and he was forced to bow out of the construction subcontracting business that had been his life for over 30 years, Mr Lee Tai Chin thought long and hard about what he could do next.
At 60, he was not ready for retirement – he couldn't see himself idling away his days at home. And that's when he flashed back to the time when he was 10.
Running restlessly along the streets of Chinatown one day, he'd spotted a roadside cobbler at work surrounded by an array of tools and materials. Childish curiosity had made him stay and watch.
Seeing the boy's bold interest, the cobbler had asked: "Do you want to learn?"
"Yes!" he'd said. And thus, for three years, he'd sat beside his shifu (master), merely observing, always listening, but never actually lifting a finger to try. As young boys do, he eventually got bored and moved on to the next thing that captured his attention.
But nearly 50 years later, he found that those lessons were still with him – and so, though he had never seriously tried his hand at it, Mr Lee embarked on a new trade, setting up shop along Waterloo Street where he has been mending shoes for close to 14 years.
"My skin very thick hor?" he said with a hearty laugh as he finished his story.
That, you could say, sums up a lot about Mr Lee.
Now 75, he spends his busy days in a makeshift tented stall dealing with a constant flow of customers, who bring him all manner of footwear from pasar malam (night market) knockoffs to branded sports shoes and S$1,000 Pradas.
Some are friendly regulars; he deals with them with easy-going charm. And then there are others who barely hide the fact that they think his is a "lowly and dirty" job, as he puts it. Like a customer who disdainfully threw money at him.
I said to him, 'Friend, I am not a beggar'.
Indeed, it takes skill, problem-solving smarts, and a good dose of business and customer-relations savvy to pull in the S$4,000 that Mr Lee says he roughly makes each month.
That's a far cry from the 40 cents per pair of shoes his mentor used to earn. "It was really tough in the past," he said. "I have to be grateful to him."
THINKING INVENTIVELY
His shifu may have taught him the basics, but a lot of Mr Lee's own ingenuity goes into what his does. Shoe mending is all about problem-solving, he says, and there is never only one way of doing things.
Take the machine that he invented and cobbled together himself – two wheels, covered in sandpaper and polishing cloth, automated by an air-conditioner engine and battery.

The sandpaper wheel he uses to smoothen soles, while the other efficiently buffs shine onto the shoe.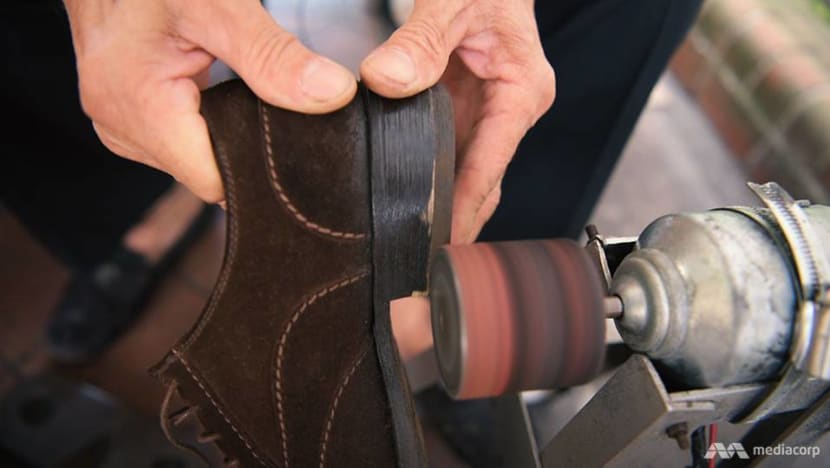 "It saves me a lot of time, rather sanding the shoes by hand," he said in Mandarin, beaming with pride.
Nobody taught me this. You need to use your brain to think, you know?
Then there's his strategic choice of location.
His stall is right across from the iconic Kwan Im Thong Hood Che temple, which sees high foot traffic. He has the monopoly on shoe-mending in the area (for now).
"You need to pick the right place - somewhere with offices, HDB blocks and a steady stream of people," he said.
BEING FAIR
His mixed bag of customers reflects the area's amenities, from housewives to office ladies and even expatriates. Many come to him with bags of two to three pairs of shoes at once.
Mr Lee decides the price of his services based on the extent of damage and materials needed. A simple replacement of a stiletto heel tip would cost S$2, gluing S$8, and – if more drastic measures are needed to hold a shoe together – sewing for up to S$18.
But sometimes, he'll do a very simple gluing job for free.
Do business is like this, you can't charge for everything. You also won't be poor if you receive S$1 less, right?
While some customers come to him with shoes that cost as much as S$1,000, he remains blind to brands and focuses on the problem instead.
"We cannot say their shoes expensive, we charge higher. It will always be the same price."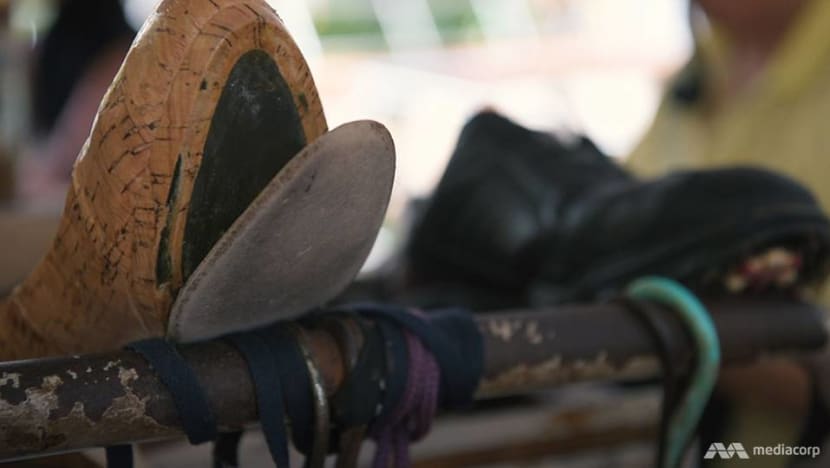 PUTTING CUSTOMERS FIRST
Mr Lee has also learn to be observant. "As a cobbler, you study shoes and people," he said.
"The quality of shoes last time was better, but they were not pretty. The shoes now are quite beautiful…  there are all sorts of design. In the past, shoes were either pointed or rounded."
Cheekily, he added that girls would always look "very pretty" in high heels. "Somehow, (a woman) will look magnanimous. It's not as nice when she wears flat shoes."
Four or five plastic chairs are placed around his stall for customers to sit and wait. So that they don't do so barefooted, Mr Lee also provides slippers of varying colours and sizes.
"Some want to walk around to shop or eat lunch while their shoes are getting fixed," he explained.
Just as he looks out for them, some of his customers do the same for him. They drop by with coffee or light bites, knowing that he gets quite busy mid-day and does not have time for lunch.
"It's like that. There will always be an unending number of shoes to mend," he said. "But, peace is a state of mind.
If you tell yourself that your job is tough, it will be tough. Tell yourself that your job is easy, and you will get it done in no time.
WATCH: How he does it (5:59)
A CRAFT THAT "NOBODY WANTS TO LEARN ANYMORE"
Sometimes, long-time friends drop by to chat. Like Mr Steven Ong, 66, who said he has been pestering Mr Lee to teach him how to mend shoes so that he can "take over when he retires".
"Or I can set up a store next to him for competition... just kidding," he joked, to which Mr Lee just smiled and said nothing.
Mr Lee has no illusions about the appeal of his trade, and how it's seen as mundane and low-skilled by many.
"Why do you need to film this ah? Very interesting meh?" he said amusedly, as he squeezed a generous amount of glue onto the bottom of a navy-blue suede brogue.
With broad and confident brush strokes, he spread the glue thinly across the surface, then did the same to a pair of new rubber soles. After 10 minutes of drying, he carefully adhered the soles to the brogues, hammered around the sides, then whipped out a knife to slice away the excess rubber around the edges.
"Like that lor, very simple one. Nothing much to see," he said dismissively as he set the shoes aside, ready to move on to the next pair.
"Frankly speaking, people look down on cobblers. Nobody wants to learn how to mend shoes anymore because Singaporeans are educated now," he said.
In Singapore, we lose a cobbler forever every time one passes away.
He also notes that the younger generation is more likely to throw away their shoes than get them repaired. "I even know some youngsters who are embarrassed to bring their shoes here, and ask their mothers to do so instead."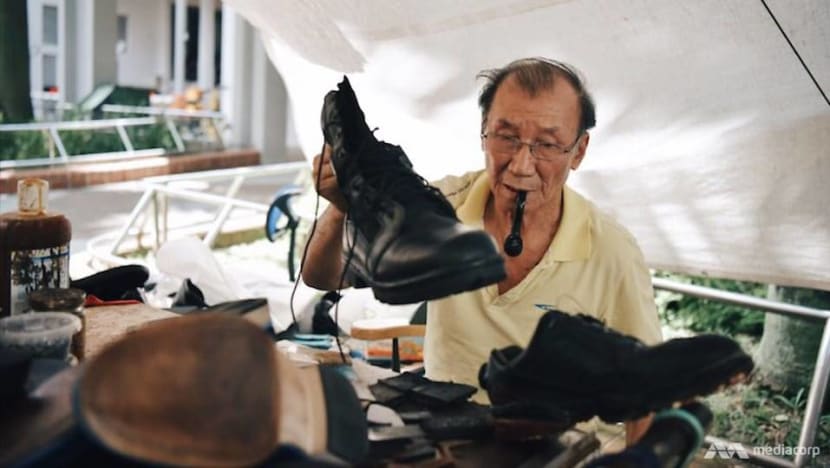 But still, he clings to the conviction that this is the trade he will practise until the day his hands and feet can no longer move.
"Imagine you buy a pair of shoes that costs S$100. If you are unlucky and it spoils within a week, and you throw - won't your heart ache?
"Shoe mending will never be a dying trade. It's okay if some people look down on us, because there will be people who won't," he said.
"And there will always be shoes for us to fix."