Got a mould problem? Here's what you should know to get rid of it
Are some homes likelier than others to have mould problems? Is it safe to discard only the portion of food that has gone mouldy and keep the rest? The programme Talking Point investigates.
SINGAPORE: Those tell-tale spots — black, white, green or grey — can be found inside cupboards, under kitchen sinks and in the unlikeliest of places.
Mould can be found everywhere, including the air we breathe. This microscopic type of fungus thrives in Singapore's humid climate.
Its unpleasant appearance aside, exposure to mould is known to cause health issues like asthma and allergic reactions. But just how dangerous is the mould in homes?
Is mould growth likelier in some homes than in others? Can you get rid of mould for good? What about the mould that grows on food? The programme Talking Point gets answers to these questions and more.
WHERE YOU LIVE MATTERS
Accompanied by mould exterminator Andrew Mantle from hazmat experts Mouldgone, host Steven Chia visited four Housing and Development Board (HDB) flats across Singapore, from a ground-floor unit in Choa Chu Kang to a new flat in Punggol.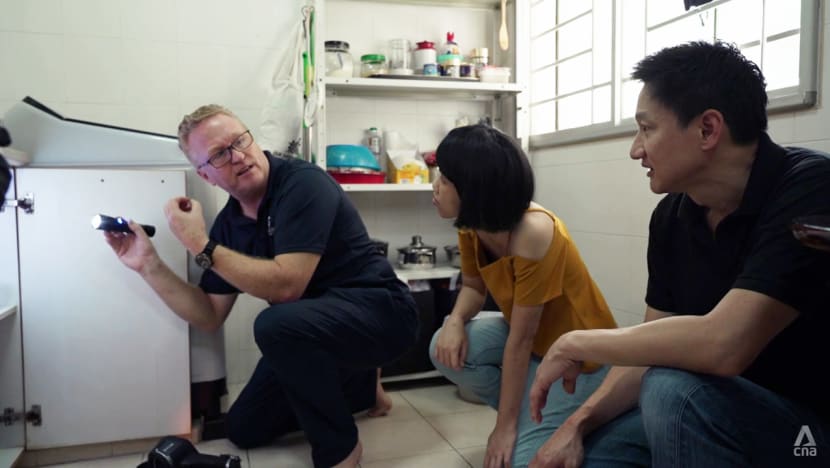 They discovered mould in varying degrees on walls and ceilings, under kitchen sinks and even on an occupant's bed frame.
While moulds are sometimes visible to the naked eye, bright white or ultraviolet lights may be needed to see the spores.
And according to Mantle, some homes are indeed more prone to mould than others.
They are: Homes on lower levels, which are more exposed to moisture evaporating from drains, soil and the ground when it rains; homes near water bodies, because of higher levels of moisture in the air; and older homes, which are more prone to water leaking from old pipes and walls, plus other wear and tear.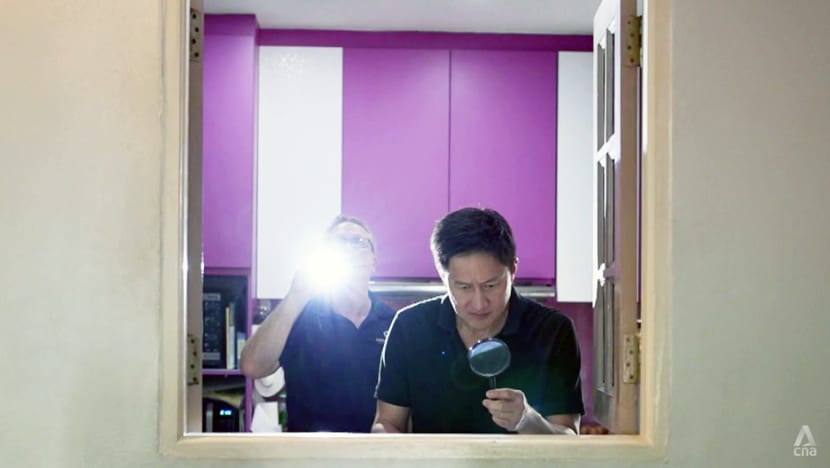 Mould growth may also be likelier in some parts of one's home, depending on the orientation of the building.
"Within a condo or an HDB building … where one side gets more sunlight, one side gets more airflow, that can be a contributing factor," said Mantle.
But mould is also unavoidable, as Chia discovered after leaving petri dishes in the four homes for 30 minutes and taking the dishes — filled with agar, a medium for growing organisms — to a laboratory.
After five days of incubation, the dishes were covered with different colonies of mould.
"There's a lot of diversity of mould species in the air," said Amy Choong, a National University of Singapore senior lecturer in biological sciences. Some mould species produce volatile organic compounds, which cause a musty smell, she added.
"If you can smell it, it means there's a lot of it."
WHAT HAPPENS WHEN YOU'RE EXPOSED TO MOULD?
So how bad is breathing in mould spores for health?
Some people may be more at risk, such as those with known allergies or asthma and those whose immune system is compromised, cited Sanjay Chotirmall, an associate professor from Nanyang Technological University's Lee Kong Chian School of Medicine.
This could include those with cancer, undergoing chemotherapy or have liver disease.
But healthy people may also be susceptible to bouts when their immune function may change.
"For instance, some people develop allergies later in life," he said. "We'll all have chest infections at some point. We may have some surgery, whether minor or not.
"This all disrupts our immune system. So … if we see mould in the home, I think it's best to get rid of it."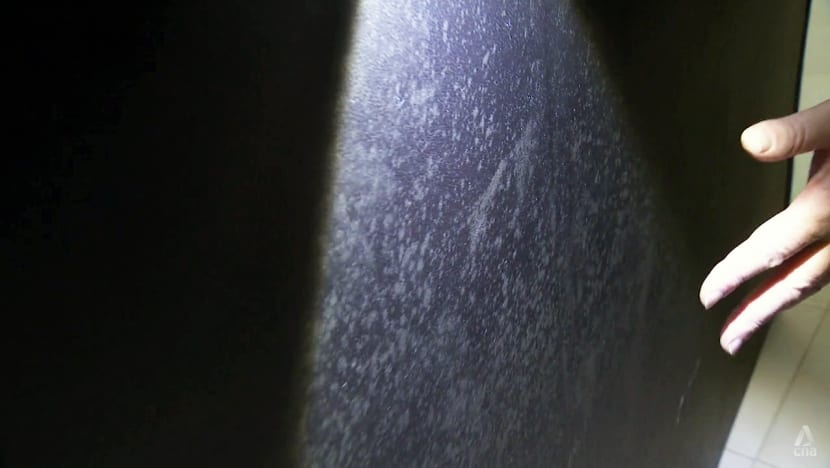 When mould grows on food, the effects can be more serious, he noted. It can produce fungal toxins that can "have effects on virtually every organ", particularly the liver.
"If ingested in high enough proportions, it can make you quite sick quite quickly and even cause death in some rare cases," he added.
FOOD SAFETY
When there is mould on food, it might be common practice for some people to toss out the mouldy parts and keep the rest.
To figure out how safe this is, Chia sent some tomatoes and bay leaves saved from a mouldy batch to a lab for testing.
While the food looked fine, the tests showed a mould count of 7,500 spores in one gram of the tomato sample.
Mould was also found on the "entire surface" of the bay leaves and was "too numerous to count", said Richard Khaw, deputy director of Nanyang Polytechnic's School of Applied Science.
He noted that as mould is usually found on the surface of the food, washing the tomatoes "thoroughly" would remove the mould. Cooking the food would also achieve the same result.
But he also cautioned that should the food be damaged in any way — for example, if the tomatoes are dented — mould may go in the food, which would then pose a danger to one's health.
"Usually, what we advise consumers is to look at the whole box (before purchase)," he said.
"If you see any of the tomatoes … have already got white spots or mould-like growth, try not to buy those. Because … it'll spread very fast, (even) if you only have one (mouldy tomato) inside the box."
When food is contaminated by mould, it is likely that other bacteria are also present, which may explain why some people get food poisoning after eating mouldy food.
"Usually, the food poisoning effect may come from the bacteria rather than from the mould," said Khaw. "Mould may produce toxins, but the effect of those toxins is long-term, not an immediate effect."
GETTING RID OF MOULD
For the removal of mould from surfaces other than food, Nanyang Polytechnic senior specialist in food chemistry and safety Gan Heng Hui offered a few solutions.
Bleach and common mould removal products, for example, can kill mould as they contain sodium hypochlorite as an active ingredient, she cited.
Vinegar is a "natural" home remedy as its acidity also kills mould, while ultraviolet-C light kills mould by destroying its cells. But she cautioned against combining bleach with vinegar and described the effect of this home remedy as "disastrous".
"Because of the chemical reactions that take place between acid and hypochlorite, you might create an explosion, especially if the place isn't ventilated," she said.
WATCH: Is mould in our homes killing us? (22:51)
Air purifiers, meanwhile — those with High Efficiency Particulate Air filters in particular — do the job of trapping mould.
A lot of these "surface kills" are quick fixes, however, and Gan advised homeowners to deal with the "root cause" of mould growth — moisture — for a longer-lasting solution.
"Make sure that the place is well ventilated, and the air is dry," she said. "And then try to clean (it) off whenever you see potential mould growth."
Watch this episode of Talking Point here. The programme airs on Channel 5 every Thursday at 9.30pm.