I worried about leaving my daughters for 7 weeks. Here's why I went ahead
Medical doctor Tam Wai Jia was given the chance to fulfil a long-held dream, but it meant being away from her two daughters for seven weeks. She talks about whether she was right to go, in the podcast Imperfect by CNA Insider.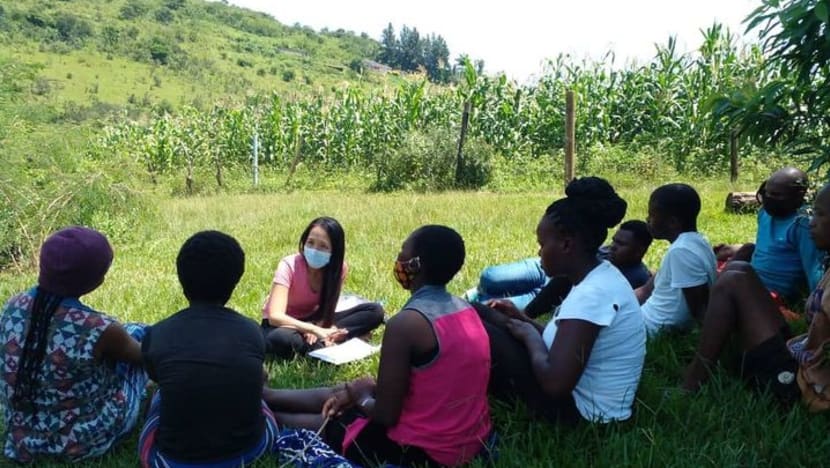 SINGAPORE: Tam Wai Jia was clearing emails one Saturday afternoon in October 2021 when a new message came in.
It was from her mentor, a professor at the National University of Singapore's Yong Loo Lin School of Medicine, where she worked. It was a call for humanitarian assistance for the COVID-19 pandemic in Africa by the United Nations Children's Fund (UNICEF) and the World Health Organisation (WHO).
"Wanna go?" the professor had written.
For Tam, 35, it was an opportunity to fulfil a long-buried childhood dream. But as she stared at the email, her first response was, simply, "no".
"This is not for me," she remembers telling herself. "It's for other people who are free and single and don't have to be a mom to two young kids."
Tam is a humanitarian doctor and speaker who has written and illustrated several children's books. She also runs an international non-profit, Kitesong Global, which aims to inspire people to realise their dreams through tools such as storytelling and partnerships with grassroots organisations.
But the heart of her identity, she says, is that of a mother.
Tam, whose two daughters Sarah-Faith and Esther-Praise were aged four and two at the time, tucked the email aside. But for weeks, it continued to bug her.
"I think deep down inside … a part of me was disappointed because this was my dream," she said.
Finally, she confided in her husband, Cliff, a stay-at-home dad. She was not prepared for his response. "Wai Jia, this is what you've been training for your entire life," he told her.
"You just have to go."
In the fifth episode of the podcast Imperfect by CNA Insider, Tam talks about how she grappled with guilt and realised she'd made the right decision to spend seven weeks as a risk communication and community engagement consultant in Eswatini, a land-locked kingdom that is one of the smallest countries in Africa.
LISTEN: Am I a bad parent ... if I left my children to do humanitarian work?
SHE WANTED HUMANITARIAN WORK TO BE HER LIFE
From young, Tam developed a passion for humanitarian work. After completing her A Levels, she had an opportunity to volunteer at a children's home in Nepal.
In her six weeks there, she lived with some girls in a basement without heating in the dead of winter. Even then, she found that "these girls who had been abused and abandoned, they just fill the house with so much warmth".
It didn't last. One day, the girls were evicted from the house, and Tam remembers "a part of her being permanently shattered".
Then it dawned on her there was still something she could do.
She'd always loved art and, when back in Singapore, she wrote and illustrated a children's picture book to raise money for the girls. The book, Kitesong, ended up raising more than S$100,000 — enough to secure a permanent home for the girls.
Looking back, this was the moment that convinced her of "the power of little dreams".
She realised she wanted to do more to help underprivileged communities. "I discovered that I didn't just want to do this as a hobby any more," she said. "I really wanted it to be a part of my life.
"And then later on, as I continued to do more, I realised I wanted it to be my life."
In the years after that, she travelled to countries like China, Myanmar, India, Cambodia and the Philippines on humanitarian trips. She even spent a year in Uganda with her husband.
In 2019, she returned to Singapore to serve her bond from medical school and, shortly after,  COVID-19 halted her travel plans. She settled into life here, homeschooling her two daughters. As far as she was concerned, this was her season to be a mum.
That was why Tam found herself in a dilemma when the email from her mentor came along.
"This was my dream my whole life, to do something meaningful like that," she recalls thinking. But she wondered how her children and husband would fare without her.
It was Cliff who reminded her: Doing humanitarian work and helping the poor was something they stood for as a family. And their daughters needed to see it in action.
"It's easy as parents to want to impart (values) to our children through speech," she said. "But nothing beats showing and modelling to them, when they see their own parents' (actions).
"I wanted to be the kind of mum my children can look up to and say, 'I really want to be like my mum.'"
How did Tam manage the separation from her children and husband, and how did she realise she'd made the right decision to go? Find out in the podcast Imperfect by CNA Insider.
Imperfect by CNA Insider is a podcast on which young mother Lianne Chia talks to other parents grappling with dilemmas that cause them to question whether they are doing things right. New episodes every Saturday, for a limited time.
Read this story in Bahasa Melayu here.