From playing in arcades and a one-room flat, to top of the world
He is Singapore's first world champ in gaming - a dream that might not have been, if not for a friend who saw something special in him and paid his way without looking for a cent back.
SINGAPORE: Their one-room flat has everything the family needs, except space for the younger son's trophies – trophies from countries across Europe, Asia and North America.
A monitor and gaming console in the corner of the unit is the only giveaway that this is the home of a world champion gamer. To be more specific, Singapore's first.
Mr Ho Kun Xian - the son of a cashier and a private-hire car driver - recalls that when he was in primary school, he was given only S$2 whenever he went to the arcade.

But he made it stretch for hours.
"Each time I went, I just got better and better because … when you win in arcade games, you can continue playing," said the 27-year-old, who is featured in the Channel NewsAsia series, Unusual Suspects, about Singaporeans who've made their mark in unconventional fields.
It has been a decade since Mr Ho left school behind and focused on a career in gaming, one that would have been impossible without passion, grit - and a few special individuals and help that came along at the right time.
At the start, however, that journey to become Singapore's only professional player in the fighting games genre did not even seem as if it would get going.
AN IMPOSSIBLE TASK?
After his O levels, life had become a series of odd jobs – cargo lifter, home mover, hawker assistant and so on – before his National Service. But from that experience, he learnt that a nine-to-five job was not for him.
"I don't like waking up at 8am, doing something I don't like and always waiting for lunchtime, waiting for the work to finish," said Mr Ho.
"I wanted to do what I liked as a living. Although at the start, it sounded like an impossible task to make gaming a career."
He needed to hear the siren call of gaming again, and it came when Street Fighter 4, the game he has now made his name with, was out in 2008.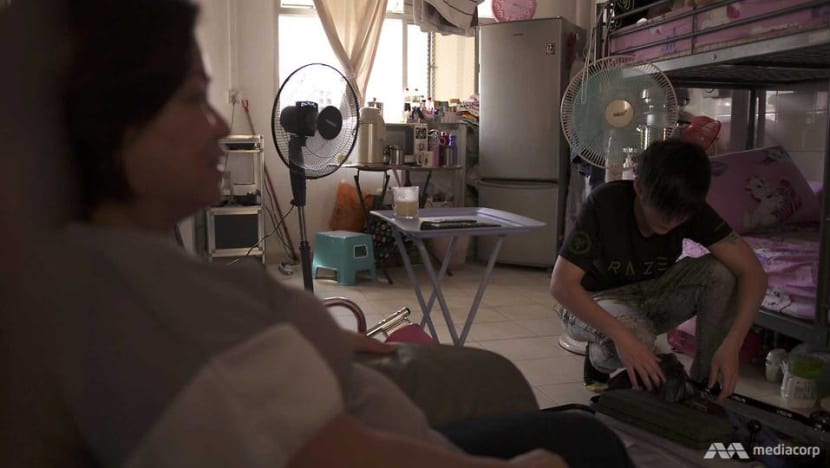 "It was so popular that my friends asked me to go back to the arcade to play," Mr Ho said. The competitions followed, and by the next year, he found himself representing Singapore at the DreamHack gaming festival in Sweden. 
I never thought that I'd ever get to fly to Sweden… I never thought I'd see a country outside of Singapore or, you know, maybe Malaysia.
Since then, gaming has taken him to countries such as the US, Canada, France, Japan and Korea. But no international outing was as rough as his maiden one, where he came in second.
UNDERESTIMATED TALENT
He slept on the floor of a hall in the tournament arena and, for three days, did not shower because there was "just the bathroom, and it wasn't really a shower room".
On the last day, he met Team Titans, Singapore's well-travelled competitors in the Counter-Strike game. "I looked really haggard … and they offered me a bed and their hotel to shower, and I was really happy," shared Mr Ho.
Half a world away from home and pitched against overseas gamers, he realised for the first time that Singapore had a lot of gaming talents who were "underestimated" and "not noticed".
That could have been his fate too - notwithstanding his breakthrough - when finances soon became a constant worry in the way of his ascent to the big league of gaming.
But that was when he came to the attention of the man who would become the silent backer of Mr Ho's, and Singapore's, biggest gaming success thus far.
THE BACKER WHO BELIEVED
Mr Lenn Yang, now 35 and an information technology infrastructure manager, was a casual but passionate gamer when he first saw online video clips of Mr Ho in action overseas.
His curiosity piqued, Mr Yang asked around the gaming community who this Singaporean going up against top gamers was. After chancing upon someone who was friends with Mr Ho, he set up a meeting.
"I wanted to find out, if he was so good, then why he wasn't travelling that much to try and achieve more," said Mr Yang. He got his answer and saw in Mr Ho a special quality: Tenacity.
Having seen other gamers hang up their console over the years, Mr Yang, who runs a small gaming venue as a sideline, did not want the same thing to happen to Mr Ho.
What Mr Yang wanted was "to see if somebody from Singapore can really be the best player in the world". So he decided to sponsor Mr Ho's tournament expenses – airfare, accommodation and a travel allowance – out of his own pocket.
"I kept it very low-key," said Mr Yang, who forked out S$15,000 to S$20,000 a year, which was 20 to 30 per cent of his salary, for three years.

He declined all of Mr Ho's offers to repay him. "At that time, he was just working sporadically and also sort of relying on his winnings … I had to consider this aspect," said Mr Yang.
"And what if I took a portion of his winnings and he went on and lost his four other tournaments? He might have felt that he had this burden on him."
VICTORY - AND DOUBT
But he got the biggest repayment of all when Mr Ho, at the age of 22, became the world's best Street Fighter at the 2013 Evolution Championship Series (Evo) in Las Vegas, the largest of fighting games tournaments.
It not only surprised me, but I think it also shocked the whole world. I would say it's as shocking as Greece winning the World Cup,

said Mr Ho. "I was, of course, very happy about it."
He had beaten off 1,600 players to claim US$5,700 (S$7,760) in winnings. The triumph brought him international fame - but also confusion.

Perched at the top of the world, he pondered the question: Was he fighting a losing battle?
"I'd actually won the highest, most prestigious tournament in the world, and the prize money was only US$5,700. I wouldn't say it was very little money, but that wouldn't last me three months," he said.
I was just playing games and trying to figure out a way to get money as well – trying to survive day to day. And that made me really wonder about being a pro-gamer.
As it was, and still is the case, Mr Ho felt judged by people because of his career choice. Questions about how much he earned and whether there was any future in e-sports were par for the course.
His family, which includes an elder brother, were once sceptical too. But they shared his joy when he returned victorious from Evo.
"I was so happy, and I hugged him. And I said, 'Eh, you really did it, ah?'" recounted his mother, Mdm Lee Siew Lian. "So we went to celebrate at night – whole family."
THE DREAM COME TRUE
And family was the main reason he remained in Singapore. At the crossroads of his career, moving to the US, a powerhouse in e-sports, would have given him more opportunities to compete and a more promising life as a pro-gamer.
Based in the Republic, the alternative was to travel to fewer competitions and succumb to the pressure of finding a supplementary job, if not quit altogether.
This time, with his career on a razor edge, support came in the form of homegrown gaming technology company Razer, which offered him a sponsorship deal, a contract and a salary to play full-time in its e-sports team.
"It just became a dream come true for me," said Mr Ho, who is known as Xian to his friends and the gaming community. And he has been with Razer ever since 2014.
WATCH: Of friendship, faith and love (5:13)
At the heart of his passion, he explains, is the joy of winning: "A lot of things in life, like maybe studying or a job, can't bring you that satisfaction all the time, so that's why I want to play video games.
"That satisfaction is really something you can get every day because you're playing with different opponents all the time."
That competitive spirit since young also accounts for his preference for fighting games. And as he notes, Street Fighter is the most popular, with its top players hailing from more countries compared with the other games.
It has also taken him on a journey of a different sorts: He first met his girlfriend, Jen Tan, when she was one of the few girls playing Street Fighter in the arcade in 2010.
They have been together for close to four years, and not only is she supportive of Mr Ho's career, either accompanying him overseas or watching the live streams of his tournaments, but so are her parents.
"My parents watch the streams, and they actually know who's Daigo, Tokido and Momochi (Mr Ho's rivals). During dinner, they actually asked him, 'So how are you training up against Daigo or Momochi?'" said Ms Tan, a tattoo artist.
"He was quite shocked … My family really made the effort to try to connect with him, and I really appreciate it."
FANS, WINNINGS AND THE FUTURE
Mr Ho's fan base has certainly grown over the years. He has 40,000 followers on Twitter and 15,000 on Facebook. He collects appearance fees from gaming events and has more sponsors now, like drink company Monster Energy.
He competes overseas 10 to 15 times annually, and has pocketed S$50,000 in prize money so far this year – a better showing than last year, especially after winning Final Round, the first big tournament of the year.
The Capcom Cup, an event in California where he has been the runner-up twice, is his main goal now, besides becoming a two-time Evo champion. And if he goes one better at Capcom in December, he could earn about US$120,000.
It would make his US$5,700 dilemma seem ages ago, and his afternoons at the arcade with only S$2, a distant memory.
Just as he made the money last for as long as he could then, he hopes to stretch his career now for as long as possible, even if the sponsorships were to dry up in future.
"I'll be playing games very competitively because this is what I've been doing … I'll be a pro-gamer for the rest of my life," declared Mr Ho. "Until the day I cannot play any more."
Watch more of Ho Kun Xian's story on Unusual Suspects: The Underdogs.