'Radical' suggestions to level the playing field in Primary 1 registration
A Talking Point survey finds that most parents, if they can, go the extra mile to increase their children's chances of success in the Primary 1 registration exercise. So do the recently announced changes go far enough, the programme asks.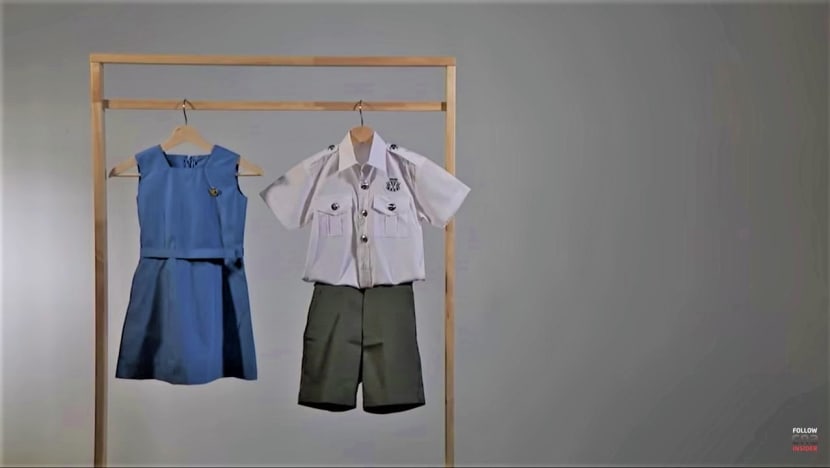 SINGAPORE: Some parents prefer a school based on its perceived academic prowess; for others, based on its programmes and values. But it is almost always the same few schools that are hotly contested during the Primary 1 registration process.
Even with the changes announced recently to make schools more accessible to all, the framework can be fairer, believes Jason Tan, an associate professor in policy, curriculum and leadership at the National Institute of Education.
"Fair means that everyone gets a more level playing field. There's less time and energy spent strategising by parents," he told the programme Talking Point.
The changes announced in September, which will kick in next year, combines Phase 2A1 with 2A2 — which cover alumni priority — and doubles the places reserved for Phase 2C, the category open to all.
But alumni privilege or having a parent who is a member of a school advisory and management committee, for example, are "inherited" parental privileges that should be removed, said Tan.
He thinks this also applies to children whose parents are staff members of a school. "Some might argue it's similar to having a sibling studying in the school — it's convenient for this particular group of parents," he said. "If you think of this as a kind of employment perk, we should say no to this."
He would keep Phase 2A only for children from a Ministry of Education (MOE) Kindergarten affiliated to a school, because this criterion "doesn't privilege any particular group of parents" and since these MOE Kindergartens are "affiliated to non-elite primary schools".
WATCH: Primary school registration — can it be fairer for all? (22:53)
As for Phase 2B, for children of a parent who volunteers in a school or is an active community leader, he noted that "not every parent has the time or the resources to be a volunteer".
Phase 2B is also for members of a church or clan affiliated to a school, which he said is for a minority of schools, whereas Primary 1 registration criteria should be "consistent" across all the schools.
"The entire primary school registration exercise is trying to accomplish too many competing objectives," he said, citing the building of ties with alumni, the church or clan, perks for parents working or volunteering in the school and community leadership.
It would "probably be much fairer … in terms of opening up access" if these groups compete for registration in Phase 2C along with other parents, he argued.
PERPETUATING INEQUALITY?
The Primary 1 registration process also can seem complex to some parents. In a survey commissioned by Talking Point, 48 per cent of 210 parents say they find the process confusing.
About 54 per cent are anxious that their child cannot get into their preferred school, especially parents with pre-school children only: 66 per cent of them feel anxious compared to parents with primary school children already (43 per cent).
The competition can be intense, and Tan is not the only one concerned about accessibility. Cheung Hoi Shan, an assistant professor of psychology at the Yale-National University of Singapore College, believes the registration process perpetuates educational inequalities.
While every school has adequate facilities, and teaching quality is not a problem since teachers are centrally deployed, she said the more popular schools have "stronger alumni", who can better support the pupils in "diverse activities".
"There'll be also differences in … the kind of social capital (students) bring with them. So that in itself is quite important in tipping the balance, because it's also about who you hang out with in school," she added. "And some schools are more capable in attracting a certain profile of students.
"The way that our registration system was organised at some of the phases really served to benefit families with resources."
Parent volunteers and community leaders are one group. Among alumni, however, she noted that the recent changes removed the distinction between parents who are "able to pay an alumni association fee" and those who cannot afford it — they will all be alumni by default.
"That's great because it also serves to make the originally very complicated system less complicated," she said.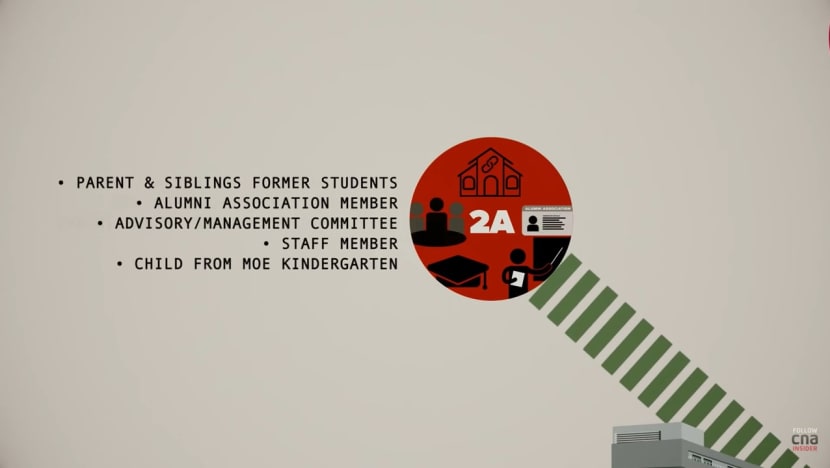 It is also important, she noted, that 40 places instead of 20 will now be reserved for Phase 2C, which is open to all children who did not get a place in the earlier phases.
The change comes after years of increasing demand at popular schools and more children not getting into a school near home.
In 2017, only Nanyang Primary had 20 places in Phase 2C — while all other schools had 25 or more — cited parenting forum KiasuParents co-founder William Toh.
This year, six schools including Nanyang Primary had only 20 places, and five schools had 21 places left, he pointed out.
A school like Northland Primary, in the middle of a housing estate in Yishun, had 6.82 applicants per vacancy in Phase 2C this year, up from 3.92 applicants per vacancy in 2017, he noted.
The school had one of the top three pupils in the 2006 Primary School Leaving Examination (PSLE), which is why Toh thinks it is so oversubscribed and must choose pupils by ballot.
"MOE has stopped publishing PSLE results (of top scorers — since 2012), so most parents are dependent on hearsay," he said.
"Despite the MOE's attempts … over the last 10 years, for example, we see that the same schools keep appearing as the most popular schools."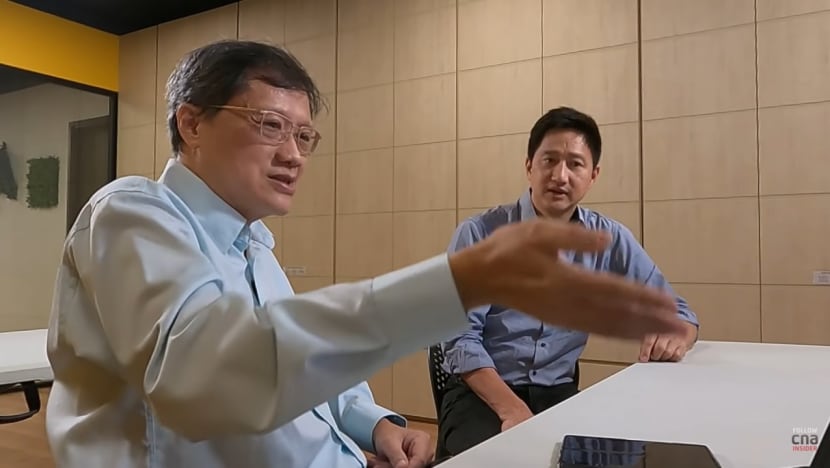 PARENTS WHO SPENT S$20,000
While Toh thinks parents will "most likely" choose a school that will give their children the "highest chance" of doing well academically, parents themselves do not seem to consider a school's PSLE performance as a top-five factor.
From the Talking Point survey, their most common consideration factors are whether the school has a wide range of programmes and co-curricular activities as well as the distance to the school.
About 56 per cent agree that every school is a good school. Whichever their choice, however, the vast majority (81 per cent) have done or signed up for activities to increase their children's chances of entering that school.
Besides those who volunteer or join the alumni, church or clan group, 31 per cent of parents say they have bought or rented a property near the school or would do so.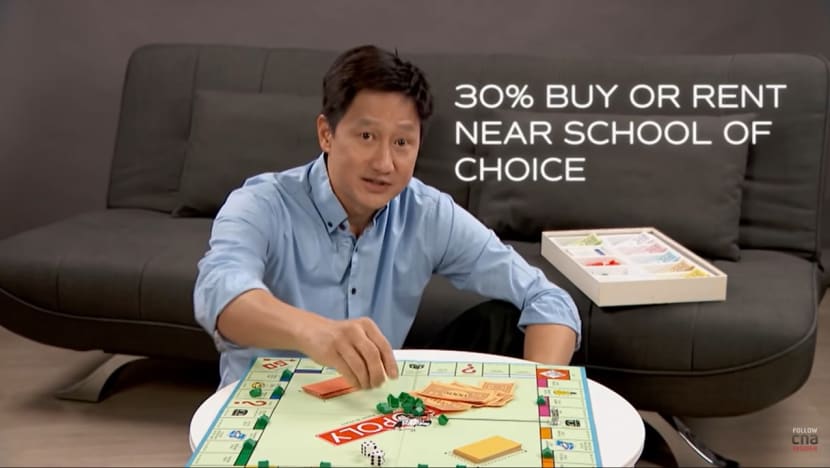 Take, for example, the "Teos", whose first child was born in the year of the dragon, and their second was an SG50 baby. The number of children competing for places in primary school was higher than average in both cohorts.
The parents, who wished to remain anonymous, were former pupils at Catholic High School (Primary) and Singapore Chinese Girls' School (SCGS) respectively.
"Being in that alumni phase, we thought that we'd be quite comfortable. And then … our son didn't get into the school. That's when our whole world basically collapsed," said the father.
My whole family has been in this school; it's like a rite of passage for our boys."
For the next phase, 2B, the parents looked at renting a place within the one-kilometre radius, "so that it'd be a shoo-in".
"But we were still contemplating between Catholic High and (another) school. We got rental agreements in place for two separate locations so on the day itself we could decide which school our son should go for," recounted the father.
With a rented apartment, the boy secured a place at the other school in Phase 2B. He eventually entered his father's alma mater after a pupil dropped out ahead of the school year.
His sister got into SCGS in Phase 2A this year. "Traditionally, my school isn't as crazy popular as his school," said the mother.
"We did contemplate having to move and to rent another place. But looking at the past figures and the population census, it was quite safe."
They spent S$20,000 on property rental and S$605 on alumni fees. "We did think like, 'Wow, we did so much.' But when we went to talk to other people, we realised that we weren't the only ones," she added.
"There are schools that are deemed better than others, so I feel that most parents, if they have the means, would still choose to send their child to a good school."
RETHINKING PROXIMITY
As home-school distance is still a feature of the registration process — except in Phase 1, for siblings — Cheung questions whether schools are accessible to more people even with more places in Phase 2C.
"Parents with the means to buy a home within one kilometre would want to buy an additional layer of insurance," she said. "They could apply for Phase 2A; if they don't get it, they'd try 2C."
This calls for a rethink of the proximity factor, according to Tan, who noted that "some of the more popular primary schools aren't exactly distributed evenly across Singapore". He cited schools in Bukit Timah, an area "dominated by upper-class housing".
"So why don't we think beyond the confines of one or two kilometres and draw a wider net?" he suggested.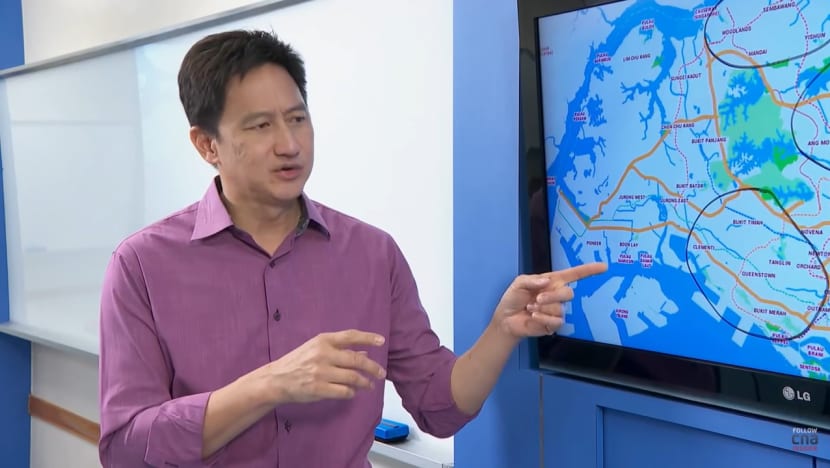 By wider, he means clustering towns like Bukit Timah, Bukit Merah, Clementi and Queenstown together, or Sembawang, Woodlands and Yishun as one cluster or Ang Mo Kio, Hougang, Punggol, Sengkang and Serangoon as another cluster.
This would require in-depth study, he added, as there are many factors to consider, such as the number of school-going children and types of schools in those areas.
While this may go against the idea of going to a school in one's neighbourhood, he doubts that all parents are "dead set on getting their child into a branded primary school".
"This is to provide a greater chance of access," he said.
WATCH: Asia First encore: Talking Point discusses parents' efforts to get children into popular schools (7:09)
A bite-size version of what you may have missed, on CNA's Asia First.
To parents who may feel that what he is suggesting is "radical", as Talking Point host Steven Chia put it, Tan acknowledged that there may never be a system that does not privilege a particular group of parents.
"We're not trying to make everyone happy," he said. "There's always, I guess, that tricky business of weighing up pros and cons … I don't think any country in the world has gotten it right."
Watch this episode of Talking Point here. The programme airs on Channel 5 every Thursday at 9.30pm.