Singapore and Malaysia have claimed these 4 dishes. We get to the bottom of the food fights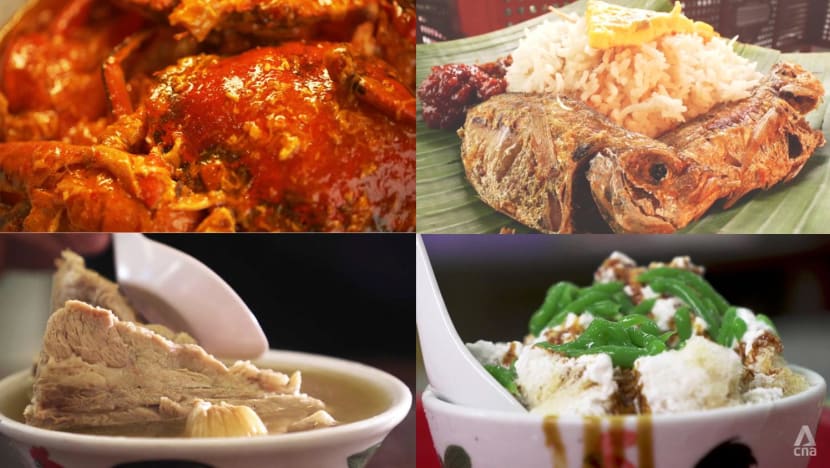 Chilli crab can be traced back to the 1950s, while cendol dates back to the 12th century.
Bak kut teh gave coolies a taste of home, while one country's nasi lemak may well be better.
The programme On The Red Dot uncovers the origins of four popular dishes and some intriguing stories.
SINGAPORE: Pride in local food is a trait Singaporeans and Malaysians share.
So, expect ruffled feathers and salty jibes when either side lays claim to a dish like chilli crab or nasi lemak.
Cross-border food fights that have erupted in recent years include one that a 2018 CNN article triggered by listing cendol from Singapore as one of the world's 50 best desserts. It led to an outcry from Malaysian netizens.
Fast food chain McDonald's caused another kerfuffle in 2017 when it released the nasi lemak burger to celebrate Singapore's National Day.
Malaysian burger joint myBurgerLab responded with a nasi lemak ayam (chicken) rendang burger. It tweeted a picture of its burger with the Malaysian flag in the background and the words "Dear Singapore, nice try, but …"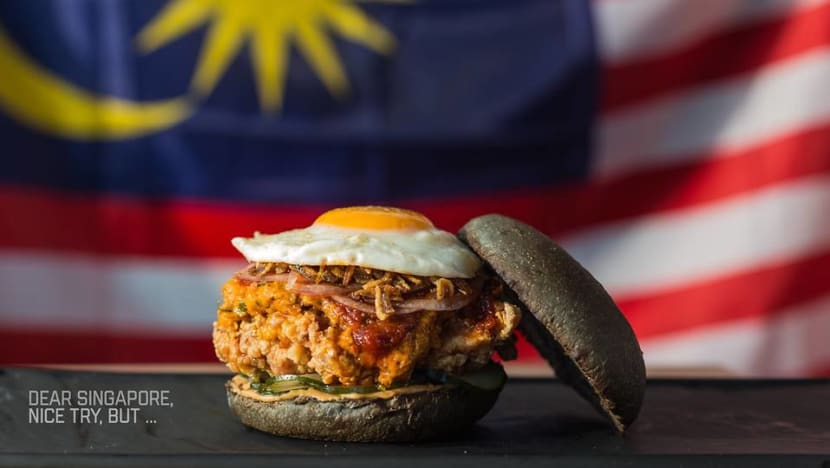 And in 2009, Malaysia's then-tourism minister, Ng Yen Yen, stirred up indignation and patriotism on both sides of the Causeway when she asserted, "We cannot continue to let other countries hijack our food. Chilli crab is Malaysian. Hainanese chicken rice is Malaysian. We have to lay claim to our food."
She also identified bak kut teh, laksa and nasi lemak as dishes to declare as Malaysian.
But can any dish be said to truly belong to Singapore or Malaysia? The programme On The Red Dot dug into the origins of four dishes and uncovered stories from chefs, hawkers, entrepreneurs and heritage experts.
CHILLI CRAB
It turns out that chilli crab can be traced back to the 1950s in both Singapore and Malaysia.
WATCH: Did chilli crab come from Singapore … or Malaysia? (22:52)
After Ng's comments in 2009, Singaporean food blogger Leslie Tay met Cher Yam Tian, the woman widely identified as the originator of Singapore's version of chilli crab.
Cher, who died this year at the age of 90, lived with her policeman husband in an attap house near Upper East Coast Road in the 1950s. Her husband would catch crabs, and she would steam them.
After a while, he suggested she cook them differently, so she added tomato sauce and chilli sauce when she stir-fried the crustaceans.
They sold the dish from a shack called Palm Beach Seafood. It became popular, and in 1963, chef Hooi Kok Wah of Dragon Phoenix restaurant gave it his own twist by, for example, adding egg to the chilli sauce to make it look better.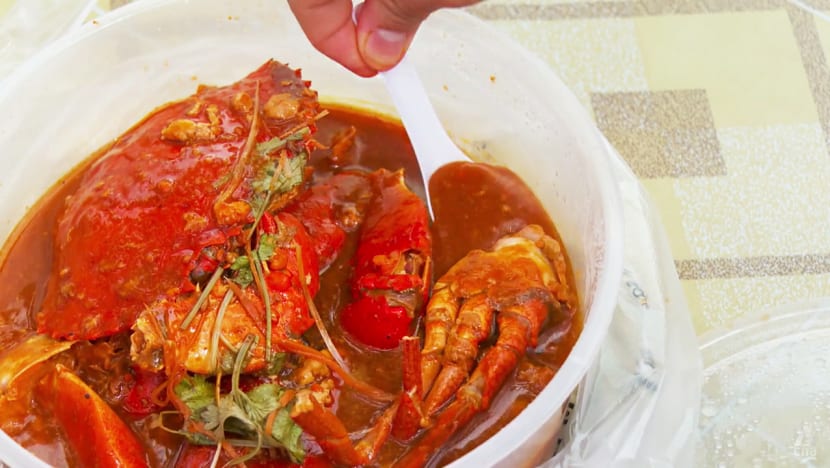 Over in Malaysia, Weng Fung Seafood restaurant in Langkawi came up with its own chilli crab dish in the 1950s.
One of the island's oldest seafood establishments, Weng Fung was founded in the 1920s and has been serving chilli crab since 1958, possibly earlier, said owner Kelly Keh Pooi Ling.
It was her parents-in-law who created its sauce. And theirs was the only shop that sold the dish at the time, she said.
The way its crabs are cooked is different, On The Red Dot host Ming Tan found out, and the flavour is "more refined".
According to the chef and culinary consultant, the Singaporean version is "generally thicker" and contains more corn starch and eggs, whereas Weng Fung's chef-owner Ong Chin Yong thickens the chilli sauce by simmering it gently.
Tan also tried a chilli crab dish called "ketam balado", cooked Minangkabau-style by MasterChef Malaysia contestant Rosemah Ibrahim. (Balado is a spice mixture in Minang cuisine from West Sumatra that is eaten with all kinds of protein.)
Ketam balado has been around for generations, and Tan observed that it is drier than the other chilli crab dishes he has tried.
His verdict? "Trying to ascertain when chilli was first added to crabs in a recipe is a fool's errand," he said. But it is Singapore's version of the dish that seems to be the most internationally recognised, he added.
BAK KUT TEH
When it comes to bak kut teh, which translates as pork bone tea, there are two variants. The Teochew-style one — with a clearer, peppery broth — is more commonly found in Singapore.
WATCH: Bak kut teh — a Singaporean or Malaysian creation? (22:59)
In Malaysia, Hokkien-style bak kut teh, which contains herbs and dark soya sauce, is more commonly eaten in places like Klang, Selangor, where many coolies from China once worked.
These labourers liked the soupy dish as it was a taste of home, and they added herbs to help ward off rheumatism, said travel blogger Ng Sock Peng
She steered On The Red Dot towards a Klang restaurant called Seng Huat Bak Kut Teh, whose owner John Lee Chuan Teck suggested that the "teh" in the dish's name originated from his grandfather, Lee Boon Teh.
"When my grandfather first started selling this pork rib soup (in 1938), it wasn't called bak kut teh," said John Lee. But as time went by, people would say they were heading to pork rib Teh's to eat, hence the dish's name, he claimed.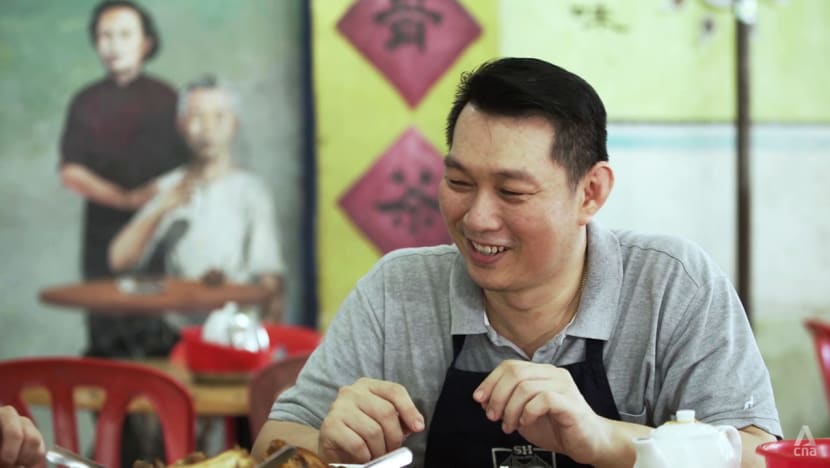 It seemed like compelling evidence to support Malaysia's claims to the dish, but food blogger Tony Boey threw Tan a bone and led him to Pek Sin Choon, a tea merchant in Singapore's Chinatown.
Fourth-generation boss Kenry Peh Ching Her said the business has been supplying tea to coolies and bak kut teh stalls since 1925.
Some of its documents that bore evidence of this were destroyed in the Second World War, but Peh presented a receipt from 1938 and told Tan about a stall in Maxwell Food Centre that he still supplies.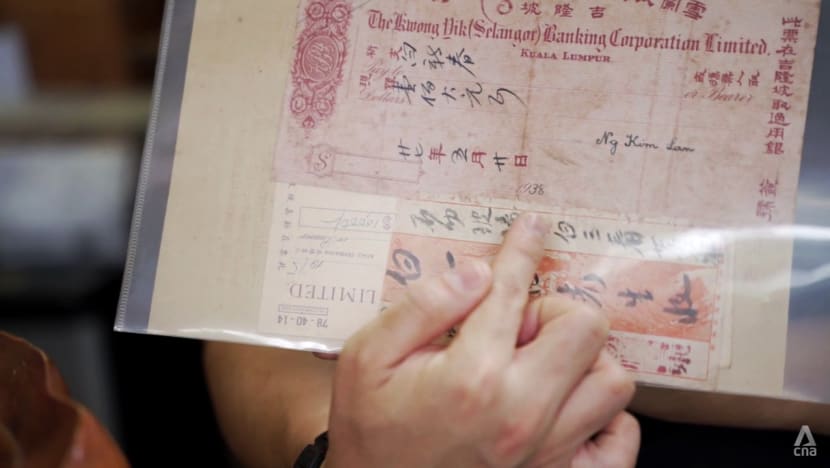 The stall, Nankin Street Bak Kut Teh, sells the Hokkien version of the dish and can trace its beginnings to the 1920s.
Its current owner, Teo Han Poh, was a disciple of the late street hawker Lee Ong Say, whose recipe she still follows. "I just followed the way my boss sold it, I didn't change it," she said.
This, to Tan, was enough to determine "conclusively" that bak kut teh is Singaporean. But whether in Malaysia or Singapore, the dish has similar origins: migrants from southern China.
NASI LEMAK
For Malaysians, a dish that is representative of the country is nasi lemak, said myBurgerLab co-founder Chin Ren Yi.
WATCH: Nasi Lemak — national dish of Singapore or Malaysia? (22:49)
And when McDonald's launched the nasi lemak burger in conjunction with Singapore's National Day, they "weren't too happy" because, to some extent, it was an "unofficial claim" that nasi lemak was a "Singaporean thing", he said.
But did nasi lemak — which translates as fatty, or rich, rice — originate in Malaysia?
Or is it similar to Indonesia's nasi uduk, which is also made with rice cooked in coconut milk and served with side dishes? This dish is credited to Sultan Agung of Central Java's Mataram sultanate in the 17th century.
The two dishes were created separately over time, according to food historian Ahmad Najib Ariffin. "Neither came from the other," he said.
"Coconut trees are ubiquitous, so at some point or other in history, people would've already experimented with cooking rice, or maybe other kinds of grains, with coconut milk."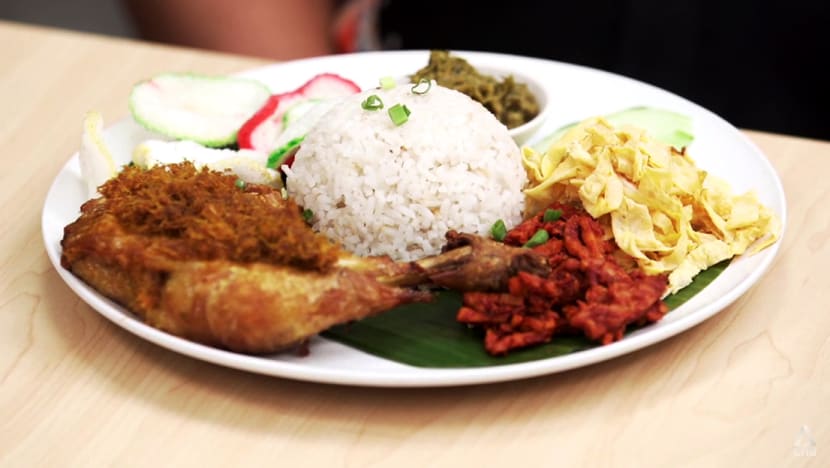 The sambal, or chilli paste, for both dishes is also different, he pointed out.
"There are literally hundreds of kinds of sambals all around the Malay Archipelago. And the one that's used in nasi lemak … is very common on the west coast," he said.
You begin to get the sense that nasi lemak did originate from somewhere along the west coast of the Malay peninsula."
Ultimately, it is a Malay dish from the Malay Archipelago, said heritage researcher Sarafian Salleh.
The region's history was shaped way before Malaysia and Singapore were independent countries. And nasi lemak can be said to exist in Singapore because of Malay migrants from places such as Java, Sulawesi and Sumatra, he said.
Today, nasi lemak in both countries can come with a myriad of side dishes, such as squid, cockles, beef, fried chicken as well as processed items, like fishcake and sausages, which are more commonly found at stalls in Singapore.
For Damian D'Silva, the Singaporean chef-partner of Rempapa restaurant who specialises in heritage cuisine, there is no question about which country does the side dishes better: "Malaysian nasi lemak is better because nothing is processed, everything is cooked from scratch."
CENDOL
There is a reason Malaysians had also been riled by CNN's 2018 article that called cendol a dessert from Singapore.
A crucial ingredient in the icy concoction, besides pandan jelly and coconut milk, is a type of palm sugar called "gula melaka". And Jonker Street in Malacca, Malaysia's oldest city, is lined with shops selling cendol and gula melaka.
WATCH: Origins of cendol — Singaporean, Malaysian or Javanese? (22:43)
But popularity and provenance are not the same thing, and some netizens pointed out that cendol comes from Indonesia.
Culinary expert William Wongso, who is from Indonesia, told On The Red Dot that cendol is also called "dawet". The dish is mentioned in the Serat Centhini, a collection of Javanese tales and teachings first published in 1814 and whose events took place in the 1630s.
Dawet can be traced even further back to a Javanese manuscript from the 12th century, said Indonesian food historian Fadly Rahman.
More recently, in the 1860s, a recipe for dawet was published in an East Indies cookbook, and the word "tjendol" made it into a Dutch dictionary as well.
Today, dawet remains a part of Javanese traditions such as the dodol dawet at wedding ceremonies, said Fadly.
"Dodol" means "selling", and the bride's parents would sell dawet to guests, who pay for it with pieces of red clay, which symbolise the earth. The ritual also signals the parents' readiness to let their child start a new life.
Thus, while Singapore and Malaysia are home to cendol stalls that have been around for generations, the dessert "clearly belongs to Indonesia", Tan declared.
Watch the On The Red Dot series, Food Fight, here. The programme airs on Mediacorp Channel 5 on Fridays at 9.30pm.