'Experience the food first, then the team': Meet the special needs crew running a cafe kitchen
Kunyah Cafe, which opened on Jan 9 on the SMU campus, has a visually impaired chef. It began as a project to prove that those with sight loss have a place in a commercial kitchen.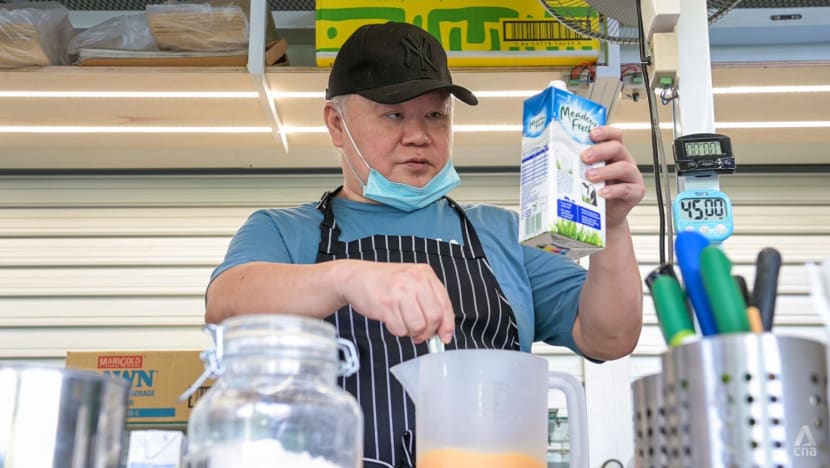 One chef can see objects only up close; another founding chef has had glaucoma since she was 10.
The cafe's boss found technologies to make up for their visual impairment.
But 'gut intuition' and teamwork proved more critical, as challenges emerged.
SINGAPORE: At Kunyah Cafe, weighing scales can speak, light switches are paired with dimmers, and its chefs are more afraid of prejudice than sharp knives.
And the signature sandwiches — filled with crispy breaded chicken thigh, tempeh, otah or shrimp cake — were creations of two visually impaired chefs.
Alex Seow lost 70 per cent of his vision at age 50 owing to complications from a cataract surgery; Ernawati Fauzana Zakaria, 38, has had glaucoma since the age of 10 and cannot see objects in focus.
Seow, now 55, has been a chef for more than a decade, his career truncated after the surgery. Erna, as she likes to be addressed, gained her love of cooking from her mother, who made her learn from a young age so that she would grow to live independently.
These qualities were what inspired Aaron Yeoh, who is sighted, to set up the cafe with them — never mind that they would have to cook differently.
"Most likely the productivity is low. And without full vision, how can they navigate dangers like heat and knives?" Yeoh added. "It got me thinking: Is it possible to overcome all these challenges?"
About four years after the idea came to him, he is testing his "hypothesis" that with the right tools and environment, the visually impaired can have a "dignified" career in the kitchen.
Kunyah Cafe at the Singapore Management University (SMU) opened its doors on Jan 9 to a steady stream of curious customers. A mix of excitement and anxiety filled the kitchen as the first order, one wasabi ebi sandwich and one tempeh sandwich, came through at 11am.
"(The visually impaired) are just like us: They still have their aspirations in life," said Yeoh, 44. "Unfortunately, there's a lack of platforms … (and) empathy among the general public to allow them to showcase their talent and passion."
He had once asked Erna, whom he has been friends with for eight years, if she would ever try finding a job as a chef, since she loved cooking.
Her reply: "No employer in this world would hire a visually impaired chef."
The journey towards those first two sandwiches has not been easy, and not necessarily because of the chefs' disabilities. Differences have emerged, and Erna has left. Still, the folks at the cafe are determined to make a success of it.
RETHINKING THE KITCHEN
In 2018, together with Erna, Yeoh started free cooking classes for the visually impaired to find out what would help them be more confident in the kitchen. The pair were also looking for someone to join their business.
They tested out assistive devices, like weighing scales that read out the amount of ingredients added and induction cookers that read out the stovetop temperatures.
The tools did give the students more confidence, said Yeoh, but none were passionate enough to turn their culinary skills into a career. Then came Seow, who was referred to Yeoh by a friend.
Having lost most of his vision, Seow felt like a burden in the last kitchen where he worked.
"Sometimes I needed (my colleagues) to help (by) looking at the menu or the food. … After helping (me) for a long time, there was some friction," he said. "I felt it was quite difficult and resigned from the job."
When the call from Yeoh came, Seow was "honoured", albeit worried about the problems his eyesight would bring. "But (Yeoh) told me we can gain experience from these difficulties," said the designated head chef.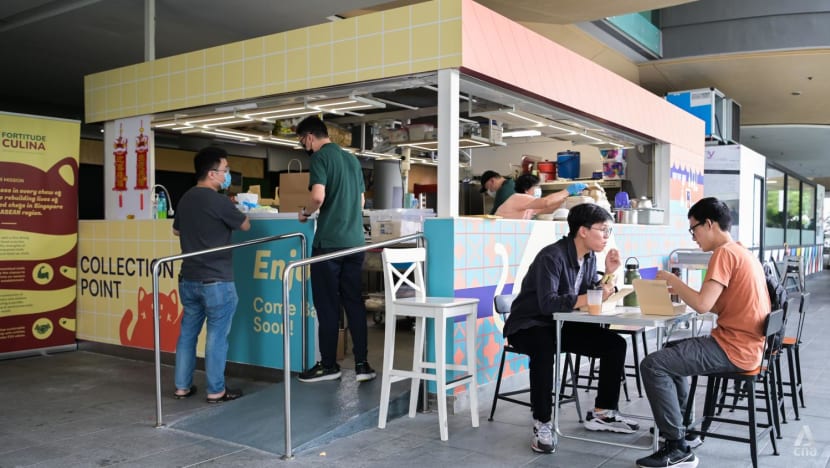 It was late last year when Yeoh secured a kiosk at SMU to run the business.
Before setting up the cafe proper, he consulted an occupational therapist to tailor the space to the chefs' visual impairments, as part of an application for SG Enable's job redesign grant.
Seow, for example, describes being able to see objects only up close and in front of him; his peripheral vision is blurred, and he often trips — so a ramp was built at the entrance instead of a step.
The chefs also have different sensitivities to light: Seow requires a brighter working environment, while too bright a light causes discomfort to Erna.
"I'm a cat," said Erna. Seow replied: "And I'm a dog."
Hence all the light switches in the kitchen are fitted with dimmers so that the chefs can adjust the lighting according to their preferences whenever they switch stations.
Yeoh also bought a convection oven that could, at the touch of a few buttons, grill chicken, steam eggs or cook rice.
"I already knew (the chefs) could potentially be slow, so I needed to find technology to help them improve their productivity," said Yeoh. "Without automation, for sure we can never reach the output we need to break even."
While the kitchen had to be redesigned to suit the chefs' visual impairments, the menu had less to do with eyesight and was based on their strengths — local flavours — and foods that cater for a student population, said Yeoh.
They settled on the four sandwiches and a rendang chicken bento box.
Ingredients, however, were chosen intentionally to save on the preparation time, such as liquid egg so the chefs need not crack shells and risk leaving any fragments in the food.
TEAMWORK TRUMPS ALL?
A month prior to opening day, Yeoh organised a food-tasting session for students and workers in the area. This was CNA Insider's first glimpse of how the team worked in practice.
For a start, they ditched some of the assistive tools that were not required for the current menu, said Seow. It also seemed that the chefs went with their gut.
In measuring ingredients, Seow trusted his intuition, built up over the years before he lost his sight. He added half a carton of milk to an egg mixture with the confidence of someone who has indeed worked in a kitchen for a long time.
He had estimated the amount from the weight of the remaining milk in the carton, he told this reporter.
Erna, meanwhile, was in charge of breading the patties for frying. She, too, had built up an intuition in the kitchen — but in a different way from Seow.
Yeoh described her as someone who operated with precision, which she did to compensate for her visual impairment. While she lacked the know-how professional chefs have, she knew where to find every ingredient or utensil in the kitchen and could tell salt from sugar by feeling the granules.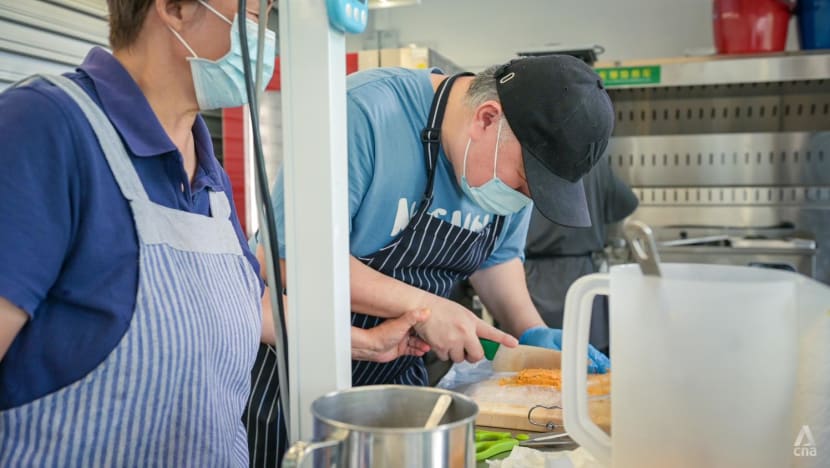 The chefs' anxiety showed a little, however, when asked how they would know whether their food is cooked.
In the past, Seow could tell with one look. With things not as "obvious" now, he lets the food cook for longer just in case. Erna would poke the meat to check for doneness.
But with a business to run and safety to ensure, there is kitchen assistant Chan Lay Hoon, who is sighted, to double-check. Chan, 61, used to work in a flavouring company and volunteers her time for the cafe.
She also turns the knobs on the fryer and the toaster to the right temperatures, she said, and helps in cleaning the dirt off ingredients like onions, shallots and ginger more thoroughly as well as in chopping them.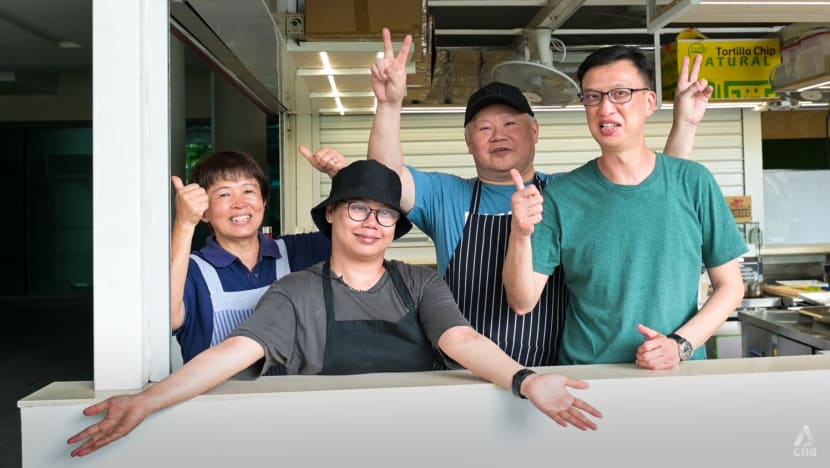 As the chefs worked, she hovered around and was occasionally called to check whether Seow was cutting up the otah and tempeh fillings in the right size, or to top up the panko and egg wash for Erna.
The boss Yeoh doubled as an errand boy, washing dishes as they came and was at his team's beck and call.
As with many workplaces, it seemed that their productivity hinged on practice and team dynamics.
The team scrambled to fulfil the food tasters' orders when, with an hour to go, they could not get the convection oven to work. Seow, who was meant to deep-fry the sandwich fillings, had to fry the eggs manually; Erna and Chan settled to the meats and tempeh.
Everyone was everywhere all at once. If Erna could have it her own way, she would have everyone walk only in a clockwise or anticlockwise direction, she said, her ire aroused.
"There are a lot of danger spots, especially where the deep (fat) fryers are. If you (don't) co-ordinate and make your move properly, anything could happen, like food spills, or someone may get hurt."
Then there were instances where it could be said that too many cooks spoil the broth.
The team could hardly agree on how long to toast the bread for their sandwiches, especially since they were using the toaster for the first time. Seow insisted that it should be toasted longer for crispness, while Chan felt it would be charred.
"What I see may not be what he sees," said Chan. "It could be shade of five, but to him it could be shade of three or two. So we had to come to a compromise."
And while Erna was slathering the chicken and tempeh sandwiches with rendang gravy, she got "frustrated" when Chan told her there was too much sauce while "someone else" complained that it was too little.
"Let me do my thing, you know," said Erna. "The person wrapping (the sandwiches) is responsible for how much sauce they use."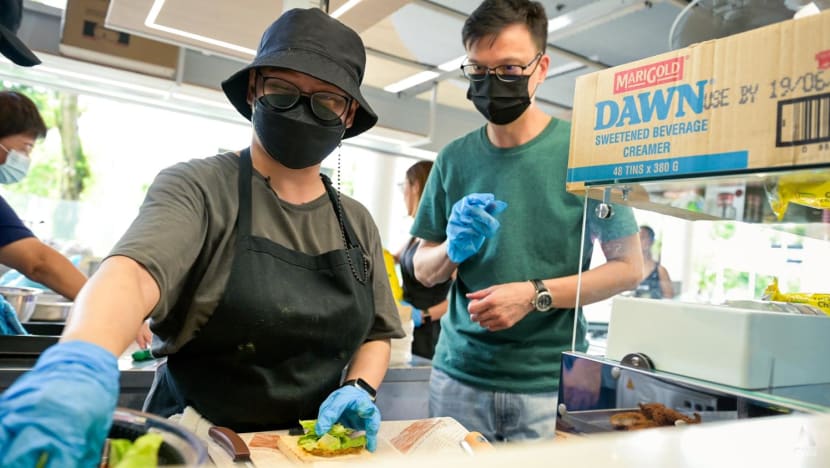 Though the team served their sandwiches about a half hour late, the food tasters were reasonably satisfied. Some loved the rendang sauce; others thought it could be spicier. And a couple agreed with Seow that the bread could have been toasted more, so as not to go soggy from the sauce too soon.
A BOMBSHELL BEFORE D-DAY
By Christmas time, the team got into the swing of working together in the new kitchen. They settled on the right setting on the toaster and figured out the convection oven. They ironed out their workflow and roles to handle orders efficiently.
Their next food-tasting session went off uneventfully. Then Erna resigned.
She told CNA Insider that she and Yeoh no longer shared the same goal. She preferred teaching fellow visually impaired people cooking skills so they can gain independence, rather than running a business.
With less than a month to the opening day, Yeoh was initially "angry" about Erna's departure at a crucial time, he said. Eventually, he did not see it as a "negative thing". He was glad to see Erna become more confident at work over the years.
And he already had another employee coming on board in a bid to spread the workload.
While she is not visually impaired, Oh Siew May, 50, was born with cerebral palsy. She worked at a farm, Bollywood Veggies, for a decade, then for one and a half years at a cafe where she helped to cook and serve customers.
Kunyah Cafe's mission continues to be to support people with disabilities who have a passion for cooking, said Yeoh.
While Oh's speech is slurred and her movements are not nimble, she can handle tasks such as breading and packing. She is also learning from Seow to stir-fry vegetables for the bento boxes. 
Asked how she finds working with the team, Oh said: "What Aaron's doing is very good because he believes in disabled people."
On the opening day, the team was steady and organised.
Seow was in charge of deep-frying and reading out orders, which he did by bringing the chits right to his eyes. Chan assembled the sandwiches while Oh packed and passed the food to the customers. Even Yeoh's mother had come to help assemble bento boxes.
Yeoh himself talked to customers and shared the team's story. There is no shop sign, however, asking customers to be patient as the chefs have disabilities.
"To create a mindset shift, I think we need to do the reverse. We let (customers) experience the food first, then we let them experience the team," said Yeoh. "That'll create a deeper impression.
"Hopefully, they can inspire more change in the community."
Notwithstanding teething problems like the circuitry tripping, the automated payment system being slow to work and Seow misreading an order quantity once, the feedback on the food was positive.
One customer rated the bento box a four out of five; another, wanting to try something new, was "pleasantly surprised" by his tempeh sandwich and felt it was value for money. Neither knew that the chefs had disabilities.
By the end of the day, the team sold 20 sandwiches and 13 bentos, missing their sales target of 100 in total. But Yeoh gave them a rating of seven out of 10.
It was past sundown, and he was the only one left cleaning up the kiosk. Has he proven his hypothesis? Will Kunyah Cafe succeed in letting the visually impaired work in a kitchen?
Yeoh does not have an answer yet, but one thing is for sure. "Without Alex, Lay Hoon and, in the past, Erna, I don't think I can even reach this stage," he said.