What's in your toothpaste? 5 things to know for your teeth's sake (and your children's)
If you have always wondered whether to brush your teeth before or after breakfast, the first episode of a new Talking Point web original series has the answers to this and more.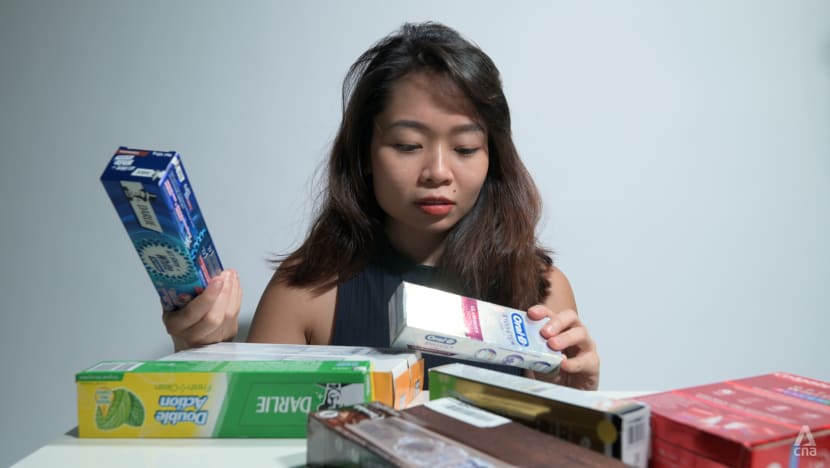 SINGAPORE: Brushing of teeth is a habit acquired as children, but how many of us know what toothpaste we should use, or why young children should not swallow the substance?
CNA Insider kicks off a Talking Point web original series with a look at what's in toothpaste, an everyday item most people sleepily reach for in the morning and before crawling into bed at night.
Tristan Peh, a dentist with 17 years' experience, fielded some of your questions, and his replies may make you brush more carefully, visit your dentist regularly and read toothpaste labels more closely in future. Here are five things to know.
1. WHAT TOOTHPASTE SHOULD I BUY?
Look for one that contains at least 1,000 parts per million of fluoride, said Peh of St Andrew's Dental Surgeons. Fluoride can help to prevent and even reverse tooth decay, he said.
"If there's any initial decay, it actually helps to re-mineralise (and) strengthen the tooth surface."
2. WHAT IF I HAVE SENSITIVE TEETH, OR TEETH I WANT TO WHITEN?
To relieve tooth sensitivity, it is good to get toothpaste with potassium nitrate because of our teeth's dentinal tubules: Small, hollow channels that travel from the inside of each tooth through its middle layer, the dentine.
Teeth get more sensitive when the enamel surface wears away and dentinal tubules are exposed. Potassium nitrate helps to cover the tubules up, thereby reducing sensitivity, said Peh.
If you are looking at whitening toothpaste, pick one that contains either hydrogen peroxide or carbamide peroxide, he said.
Do-it-yourself whitening remedies, such as charcoal or baking soda, come with risks. The substances may be abrasive and wear out the tooth surface. "If you brush away the enamel, the dentine exposed can lead to sensitivity," he said.
"If you have extensive wear, even if you use toothpaste for sensitive teeth, it might not even help. So you might (be looking at) either fillings or maybe crowns later on."
WATCH: What's in your toothpaste? Key ingredients to whiten teeth, and reduce sensitivity (5:03)
Whitening treatment administered by dental professionals deliver more predictable results and a faster whitening process.
3. SHOULD I BRUSH BEFORE OR AFTER BREAKFAST?
It does not really matter, according to Peh. If you brush after breakfast, however, and had consumed acidic food or drinks such as coffee, it would be helpful to wait half an hour before brushing.
Alternatively, rinse your mouth out before brushing. This is because the acids weaken the surface of the teeth; brushing may then wear away the surface, said Peh.
4. SHOULD I REALLY NOT RINSE AFTER BRUSHING, AS A DENTIST ADVISED ON TIKTOK?
After brushing for two minutes — the duration that would enable us to clean all tooth surfaces — and spitting out your toothpaste, it is up to you to rinse out your mouth or not, said Peh.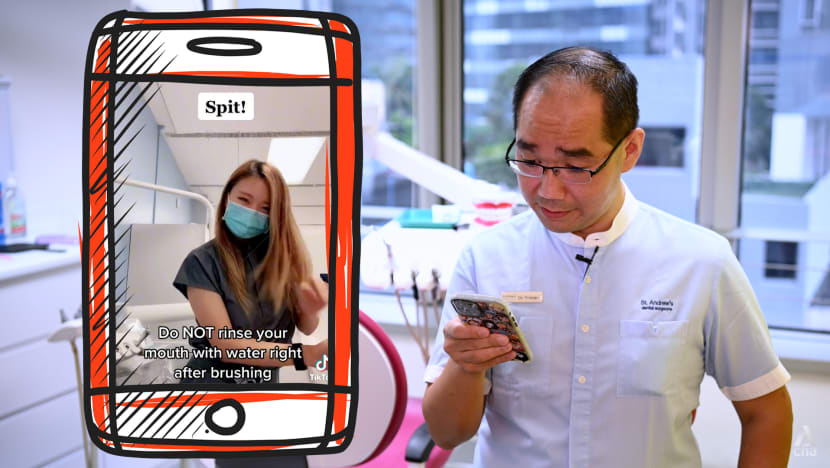 Not everyone can bear the taste of toothpaste in the mouth after brushing, he noted.
Besides, there is more than one way to prevent tooth decay: By brushing and flossing well, using fluoridated toothpaste and limiting sugar intake, he cited.
5. HOW MUCH TOOTHPASTE SHOULD CHILDREN USE?
For children younger than three years old, use a rice-grain amount or a smear of toothpaste, said Peh. For children less than eight years old, use a pea-sized amount of toothpaste.
Children below the age of eight should spit out their toothpaste. This is because excessive intake of toothpaste when permanent teeth are developing can lead to dental fluorosis — white stains on the teeth.