The road to a healthier heart doesn't stop at the hospital
Rehabilitation drastically reduces the risk of another heart attack and can be strengthened in three ways to benefit more patients, says a National University Heart Centre Singapore expert.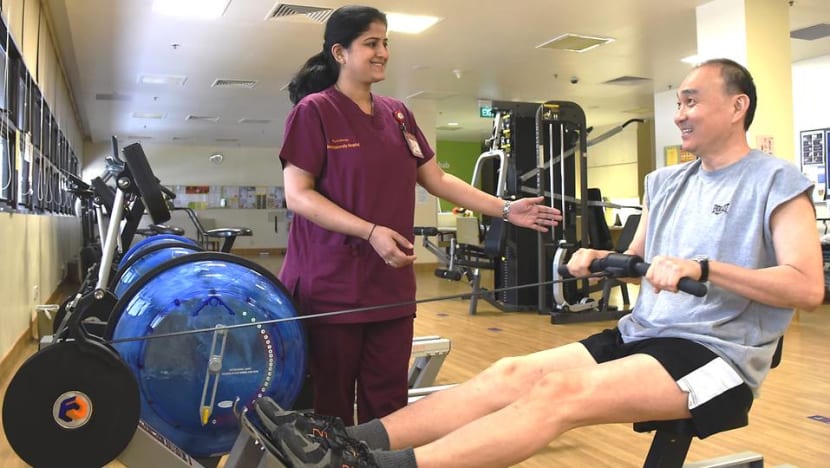 SINGAPORE: It was two in the morning and Mr Tim Ho was at home sleeping when he felt severe chest pain.
Within minutes, he was drenched in cold sweat. He subsequently lost consciousness but not before he woke his wife and was rushed to the hospital.
An emergency coronary angiogram showed severe narrowing of his coronary arteries and an immediate coronary angioplasty was done to restore blood flow to his heart.
Mr Ho's condition stabilised thereafter and he was discharged after four days.
Mr Ho's heart attack arose from ischemic heart disease, a condition arising from a reduced supply of oxygen rich blood to the heart muscles due to the narrowing of blood vessels.
Heart disease consistently ranks among the top three causes of hospitalisation in Singapore and accounts for nearly one in three deaths in 2016.
For patients or loved ones who have suffered heart attacks or have been diagnosed to have ischemic heart disease, what can be done to help them improve heart health and avoid further heart attacks? The answer is simple: Exercise-based cardiac rehabilitation.
CARDIAC REHABILITATION
A modern cardiac rehabilitation programme is one that almost any heart patient can participate in, yet not many know about.
Mr Ho had learnt about cardiac rehabilitation while in hospital, and returned three weeks after discharge where he was assessed to be stable and ready for exercise.
A typical programme comprises a series of supervised exercise sessions designed to help heart patients exercise safely and with confidence.
In Mr Ho's case, trained physiotherapists customised exercises to improve his aerobic fitness, such as brisk walking on a treadmill, and also strength training with free weights and resistance bands.
A team of physicians, nurses and allied health professionals were also at hand to educate Mr Ho and other cardiac rehabilitation participants on their heart condition, and discuss topics such as the importance of medication, how to modify their diet and lifestyle, coping with stress, as well as methods to stop smoking.
Such cardiac rehabilitation sessions can run between one and three times each week for one to three months.
BENEFITS OF CARDIAC REHABILITATION
Research shows that this rehabilitation for patients with heart disease leads to impressive benefits including a reduced risk of death, a lower risk of getting a second heart attack and lower likelihood of being re-admitted to hospital.
Evidence from the US indicates that cardiac rehabilitation reduces mortality rates by 20 to 30 per cent.
One reason may be that patients are empowered with better knowledge of their condition, medication and the need for diet and lifestyle modifications, resulting in them having reduced cholesterol levels, and improved control of their blood pressure and blood sugar levels.
It may also be the habit of exercise these programmes inculcate - for patients who go through the rehabilitation programme see improvements in their levels of physical fitness, as well as higher levels of psychological well-being and quality of life.
Having gone through cardiac rehabilitation, Mr Ho is now fitter, maintains a healthy diet and generally feels much better than before.
LOW TAKE-UP RATES
Despite being established for decades, cardiac rehabilitation remains under-utilised, under-rated and undervalued. Fewer than one in 10 eligible heart patients in Singapore join a cardiac rehabilitation programme.  
This dismal uptake may arise from factors including a lack of awareness, especially in patients who have grave misconceptions that a one-off procedure such as coronary angioplasty or bypass surgery is all it takes to "cure" their heart disease, and that continued exercise or medication is not required.
Where a fast-paced lifestyle in Singapore and lack of time due to other commitments vie for patient's attention, those who are young may not see is as an immediate priority, especially if their episodes did not seem serious. Six restructured hospitals offer these programmes on weekdays while the Singapore Heart foundation run a similar programme on Saturday.
In spite of the programme being heavily subsidised, through Government funding, the out-of-pocket cash outlay may still be difficult for some patients to fork out.
Furthermore, misconceptions about cardiac rehabilitation are still commonly encountered even within the healthcare sector, leading to poor referral numbers. For instance, some doctors may reassure their patients that they are "cured" following a treatment procedure such as coronary angioplasty or coronary artery bypass grafting. In addition, others look upon cardiac rehabilitation as over glorified exercise and do not refer eligible patients.
Low take-up rates have significant repercussions as cardiac rehabilitation units function below capacity and operational costs increase, resulting in limited funding and resources for manpower and equipment.  These barriers affect resource allocation, resulting in limited budgets, manpower and equipment constraints.  Thankfully, measures are being implemented to allow as many eligible patients to experience cardiac rehabilitation as possible.
1. STRONGER SUPPORT THROUGH PATIENT GROUPS
Support for patients undergoing cardiac rehabilitation helps immensely in ensuring they continue to attend sessions and engage in practices that aid in their recovery. Yet often, family members, friends and colleagues might not be on hand to provide this much needed encouragement.  
Locally, a number of patient support groups have been formed to exchange personal experiences, lend a listening ear, and motivate fellow heart patients to look after their heart health. These support groups are completely patient-initiated and patient-led.
They help to engage other patients who may be undecided on cardiac rehabilitation or to simply provide words of encouragement when the going gets tough. In the National University Heart Centre Singapore for example, the Heart Support Group formed in 2013 holds regular gatherings and group exercise sessions for its members who encourage each other to keep up with their rehabiliation programmes and recovery.
2. HOME REHABILITATION
Another misconception about cardiac rehabilitation is that it is not safe to exercise after a heart attack, even if stenting or bypass surgery has been done. But years of research have established that carefully planned cardiac rehabilitation is safe after a heart procedure, with minimal adverse events.
In fact, more healthcare institutions around the world are performing cardiac rehabilitation in the comfort of the patient's home, including the Singapore Heart Foundation which has expanded its services to offer home-based cardiac rehabilitation to eligible patients.
3. INCREASING AWARENESS AMONG HEALTHCARE PRACTITIONERS
Low awareness of such cardiac rehabilitation programmes is a key challenge in boosting referral numbers and take-up rates. Conferences such as the inaugural Singapore Prevention and Cardiac Rehabilitation Symposium in 2015 have been helpful in uniting regional and local healthcare providers.
This year's symposium held two weeks ago received recognition from the World Heart Federation and the International Council of Cardiovascular Prevention and Rehabilitation, and helped to provide an update on advances in the field to a wide range of healthcare practitioners including GPs and family physicians.
These primary healthcare providers are the first line of defence who can identify patients who may require more attention and will benefit from an early referral to cardiac rehabilitation units.
TECHNOLOGY AS AN ENABLER
Modern cardiac rehabilitation programmes are also tapping on technology to overcome barriers and improve patient uptake and compliance. Tele-health monitoring is already being carried out in Singapore, where blood pressure, heart rate and weight, can be monitored remotely and wirelessly transmitted to the hospital.
The patient is alerted promptly to abnormalities in readings and advice is given by the healthcare provider, for instance when to adjust medication and when to return to hospital for further treatment.
This allows for early intervention and avoids unnecessary hospital visits. Tele-health monitoring saves time and money not only for the patient, but also for the hospital and its limited manpower, which boosts cost-effectiveness and improves efficiency.
Video conferencing capabilities also allow rehabilitation patients to communicate with their physiotherapist remotely, if they need more help, without the hassle of traveling.
Cardiac rehabilitation is at the crossroads, straddling traditional multi-disciplinary exercise-based rehabilitation approaches and incorporating modern technology.
For patients with heart disease, the journey to a healthy heart does not end after they leave the hospital.
Cardiac rehabilitation equips them with practical knowledge on exercising safely and confidently, and helps them to control their cardiovascular risk factors to prevent another heart attack in the long run.
Dr Yeo Tee Joo is a consultant at the Department of Cardiology at the National University Heart Centre, Singapore