5 tips for a working lunch that works
To get to a successful business lunch, there's work to be done for the host.
SINGAPORE: "Let's catch up over lunch."
How often do we hear that? It's said with such frequency, but rarely do we stop to think about how to really get the most out of one of the most crucial, but under-rated rituals of the professional world.
Whether it's a first lunch with a contact you're thinking of cultivating, a second lunch with someone who might actually turn out to be a good friend, or a third with someone whose brains you really enjoying picking, there is a craft to the ritual. The better planned and considered, the more everyone will enjoy it – personally, and professionally.
Here are five tips.
LOCATION, LOCATION, LOCATION
You're host. You're inviting, and your guest is someone you've taken the trouble of asking out for a working lunch. Whether it's in a small group, or especially if it's one-on-one, it all starts with location.
Find a venue that's close to where your guests works, not what's closest to you. If your guests are important enough, travel towards them.
Especially if this is a first (or second) lunch, ask if they have any preferences as to venue and diet. Then do your research.
If you're thinking of a restaurant that's slightly out of the way, but worth the trip, ask if they mind getting out a little further. Or ask if they need to get to another meeting quickly after lunch. The thought always count.
Find a spot that's convenient yet thoughtful. Not the food court downstairs.
WHAT ARE WE TALKING ABOUT?
Nobody likes a lunch that's all work, all serious, all interrogation.
My rule of thumb is something in the region of 60-40, in favour of topics that aren't work related.
Especially if this is a first or second lunch, go to lunch with a good number of work things you really want to talk about. Two to three is a good number. Get to them in good time, and then let it rest. Show that you can talk about more than work, that you're an interesting person, and most importantly, you're interested in your lunch partner as a person, not just what's on his or her business card. And then keep that information in mind for the next meeting, when you can ask about their son's camp or remember that they don't eat prawns.
The networking circuit is by nature, a highly transactional universe. Show that you're not transactional, and be prepared to share little personal details to get things going.
WHO ELSE ARE WE GOING TO BRING?
Take care in who you bring along. Don't bring a colleague who's going to be loud and monopolise the conversation. Yes, the sort whose laugh can be heard across the restaurant. If you're going to bring someone you know may not contribute much, and is just there to listen – it's probably not worth it.
If you do have to bring someone along, make sure you ask if your guest would like to bring a colleague along as well.
Remember, the more the lunch involves, the greater the likelihood that the lunch will devolve (and more quickly) into separate small conversations. That's not in itself a bad thing – if that's what was planned. If not, keep it small.
GET A GO-TO RESTAURANT, YOUR ACE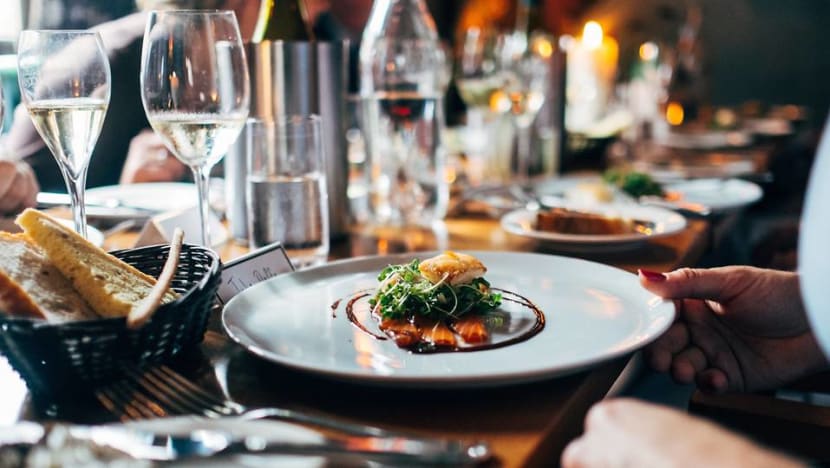 Know your restaurants. For a "first date", don't choose a restaurant that's new to you. You'll want to know what's on the menu, how quickly the food comes, how annoying the waiters may be, or how noisy the restaurant may turn out to be. Go with the familiar.
And especially if you want to appear on top of things, have a regular restaurant that's your go-to. Your power suit and power tie, rolled into one. Where the waiters know you, and where you know exactly what's good on the menu, and can make a recommendation.
But trying out new restaurants can be fun too. For this, keep it for the familiar – someone whom you've come to know well, and have developed a friendly relationship.
"Let's try a new restaurant" is always a nicer way to say "let's have lunch".
BE REAL
Networking can be painful. And there's no better way to up the pain quotient (and to ensure fewer reciprocal lunches) than to come across as fake. Yes, lunch hours are a mandated hour-and-a-half off work, but still – nobody wants to waste that time with someone who's a bore.
Be prepared to share a personal anecdote or two. Find out what your lunch partner's interests are, early at lunch, and try to bring the conversation back there whenever you can. And don't just talk about it. Be genuinely interested; it's as easy to identify a bad oyster as it is a bore as a lunch guest.
Finally, if you're the host, try not to be the one who ends the lunch. And there are many ways to suss things out as conversations taper out:
"Do you have time for dessert?"
"How much more time do you have?"
"Do you have any other meetings after lunch?"
After that, let your guest make the first move, and they usually will.
And that's that. Have fun, and eat well.