What are the life lessons to be learned while playing laser tag with your children?
In this week's Chubby Hubby, Portly Papa column, Aun Koh declares the tag game a hoot, unless you're being sacrificed by your son and his team mates and used as a human shield.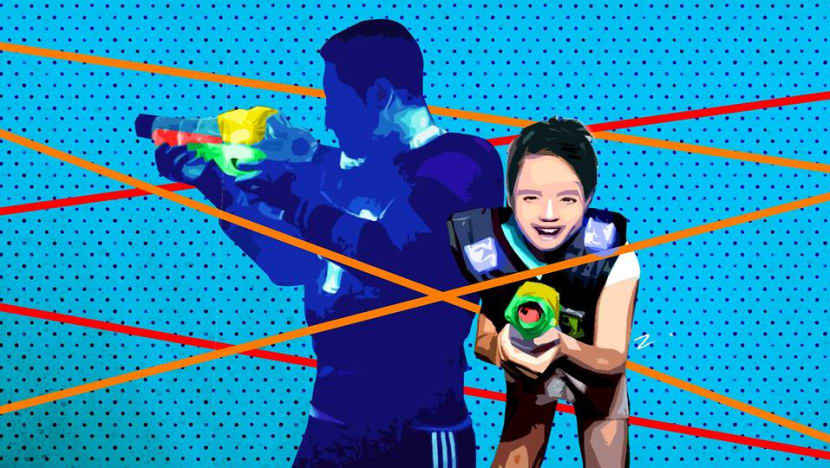 Damn. The little rugrat shot me again. That same kid keeps popping out of nowhere to get me. And because my gear is now disabled for four seconds, I can't retaliate.
Welcome to laser tag, a game that was actually popularised back in my youth, famously loved by Neil Patrick Harris' Barney Stinson in How I Met Your Mother, and is still amazingly popular. I still fondly remember the laser tag equipment from the original game sets in the 1980s - black plastic gun and the grey and red target you'd strap to your chest.
Today's version is so much, well, more modern. And a whole lot cooler.
I'd honestly not played the game since the late 80s. But a couple of weekends ago, I was in charge of entertaining my elder son and one of his best buddies (M) for the entire afternoon. Because my wife had planned activities at home for the two boys' sisters (it is very fortunate that my son's friend's sister is also my daughter's BFF), I thought it best to get the boys out of the house.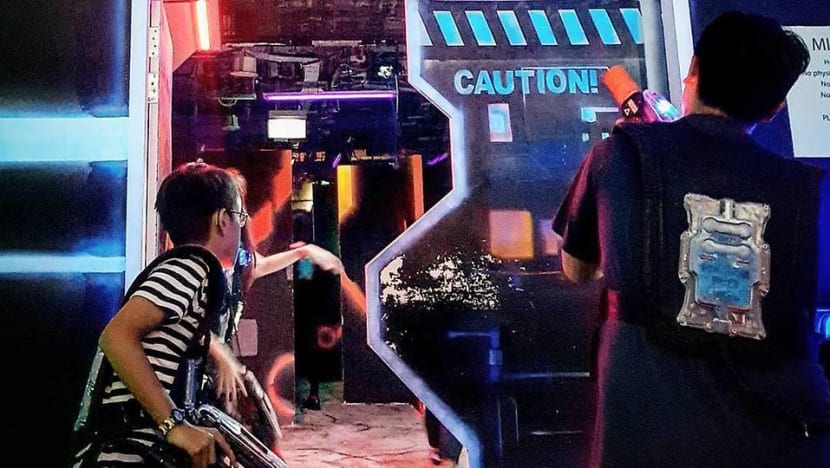 After an hour of Googling terms like "weekend activities for eight year old boys" and "indoor play Singapore eight-year- olds", I narrowed my choices down to a couple of ideas. One was a rock climbing class. Another was a visit to the very cool indoor waterpark at SAFRA Punggol. Mini-golf was another option, but after envisioning the boys bashing each other's heads in with the clubs (accidentally of course – and don't think that doesn't happen, because it happened to me when I was 12, but that's a whole other story), I quickly dismissed that idea. There were a couple things I thought would be awesome, like go-karting or virtual reality gaming. But the boys were either too young or too short for these.

Some of the things I loved as a kid, T1 has shown zero interest in. For most of my life, I have loved archery and I had hoped that T1 would be equally excited. Every time I have tried to get him interested in trying it, he's been unimpressed. Finally, I settled on laser tag, which got my little boy very excited. We had told M's parents that he should wear covered shoes and comfy clothes for running around in, but we tried to keep the activity a secret. That, of course, lasted around two seconds. As soon as we picked M up, T1 blurted out the afternoon's plans.
We chose to go to LaserOPS because it's the arena closest to us. The entrance is tucked away under Atrium@Orchard, en route to the Dhoby Ghaut MRT. While I had initially planned for us to play just one 20 minute game, I was persuaded by the staff and my son to go for the one hour- three game tickets. In hindsight, I should have bought the 20 minute ticket for myself – and let the munchkins do the full hour.
Once you register and game time is upon you, you are taken to a holding area where a staff member briefs all combatants. The first round is a free for all – that is every child (or parent) for him or herself. The holding room leads into a gear room. The game gear consists of a vest covered in brightly lit photo sensitive panels that is connected to a gun. 
Each gun has an LED panel that displays your game name and other information like battery life; if and where you've been shot; as well as your real-time game ranking. Once you have been shot, the lights on your vest go out and your ability to retaliate is suspended for four seconds. It's all very modern and actually very cool.

After I had helped M and T1 into their vests, we poured into the arena with the other participants. Very quickly, the two munchkins separated from me, preferring to work as a duo and not be hampered down by the big guy with the dad bod. The arena itself is cool. It's dark and dotted with screens to hide behind. Because of the lit vests, players are highly visible. And if you're a big target like me – I was only one of three adults in the arena with the kiddies – you're pretty easy to hit.

And hit I was, all the time. A couple of smart kids realized that I was pretty much a sitting duck and kept sneaking up behind me. By the time that first round was over, I'd been taken out of commission too many times to count. It was only after we exited the game area that I found M and T1. 

Hide behind my papa. He's easy to hit

We were all led to a large TV in the reception area where our scores were posted. A 10-year-old girl – who was there with her dad – was the ultimate badass, with the most kills and also the highest accuracy rate.
I was somewhere near the middle, having managed to blast a couple of the rugrats running around me. When I asked the boys what their code names were, they sheepishly pointed to the two names at the very bottom of the leader-board. They had come in dead last. One of them in fact had managed a "0", failing to successfully tag a single opponent.
Despite their poor showing, they were still upbeat. They had, after all, two more rounds and even if they couldn't accurately hit anything, they were together and having fun. I did suggest they ask the 10-year-old girl for pointers, but they both refused. They were too shy to ask an older girl for help.
For the next two rounds, we were put into teams. Points-wise, my guys managed to do a little better. They also learned to use the old man as a shield. "Hide behind my papa. He's easy to hit." In fact, this strategy was something they suggested to their new team mates, who grinned and laughed. They too loved the idea of sacrificing the dad for their own advancement.

They'll need to stand up for themselves. In laser tag. And in life

At the end of both games, M and T1 still placed last and second last, swapping positions between them. But they were actually hitting opponents somewhat successfully, so their scores and accuracy were rising (however little).
Most importantly, they had a blast, and have made me promise a return visit in order to train and become better. Next time, however, I won't be entering the area. Not only was it exhausting, there is no way I am going to always be there to take the shots for the little guys. They'll need to stand up for themselves. In laser tag. And in life.

Chubby Hubby, Portly Papa is a regular column about adventures in fatherhood from Aun Koh.