The town that's embracing dementia and fighting back, together
From clowns and youths to caregivers, the folks of Arnsberg – where 1 in 5 residents is over 65 – show what social inclusiveness can do in the face of a worrying trend. The first in a CNA Insider series on how an ageing Germany is leading the way in long-term care.
ARNSBERG, Germany: At 98 years of age, Walter Rupert is still a man about town, stubbornly in control of his life.
Most days, despite advice to the contrary, he drives himself around in his manual Volkswagen Polo. His grip is firm on the steering wheel, his mind alert and his clear eyes focused on the road, as he shuttles between appointments: Monday meetings with the church deacons, Tuesday tea sessions for seniors, and chess with friends on other days.
The World War Two veteran lives alone and has no need of hearing aids nor dentures. Every day, he takes a walk if the weather is nice, or gets on his cycling machine at home if it isn't. In short, he is the town's poster boy for what old age could look like.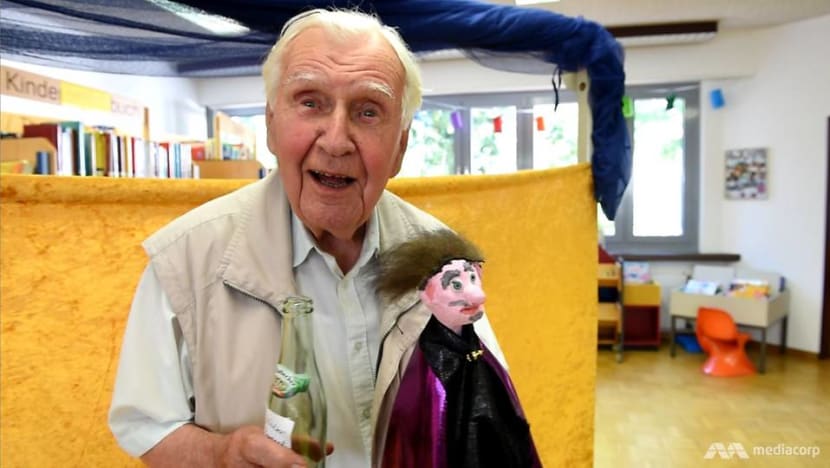 "Maybe, just maybe, I am lucky to live another two years, then I'll be 100 years old," the retired engineer told CNA Insider with a cheeky grin.
But life was not this picture-perfect just a short while ago.
His wife, the love of his life, was diagnosed with dementia 15 years ago. As her health and cognition deteriorated, Mr Rupert, already in his 80s, refused to put her in a nursing home.
Instead, up until her death early this year, he bathed, fed, and cared for her in their house on a hill. In that, she was like three-quarters of Germans with dementia – they live at home.

"The last six years were difficult," he admitted. "She didn't know her name. She could no longer speak and I had to see her face to know, was she hot or warm? Was she hungry or thirsty? 
She could not walk, so I had to carry her. All day and night, the responsibility was on me.
In many ways, the couple represent the flip sides of ideal and reality: The type of idyllic ageing that picturesque Arnsberg, a medieval West German town of population 80,000, is striving for – and the sober challenge of a dementia epidemic as its residents age.
Already, one in five townsfolk is over the age of 65. Come 2030, that proportion will grow to almost one in three. That is like senior citizens making up a third of the residents of Singapore's Bukit Timah, which has a similar-sized population.
This greying is happening across Germany, which has the world's fourth-oldest population. 
"We don't know much about (the effects) yet, because it's never happened on this scale before," said Mr Martin Polenz from the local government's Future of Ageing department.
What is clear is that roughly 1 in 11 seniors develop dementia. And in small towns like Arnsberg, the youth are moving away for better opportunities – so seniors can no longer rely on their children to care for them.
Luckily, Arnsberg started planning for this early.
WHEN A COMMUNITY GETS BEHIND SOCIAL INCLUSION
They began as far back, indeed, as the early 1990s when Germany's over-65 population was just under 15 per cent, like Singapore's currently.
The local government modified the city's infrastructure to make it more senior friendly – old folks can be seen out and about all over town, walking along the wide pavements with their strollers full of groceries, or resting on shaded benches. Others hang out in cafes with friends and glasses of schnapps.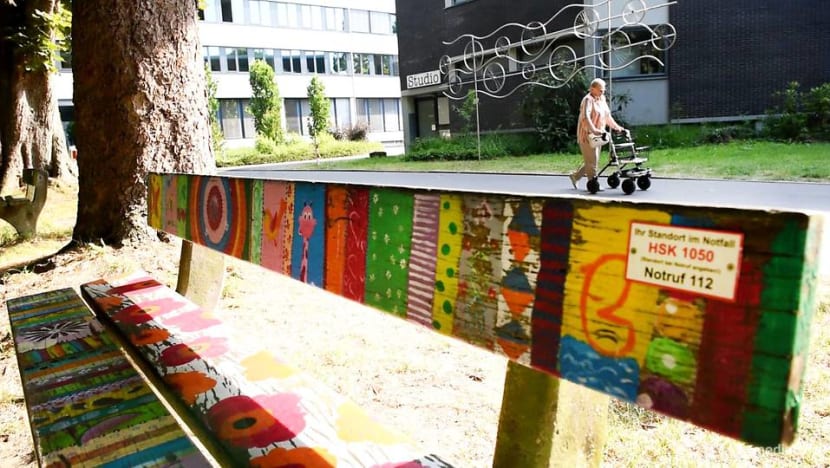 "We don't want our old folks to live on the isolated fringes of the city," said Mr Polenz.
One volunteer at a nursing home for those with dementia said: "In the past, people were hidden because when they were old, they became useless. So, they stuck them into nursing homes." 
Today, these same nursing home residents are a visible part of town festivals and parties.
The town's Department of the Future of Ageing, far from being a top-down exercise in planning ahead, set about tapping Arnsberg's strength: Its community spirit.
In 2011, the Learning Lab Dementia campaign was launched to crowdsource ideas on how to make the town more socially inclusive of those with dementia. 
We wanted to make it more normal to live with dementia, 
said Mr Polenz. "We call it a city of good and long life, and we want to establish that for everybody."
Some 400 people came forward with ideas from running dance studios to sports clubs. Even the circus from the community youth centre started recruiting seniors with dementia.
Arnsberg's community-driven campaign, which went on for a few years, earned an award from the European Foundations' Initiative on Dementia in 2014. 
And its ripple effects have continued.
Inspired by the example of the youth circus troupe, Mrs Petra Fromm, 60, started organising tea and crafts sessions for the elderly at the youth centre where she worked. The project, Café Zeitlos – meaning timeless café – was initially for those with dementia and their caregivers, but quickly became open to all seniors.
Every Tuesday, the youths join Mrs Fromm in serving tea and cakes. "The different generations are getting to know each other better, and we have observed that more and more teenagers are starting to understand why it's important," said Mrs Fromm.
Among her enthusiastic participants: Mr Rupert.
The café was an immense source of support for him during the difficult last few years of his wife's life, when caring for her was making him socially isolated.
"Coming here was his one day in the week where he could enjoy the company of others, and it was a great relief for him to leave the house and get a break," said Mr Polenz, who introduced Mr Rupert to the cafe. 
Since his wife's death, he has continued to drop by every Tuesday. The sociable grandfather, whose children live about three hours' drive away, lit up when CNA Insider arrived and immediately began engaging the new faces in conversation.
And when the seniors played pretend with their handmade puppets, cheeky Mr Rupert went around asking for kisses from each of the giggling ladies.
"He was a bit reserved and quiet at the beginning, but now he is thriving," said Mrs Fromm. "This is why I love what I do."
HELP TO LIVE ALONE AT HOME
One of the town's main goals is for residents to grow old in their own homes, instead of in a care institution. Not everyone is as capably independent as Mr Rupert, however.
That is where a service like ElHadri Senior Care comes in. Its founder, Mrs Amal El Hadri, 42, worked in ambulatory care for 20 years and realised that seniors needed more than just medical care. She said:
They just wanted some attention, someone to talk to. They said anything was better than staying in a nursing home.
So seven years ago, she started her company, and today she runs a team of professional caregivers who go around to some 300 seniors' homes to help with housework, run errands, work on brain-training exercises, or simply serve as a companion.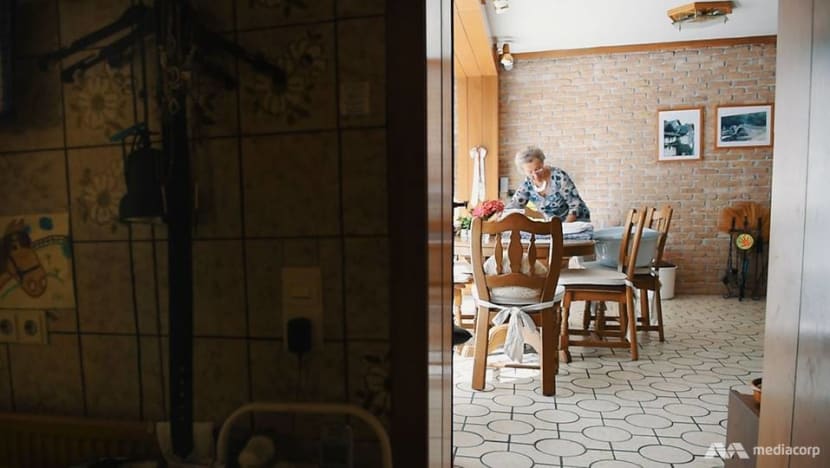 Take Mrs Renate Muller, 83, a widow with early stage dementia. She wants to continue living alone at home – like roughly a third of all dementia patients in Germany do – but her illness has made chores like cooking on her own impossible.
So several times a week, she is visited by trained healthcare worker Reben Manuela who does chores alongside her – so that Mrs Muller doesn't become completely dependent on having everything done for her – and helps her throw out forgotten old food.
Other times, they may bake, play games, go on long walks, or go shopping.
Ms Manuela also oversees Mrs Muller's medication and keeps a logbook of her condition which her children are kept updated on. "When the children come to visit, they will be able to spend quality time with their parents, since we have taken care of everything else," said Mrs El Hadri.
As simple as such help may seem, it can have a major impact on the quality of life of someone with dementia and their ability to be independent.
Mrs Muller, for example, has gotten better over the two years of using ElHadri's service, Ms Manuela said. "When I arrive in the morning, the bed is already made; she prepares breakfast and coffee."
While her memory is fuzzy, Mrs Muller cuts a figure of a woman who still takes pride in herself – from her neatly permed hair to the beautiful necklace around her neck – and shows off pictures of her family's Caribbean cruise vacation. 
On the living room wall hang more holiday photos of places like Cinque Terre and Asia, testament to the full life she once led.
For some people used to being in control, dementia can be a scary thing. 
"Many of them have given up on themselves. When they withdraw into their protective shell and if they don't have social-emotional support, the disease progresses faster," said Mrs El Hadri. "When we reduce their fear, they become more capable of doing things. 
We show them that they are someone, because many of them have forgotten it.
PAYING FOR IT
Home care like this doesn't come cheap – but the good news is, the cost is covered by Germany's mandatory Long Term Care Insurance (LTCI), which everyone including employers contributes to.
In recent years, the 23-year-old scheme has been updated to increase the benefits for those receiving care at home (some 70 per cent of LTCI beneficiaries).
More importantly, it now takes into account the needs of people with dementia – meaning for the first time, it considers not just a person's physical but also cognitive and psychological impairments, and the need for care arrangements to address issues like social isolation.
The result of this expanded insurance coverage is that services like ElHadri have been "booming", said Mr Polenz. Depending on their assessed care grade, seniors who need professional home care can get benefits ranging from 689 euros to 1,995 euros a month.
This can go to subsidising a huge chunk of the bill (ElHadri's services, for instance, cost 20 euros an hour), though most clients still end up spending out of pocket depending on the level of services requested.
Germany is one of only a few countries with a dedicated compulsory long-term care insurance system; others include Japan, South Korea and the Netherlands.
In Germany's case, the system covers a range of care-related costs, from institutional care, to day care services, to even informal care at home – providing allowances for modifying the living environment, and social security benefits for family members who spend a significant amount of time as caregivers.
But in Arnsberg, they understand that these systemic provisions aside, success in creating an elderly- and dementia-friendly community depends on people rallying together.
With a small annual budget of 20,000 euros, the Department of the Future of Ageing sources for community solutions, and supports volunteers with the resources they need.
What helps is the strong sense of volunteerism pervasive in the German ethos. "There is a culture of 'if we want something, we do something for it'," said Mr Polenz. 
SENIORS HELPING SENIORS
And that is why among the many volunteers and idea-starters are seniors themselves.
They want to help build the future of elder-care that they themselves can enjoy.  "I would like to stay in a shared community, and stay active in life for a long time," said Mrs Fromm of Café Zeitlos.
Mr Johannes Foster, 72, who volunteers at nursing homes dressed as a red-nosed clown, said: "My family is far away, and I can't assume that they will be able to care for me on a regular basis. I will likely be alone in a nursing home, and I would wish for myself that someone comes and spends quality time with me."
He and his friends are clinic clowns, who use songs, jokes and humour as a kind of therapy. They believe laughter is not only the best medicine, it also breaks down walls and helps build emotional connections with lonely, isolated seniors, especially those with dementia.
Take one elderly nursing home resident suffering from Parkinson's Disease, who had not uttered a word in weeks. Even the speech therapist couldn't get through to her.
In her goofy clown persona, volunteer Julia Willie, 44, began singing the first few lines of a popular folk song, then pretended to not know the rest of the lyrics. She pleaded and begged the silent old lady to teach her the rest of the song.
To everyone's surprise, the old lady opened her mouth – and sang.
"The speech therapist was so happy," Ms Willie recounted. "She asked if we could try to get the old lady to stick her tongue out and then to chew, and she actually did!"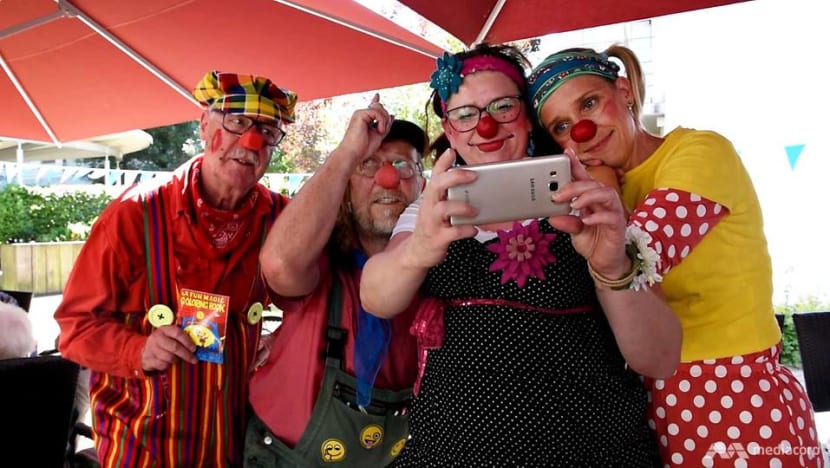 The magic of volunteer work isn't just the effect it has on the beneficiaries, but on the volunteers as well. Particularly if they are retirees looking to find purpose in life by doing something meaningful for the community.
The city council conducts courses to help such retirees find their path. Said Mr Polenz: "(They) feel that without work, they are useless. 
You need to offer to them a chance to feel like they are still a valuable part of society.
All sorts of programmes involving senior volunteers have resulted from this, from befriending services, to speed dating for seniors. One even set up a repair cafe where townsfolk can drop off broken items like radios, toasters or toys for seniors to mend.  
The sense of inclusion was never more evident during CNA Insider's stay in Arnsberg, than during the Schutzenfest, a centuries-old marksmanship carnival.
For three days, the sound of marching bands echoed through the streets as the marksmen – many in their 60s and older – made pit stops around the town. 
They made it a special point to swing past St Anna's Nursing Home, where the residents were lined up in wheelchairs outside to eagerly drink in the songs and festivities.
As roses were handed out to the elderly ladies and schnapps tossed back with the men, one nursing home resident was in tears. "From our generation, many are not around anymore," she cried hoarsely. "This is where the young and old meet again. Everyone is here."
For Mr Polenz, this is all still just the start of building a community where people can age in place and in grace. "We are at the very beginning of this development and there are still improvements needed," he said.
"We need to build a local culture of respect and responsibility, where people can rely on the support of the neighbourhood."
CNA Insider's trip to Germany was supported by the Lien Foundation, which has set out to encourage a dementia-friendly community in Singapore where some 78,000 people are reckoned to have dementia. By 2030, this figure is expected to reach as high  as 140,000.