Behind the scenes with SBS Transit: How to keep 3,000 buses running daily
Nearly four million passenger trips are made daily on Singapore's public buses. But who are the unsung heroes working to move so many people? On The Red Dot gains unprecedented access to the island's biggest bus operator to find out.
SINGAPORE: His paper bus model may not look anything out of the ordinary, but Mr Cho Wen Wei is quite proud of it. By his reckoning, it is one of SBS Transit's first paper bus models, "so it's very valuable".
His hobbies are collecting bus guides and memorabilia as well as exploring old interchanges, so one thing is for sure – he is crazy about all things buses.
"My family members call me a bus encyclopedia. It's faster than checking the app," he says with a smile. It is little wonder that he loves his job, as he gets to live his passion.
Mr Cho is in charge of cleaning and maintaining hundreds of buses – one of the unsung heroes working day and night to keep Singapore's public buses running on the roads.
He may not be one of SBS Transit's 6,500 bus captains whom commuters see every day, but he feels that he is "serving the public" no less.
"The bus industry is 24/7 from Monday to Sunday, even public holidays, so we need to work to support them at the back end, to ensure that the bus can go out and return every day," he says.
Running Singapore's biggest fleet – some 3,000 buses – is an immense task, as On The Red Dot found out after gaining unprecedented access behind the scenes of SBS Transit's operations, from managing its network of routes to unexpected road conditions. (Watch the three-part special here.)
Here are five ways the bus operator's teams do it, even if not everything always goes like clockwork:
1. BY MITIGATING TRAFFIC CONGESTION AND UNFORESEEN SCENARIOS
The nerve centres of the bus network are the operations control centres. Every bus on the road is linked to a centre, of which there are seven, each monitoring traffic conditions and the movements of over 500 buses on average.
The centre in Seletar Depot, for example, tracks 27 bus services to ensure that they run on schedule, covering a route network in Yishun, Ang Mo Kio and the Central Business District.
There are seven controllers on each shift, so each of them tracks about four bus services. They can relay instructions to bus captains, who can also report back on any accidents, traffic jams or incidents on board via a microphone.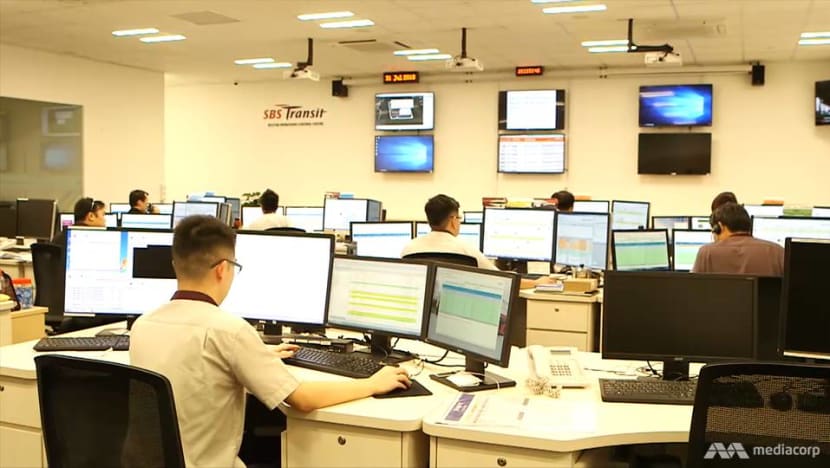 In this way, the controllers can adjust arrival times remotely, by telling the drivers to increase speed or slow down.
When one of the buses was ahead of schedule, for example, assistant service controller Francis Nah told the bus captain: "Slow down for two minutes. You're too close to the front bus, causing bunching."
Bunching occurs when two or more buses of the same service arrive at a stop together. This makes the service unreliable, creating longer waiting times.
Slowing down the second bus, however, is not the only solution. "If the front bus is too slow (and) the rear bus has already caught up … we'd ask the captain to safely overtake," said Mr Nah.
The most challenging service he must supervise is number 70, which goes to the central business district. "We do experience delays, especially during peak hour," he said, indicating at one point that its buses were nine to 10 minutes late.
During the peak period, the controllers' workload "gets doubled or tripled", in step with the increase in the number of buses on the road.
Overseeing all of them is Service Controller Deng Ziliang, who is in charge of the centre's operations –the "kingpin" as Mr Nah described him. And he usually has his hands full.
During one "tense" moment, after two buses broke down, another bus captain found a fault with a bus at the depot. "So now we're trying to mitigate all these by swopping some buses," he said.
Sometimes his team is put in situations "beyond (their) imagination", like the instance when the system they use to monitor the buses – the common fleet management system (CFMS), which uses a GPS locator technology – was hit by a connection problem.
Without the CFMS, they cannot communicate with bus captains on the road and cannot determine the actual location of buses.
To keep the situation under control, with peak hour looming, they used their phones to call the bus interchange personnel to continue their co-ordination work.
Once the server was rectified and the system was brought back online, it was business as usual and straight into peak hour traffic. "We need to react very fast because time doesn't wait for us," noted Mr Deng.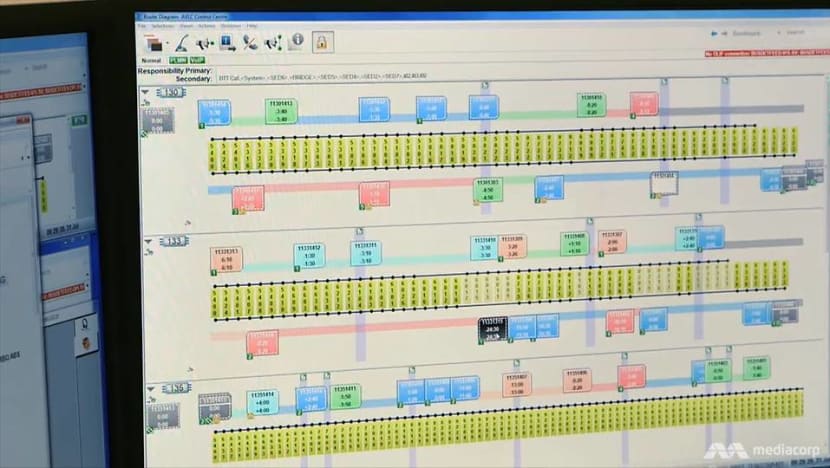 2. BY ENSURING STRINGENT MAINTENANCE 24/7
Public buses can operate up to 18 hours a day and thus require regular maintenance. Each bus goes through a three-hour check every two months.
At the workshop in Hougang Bus Depot – one of Singapore's oldest bus depots, having opened in 1983 – teams of technicians and foremen are constantly checking and repairing their fleet of 600 buses.
Repair times depend on the bus models and faults. Some buses take 30 minutes to fix; others with major defects can take days.
"For us, a good day means there's no bus breakdown," said senior technician Amin Tugiman. "If a bus comes back, then we've got a big, big problem."
The 59-year-old was one of the few technicians at the depot with the expertise to deal with one such bus that returned with an oil leak and in "quite a big mess".
Despite his nearly four decades of experience, it was a challenge. His investigation found coolant leaks – an issue that, if untreated, can cause the engine to overheat and be damaged – as well as other faults.
He had to remove the water pump assembly, among other parts, clean the gasket area and fit in a new one.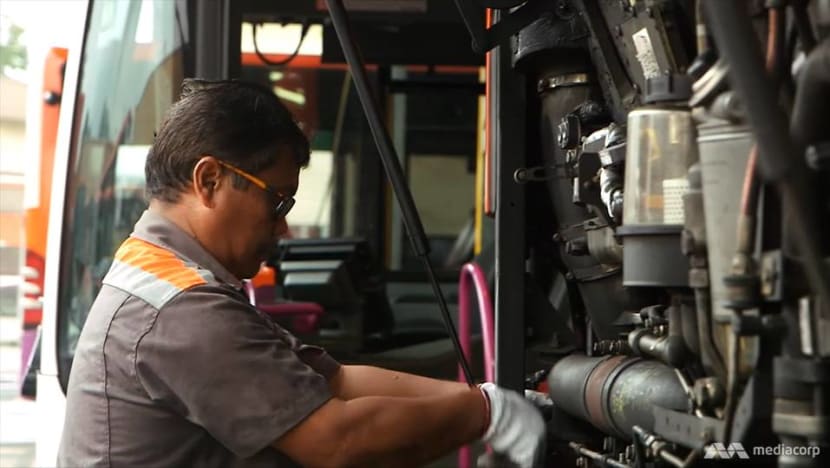 Once the technicians have completed repair works on each bus, they must take it for a road test. The bus must meet certain criteria, such as travelling uphill and negotiating sharp bends.
They have a little help from technology, a computer, to see whether all the signs are good. Some faults, however, cannot be detected by computers, "so you still need the human touch", said the workshop's deputy manager Aw Boon Huan.
It takes six years, reckoned Mr Amin, to be a good technician who "understands these engine systems".
"It's a good place to work actually, but then maybe the environment (looks) greasy, and the younger ones try to avoid doing all these jobs," he said.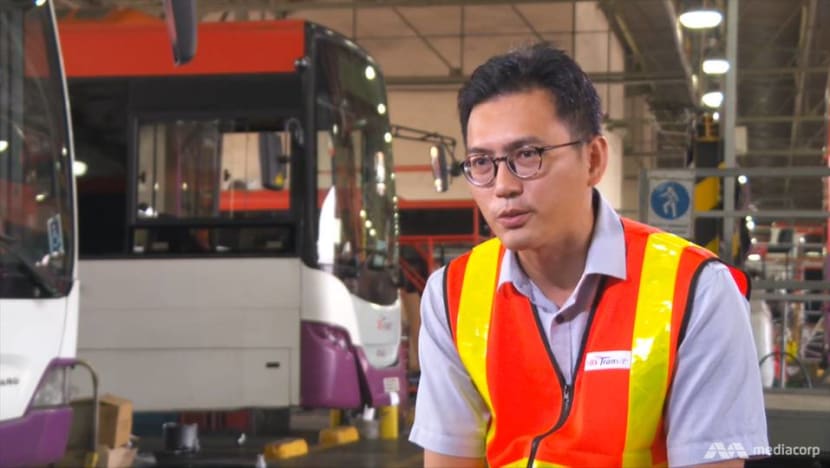 The workshop has over 100 staff, and its technicians are between 20 and 60 years old. At his age, it can get tiring, Mr Amin admitted. "When we finish work, all our energy is drained out," he said.
It is a reflection of the fact that the workshop never sleeps. "We operate for 24 hours, seven days a week," said Mr Aw.
Even when we go to sleep, our phone is still beside us.
3. BY CLEANING THE BUSES, METICULOUSLY
Another big operation is the washing of buses. At Bedok Depot, with a fleet of more than 600, this task is split into two sections.
Operation Wipe is the daily cleaning of the floors and windows, and Operation Wash covers everything from tyre rims and mirrors to handles and seats.
With a team of 30, Mr Cho is in charge of this process. To keep to a tight schedule, everything here must run like clockwork. "The constraint is basically the race against time," said the operations officer (Garaging).
"We make use of the split-shift period to wash the buses. And when the buses come back, we must be fast enough to complete the scheduled fleet for the day."
On average over a seven-hour period, around four buses are worked on per hour.
"So it's non-stop for them. They need to continue washing one bus after another without a break," said Mr Cho, who has five contract cleaners and two parking attendants to assist him.
He will inspect the buses once the washing is done – and he is meticulous. One of the buses was "quite clean", for example, but he spotted some dirt in the bus captain's area, and the dashboard was "a bit dusty".
So he made sure that those areas were cleaned again.
4. BY TAKING TRAINEES TO THE NEXT LEVEL
Every week, there are 20 trainees learning the ropes to become an SBS Transit bus captain. The candidates would have to go through more than 30 days of theory lessons and practice, as well as sit two exams.
They must pass the basic test to proceed to the next level. In the advanced course, the training includes learning service routes and navigating busy bus interchanges.
Trainers like Mr Desmond Au, who joined the company four years ago and has trained over 200 recruits, are seeing more candidates in their 40s and 50s.
Many are making a mid-career switch, and with a failure rate of five per cent, most are expected to make the grade.
Some of them may be experienced drivers who have worked with heavy vehicles, such as tipper trucks or tourist coaches. That does not necessarily make the job of a trainer easier.
"They may look at you (and go), 'Wah, I've got much more experience than you. How are you going to teach me?'" said 42-year-old Mr Au. Driving a bus, however, is another matter altogether, as he explained it.
"Driving a car, our front tyre is in front. You drive a truck – our tyre is below our backside. And now we're driving a bus. Where's our front tyre? Behind," he said.
So that's where they (make) a lot of mistakes.
He is usually assigned six trainees in each new batch. And there are four cameras in the training buses recording every moment of the driving sessions, which he uses to review their performances.
Safety is the number one priority. As the trainees also find out, however, being a bus captain is not just about driving from point A to point B.
By his own admission, Mr Marshall Wong has a bad temper. But after his basic course at the Hougang Training Centre, he realised that a bus captain "should be very patient".
"Previously, maybe I wasn't at that stage, but now I'm trying to learn. I'm trying my best," said the 40-year-old.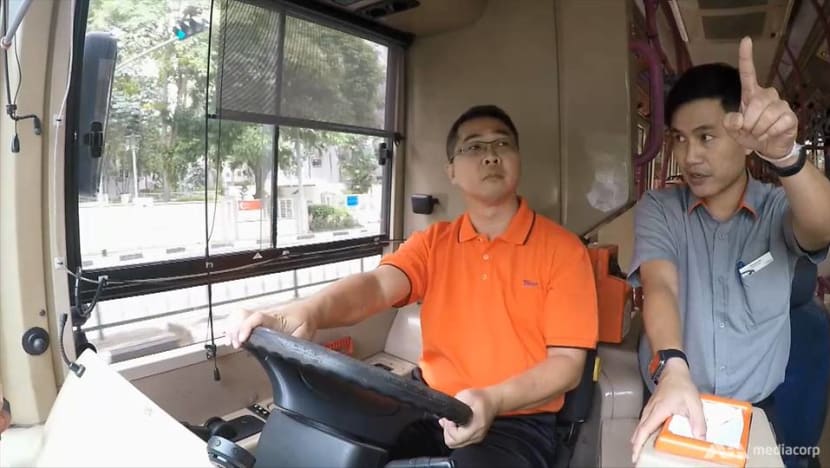 5. BY TENDING TO HARRIED CUSTOMERS
Over a span of 12 hours every day, the SBS Transit hotline office receives around 100 calls, from commuters reporting lost items to those asking for directions and others complaining about long waiting times, for example.
One customer relations officer who is used to handling complaints is Ms Jessamine Purusamy. Before joining the company, she had 20 years of customer service experience in the airline industry.
But some calls take even her by surprise, like the one she got from "a very nice lady" who had left a container of chilli crab on the bus and was "quite anxious" and "sad".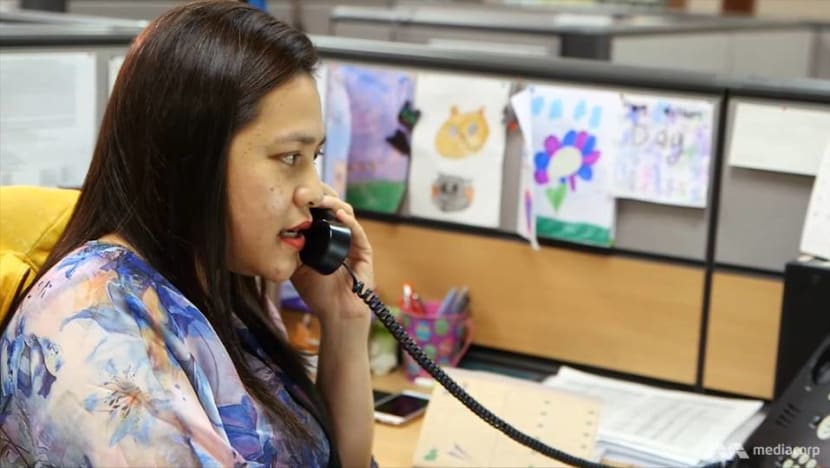 "She was telling me it was 'very expensive'. She spent, like, S$80 on it," recalled Ms Purusamy. "So I called the interchange that the bus was heading to and it so happened, yes, they did find the container.
"She went down to pick it up. I think it was a happy reunion."
Every week, SBS Transit collects over 150 lost items – usually mobile phones and wallets, and maybe cards – from its bus interchanges and MRT stations.
Unclaimed items are sent to its Braddell Road headquarters, where they are sorted by the staff, who work in pairs to ensure transparency.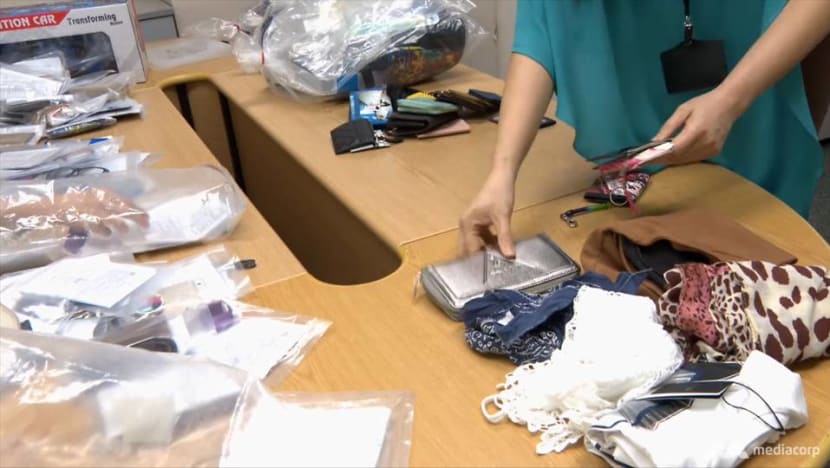 After three months, some items, like clothes and wallets, are donated to charity. Unclaimed cash is handed over to the Land Transport Authority. Items like phones and laptops cannot be donated and are sent to authorised dealers, said Ms Purusamy.
Her colleague Kamala Devi, who usually manages the online feedback portal but is assigned to answer calls once a week, has received a range of calls to the customer service centre.
Take, for example, callers who have asked for bus directions to famous seafood restaurants and roti prata shops.
"If they can give us some specific landmarks or something like that, we'd help them … because what's famous in their context, we wouldn't know," she said.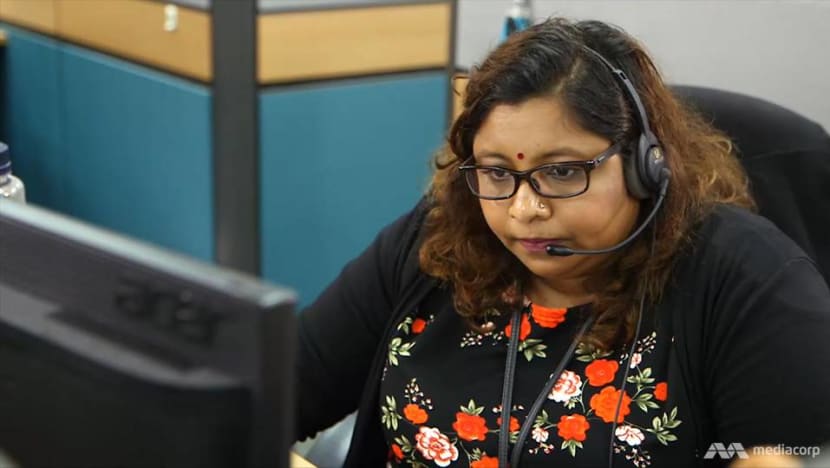 There was once a passenger who called after witnessing a bus captain who was "discourteous to a commuter who pressed the bell to alight a couple of times".
"Everyone just wants a resolution. There are some who call us at that moment, angrily, because they encountered something. But thereafter they're calmer. Sometimes they even call back to say, 'I want to withdraw that feedback,'" said Ms Devi.
Dealing with harried passengers is all in a day's work for the officers. "That's part of the service industry," Ms Purusamy said with a smile. "When you're used to it, it's just like another day."
Watch the three-part special here. New episodes of On The Red Dot air on Mediacorp Channel 5 every Friday at 9.30pm.