A sister's sacrifice: At 22, she's a sole breadwinner and 'dad' to 6 siblings
Nur Aqilah Selamat works the night shift to provide for her family, and – with some help – does what she can to ensure her younger sisters and brother have a bright future.
SINGAPORE: Every weekday night, Nur Aqilah Selamat packs leftovers for her "lunch" – to be taken when the rest of Singapore is fast asleep. "At 1.30am, I'll be eating this," she says, scooping rice and egg curry into a plastic container. "There's nothing (else) for us at night because most of the shops are closed."
And, with a quick adjustment to her headscarf and a swipe of coral lipstick, she heads out for the hour-long commute to work, with twins Nur Lutfiana and Nur Lutfiani, 9, running up to say a quick goodbye to their big sister at the door.
For about a year now, the 22-year-old has been an associate engineer at a semiconductor company, where her nine-hour shift starts at 10.45pm. She wanted these hours for they come with an extra allowance – meaning more money for her family.
On her slender young shoulders rests the responsibility of providing for her mother and six younger siblings, aged 9 to 20. "Being the eldest is one thing; but my love for my siblings is another," she said. 
"In every little thing, I always think about them …. I don't care much about myself at the moment. I want to do the best for them, just like how my dad did for me."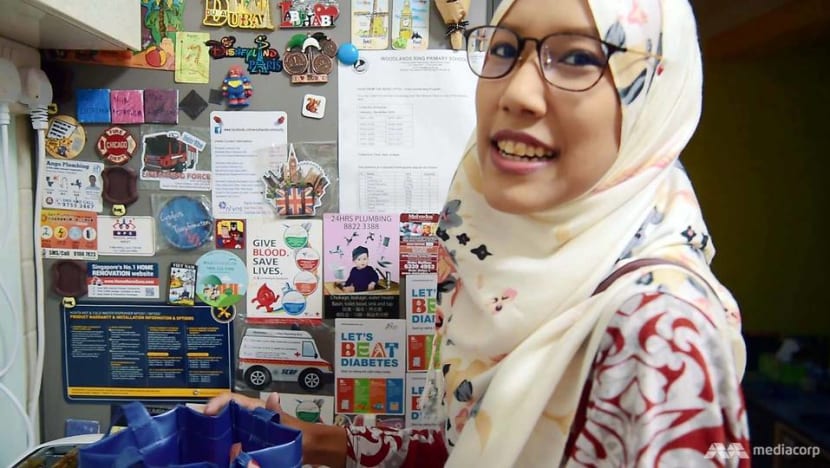 After her father retired as a Singapore Civil Defence Force (SCDF) firefighter in 2014, the polytechnic graduate took it upon herself to be more than just a daughter and a sibling. 
She became the family's breadwinner, even to the exclusion of her youthful dreams for now.
FROM STUDIES TO WORK
When her father retired at the age of 52, he received a lump sum pension of about S$70,000. Though Ms Aqilah had just entered polytechnic then, she began to do the calculations about her family's future.
"If you have one child, it's okay. But for the seven of us to go through that amount for a few years? It's not enough," she thought to herself.
The one thing she did not have to worry about: School expenses for her younger siblings, whose fees, uniforms and textbooks were fully covered under the Ministry of Education's Financial Assistance Scheme.
"With this help, we could cut down a lot on daily expenses," said Ms Aqilah.
Even so, without a steady stream of income, they had to find ways to reduce their household bills to not more than S$500 a month in total.
She got them all to take shorter showers (five minutes each), minimise their use of air conditioning, and not charge their electronic devices for too long. "Little things can save a lot of money," she said. "I could see the difference."
In 2017, after getting her diploma in aerospace engineering from Nanyang Polytechnic, she applied to local universities. While waiting, she looked for work to "save up a bit for university". She found a job at a semiconductor company in next to no time, and expected to be working for six months at most.
But, as the universities' rejection letters came one after another, she realised she had to put her plans on hold and focus on working full-time instead.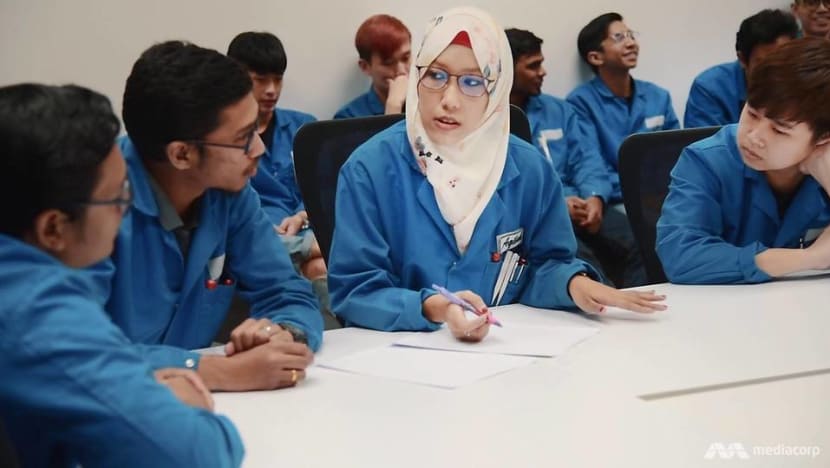 As a part-timer, she was earning about S$1,000. But if she were to convert to full-time employment, her take-home pay would be roughly double that including allowances. That made up her mind.
Though she really wanted to get her degree, she said with her characteristic positivity: "I shouldn't be disappointed because with my working experience, I know I can build my career to get a higher post or job."
FROM DAUGHTER TO DISCIPLINARIAN
Becoming the family's main source of income, however, was just one part of the role Ms Aqilah found herself stepping into.
When her father decided to seek training overseas after leaving the SCDF, she became the 'dad' of the family in other ways. She has fashioned herself as a disciplinarian, scolding her siblings when it becomes necessary, such as if they are late home from school.
"He passed on his responsibility to me, and I felt it had to be carried out for my siblings' sake," she said.
So she makes it a point to stay abreast of how they are doing academically: Besides the twins in primary school, three other siblings are in secondary school (the sixth is in National Service.) 
She goes to parent-teacher meetings with her mother, Madam Aktar Banu Mohamed Osman, 54, who is not highly educated and relies on her eldest to understand how her other children are faring.
Nur Mursyida, 13, remembers how her big sister tutored her for the Primary School Leaving Examination (PSLE). The latter had wanted her siblings to get into her alma mater, Woodlands Ring Secondary, because she had good teachers and liked the culture there.
These days with her sister working the night shift, said Mursyida: "She has no time because she would be very sleepy, so she sleeps maybe all day."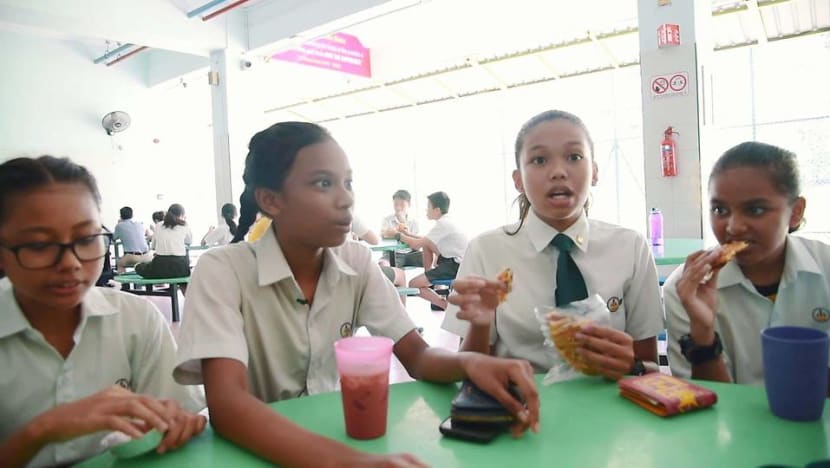 Ms Aqilah also handles all the financial matters at home – seemingly unfazed by tasks that, for many of her peers, "their parents would settle for them".
For instance, she ensures her family does not exceed their monthly budget; makes bill payments on time; and goes to the bank. "At first I was like, 'I already have school, and now I've to take care of a lot of things,'" she said, a pile of utilities and telephone bills spread out on the coffee table before her.
But at the same time, I was able to learn a lot of things by myself … so it's kind of a good start at my age to have experienced all these things.
As a mother, however, it is a bitter-sweet thing for Mdm Aktar Banu to watch her eldest daughter grow into her role. "I do feel sad looking at her," she said. "But I could depend only on her. Her other siblings were still very young."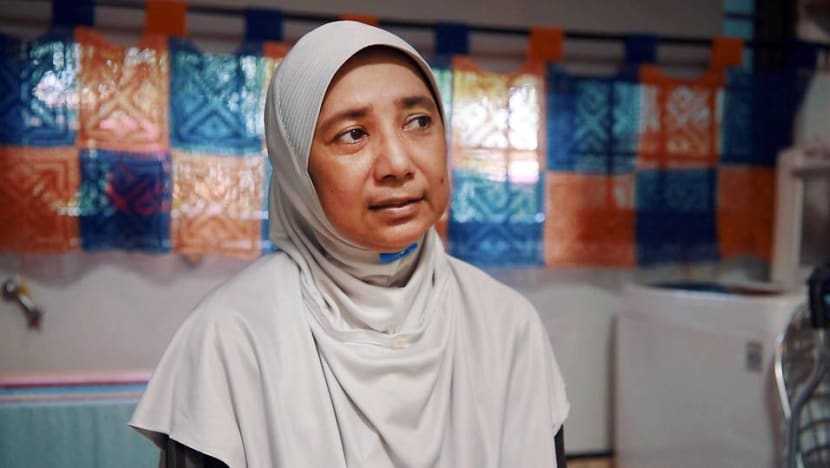 She added: "Aqilah has been taking care of her siblings since she was in kindergarten. I trained her so she can be independent." 
When her dad was at work and her mum out buying groceries, the youngster would watch over her brother and sister, helping to prepare their milk and diapers.
It's no wonder that mother and eldest daughter share the closest relationship and are like "best friends". "She has always shared everything in her life with me… even now, anything that happens at her work place," said the 54-year-old fondly.
RESPONSIBILITIES NOT A BURDEN
As much as she strives to fill her father's shoes, however, Ms Aqilah frets that she can never be a perfect father figure, mainly because "a dad's love is different from a sister's love".
Like in any family, the siblings get into fights, especially with some in their turbulent teenage years. "Some of them think our age gap isn't so big, so I'm more like a friend. A parent is someone you'd respect more," said Ms Aqilah.
Her face softened as she added: "But I'd never say anything hurtful. I don't take things to heart."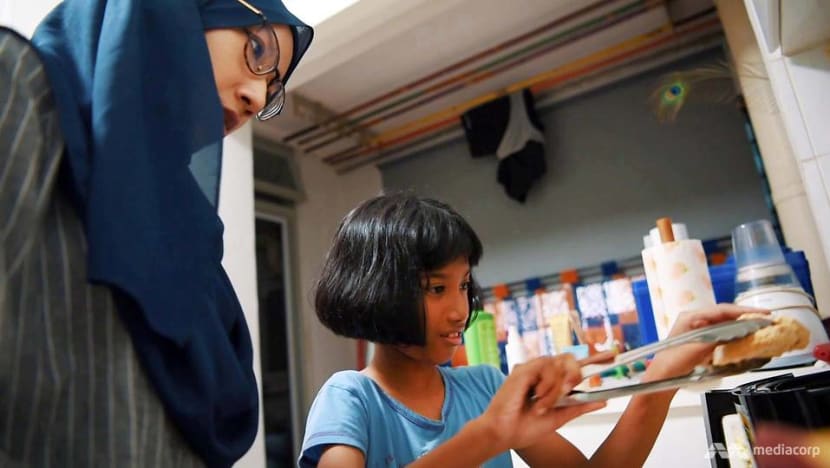 The quietest time she has to herself is when she is back from work at about 8.30am and her siblings are at school. That's when she kicks back and enjoys a movie or chats with her mother.
Some days, fatigued from her night shift, sleep comes the moment her head hits the pillow. As a bit of sunlight spills into her darkened room around the edges of the curtains, she gets about six to eight hours of shut-eye.
But uninterrupted sleep is a rare thing, especially once the twins get back at 1.30pm, followed by the others. "I'd wake up once in a while, like every hour … because when my siblings come home, noise is normal," she said. "Sometimes I have to force myself to sleep."
Having any kind of a social life is difficult. She misses meeting her friends for dinner or going window-shopping in the evenings, which is when she wakes up to have dinner with her family and sometimes help her siblings with schoolwork.
But, rather than pining for youthful freedom as her peers might do, she feels like a parent would about their children. "I don't really see (these responsibilities) as much of a burden. I feel it's something you can enjoy," she said with sincere conviction.
WATCH: Nur Aqilah's journey (5:04)
A LOAD OFF HER SHOULDERS
While it seems like a huge responsibility for her young shoulders, one thing that has taken a significant part of the weight off is the help the family has received along the way.
In particular, her five siblings' school expenses – such as fees, textbooks and uniforms – are covered by MOE's Financial Assistance Scheme (FAS).
The children started receiving assistance in 2013 as their father was earning S$4,000 a month, which worked out to a per-capita income well under the qualifying threshold of S$625 then – a criterion introduced in 2012 to benefit larger families like theirs. (Today, eligibility is based on either a gross household income of S$2,750 or less a month, or a per capita income of S$690 or less.)
And under the School Meals Programme, in each school week, the primary-school-going twins enjoy subsidies of S$2 a meal for seven meals, while those in secondary school get S$2.50 a meal for 10 meals. The FAS also includes transport subsidies.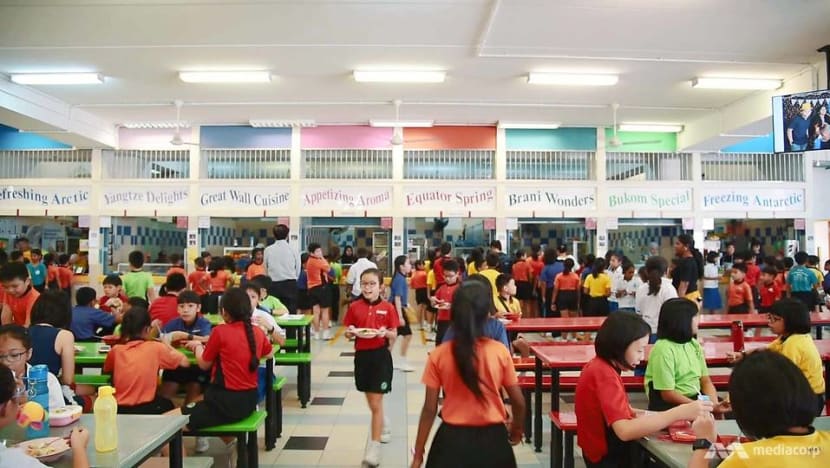 As for Ms Aqilah herself, when she entered polytechnic in 2014, her annual tuition fees of about $2,400 were covered by Mendaki's Tertiary Tuition Fee Subsidy. She received a S$3,000 annual bursary from NTUC Income's OrangeAid Future Development Programme in her final two years.
The financial aid has not made the family complacent, however. Since young, the children have developed a habit of saving a portion of their weekly allowance. Each child has one, if not two, coin banks of various shapes and sizes.
Holding up one shaped like a heart, which she has used since she was at secondary school, Ms Aqilah said with satisfaction: "The last (time) I counted, there was more than S$300."
Her siblings sometimes tap these savings to indulge in simple pleasures, like clothes or snacks. "You know the ice-cream uncle on a motorbike? They sometimes want to eat ice cream, so they'd take money out of their piggy banks," she said, adding that they did not need any other financial assistance with the household expenses.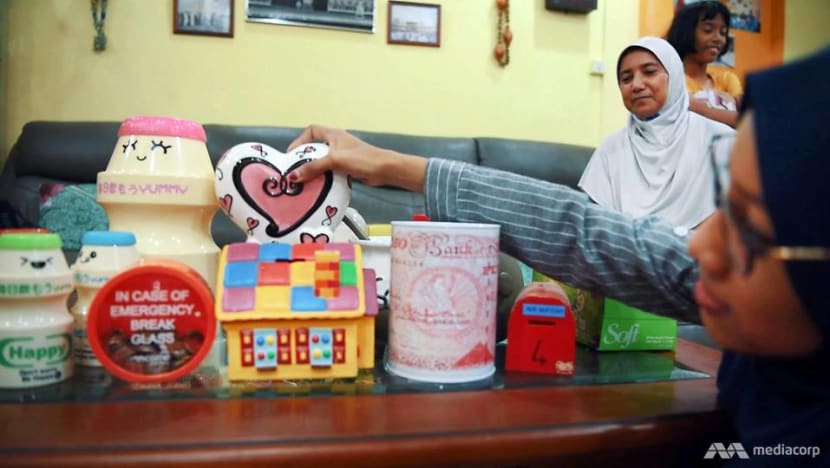 A TEACHER-IN-WAITING?
Even as her family's needs preoccupy her, Ms Aqilah has not forgotten her dreams. She applied to university again this year, and hopes to pursue a teaching career some day.
Teaching was her first love, and she had hoped to make it to junior college and then to the National Institute of Education (NIE). But when her grades landed her in polytechnic, even though one can apply to NIE with a diploma, she decided instead to pursue engineering as maths was her strongest subject.
Her former teacher, Mr Soong Cheng Xiang, recalls how she would helpfully coach her classmates at Woodlands Ring Secondary in maths. "She would be very patient in clarifying their doubts, even if the questions were very simple ones," he said.
And it was Mr Soong who told her, after she qualified for polytechnic instead of JC, that he'd always seen her as "a future lecturer". Ms Aqilah, who had all but given up on thoughts of becoming a teacher at that point, said: 
My passion in teaching came back when he said that. It felt like he understood me, my inner self.
His final words to her at a recent reunion: "Serve to the best of your ability. What our school taught us was to be a worthy person, be someone who selflessly contributes to society."
For now, she taps into that nurturing side of her in her workplace. Though the youngest in her team, she has been tasked to train newcomers and show them the ropes.
At home, she takes the time to tutor her younger siblings. But like any teacher should, she ensures that they learn independently too. "It isn't good to spoon-feed," she said. "They have their own examinations to go through. And during exams, you don't have your parents beside you."
Ultimately, her goal is to see her siblings excel in school – and in life.
"With all the help they've already received from the FAS, they don't have to worry so much about the burden on them," she said. "And they can focus on their studies now that I'm already working.
"(Attaining) good results wasn't easy for me, especially when I had to juggle a lot of things … I tried my best, but I know they can do better than I."
This story by CNA Insider was done in partnership with Gov.sg.