'Masculinity crisis' in China leads parents to enrol kids in boot camp
A Beijing club has set out to save young boys from being 'effeminate, petty, weak-minded and emotionally fragile', and to turn them into 'real men' in seven days, as the series Cram Course Asia discovers.
BEIJING: He is nine years old, but his mother says he behaves as if he is still in kindergarten.
In his free time, Tao Youqi would like nothing more than to play. But Ms Polly Hou tells her son that he is not hard-working and does not read enough.
"She says I'm extremely slow with my homework and that it's of lousy quality," said the boy.
Because of all that, she does not consider him a "manly man" – and because of his appearance too. "My mother thinks I'm too fat, so I'm not manly," said Youqi. "A real man has to be slimmer."
Compared with his female classmates, Ms Hou finds that they "all behave and look two years older". But he is not the only boy in Beijing who is not stacking up well in her eyes.
"I feel that girls these days are too outstanding. Boys have got to catch up," she said.
For parents like her who want their boys to grow into men, there is a recourse – a crash course, to be specific, in the form of a seven-day boot camp that aims to toughen boys aged between six and 12.
And the man running it thinks Chinese society has nothing less than a "masculinity crisis" on its hands.
"I've observed that there are some problems with our boys. Some are more effeminate, petty, weak-minded and emotionally fragile. Their fitness levels are also falling," said Beijing Boys' Club founder Tang Haiyan.
I want to tackle this crisis, save our boys and nurture young men for China.
Not everyone agrees with him, but as the new series Cram Course Asia discovers, there are crash courses across the continent for students of all ages and in any subject – from Indian dancing classes for families to go Bollywood at weddings, to training for cyber stardom.
And each of them says something about contemporary Asia. (Watch this episode here.)
'FEW MALE ROLE MODELS'
For many of the children who are enrolled at the Beijing Boys' Club, it would be their first time leaving home to attend a camp. Take, for example, eight-year-old An Zecheng, whose grandmother was worried about him being sent there.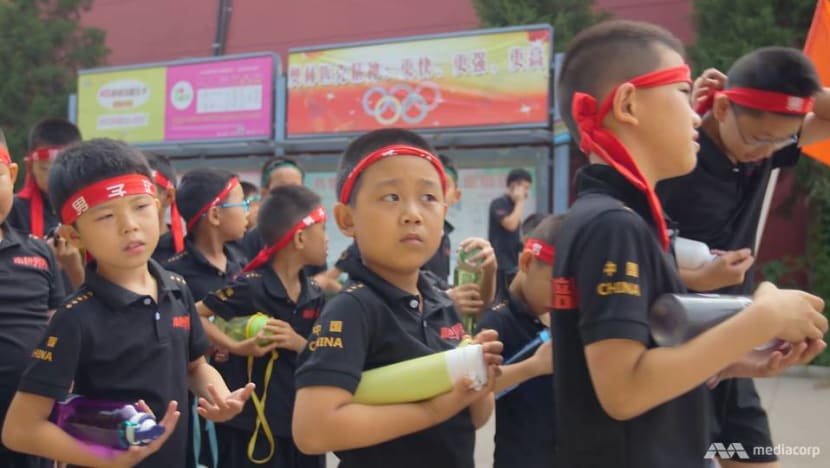 "I have a traditional mindset, so I don't like it if children are away from home," said Mdm Yao Shuqin.
His mother was worried too, but she signed him up anyway. "He's timid and lacks confidence," explained Ms Zhao Li. "He's the sort who's easily bullied by others because he doesn't face up to problems."
Zecheng's primary caregivers are his grandmother and mother, who is a working mum, while his father often goes on work trips. "This lack of a fatherly figure in his life contributes to his lack of masculinity," said Ms Zhao.
"If he becomes a real man, I hope he'll be responsible and be able to contribute to society."
Mr Tang, who set up his boot camp in 2012, holds the same belief. "One big contributing factor in the current masculinity crisis is that boys are growing up in an environment with very few male role models," he said.
"These days, boys are brought up by their mothers. In primary school, 90 per cent of the teachers are female. Mothers and female teachers don't know how to teach boys to be boys. They only know how to impart knowledge."
He thinks the one-child policy, which was in place from 1979 to 2015, has not helped either.
"If you're an only child in China, you'd have six adults – father, mother and both sets of grandparents – revolving around you. Growing up in such an environment causes problems," he said.
"Girls can be nurtured to be more ladylike, gentle and reserved. But if boys are brought up in a similar way, they'd grow up being like girls. Boys won't learn to be strong, brave and independent. They become too girly."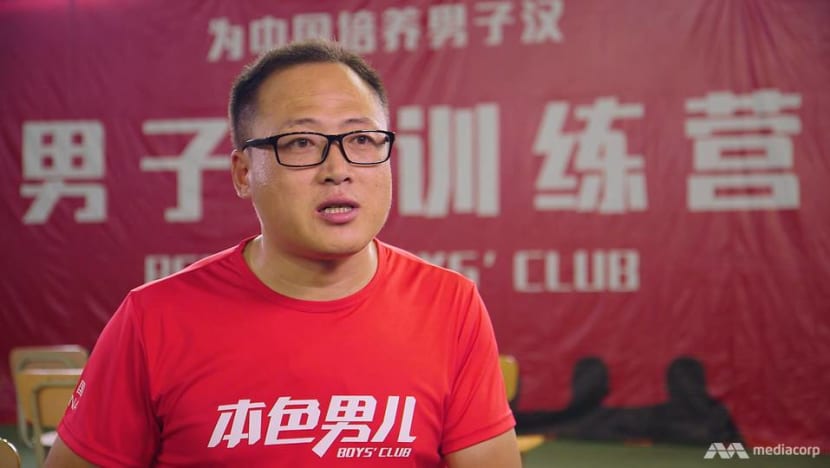 ALL WORK AND NO PLAY
In Youqi's case, he is not the only child, but his mother agrees that in the past, "you wouldn't think the boys weren't manly enough" – though for another reason.
"All the boys and girls spent their days playing outdoors," she said. "At that time, even the girls were boisterous."
Her son, on the other hand "lacks the time to play" because playtime has "made way for a range of extra-curricular activities".
Monday is for calligraphy; Tuesday is for piano and robotics; Wednesday is for language and calligraphy; Thursday is for English; Friday is for Weiqi (the intellectual board game Go); Saturday is for mathematics, English and Weiqi; and Sunday is for badminton, art and Weiqi.
Mr Tang is less concerned about the lack of play children have than their lack of a "strong will" that he said characterised the earlier generation when life was tougher.
"Everyone worked hard to overcome the tough times. Children had to work and do chores. These days, children don't do anything," he lamented.
That is why, to learn independence and responsibility, the boys at his boot camp must do chores, such as tidying their room and washing their clothes.
That was something 11-year-old Zhou Xiaoyu found troublesome during his time there. "I've done laundry at home using the washing machine – all I needed to do was press some buttons. Over here, I have to hand-wash my clothes," he complained.
He was sent to the camp because, even though his mother knew him to be an "outgoing … innocent and kind boy", she wanted him to have more self-discipline, including at school.
"Before he was in third grade, he couldn't even sit still for a moment," said Ms Yu Yue. "Not only is he slower than the girls, he's also slower than other boys his age."
FROM A 'MAN'S CHEER' TO A PLEDGE
So how else does the boot camp, which costs US$730 (S$1,000), go about transforming Beijing's boys into the masculine men Chinese society expects them to be?
It starts even before they get there. On the bus to the camp, they are taught "a man's cheer".
When their coaches ask them who the best is, they must yell, "I'm the best." When they are asked who's the strongest, they are to shout, "I'm the strongest." And when they are asked who they are, they must cry out, "I'm a man."
In his welcome remarks to the group including Youqi, Zecheng and Xiaoyu, Mr Tang made it clear that they would not be treated as "pampered little boys".
"Children, you must know that we're men. What does it mean to be a man? It means you're the pillar of your family," he said.
"In our families, fathers are very busy, and they shoulder heavy burdens. That's a man's responsibility. To a country and its people, men are the pillars of support. So I hope we'll learn how to be responsible."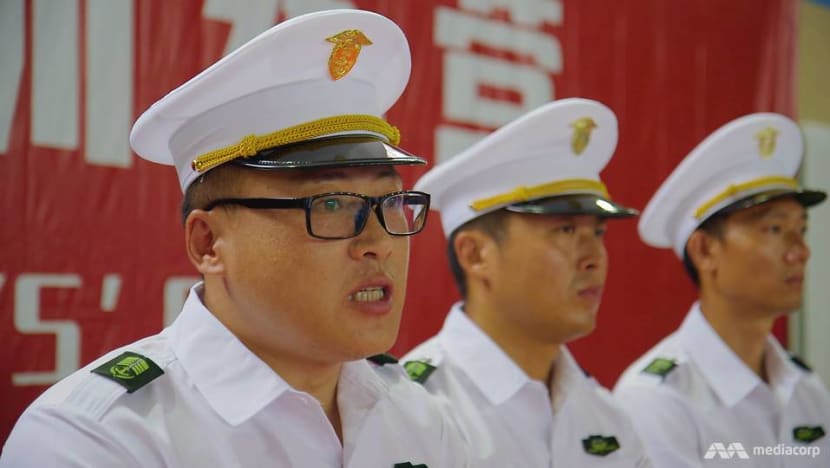 For seven days, phone calls and visits are not allowed. It is not an army camp, but the coaches conduct military-style training such as drills.
"We want them to feel that they can do what the average person can't do … This is the reason we conduct military training here," explained Mr Tang.
"The military is the best place to train boys to be determined, courageous and have exemplary behaviour. Everyone knows that the military is a place where you train men to become better people."
And, he reasoned, every parent wants their children to have a strong character.
WATCH: How to toughen up 6- to 12-year-olds (5:39)
There are also activities like American football and sumo wrestling – "rough" activities that children do not get to do at home and in school, he said.
"Some parents may find them dangerous. But they're important for building up the boys' courage," he added.
The boys are split into two teams to fight each other. Each day, the winning team is awarded what is known as The Red Flag, and one boy from that team is honoured as the Hero of the Day.
"The teachers would often single out the student who wins the Hero of the Day badge and make him an example for the rest to follow," said coach Cheng Long.
"We'd get him to demonstrate some of the activities, so he'd get a lot of attention. I think that gives the children a strong sense of achievement."
There is even a "men's pledge". As the children recited, "There are three things we need to protect and cultivate: Our country, honour and aspirations."
CHALLENGING STEREOTYPES
Not everyone supports such efforts to "save" China's boys. Women's rights activist Feng Yuan, for one, does not think the crisis is real, especially if boys are being judged by examination results.
"It's not as if all the girls are doing better than the boys. But rather, traditionally, people are used to boys doing better ... Now that people see how well girls are doing, they start to feel anxious," she said.
"Everyone thinks it's only right that males are stronger than females. So the moment boys aren't performing up to expectations, people start to overreact."
The co-founder of the non-governmental organisation Equality (Beijing) also questioned the different attributes associated with men and women in China.
"The qualities that are important today – for instance strength, willingness to learn, open-mindedness, bravery, decisiveness and responsibility – are all qualities that shouldn't be found only in a man," she said.
"These are qualities that every responsible, fully-functioning human being should strive to have."
Over at the Beijing Wing Chun General Association, Grand Master Wang Zhipeng has seen how girls want to be "tough" and "more courageous".
At his wushu school, the number of female students keeps going up, and they are increasingly winning the bouts against the boys. But that also leads him to conclude that boys today are "weaker and less manly".
"There are many boys who don't know what they're doing," he said. "Compared to girls, boys have poorer coordination. The lack of exercise might be the reason they're uncoordinated, impatient and distracted."
One girl who is proving herself in the ring is 10-year-old Wu Jingshu. Before she had that chance, however, she had to win a battle at home: Her father was not keen on letting her learn Wing Chun.
Said her mother Shang Yanling: "He thinks it's useless for girls to learn martial arts. He would rather have her learn skills that are more elegant and ladylike, such as dance, singing and piano."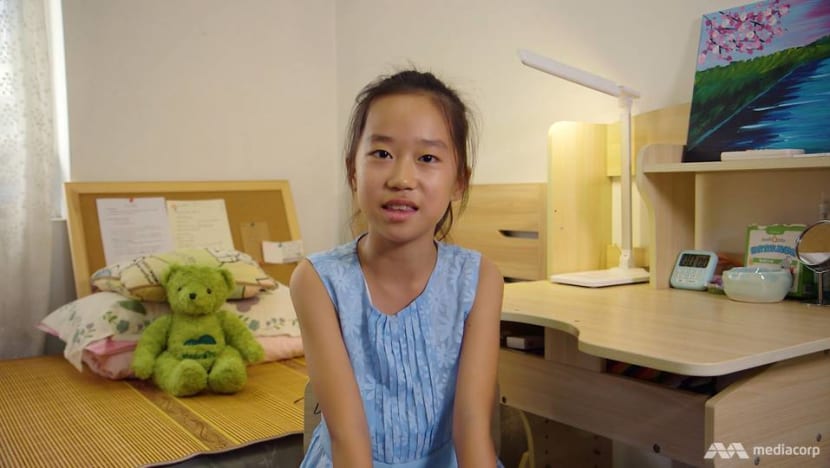 But Ms Shang was more supportive. "As a mother, what's more important to me is that she's able to protect herself, accept failure and also have the courage to charge forward," she said.
"That way, whenever she faces challenges, whether at work or in her learning journey, she'd be able to move forward."
Jingshu does play the piano and practises every day. But she does not like it and finds it "tiring". Wing Chun, on the other hand, has taught her to be confident and improved her fitness.
"Now that I feel more capable, I don't run away from my problems. I'm not scared any more," she said.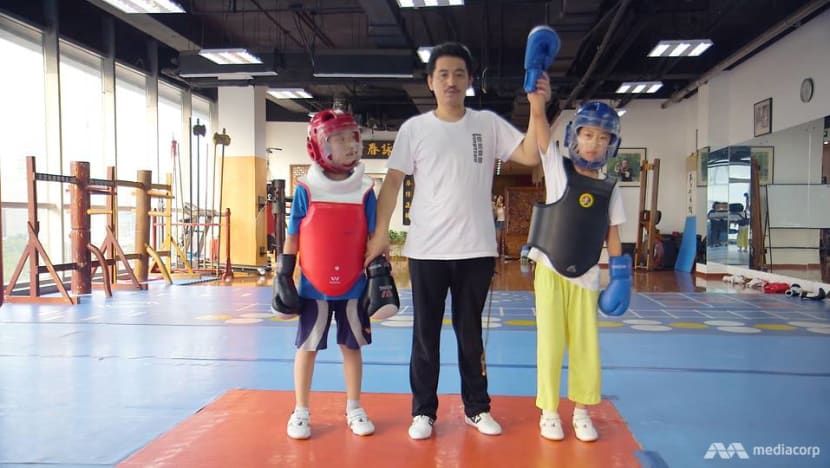 HOW THE BOYS FARED
So how did the likes of Youqi, Zecheng and Xiaoyu cope with the higher expectations for them at their camp?
It was not so easy for Zecheng, as one of the youngest boys there. His short attention span was apparent throughout the camp, like the time the coach was giving instructions on doing somersaults.
Before the coach could finish talking, the boy tried a somersault and bumped into another student. He was given a time-out, said Mr Cheng, so that his "recklessness" would not cause any injuries to his team.
That incident made Zecheng a little tearful. But even so, when the camp ended, he said: "Compared to the first day of the camp, I think I'm manlier now."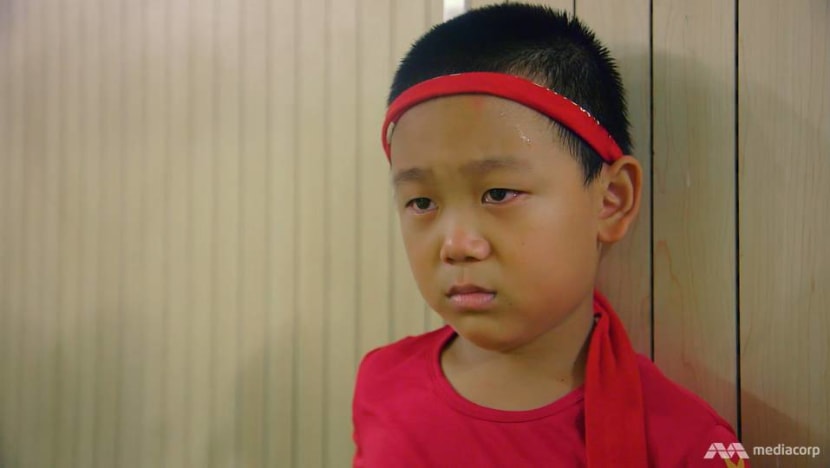 For Xiaoyu, there were times when he was tired and missed his parents. He even once shouted under his blanket, "When can I go home?"
But he also wanted the Hero of the Day badge because he thought it would be an honour.
For four days, his team could not win The Red Flag. But on the fifth day, when he was appointed the group leader, they succeeded – and he got his wish.
Not only that, he ended up with the Most Outstanding Student accolade. Excited as he was, he also felt "a little bit sad" that the camp had drawn to its close.
"After coming here, I feel like a different person. I'm not so self-centred any more, and I see everything as a team effort," he said.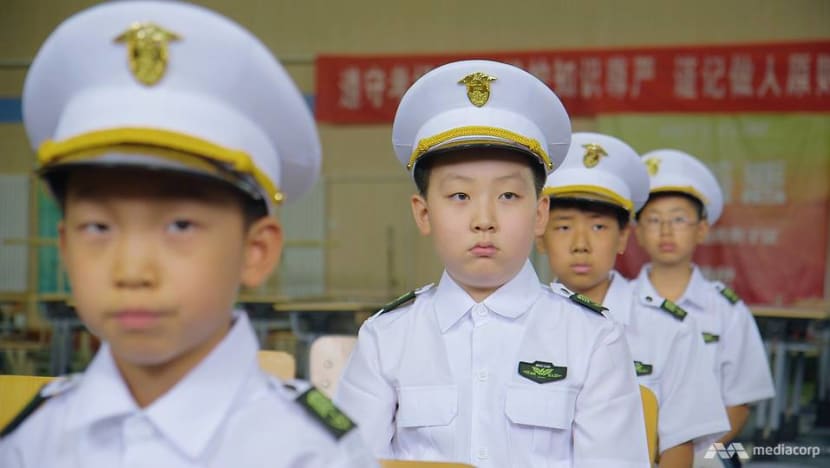 Youqi, too, imbibed some of the Beijing Boys' Club's ideas about manliness. He wrote in his camp diary: "We should create value in our lives with our own efforts.
"If you rely on your mother to do everything for you, then when you grow up, you won't even know how to wash vegetables. So we have to learn how to do our own chores from a young age."
In the end, however, the seven days could not have flown by quick enough for him. "There are no iPads, computer games and mobile phones here. I don't want to attend this camp any more," he said.
Cram Course Asia airs on Tuesdays at 8pm. Or watch it here.