'It's a blessing': Why a millennial 'towkay' fasted with his Muslim migrant workers
He has a degree in business and finance. But to get to know his family's construction business better, he lived among their foreign employees to learn from them.
SINGAPORE: For the past 31 days, Nicholas Tai Wei Ming had been waking up at 4.30am to eat, before abstaining from food and drink from dusk to dawn like Muslims around the world observing Ramadan.
But the 28-year-old, whose family owns a small construction company, is Catholic, not Muslim.
This is the second year that Mr Tai has fasted alongside his Muslim employees during Ramadan, and his reason for doing so is simple.
"This is the least I can do to relate to them," said Mr Tai, who joined the family business in 2015 as a project manager, overseeing reconstruction of residential buildings such as bungalows and terrace houses.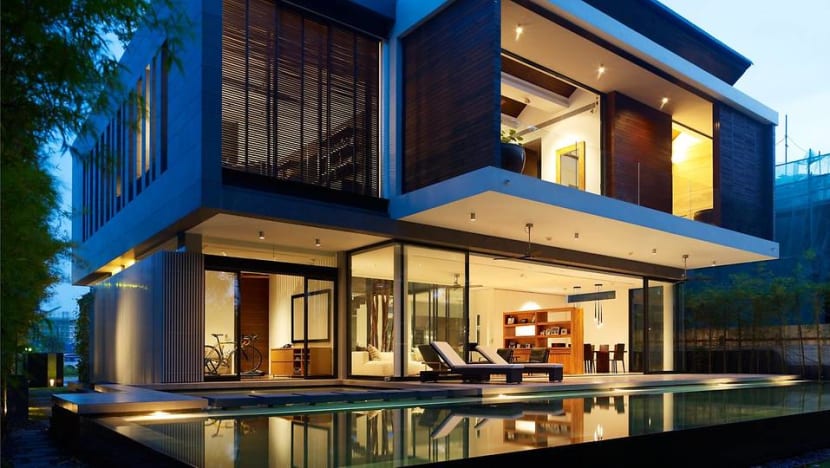 Other than Muslim workers from Bangladesh, he also enjoys working alongside men from India, Myanmar and Thailand. "Getting to know people from different cultures", he notes, indulges his "inquisitive character".
"I always consider it a blessing," he said.
FROM BANKING, TO CONTRACTOR WORK
Growing up, the Nanyang Technological University graduate in business and finance took scant interest in his parents' trade. The Tais started out as subcontractors in 1996 installing automated gates for clients.
As the firm grew to become a main contractor, the young Mr Tai and his two siblings would sometimes pop by the construction sites, although their conversations with the workers never went beyond "hi" and "bye".
That changed after Mr Tai did a six-month internship at an investment firm in the Middle East, and he started having second thoughts about a career in finance. The sedentary job didn't quite suit his active nature. 
"I decided that I didn't want to sit down in the office for too long," he said.
So instead of becoming a banker, after getting his bachelor's degree in 2015, Mr Tai became a contractor - a job he knew nothing about. 
In order to pick up as much trade knowledge as quickly as he could, he thought the best way was to live among - and learn from - his workers.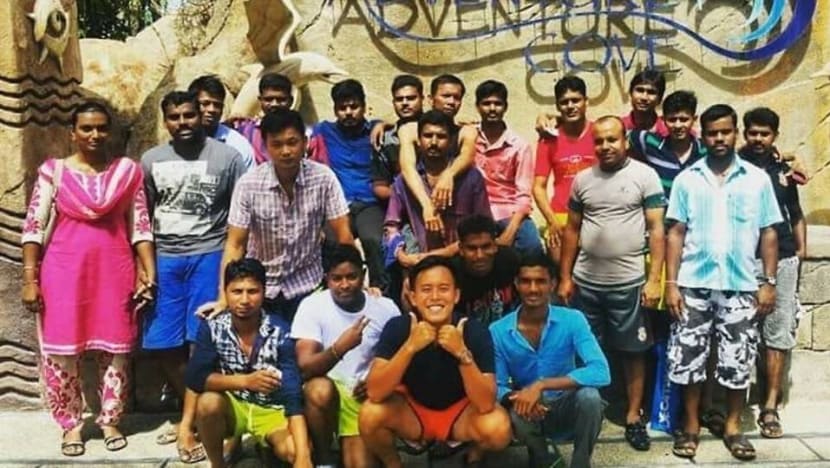 The 25 employees from Bangladesh, India, Myanmar and Thailand, most of whom have worked with the Tais for many years, reside in houses the company rents for them. 
Compared to living in workers' dormitories, as most migrant labourers in Singapore do, the men get more privacy and enjoy the convenience of living near MRT stations.
THE WORKERS' HOUSEMATE
For a year, Mr Tai was their housemate. In addition to learning about cuisines "from around the world", he became more than their young 'towkay' or boss.
The men, he said, "started out a bit shy". So to help break down the walls, Mr Tai tried, among other things, to learn simple phrases in their native languages. "'Have you eaten?', 'How are you?' that kind of thing," he said.
He would also hang out with them after work, bonding over beers, soccer matches and frequent barbecue sessions at East Coast Park.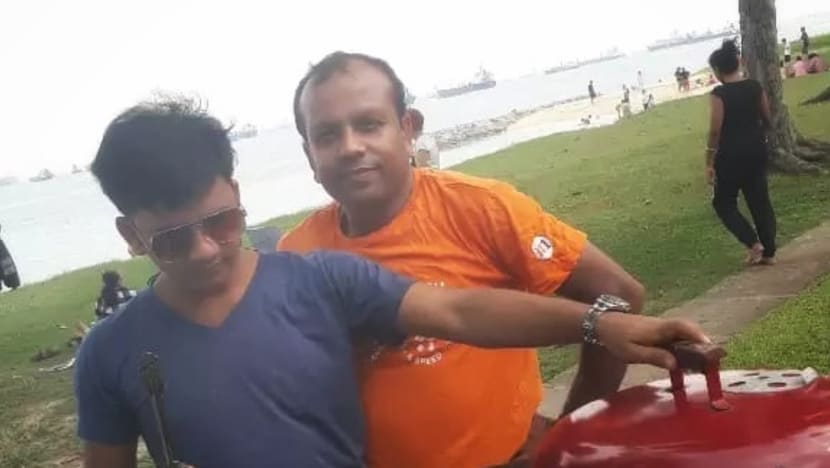 "I just want to make them feel as comfortable as they can. And if they're happy working for us, I will also be happy," he said.
Mr Tai said that while he got his business acumen from his parents, most of the technical skills he learnt from the "people on the ground". In particular Gopal, one of their longest-serving site managers from India who has been with them for nine years.
The two - who are only three years apart in age - have become fast friends. Said the young boss:
Whenever I have fights at home, I come and find my manager and we talk and we drink. And when he has stuff he wants to share with me, he does the same.
Mr Tai enjoys such a close relationship with his employees that since 2015, he has attended three of his workers' weddings back in their hometowns. 
And just last year, he even organised a short holiday to Thailand for the more senior staff to allow them to "see the world a bit more".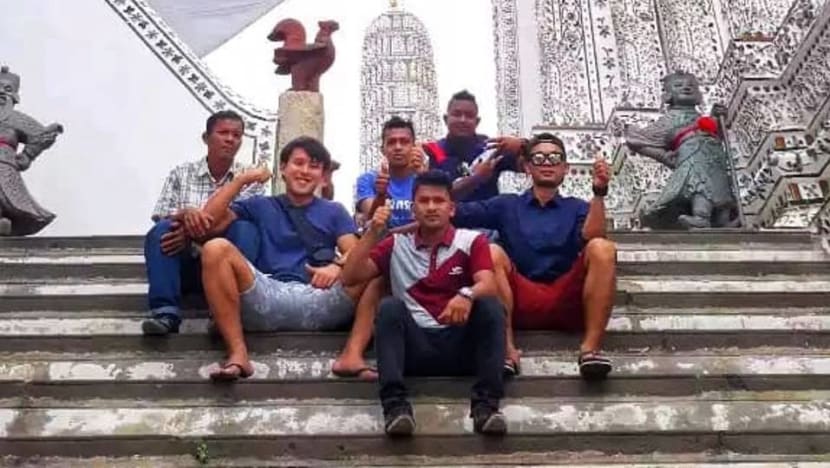 THE MILLENNIAL APPROACH
However, when there is work to be done, Mr Tai said he does not let "personal feelings" get in the way of his "duty to deliver" to clients.
Still, that does not mean sticking to the old-time, top-down style of management. As a millennial, Mr Tai prefers a more open-minded and flexible approach.
For example, instead of mandating a fixed number of working hours, he prefers to set his employees benchmarks.
"Let's say we estimate that construction takes 5.5 days. But if we are able to complete the job in 5 days, then what's the point of coming in for the sake of coming in?" he said.
I want people to maximise their time at work, and also have some time to relax.
He also thinks it is important to be humble. And by "working from the bottom up" and learning from his workers, Mr Tai hopes that eventually, he will be able to "lead and inspire them in a different way".
"I can't come in and act authoritarian because I lack knowledge and experience," he said. 
He admits that his new, less hierarchical way of managing has yet to "show results" in a concrete manner, but the work culture is definitely changing, he noted. "In the past three years, the mindset of how we approach things has become a lot more positive."
And this, he believes, will lead employees to "reciprocate with work that helps the company".
AN EXPERIENCE IN EMPATHY
Last year, Mr Tai decided to fast during Ramadan for the first time.
"In our line of work, you're in a very strenuous environment, and they still try their best to fast for the month," he said.
I wanted to know how it felt like.
He got Mr Shaoket Hossen, a employee of 10 years, to serve as his guide. Said the Bangladeshi: "I tell him besides fasting, one month no drinking, no smoking, cannot do bad things - the mind must be clear."
It was due to his experience last year, that Mr Tai did things differently at work this year. "I tried to arrange for the Bangladeshi workers to do jobs that didn't take too much from them, so that they could properly carry out their fast and religious duties."
Just as he spends more time with his Muslim workers during Ramadan, so "on other occasions, such as Deepavali, I spend more time with the Indians," Mr Tai said.
"They really appreciate it when locals show interest and want to be involved with them."
Getting to know his multinational employees better has been "a blessing".
"I get to experience things most Singaporeans won't get to. Like you can go to India, but do you actually get to go to the village, meet the family, get to know why these workers are here, who they are supporting?
"It's very rewarding knowing that I'm indirectly helping the people they are helping. Like what Shaokot said - we help each other," said Mr Tai.