Flood of interested art buyers, and a job offer, for artist living in IMH
Mr Sim Kah Lim's story about his gift and love of painting may open new possibilities for him as readers and viewers respond generously, including with offers of donations.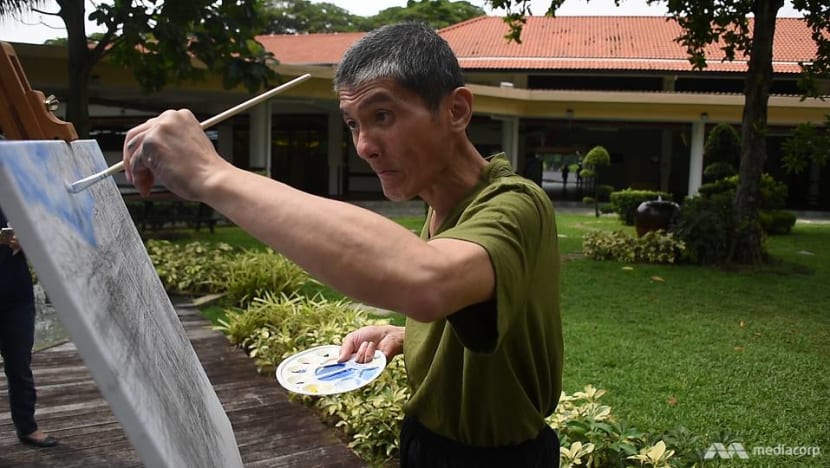 SINGAPORE: When Ms Cindy Sim heard of the job offer for her brother, she instinctively hugged Goshen Art Gallery co-founder Faith Lum-Yu, who had reached out with the proposal.
Many others have responded generously, offering the family cash donations and to buy her brother's paintings, following CNA Insider's story about 50-year-old Sim Kah Lim, who has been institutionalised for nearly 35 years and paints old Singapore from memory.
The possible chance, however, for him to reintegrate into society, as both siblings see it, has thrilled them the most. "I'm happy and touched that somebody recognised his talents, and is willing to give him a chance," said Ms Sim.
"It would be good for Kah Lim to get back into society, back to work and interacting with people. Now he's still living in his own world. When people talk to him, he'd just interrupt."
WATCH: His gift unfettered (6:16)
But there are many other considerations to take into first, and she admitted that it was early days.
The last time he was in any sort of job was as a 10-year-old helping an advertising company to paint movie posters and bus advertisements, before he was diagnosed with schizophrenia.
"Nor has he gone out for a long time. I'm just a bit worried about whether he can cope," added Ms Sim.
Her brother, however, is already talking about using part of his future salary to employ a helper for their mother.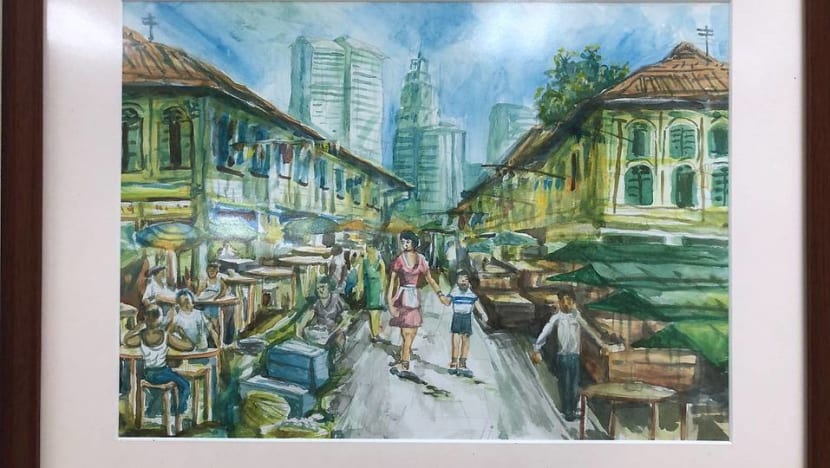 WAITING ON DOCTORS' ADVICE
Ms Lum-Yu decided to offer Mr Sim help in the hope that he can "have a sustainable way of life". Her new social enterprise ArtSE provides employment for individuals with special needs, especially artists.
And having met him and his sister at the Institute of Mental Health, she was struck by his talent and knowledge of the old Singaporean painters.
"Kah Lim is such a lovable person. We talked about artists; even the ones that we represent, he knows them. We had a lovely time talking," she said.
He was excited when they spoke about the possibility of employment, but she cautioned that "we want to take it slow". She said: "We'll wait for the doctors to advise us what days he can come out to work.
"We're going to impact on another person, and that's what we're looking forward to – it gives a greater meaning to what we're doing."
The idea is to have a senior artist mentor Mr Sim at the gallery once or twice a week. He, too, could share his knowledge with budding artists, but that would depend on how ready he is.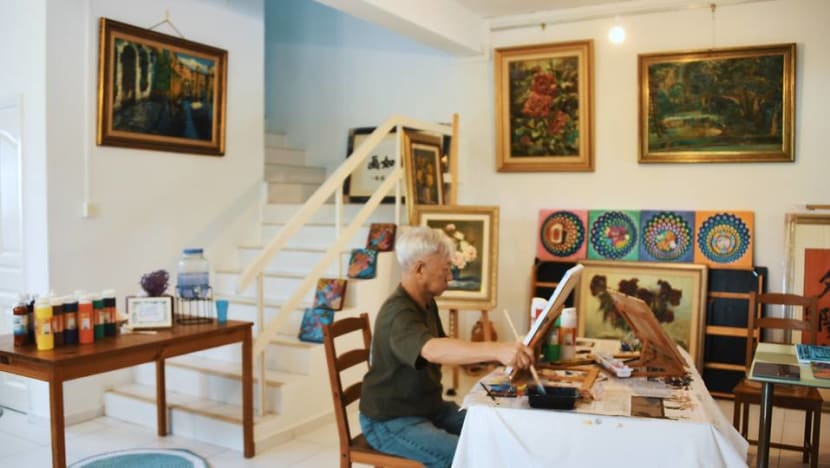 Ms Sim intends to take her brother out to crowded public places first, to observe how he interacts with others. She will also show him the art gallery to see if he likes the environment.
Ascertaining whether he is ready for the job will take some time, while full reintegration is a long way off, she admitted, as a sudden return to society would be "a shock to the system".
MANY FACTORS IN CONSIDERING REINTEGRATION
The first step, however, is for Ms Sim to work closely with the IMH doctors.
"His consultant said it would be good if he can slowly integrate back into society, and he'd love to see if Kah Lim can progress to that stage," she said.
"I'd love for him to be out completely, but partially is good enough. Eventually, he can change for the better, to be completely okay.
We'll take it step by step. I'm still in good health – I can take care of him.
When contacted, the IMH said that in assessing a patient's readiness for reintegration, the care team would consider his clinical condition, the ability to support himself in the community in areas like home support, and the ability to do practical things like use public transport and money.
The team must also consider the patient's wish to return home or not, and whether there are carers around, such as family members.
The IMH said its occupational therapists and vocational specialists assist individuals in their job search and placement when they are ready to take up employment, based on their interests and skills.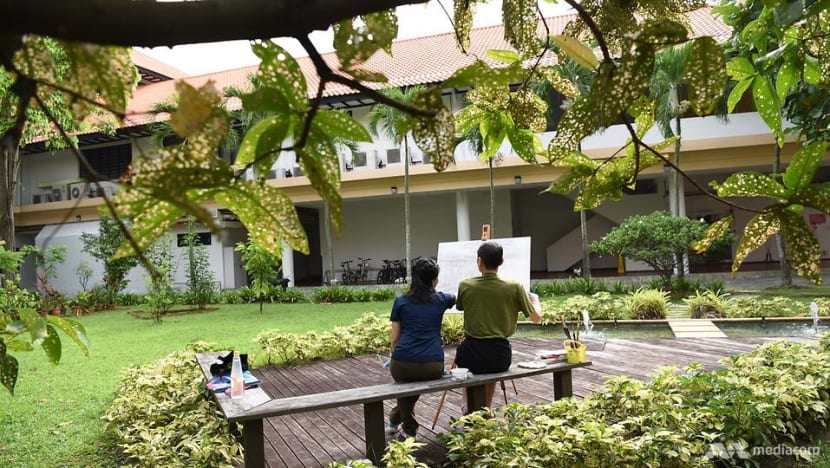 Most collaborations are in the administrative, retail, food and beverage and cleaning settings, where there are more opportunities.
"In addition to providing on-site job coaching to support clients at work, individual follow-up with clients is also carried out to help them identify and overcome any challenges they face at work," said an IMH spokesperson.
To date, 26 patients from its slow-stream rehabilitation ward have been discharged to their homes and community rehabilitation facilities.
These patients are doing well and engaging with the IMH at the outpatient level, added the spokesperson, who declined to comment on Mr Sim's case, citing patient confidentiality.
OFFERS FROM U.S., NEW ZEALAND
Apart from the job offer, as many as 80 people, including from the United States and New Zealand, have emailed Ms Sim to buy her brother's paintings, donate art materials or even to commission him to paint something for them.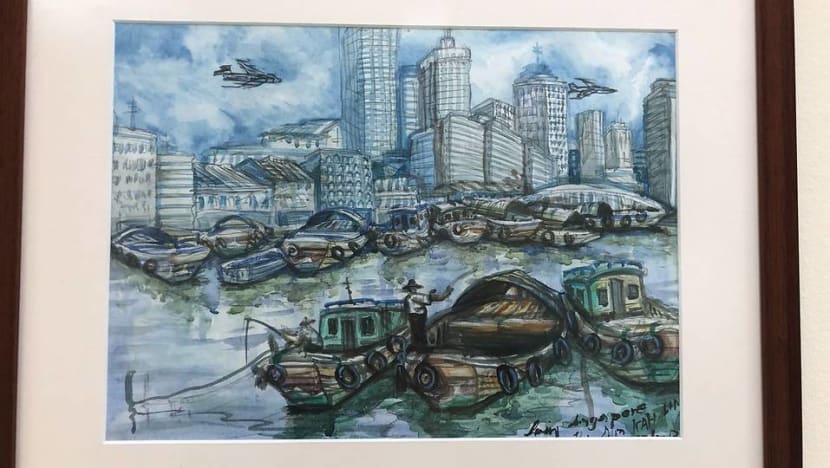 Some have offered monetary assistance, but she referred them to the IMH. "So many people there also need help, not just Kah Lim. That's not right. He could always sell his paintings if he needs more money," she said.
Some of his paintings have since been sold, but the details are being confirmed, she added.
It's very great – the responses from the public. Some even messaged me. The first week, I was very emotional.
Ms Sim has created a website about her brother and diverted all the emails and queries there. She intends to photograph his paintings and catalogue them on the website for interested buyers.
It is a work in progress, and she hopes to upload the pictures in the next month or so. She has not even had the time, however, to price his paintings.
But she promised one thing: "I'll also share updates about him and his progress."
Read Mr Sim's story here, and visit the website about him here.