Girl Guides forever: A sisterhood that's lasted over 50 years
They are former Girl Guides and now part of the Trefoil Guild. Their friendship has gone from strength to strength since they were as young as teenagers. Together they're reaching out to a new generation.
SINGAPORE: The sun was blazing down on Camp Christine, where schoolgirls were using sticks and twine to make racks for their bags, shoes and for drying their towels.
In one corner of the grounds, one group in pink were laughing, waving to the Boy Scouts at the campsite next door, and chatting about their most recent camping trip to Switzerland.
"We kept getting scolded," Yvette Cheak said, gesturing at Anna Tham next to her. "We had such a good time."
"We were the clowns," Petrina Giam chimed in. "We brought the house down."
Their laughter echoed through the grounds. Their conversation, filled with a yearning for adventure – their next camping trip is to Melbourne – sounded typical of young women. But, in fact, these lively ladies were approaching their 70s and into their 80s.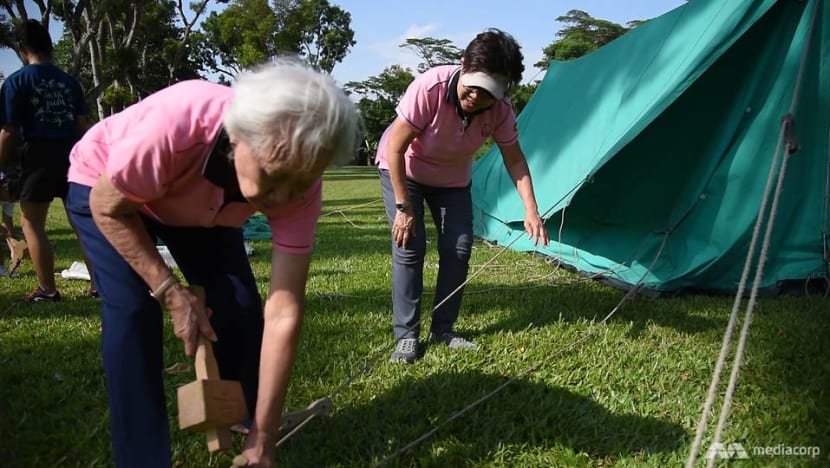 They have known each other for more than 50 years, and their friendship has remained the same, even now as proud grandmothers.
They are former Girl Guides who belong to the Trefoil Guild, the adult branch (25 and above) of the Guiding movement. And their bonds remain strong because of what they have cultivated since they first met: Teamwork.
"It's teamwork in action. It's not just talking about it," said Mrs Cheak, 68. "This is really where you see how the girls team up together and then go for it."
Around them, the schoolgirls are part of an evolving organisation. And this sisterhood of old friends have also moved with the times. More importantly, they are passing on a rich legacy, not least of friendship.
O CAPTAIN! MY CAPTAIN!
Mrs Cheak and Mrs Giam, 69, were 16 and 17 years old respectively when they became Ranger Guides after completing their O Levels and leaving their respective Guiding companies in the Singapore Chinese Girls' School.
That was when they met Mrs Tham, their captain. "She was a very fierce captain," Mrs Giam recalled, looking at her with a playful smile.
Added Mrs Cheak: "We were always full of respect. There's no question about it. But at the same time, we were scared because she had this aura – very stern, very disciplined and very clever."
Mrs Tham also has an air of wisdom that now comes from her 84 years of age. Sitting composedly and wearing blue eye shadow, the captain's demeanour soon gave way, however, to her mischievous streak.
"I liked to bring them to cemeteries," she said with a hearty laugh.
It was enough to set Mrs Giam off on an animated retelling of those moments: "As you can imagine, we stumbled over tombstones, and we were like, 'Sorry, sorry, sorry.'"
After pitching many tents and starting many campfires together, the bonds they formed melted the ice queen. "And then they bullied me," Mrs Tham said with a chuckle.
At times, their Girl Guide adventures were much more harrowing than cemetery capers. Recalling one such experience in the late 1960s, when Singapore had many more farms, Mrs Tham said:
Somebody went trekking around the farms, and the farmers came out with a gun.
Their farm explorations were otherwise less dangerous, however, and those memories are a reminder to them of how Guiding has changed, with a smaller range of outdoor opportunities nowadays.
On the other hand, Guiding is now offered as a co-curricular activity (CCA) in more schools – more than 55 per cent of primary and secondary schools – than it was back then.
Mrs Tham remembered that she had joined an open company at the headquarters, meant for girls from different schools. That was in 1949.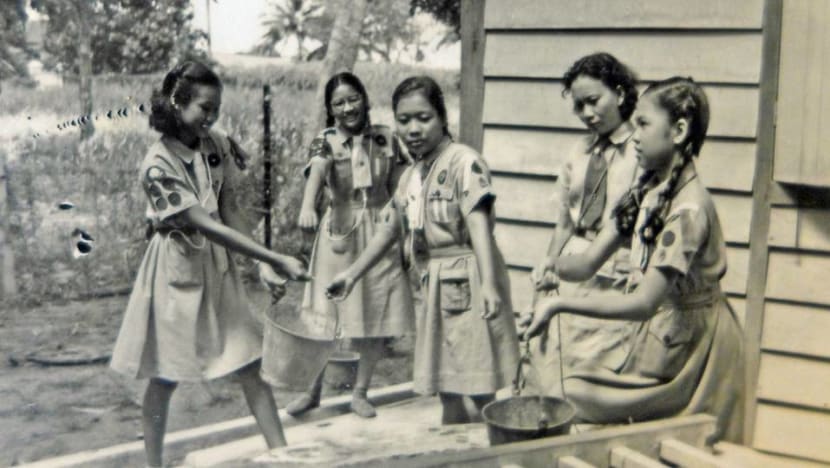 "It was a choice we made, not that we were put into the CCA," she said. "And because it was a choice we made, we really put ourselves into the movement."
Until today, her fellow Guides are proud of how well she has done throughout the years. "She ran Singapore's first Land Rangers company," said Mrs Cheak. "Today, she's (still) our captain – she's known to us as captain."
GUIDES AT WORK AND AT HOME
Although they had joined the Guiding movement for a taste of adventure, it gave them much more eventually, including in their careers. As they became mothers and grandmothers too, the values from their early Guiding days never left them either.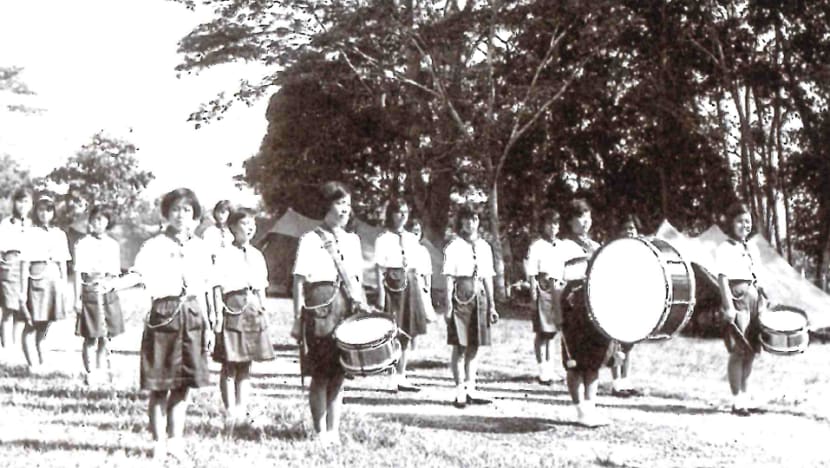 "It helped a lot during my time as principal," said Mrs Tham, an ex-principal of Methodist Girls' School, as she recalled the day when a pupil had sustained a deep cut on her leg after falling on a glass panel.
It was bleeding very badly. And everyone was so panicky. I said, 'Lie down, calm down.' I stopped the bleeding, called for the ambulance and then went back (to the office).
Mrs Cheak, a former regional head of compliance at a French bank who still acts as an adviser to the Association of Banks in Singapore, agreed that Guiding was good preparation for her career.
"Because of my role (in compliance), I have to be very careful, very calm," she said. And nothing gave her more confidence that she could manage in her job than her Guiding experience.
Juggling everyday life with their roles as Guides, however, was not easy.
Mrs Wah Teng Siew, 82, the chief commissioner of Girl Guides Singapore from 1984 to 1989, recalled her hectic schedule then, having had to travel multiple times for regional conferences.
While she was in office, Singapore also worked to bring in the organisation's world conference. "I think I ran out of leave," the former radiographer said wryly – a sentiment shared by the other three Guides, who are also good friends with her.
They were so involved in the Guiding community that their families would miss their presence at home. "My son would complain, 'Mummy, when you're not home, we only eat canned food,'" Mrs Cheak said with a chuckle.
Perhaps inevitably, however, their families have also carried on a strong tradition from them.
"My second daughter is a President's Guide (award winner)," beamed Mrs Tham, whose other daughter was also a Guide while her son was a Scout. "And both granddaughters got the chief commissioner's award."
There was no disguising the women's sense of pride as they talked about their children and grandchildren who followed in their footsteps.
"We left it to them. But then they'd see pictures (of us), and ask, 'Who's this? What's this uniform?' And this was when I'd tell them a little bit. Then they made their decisions," said Mrs Cheak.
All three of her sons became Scouts, and two of them were awarded the President's Scout Award.
WATCH: Over 50 years of friendship and Girl Guiding (5:05)
SPENDING TIME WITH THE BOYS
Another topic of lively chatter among these ladies – but prompting more gales of laughter and playfully raised eyebrows – was boys, or rather, Boy Scouts.
"We were always with the Scouts who taught us how to make gadgets," said Mrs Cheak, who then gestured at Mrs Giam. "That's how she met her boyfriend."
"Boyfriends," Mrs Giam interjected.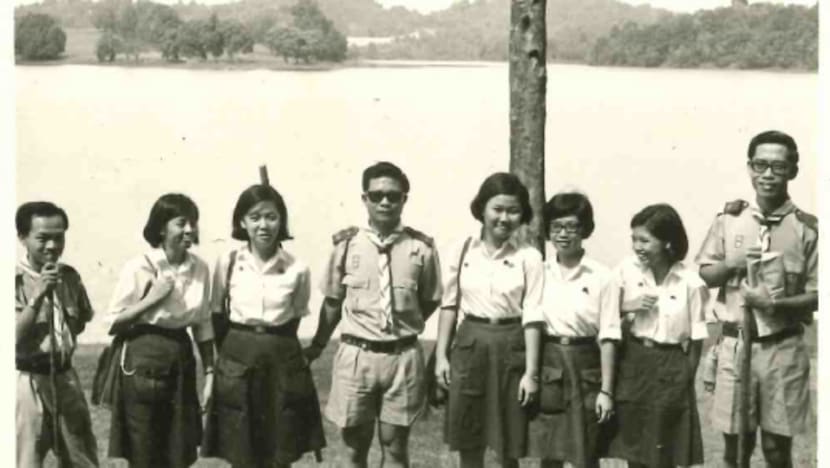 Banter aside, the Girl Guides and Boy Scouts, in Singapore and elsewhere, have a long shared history.
It started in London in 1909, at the first Boy Scout Rally, which a handful of determined girls gatecrashed to request Robert Baden-Powell – the founder of the Scouts – to have "something for the girls".
And even now, these four friends collaborate with the senior Scouts.
"When the Scouts have training, they'd invite our Guides to go, like for campfire training," said Mrs Cheak. "Then the Guides who are free and our trainers who can manage will join them."
One of the most recent get-togethers was on July 14, when the senior Scouts organised a walk in Kampung Lorong Buangkok, Singapore's last kampung.
It was pouring, but that did not dampen the seniors' spirits as they sang that famous nursery rhyme for the rain to go away.
These joint activities span the gamut from camping to purely social meet-ups, said 49-year-old Malcolm Tan, a "lawyer by profession, scout by choice".
"We arrange to have Chinese New Year gatherings, Christmas gatherings and … from time to time, we have hikes and all that," said the Scout Guild assistant secretary.
The Singapore Scout Guild was established in 1996, while the Trefoil Guild here was founded in 1973 and has more than 100 members, with the oldest active member now 89 years old.
DEVELOPING GIRLS IN DIFFERENT WAYS
One of the lasting legacies that Trefoil Guild members have left to newer generations of Guides has been Camp Christine, located at Jalan Bahtera and opened in 1988 after "fierce fundraising", noted Mrs Wah.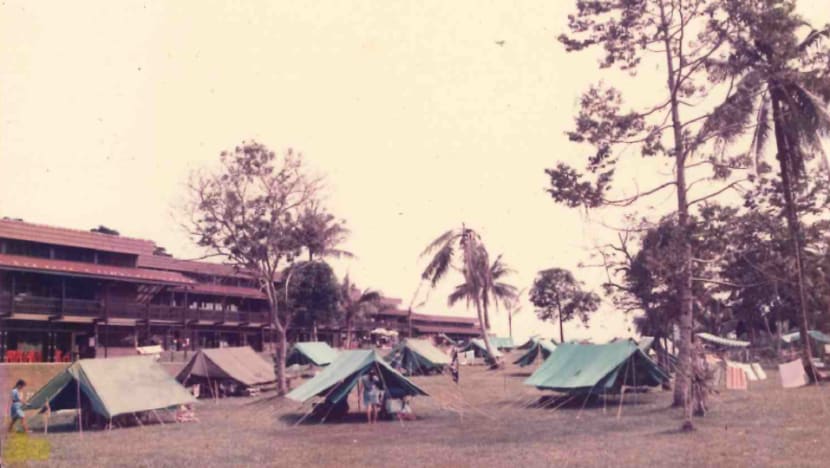 With the changing times, however, there are also Guiding initiatives being rolled out that she and her friends would never have had.
Take, for example, the Surf Smart Badge, which equips girls to be vigilant and responsible online citizens who can protect themselves and their rights on the Internet.
The four ladies agree that "everything is Google" now, but see hands-on training as crucial too.
And they may no longer be as active in the Guiding movement as they once were, but this is where they continue to support its activities and help to develop girls in different ways.
They volunteer to be testers, for example, in the President's Guide Award Camp. "We're like resources they can call on to help because we're all retired or semi-retired," said Mrs Cheak.
The thing we can do as alumni is try to close that gap in experience – the character building, the values, the community, the communication, the leadership.
To some of the young Guides, however, because the camp was something for which they had been preparing "for a very long time", they expected it to be "nerve-wracking" – until they got to know their testers.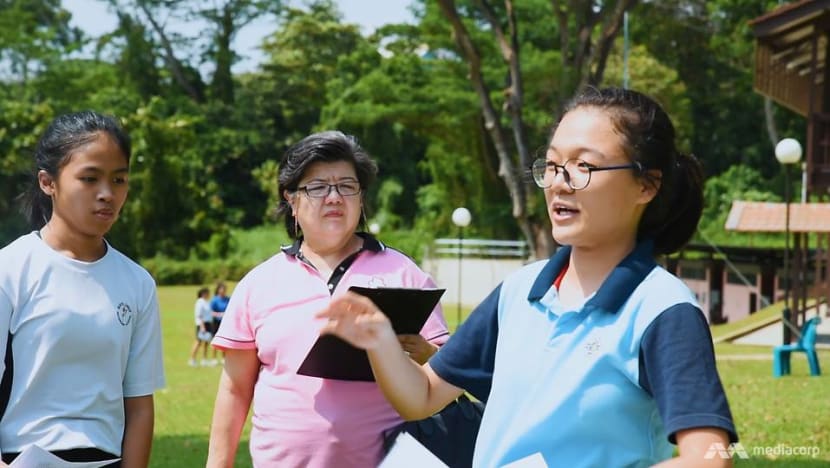 "I was quite scared of them at first because they were testing us, but they're actually very nice, like the one who tested me (Mrs Tham)," said 15-year-old Alexa Yeo.
"She gave me a lot of interesting advice and on things I hadn't come across in school. She taught me a completely different and new kind of lashing."
The Raffles Girls' School student may well be starting a journey like the one her testers embarked on all those years ago.
"When I came to secondary school, I didn't expect to join the Guides either, but over the years, it has become a family to me," she said.
The primary goals and values the Guiding movement inculcates remain the same, and ultimately, it is supposed to be fun – and a close sisterhood.
"Guiding is supposed to be a game …" said Mrs Tham, "… And we're still playing the game," continued Mrs Wah, completing the sentence.
"The passion never dies …" added Mrs Cheak, "… And we want to give back," went Mrs Giam, without hesitation.
Once a Guide, always a Guide – it is a core value these four are familiar with, and they are holding to it together.