commentary Commentary
Commentary: The SAF's offer to fight terror in Marawi and the hard-nosed calculations of a small state
With the announcement that the SAF is prepared to contribute to the fight against terror in Marawi, Collin Koh explores the motivations behind the offer and the signal it sends.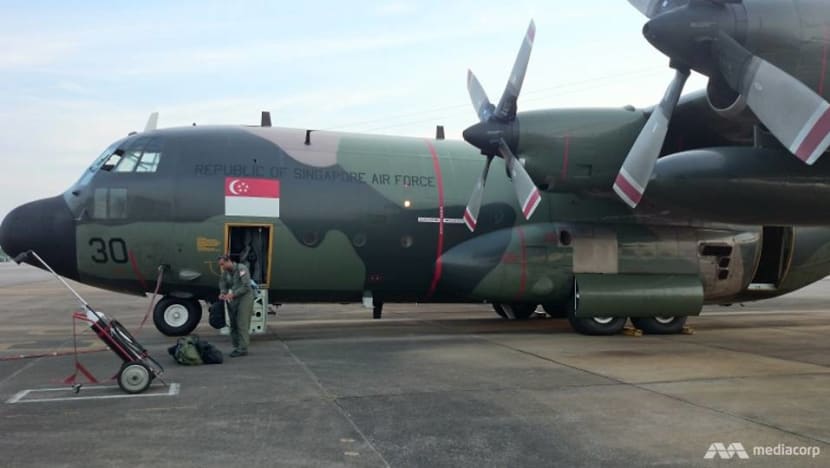 SINGAPORE: Just a few days ago, Defence Minister Dr Ng Eng Hen offered Philippine Defence Secretary Delfin Lorenzana the Singapore Armed Forces' (SAF) assistance to help the Philippines fight terrorism, as the Philippine Armed Forces struggle to make headway in the siege of Marawi city. Lorenzana expressed in-principle acceptance. 
With this move, Singapore joins a potentially growing list of countries contributing to the Philippine Armed Forces' effort, of which includes US special forces operating in the city, Australian spy planes and Chinese support in the form of small arms and ammunition supplies.
CLEAR AND PRESENT DANGER
Singapore's latest proposal to assist Manila reflects continuity in and a renewed commitment to the SAF's longstanding fight against terrorism and violent extremism overseas.

Dating back to 2006 when the city-state first joined the multi-national coalition to rebuild and stabilise Afghanistan, more recently, since December 2014, the SAF also joined the counter-Islamic State (IS) coalition. The Defence Ministry says such efforts were undertaken to combat the spread of terrorism at its source, so that such groups cannot export their brand of extremism to carry out attacks in Singapore.
Singapore's move also reflects a recognition that the threat is no longer emanating thousands of kilometres away, but is right within Singapore's immediate neighbourhood. Dr Ng has been saying consistently since the SAF decided to contribute to the counter-IS coalition's efforts in 2014 that "IS poses a direct threat to Singapore's security" and his words now ring louder than ever.
As IS finds itself increasing cornered in a shrinking Middle East pocket with the recent loss of its stronghold Mosul to coalition forces, IS supporters have turned to carry out attacks in other places including the UK, France, North America and Southeast Asia.
The threat that IS poses also appears to be moving closer to Singapore. Last month, Indonesia's military chief General Gatot Nurmantyo revealed that IS sleeper cells had already taken hold in at least 16 locations throughout the archipelago, warning that "it's just a matter of time before they wake up".
More importantly, Singapore's offer demonstrates a hard-nosed recognition that Marawi specifically risks becoming a potential base for returning IS fighters to establish a caliphate in Southeast Asia and from which they are able to operate out of to launch attacks in cities in this region.
This is a recognition shared by many regional countries. Indonesian army generals warned just last month that Mindanao may become a strong regional IS base that threatens Indonesia and other regional countries.
Singapore's offer also builds on the SAF's efforts closer to home to combat the use of maritime routes by terrorist groups in the Philippines to smuggle people and weapons, and carry out piracy and kidnap-for-ransom attacks. Singapore had previously offered the use of the Information Fusion Centre at Changi Naval Base to facilitate information-sharing among regional countries to these ends.

Given the newfound urgency of the IS threat and the proximity of the threat to Singapore, it seems Singapore has little choice but to step up its efforts and help in arresting the situation in Marawi, before the scourge of IS' radicalism spreads further to or entrenches itself deeper in other parts of Southeast Asia.
A SMALL STATE'S CONTRIBUTIONS
Yet, Singapore too, benefits from contributing to the efforts to reclaim Marawi. The SAF's deployment into Marawi can gain the SAF valuable practical experience, working alongside other advanced militaries in an operational battlefield in Singapore's Southeast Asian neighbourhood.
Although the SAF has deployed assets and carried out operations in other parts of Southeast Asia, most notably during the 2014 AirAsia QZ8501 crash and the 2004 Boxing day tsunami, these have thus far been limited to search and rescue operations or humanitarian and disaster relief, unlike the combat operations ongoing in Marawi.
More importantly, Singapore's offer to deploy the SAF to join the fight in Marawi is a signal of the value a small state can bring to the table when it comes to addressing regional security challenges.
The message is loud and clear: Singapore may be small, but we take our role as a responsible member of this region very seriously, and we contribute capabilities where we have a niche advantage that can make a difference to the threats that face us all.
So the SAF's decision to offer its "tried and tested" capabilities – the C-130 transport aircraft to deliver humanitarian supplies to Marawi evacuees and a detachment of unmanned aerial vehicles (UAVs) to enhance intelligence, surveillance and reconnaissance capabilities, seems like a deliberate and prudent decision.

Both have chalked up significant operational experience, having participated in various multi-national disaster relief operations and in the UAVs' case, the reconstruction efforts in Afghanistan, and can bring valuable expertise in these areas to the table.
The SAF also offered training to the Philippine Armed Forces in an area where it has a clear niche advantage as a city armed force – the use of the SAF's urban warfare training villages, showing that city boys can play a valuable role in the fight for one of the Philippines' biggest city.
The choice of assets to be deployed seems nuanced. They do not constitute kinetic, strike capabilities. And the SAF isn't really deploying "boots on the ground" and may not take part directly in the combat operations in Marawi, some might point out.

But being involved in a mission like this must be carefully managed, for a strong show of force can potentially make Singapore an attractive target for retaliatory attacks.
Equally important is that the signal the SAF seems to be sending to the Philippine Armed Forces, which is, "this is your fight, but I am here to support you". Even as Singapore seeks to do more to combat the threat of terrorism in Marawi, managing any sensitivities Philippines as the host country might have is of primacy. 
All in all, it seems despite our limited physical size and capacity, Singapore can still contribute niche capabilities as a form of public good to a wider community, to the fight in Marawi.
Such overseas deployments allow Singapore to build goodwill through defence diplomacy while at the same time, demonstrates our willingness to be a constructive, contributing member of this region and the broader international community.
Koh Swee Lean Collin is a research fellow at the S. Rajaratnam School of International Studies, based at the Nanyang Technological University, Singapore.