Commentary: Afghanistan was making progress on women's healthcare. Then the Taliban returned
Giving women equal access to health services and the right to practise medicine can be a step in the right direction, says Eirliani Abdul Rahman.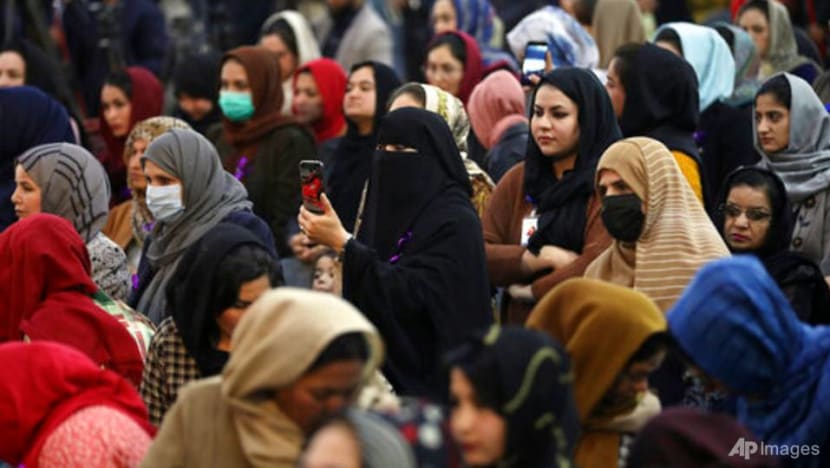 CAMBRIDGE, Massachusetts: The Taliban government is again in control of Afghanistan.
But where others see gloom, Ambassador Suraya Dalil, Afghanistan's Minister of Public Health from 2010 to 2014, says this represents a unique window of opportunity.
"The new Taliban regime requires political wisdom and courage right now. When I was Minister, we worked hard to build the basic infrastructure: Clinics and hospitals."
By the time she left, there were more than 2,000 health facilities actively providing services.
"We want this to be preserved, to build on them for the interests of all women, men and children who deserve the best in Afghanistan," Dalil told me.
MATERNAL DEATHS
In the early 2000s, after foreign forces just ousted the Taliban from power, doctors found that a woman died every 27 minutes from complications relating to child birth or pregnancy in Afghanistan.
Where Giving Birth is a Forecast of Death was an apt title for Dalil's first joint article in The Lancet in 2005.
Dalil pointed out that most maternal deaths could have been prevented, had emergency obstetrical services and skilled birth attendants been available.
The maternal mortality ratio for Afghanistan then was 1,900 per 100,000 live births, according to a 2000 United Nations report. The corresponding figure for the US is 17.
One in four children died before the age of five and there was a brain drain of trained health professionals. Functioning medical facilities were few and far between. Chronic malnutrition and micronutrient deficiencies compounded everything.
HARD TO BE A FEMALE DOCTOR UNDER TALIBAN RULE
Afghanistan's health system deteriorated to one of the worst in the world under Taliban rule. Conservative norms and gender inequality were contributing factors.
In most hospitals, male physicians could examine female patients only if they were fully clothed, making meaningful diagnosis and treatment difficult. Only select female physicians were allowed to practice.
Female surgeons had to wear burqas even during surgery; only their faces and hands were permitted to be seen.
A year after the Taliban regime took over Afghanistan, it decreed in January 1997 that hospitals be segregated by gender. That year, the Ministry of Public Health forced all but two hospitals to stop medical services for the capital's 500,000 women.
A widespread ban on the employment of female medical workers also took hold, which was lifted in November 1997 after the International Committee of the Red Cross intervened.
ROOM FOR TARGETED INTERVENTIONS
Since the Taliban was removed, public health gains have been significant: Women's life expectancy increased from 57 years in 2000 to 66 in 2018.
Maternal mortality declined from 1,450 per 100,000 live births in 2000 to 638 per 100,000 in 2018. The mortality rate for children under five years decreased from 134 per 1,000 live births in 2000 to 99 in 2012.
Despite these gains, Afghanistan still has one of the highest maternal, infant and child mortality rates in the world. In 2017, UNICEF estimated that there were 7,700 maternal deaths. Compare this to the number of civilians who lost their lives due to military attacks in the same year: 3,438.
Poverty, a healthcare system ravaged by years of war, difficulties in accessing health services and gender inequality contributed to the high death rates.
Dalil was Ambassador and Permanent Representative of Afghanistan to the UN in Geneva and now works at the WHO: "We must prioritise mental health, disabilities and other non-communicable diseases in Afghanistan," she said. Recent health gains have slowed due to COVID-19 and rising conflict.
TIE FOREIGN AID TO ACCESS TO HEALTHCARE FOR WOMEN
If the new Taliban regime is willing to abide by a human rights framework, there is scope for more targeted healthcare interventions to be funded by international aid.
Since 2002, healthcare across Afghanistan has been funded by the World Bank, USAID and the EU, with each providing a third.
Jeffrey Sachs argued in his Project Syndicate commentary last week that less than 2 per cent of the US spending in the country over the past two decades reached the Afghan people. If this is any indication, there is room for aid to trickle down to where it is most needed.
But the international community, including donor countries, should make aid conditional on the demand that the Taliban regime fully respect the rights of women and girls to education and work.
Women should also have full access to health services without having to be accompanied by a male blood relative (mahram).
Female physicians should be allowed to wear a headscarf instead of a burqa so that they can be free to focus on their work diagnosing and treating patients.
The Taliban would do well to emulate their fellow members of the Organisation of Islamic Cooperation (OIC): Women there can exercise their freedom as working professionals, including in the practice of medicine, and seek higher education.
The new Taliban regime has promised to honour Afghan women's rights within the norms of Sharia law.
Giving women equal access to health services, and the right to study and practice medicine will be a step in the right direction.
Eirliani Abdul Rahman is pursuing a doctorate in public health at Harvard University. She is a Prajna leadership fellow. 
Listen to Minister Shanmugam speak about why gender equality is important for Singapore on CNA's podcast, Heart of the Matter.